Food news antipasto
January 30, 2022 by Darcie
Last week Jenny compiled yet another amazing gift guide, this time for Valentine's Day. In the spirit of fairness, I am going to post a gift guide from another source, Epicurious. They gathered a list of 27 "actually good" gifts for cooks instead of the same old, same old things like flowers or lingerie. Jenny's guide is arguably better not only because of the wonderful items she included, but also because it includes a giveaway!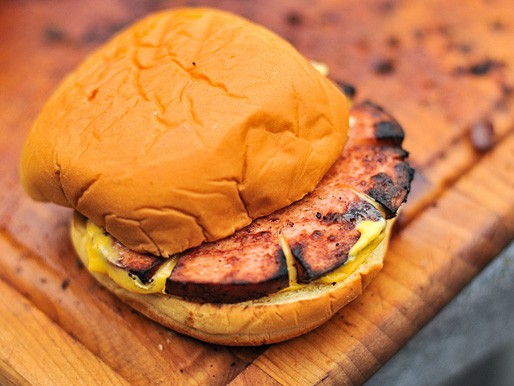 In an…interesting…marketing gimmick, the US meat company Oscar Meyer promoted a new product: a bologna-themed face mask. Eater's Amy McCarthy took one for the team and tried the mask, which looked kind of like bologna but (thankfully?) did not smell like it. If you were thinking this could be a great gift, I have to quash your hopes: the limited edition masks are sold out. I do have some good news: you can still buy some Oscar Meyer bologna and make the Smoked bologna from Serious Eats pictured above.
Great British Menu, the BBC television series in which top British chefs compete for the chance to cook one course of a four-course banquet, returns on Tuesday with new judges – Tom Kerridge, Nisha Katona and Ed Gamble – and a difficult challenge. The contestants will be tasked with designing dishes celebrating the history of UK broadcasting.
Have you ever wondered who thought of the idea of putting honey in adorable little bear-shaped bottles? Well, wonder no more. Food and Wine brings us the surprisingly straightforward story of how the honey bear came to be. More honey is sold in these cute but awkward bottles than in every other kind of container.
The iconic Michelin restaurant guide will again virtually announce who is receiving the coveted stars for the 2022 Great British and Ireland edition. The announcement on 16 February will be the climax of a series of online events spanning six days. Gwendal Poullennec, international director of the Michelin Guides said: "Naturally we are disappointed that we are unable to host this event in person, as we know how much everyone enjoys these occasions. However, we can promise you that these days will be full of exciting news, as we have many wonderful new awards to reveal".