Best recipes of 2021, part deux
December 20, 2021 by Darcie
Earlier in the month I posted about several 'best of 2021' or 'most popular' recipe lists from various websites and magazines. Since then I have spied a few more countdowns to share with you, because you can never have too many delicious recipes (or too many excellent cookbooks)!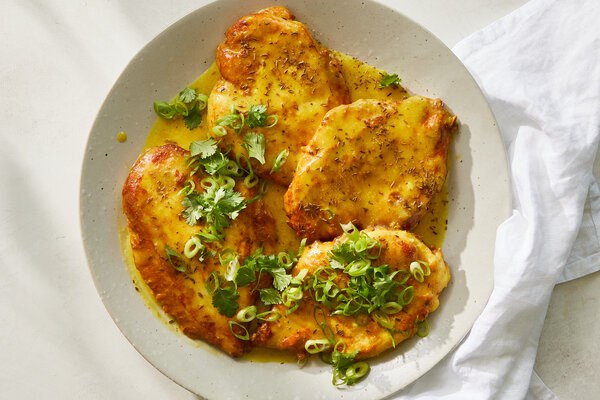 In the earlier article, Epicurious weighed in with their 103 best soups of 2021. They must have gotten tired by listing so many, because their general year-end most popular recipes gallery "only" includes 87 items, which run the gamut from pastas and meaty mains to cheesecakes and cocktails. Between the two lists, Epicurious could keep you busy for several months' worth of meals.
Next we head over to The New York Times Cooking to view their top 20 most popular recipes. J. Kenji López-Alt's "holy grail" creamy scrambled egg recipe landed at the top of the heap, followed by Eric Kim's copycat Stouffer's macaroni and cheese, and Melissa Clark's Lemony white bean soup with turkey and greens. It was further down the list, but I am eyeing Yotam Ottolenghi's Double lemon chicken (pictured above) for our next repast.
The US morning show Today published its ranking of the top 27 recipes on its website. These recipes lean heavily toward convenience, with several sheet pan and one-pot meals landing on the list. The Washington Post culled their top recipes list to a mere 10 entries, but when they are hits like classic ragu Bolognese and Anthony Bourdain's Boeuf Bourguignon, do you really need to have more? Finally, The Tab brings us the most popular TikTok recipes of the year, which of course includes the feta pasta recipe that took the world by storm. Other entries included baked oats, pesto eggs, and spicy pickled garlic.
Seen anything interesting?
Let us know
& we'll share it!