The Modern Larder – Veritable Garden Giveaway
November 29, 2021 by Jenny
Enter our US/CA giveaway to win one of three copies of The Modern Larder: From Anchovies to Yuzu, a Guide to Artful and Attainable Home Cooking by Michelle McKenzie with one grand prize winner in the US also receiving a Veritable Garden.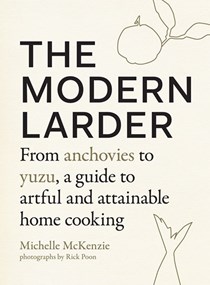 The Modern Larder: From Anchovies to Yuzu, a Guide to Artful and Attainable Home Cooking by Michelle McKenzie proves that one ingredient can change the nature of a dish, elevating it from flat to transcendent. With 58 ingredient profiles and more than 260 recipes and variations featuring those ingredients, learn to harness the power of your pantry to make dishes extraordinary.
In this title, each of the author's favorite larder ingredients are given the 360-degree treatment. For example, explaining how shio koji can be used in a dressing, a marinade that transforms meat and fish), a pickling medium, or simply liquid supersalt. "Part I" is this A to Z glossary on these favorites that encompasses about 100 pages. At the bottom of each ingredient page (most ingredients share a page of details while some cover several pages), we are given a list of recipes including page numbers where these ingredients are featured. "Part II" are the recipes from snacks and starters to foundations and finishes. Many of the recipes share variations such as five ways to dress a radish or four ways with a gem salad.
I am loving this book. It's content is incredibly valuable and the photography is stunning. Even as an experienced cook, I love learning more about ingredients and especially those that can add a punch to your meals. A beginning cook will love the attention to detail and guidance to setting up a larder that works for them.
There is one recipe online – Miso-maple walnuts – for you to try and the publisher has provided two recipes below.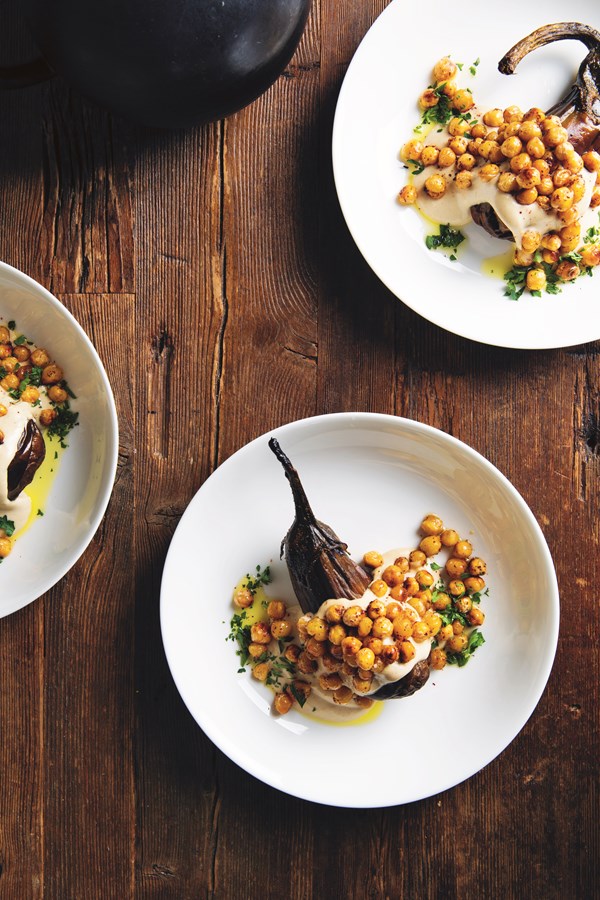 Whole roasted eggplant with tahini, crispy chickpeas, and sumac
Add this recipe to your Bookshelf (click the blue +Bookshelf button)
4 Servings

Eggplant is one of my favorite vegetables—I could fill an entire book with recipes singing its praises, and I don't see why it can't be the star of the show rather than just a supporting act. In this large-format dish, whole eggplants cook until slightly charred on the outside and meltingly tender within. Tahini adds much-needed richness and creaminess, crispy chickpeas add texture (and protein), and lemon and sumac bring brightness. I consider this a lovely vegetarian main course, but it could also serve as a side dish for chicken, lamb, or fish. Any leftovers can be blitzed into a fine eggplant dip in the food processor (add an ice cube for the smoothest result) and refrigerated for up to 3 days.
4 medium eggplants (each approximately 12 ounces) — Listada or similar egg-shaped variety such as Globe
3/4 cup olive oil, plus more to serve
Fine sea salt
3 cups cooked chickpeas, homemade (page 240) or canned, drained and patted dry with paper towels
1 tablespoon sumac
1/2 lemon
2 cups Basic Tahini Sauce (page 337)
1/2 cup coarsely chopped flat-leaf parsley
Preheat oven to 475°F and line 2 rimmed baking sheets with parchment paper (make sure the parchment fits inside the pan; at this high temperature, any overhang could burn). Peel the eggplants, leaving stems attached; on each, poke the center of the base a few times with a fork or cake tester and divide between the 2 pans. Toss each eggplant with 2 tablespoons olive oil and a pinch of salt, massaging the salt into the flesh a little as you work. Create space between the 2 eggplants on each pan and roast for 40 to 50 minutes, turning the eggplants every 10 to 15 minutes to get even browning on all sides. Remove from oven and set aside.
Meanwhile, heat a 12- to 14-inch sauté pan over medium-high heat and add the remaining 1/4 cup olive oil. Once the oil is shimmering, add the chickpeas and a pinch of salt. Pan-fry the chickpeas, stirring occasionally, for 8 to 10 minutes, or until crispy (as they crisp up, a few may pop out of the pan like popcorn). Lower the heat slightly, add the sumac, and cook just 1 minute more. Taste and add more salt, as needed.
Season each eggplant with a squeeze of lemon. Place on warmed plates or in shallow bowls and top the center of the base of each eggplant with a 1/4 cup tahini sauce. Top the tahini sauce with a heaping 1/2 cup sumac-coated, crispy chickpeas. Drizzle a little olive oil around the sides of the eggplant and top the olive oil with a sprinkling of chopped parsley. Serve at once.
---
Spicy roasted carrots with avocado, sprouts, and sunflower dukkah
Add this recipe to your Bookshelf (click the blue +Bookshelf button)
4 to 6 Servings

Carrots, avocado, and sprouts may sound too standard to deserve your attention, but I assure you, this salad satisfies. It's really the dukkah that does the trick—bright, spicy, salty, and a little sweet—it gives this salad a complex, savory depth.
3 pounds small carrots
2 whole chile de arbol
Fine sea salt
2 teaspoons honey
Olive oil
1/2 lemon, halved
3 ripe but firm large avocados
1/4 cup Sunflower Dukkah (page 356) or toasted sunflower seeds
3 to 4 ounces sunflower sprouts, halved crosswise if long
1 cup (loosely packed) cilantro, whole leaves and tender stems and/or flowers
1 serrano chile, very thinly sliced (optional)
Flaky sea salt
Chile Vinegar (page 348, optional)
Crème fraîche; plain, full-fat Greek yogurt; or labneh, store-bought or homemade (page 336), for serving (optional)

Preheat oven to 425°F. Line 2 baking sheets with parchment. Divide the carrots between the pans. Toss each batch with 1 torn chile de arbol, a pinch of fine sea salt, 1 teaspoon honey, and enough olive oil to coat every carrot. I toss everything right on the pan, using my hands to distribute the wet ingredients evenly. Spread the carrots in an even layer, making sure there is space for water to evaporate quickly (1/2 inch or so in between each one). Roast for about 25 minutes, turning once or twice, or until sticky and caramelized. Season each batch with a squeeze of lemon. Cool slightly.
Cut the avocados in half lengthwise and remove the pits. Slice in half lengthwise once more, peel each quarter, keeping the quarters intact, if possible. Season the avocado—directly on the cutting board—with a squeeze of lemon and 2 pinches of fine sea salt. On one serving platter or divided among 4 to 6 plates, layer the components in loose layers: avocado, carrot, a pinch of dukkah, sunflower sprouts, cilantro leaves, a few slices of serrano chile (if using), and a scattering of flaky sea salt; repeat the layering once more. Dot the chile vinegar (if using) or more lemon juice over the top, drizzle lightly with olive oil, and sprinkle with flaky sea salt. Serve straight away with a bowl of crème fraîche, yogurt or labneh alongside, if you'd like.
---
Every larder needs to be stocked with great ingredients including fresh herbs and now with a Veritable garden you can grow fresh herbs all year long.
The Veritable Garden is manufactured in France which I particularly love. Véritable® is the leading startup in urban farming providing innovative solutions which enable everyone to easily grow, harvest and enjoy a large range of fresh and healthy products. Flavorful herbs, edible flowers and baby vegetables are fresh and available all year round in your home.
I have started my garden out with the basic herbs but want to order more lingots® which are ready-to-use refills. Designed specifically to meet the essential needs of our plants, they integrate nutrients and seeds for a very simple use and guaranteed growth. Each parameter is optimized: the spacing between seeds, their depth, the choice of species, and more. The lingots offer abundant harvests without effort.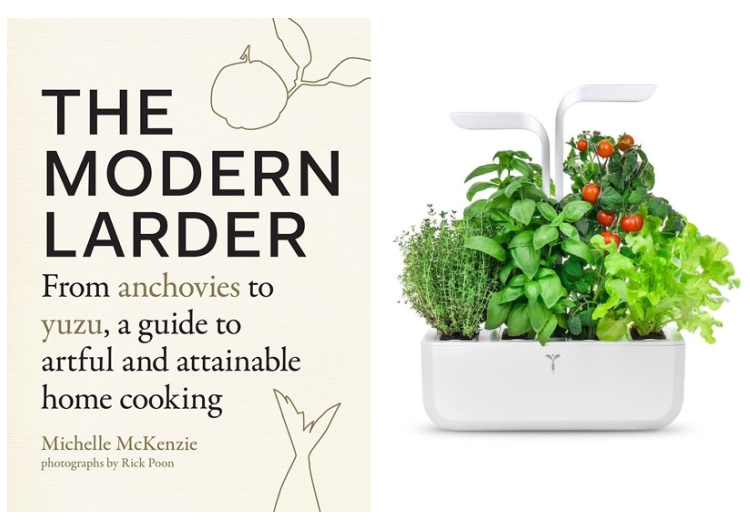 Special thanks to the publisher for providing three copies of this title in our promotion (open to US/CA) and Veritable Garden for offering one of their basic gardens to a US winner. Entry options include answering the following question in the comments section of this blog post.
Which recipe in the index would you like to try first?
Visit Veritable and leave a comment about which of their lingots you would like to start a garden with.
Please note that you must be logged into the Rafflecopter contest before posting or your entry won't be counted. For more information on this process, please see our step-by-step help post. Once you log in and enter your member name you will be directed to the next entry option – the blog comment. After that, there are additional options that you can complete for more entries. Be sure to check your spam filters to receive our email notifications. Prizes can take up to 6 weeks to arrive from the publishers. If you are not already a Member, you can join at no cost. The contest ends at midnight on February 19th, 2022.
a Rafflecopter giveaway