2021 Gift Guide for the Cookbook Lover, Cook and Baker
November 21, 2021 by Jenny
This year has been a whirlwind of activity. Here we are a little over a month before the holidays and I keep thinking "I wish it were September." Today's gift guide will feature products that I love (and bought myself) and other products which I have reviewed or have been provided a sample of for upcoming promos. (Not everything I have bought myself or have received to review has made it on this list – only things that were fantastic.)
Please remember if you are doing any online shopping to use our affiliate links: USA * Canada * UK * Book Depository. Commissions from these links help fund site improvements and more.
Usually by this time, I've also shared my holiday baking roundup – for today I'll share my last summary that links to many cookie/baking posts and recipes. I'll provide you with an updated cookie post in my next weekly roundup along with some fun ideas to make gifting cookies more special.
---
Emile Henry is a beautiful addition to anyone's cookware collection. Learn more about this Emile Henry tarte tatin baker in our giveaway for Baking with Dorie: Sweet, Salty & Simple (a copy of Dorie's book and this baker would be a lovely gift).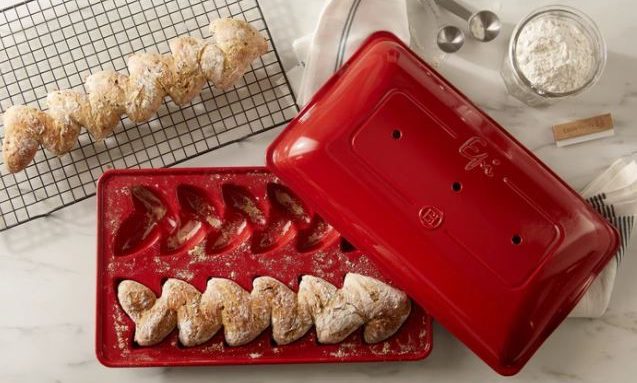 Emile Henry has new cookware that looks so beautiful. I've had my eye on the Sublime collection in indigo for a while but if I bring another piece of cookware into this home there will be all kinds of havoc. The Epi bread baker is a stunner and there will be a giveaway for this baker along with a copy of Upper Crust: Homemade Bread the French Way as soon as I have the book in my hands.
---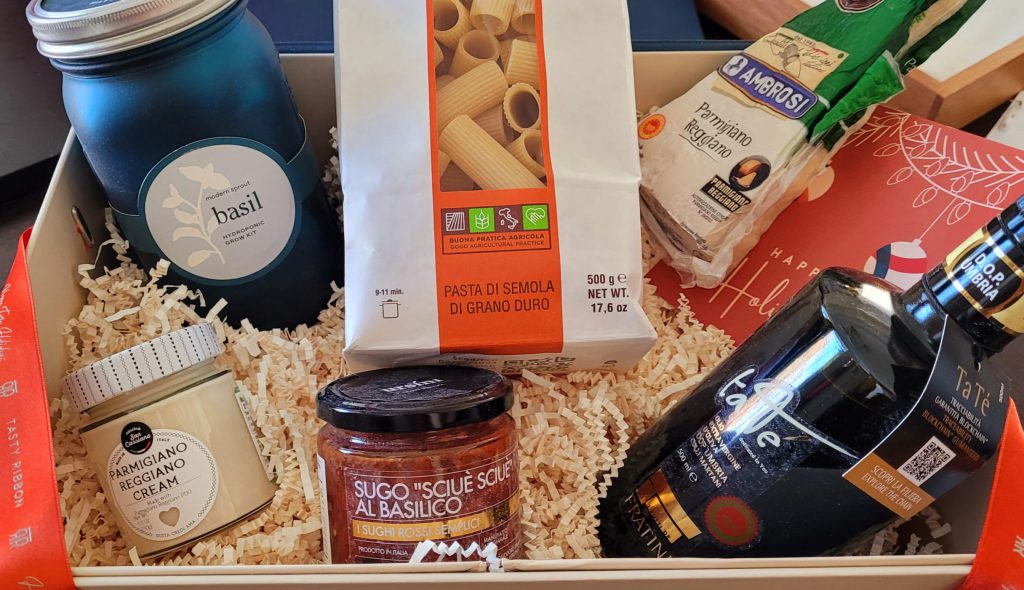 Tasty Ribbon deals in curated Italian specialties from the best artisans in Italy. Two gift crates that I have tried are the Pasta Master that includes all the ingredients of an unforgettable Pasta al Pomodoro dish. The finest imported pasta, P.O.D. extra virgin olive oil, aged Parmigiano Reggiano cheese, tomato and basil sauce and the box even includes an Indoor Garden Kit to grow your own basil. I made a quick pasta dish with the Parmigiano Reggiano cream that was so delicious – I may need to order more. You can order individual products as well on the Tasty Ribbon site. These ingredients will make any meal a special occasion.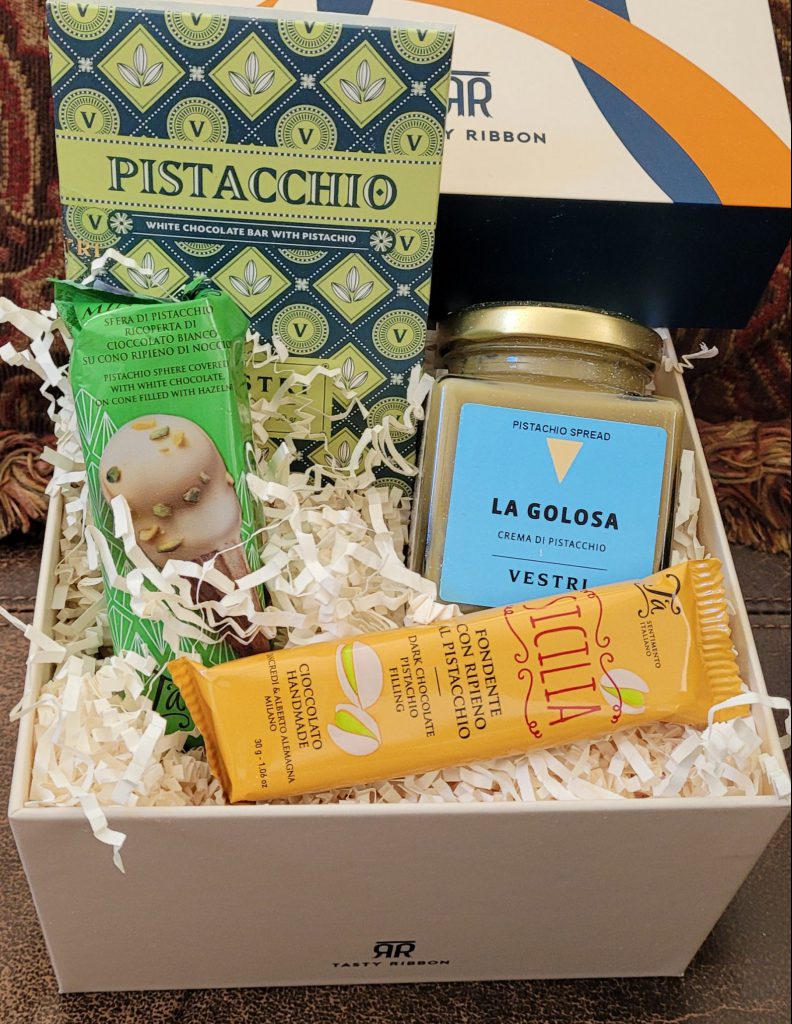 The All About Pistachio box is taunting me. I am trying to keep my hands off it until Christmas – although I have broken off a piece of the chocolate bar which was incredible! I have plans to make a dessert for my birthday with the rest of the bar and the pistachio cream.
Pick one of their already curated gift boxes or create one yourself. This is an option for gift giving that anyone would appreciate no matter the occasion – housewarming, hostess or holiday gift.
---
Another food gift that we are enjoying is the KC Cattle Holiday Rush Wagyu Bundle which contains 8 World Famous Wagyu Uncured Beef Hot Dogs, a Wagyu Rump Roast, 2 one pound packages of Wagyu Ground Beef, 2 one pound packages of Wagyu Beef Chorizo, and 1 package of Berkshire Pork Bacon. I make a pretty mean chili and I used one package of the chorizo which made it even better. Two weeks ago, we had friends over for which I made the rump roast and it received raves.
KC Cattle Co. is owned by a veteran, Patrick, who aims to raise quality beef for the very same people and communities he once served as a Ranger.
---
You may roll your eyes at this recommendation but I wish I had bought this rice bowl years ago instead of a month ago. I prefer this particular bowl as the draining holes are on the upper side and not at the bottom. So if you like to soak your rice – like I do – you can measure the rice, fill with water, soak and then drain and rinse, and rinse again. No more having to soak in one bowl and get a strainer – this bowl does it all and costs almost nothing. If someone on your list loves rice, lentils, beans – buy them this bowl – throw in a couple bags of rice or beans and you are set.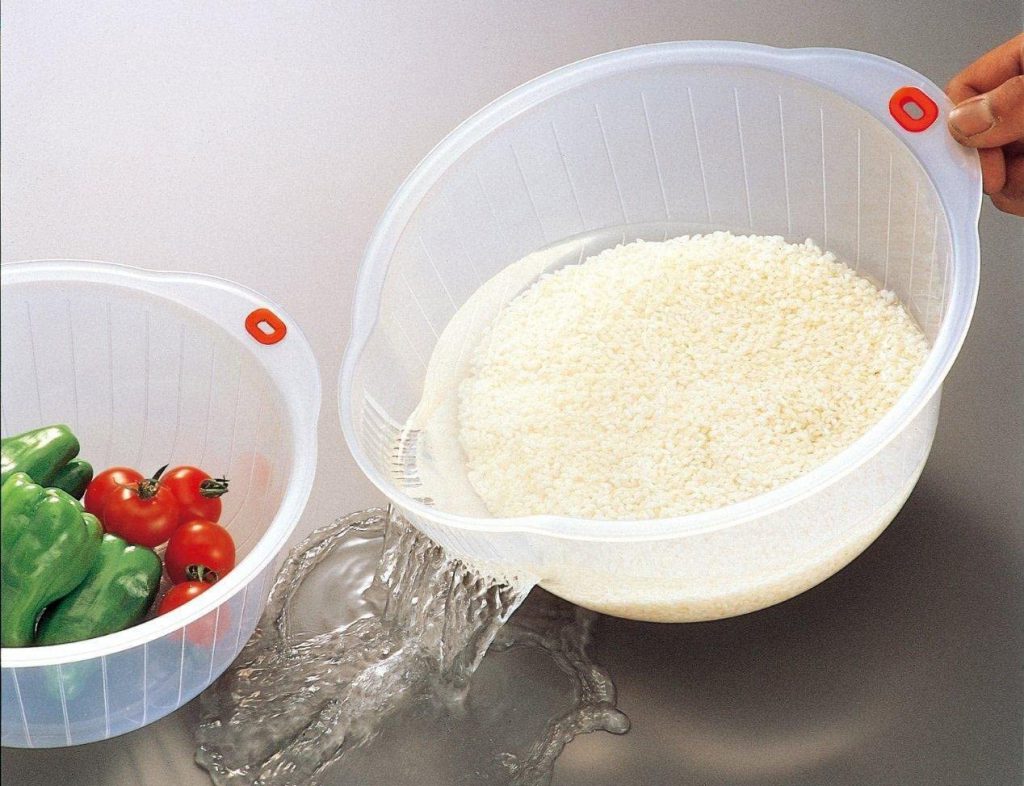 Another rice related gift is the Zojirushi 5-1/2 Cup Micom Rice Warmer & Cooker. I purchased this appliance for myself and have been using it weekly. Rice comes out perfectly and stays hot until dinner is ready.
Zojirushi has a new appliance, the Pressure Induction Heating Rice Cooker & Warmer NP-NWC10/18 which I will be doing a promotion on in the next few weeks. I have not yet had a chance to cook with this appliance but hope to very soon.
---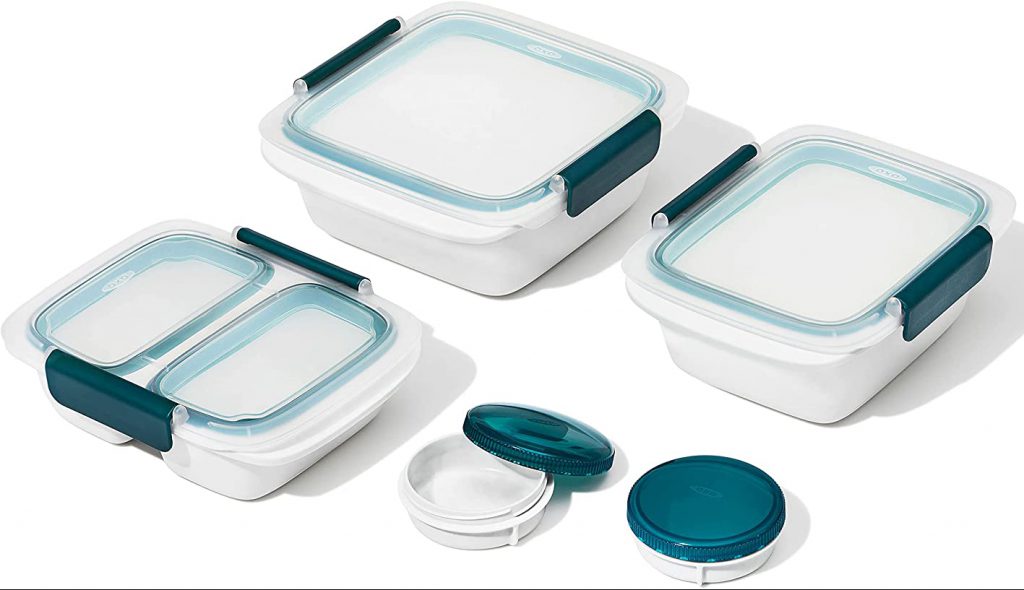 Recently, I bought a few pieces of the OXO Prep and Go containers and am loving them. When I have to prepare for a large meal, I sit at the dining table with my vegetables/ingredients and do all the prep work sitting down as my back is in dire need of surgery which I keep putting off. These containers are the perfect size and keep my produce fresh until I am ready to cook. The divided container is great for onions/garlic/chiles and the larger container I use for veggies and fruit.
---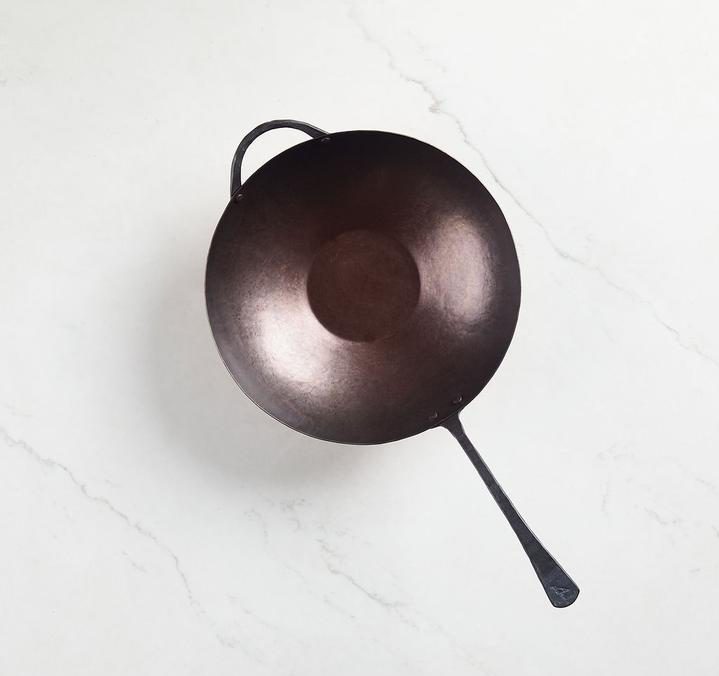 Smithey makes beautiful cookware. Their latest piece is the Smithey wok which will be the subject of a giveaway to pair with Cooking at Home: Or, How I Learned to Stop Worrying About Recipes. This wok is lightweight and is a stunning piece to add to your cookware collection. I will tell you more about this item in the upcoming promotion. See these posts for other Smithey products: Oval roaster, Cast iron griddle, Cast iron chef's skillet.
---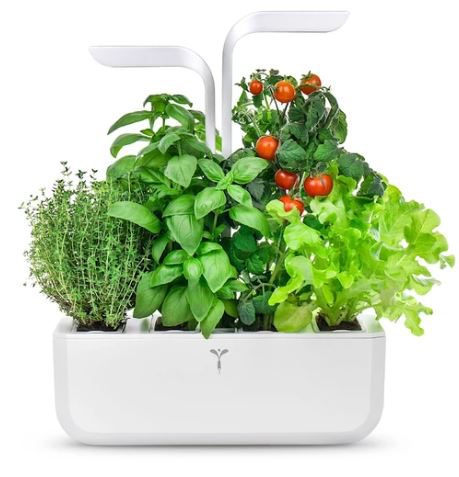 The Veritable Garden is manufactured in France which I particularly love. Véritable® is the leading startup in urban farming providing innovative solutions which enable everyone to easily grow, harvest and enjoy a large range of fresh and healthy products. Flavorful herbs, edible flowers and baby vegetables are fresh and available all year round in your home. Look for a promotion in the coming weeks for a classic garden along with a copy of The Modern Larder: From Anchovies to Yuzu, a Guide to Artful and Attainable Home Cooking. Right now the website is having a Black Friday sale – Use code BF25 at checkout for 25% off!
---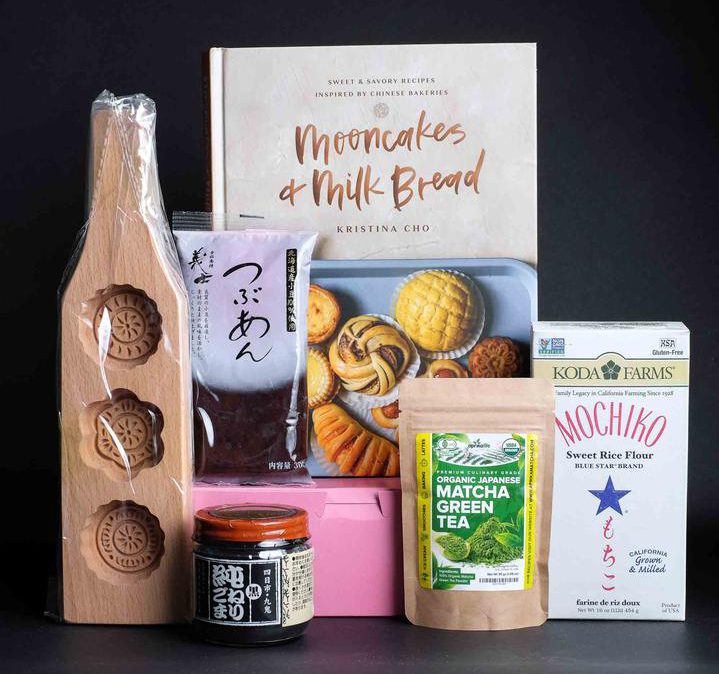 A cooking or baking box from Hardcover Cook is the gift that keeps on giving. Choose from one of the quarterly options – or make your own box from HCC cookbooks and cookbook pantry and impress your recipient. See Hardcover Cook's other cookbook and ingredient bundles and see this page for more information on the subscription service. My favorite box so far has been the one pictured above – I loved it so much I bought it twice! Now I need time to start baking. UPDATE: 11/23 Black Friday sale 20% off everything. Use code FLAVORFRIDAY at checkout.
---
COOKBOOKS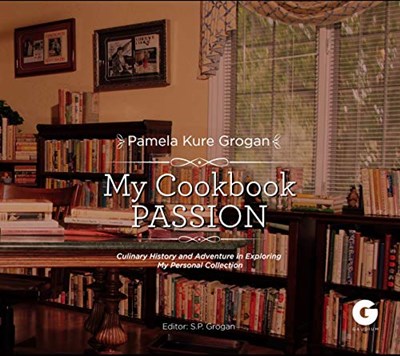 My Cookbook Passion: Culinary History and Adventure in Exploring My Collection by Pamela Kure Grogan will be released on Dec 1st. As with other books this year, printing and shipping issues have caused delays. I was able to take a long look at an electronic copy of the book this weekend and am really excited to get my hands on the print copy. Filled with Pamela's personal experiences, covers of books from her collection and a selection of recipes, this is a true cookbook lover's dream book. I loved reading about vintage titles along with Pamela's adventures. Find out more about the author in our Quick Bites feature. Eat Your Books members can take $5.00 off at checkout using the coupon code COOKING at Histria Books. The cost of the book will then be $34.99 plus shipping and handling of $5.99. Valid thru Dec 31st.
---
In addition to the books mentioned above, other cookbooks that I am loving this year include (link will take you to reviews/promotions) as well as all 2021 books that were the subject of a promotion:
Cookbooks from 2021 that would make wonderful gifts can be found on my preview posts: first half of 2021; second half of 2021 – these preview posts share blurbs about the titles. For even more cookbook news, our monthly cookbook review covers most releases – so if you are looking for something new and exciting – check out those reviews.
Lastly, with regard to specialized cookbooks, I will set out a few books that I think are stars in the vegan, gluten-free, holidays, food writing, and cocktails genre. Instead of writing up a new blurb – I have included a link where appropriate to where you can find said blurb/promo:
Vegan – Vegetarian
---
Gluten-Free
---
Cocktails
---
Food Writing
---
Holidays
---
Basics, specialty
---
A gift certificate to any of your local bookstores or cooking schools would be a great idea as well. Our calendar lists bookstores/classes worldwide for reference.
---
Of course, a gift certificate for Eat Your Books is always a thoughtful present for the cookbook lover/cook. If you need help purchasing a gift certificate, see this help section or email info@eatyourbooks.com.
Link to prior gift guides and all preview posts.