What happened to NPR's The Salt?
November 15, 2021 by Darcie
For several years The Salt was the face of NPR's food reporting, with subsections including Eating and Health, Foodways, Food for Thought, plus others. We linked to many stories from this NPR source that resonated with EYB Members. However, The Salt hasn't had any new posts since October, 2020, when it announced the passing of Cecelia Chang. So where did it go?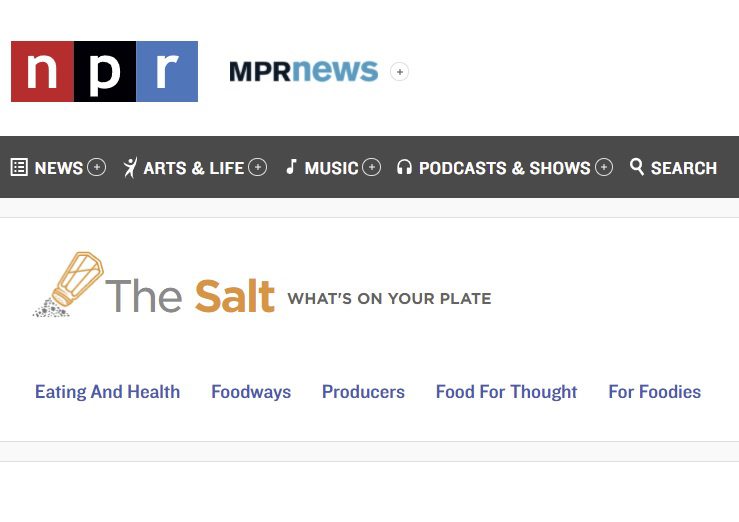 The answer is that the content that appeared on The Salt has migrated to NPR Food, a subsection of the Arts and Life section of the NPR website. Why did The Salt, which won the James Beard Foundation's Publication of the Year Award in 2018, disappear less than two years later? The answer, according to current.org, is that audience recognition of the brand was too low.
NPR did not publicly announce that it was ending The Salt, but rather told staff in an email in early 2020 that it was winding down the blog. According to NPR, no jobs were lost, although the site's editor, Maria Godoy, was reassigned to a different section. Since The Salt did have some new posts in 2020, and with everything else that happened in that tumultuous year, the news that it went defunct slipped right by me.
Although NPR Food has produced some good stories since the demise of The Salt, my impression is that overall, the section has lost its sparkle. My hope is that this is just a pandemic-related phenomenon or that it is just my false perception in a world that has gone topsy-turvy. Has anyone else felt there has been slippage in the food coverage from NPR over the last two years?