IVFF announces the winners of its first-ever vegan cookbook awards
November 3, 2021 by Darcie
The fourth annual International Vegan Film Festival (IVFF) recently announced its 2021 award winners including the first-ever vegan cookbook contest presented by Wicked Kitchen. The IVFF is taking place virtually this year from October 30th – November 14th.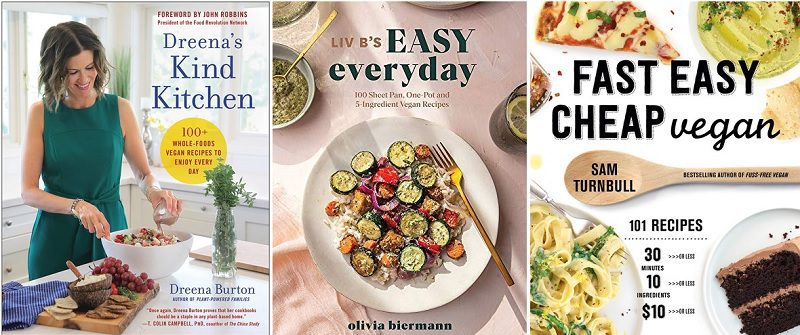 According to the IVFF, their vegan cookbook competition is the only one of its kind in the world. Submissions to the festival were sent from filmmakers, cookbook authors, and photographers from all over the world and carefully rated by expert judges. You can purchase tickets to view the virtual film offerings at your leisure from anywhere in the world. Tickets are available for an individual 90-minute program "block" for $16.95 CAD or a regular all-access festival pass for $45.20 CAD. Of course, we are all about the cookbooks, so here are the winners:
1st place – Dreena's Kind Kitchen: 100 Whole-Foods Vegan Recipes to Enjoy Every Day by Dreena Burton. Dreena has been creating plant-based, whole-food recipes for more than 20 years. Now, she has created this one-stop resource for making kinder, more compassionate food choices, for other beings, for the planet, and for yourself. Whether you need weekly staple meals for your family or want a dish to wow your friends for a special occasion, Dreena's Kind Kitchen has you covered with these reliable, flavorful, and healthy recipes.
2nd place – Liv B's Easy Everyday: 100 Sheet-Pan, One-Pot and 5-Ingredient Vegan Recipes by Olivia Biermann. Fans already know Olivia Biermann, from her Liv B YouTube fame (1 million average monthly views!), the Liv B blog (140,000 average monthly views!) and for her effortless and inexpensive plant-based cooking. In this follow-up to her bestselling Liv B's Vegan on a Budget, Olivia is back with a new collection of more than 100 vegan recipes that are tastier and easier than ever before – all helping you master costeffective plant-based cooking. Everything in this book is cooked with either five ingredients or in one pot or on a baking tray.
3rd place – Fast Easy Cheap Vegan: 101 Recipes You Can Make in 30 Minutes or Less, for $10 or Less, and with 10 Ingredients or Less! by Sam Turnbull, the bestselling author of Fuss-Free Vegan, and creator of the blog It Doesn't Taste Like Chicken. This is Sam's eagerly awaited second cookbook. She is cooking up even simpler vegan comfort food–on a budget, with fewer ingredients, and in 30 minutes or less! The book is all about smart tips and easy techniques that simplify cooking. Many recipes are one-pot, freezer-friendly, and make-ahead meals, creating a stress-free kitchen.