Impractical cookbook storage
October 28, 2021 by Darcie
Scrolling through Twitter yesterday, a post from The Kitchn caught my eye. It promised an article with six ideas for cookbook storage from professional organizers. As my bookshelves are constantly overflowing, I am always game to learn new ways to display and store my books. This article was…not that.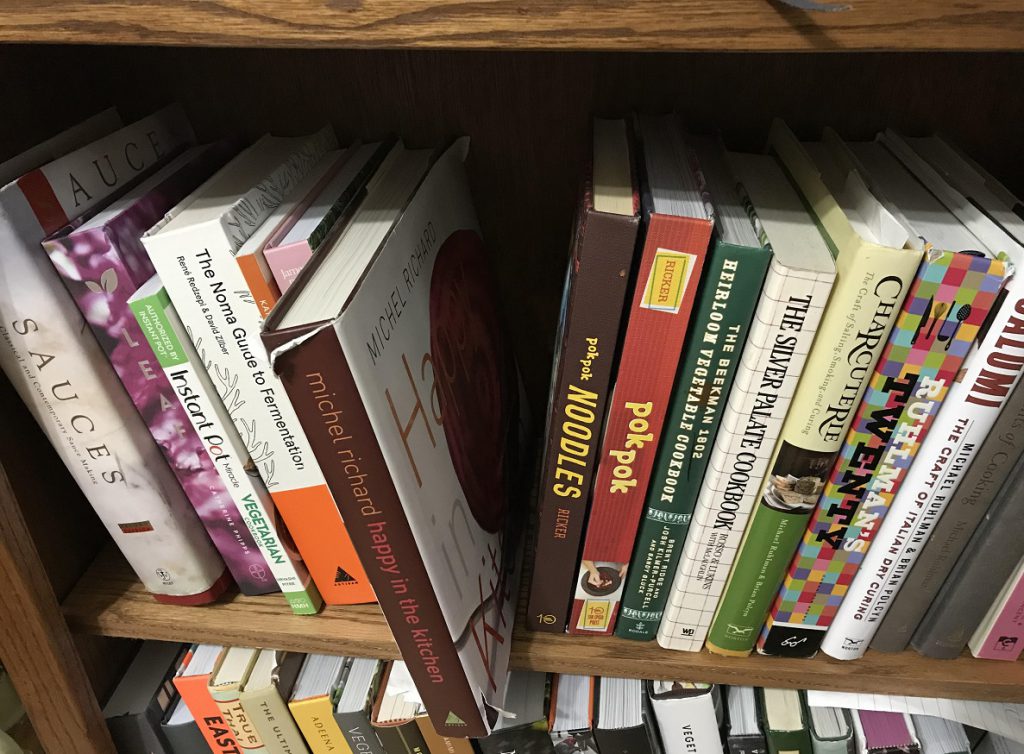 It isn't that the storage ideas the organizers mentioned are bad per se, but they only apply to people with a handful of books, or those who have surplus counter or floor space. I know very few people who can spare precious square footage to "stack a few [cookbooks] with a bowl or vase on top of a surface" in their kitchen, much less add an entire bookshelf to the room. My conundrum is always finding a place to stash things that are cluttering my countertops, I have no room to put even more items into my kitchen. And heaven forfend if I put a vase on top of a cookbook. I can already see the watery disaster that would ensue if my cat (who is not allowed on the counter) were to accidentally jump up on the counter (who am I kidding, he goes wherever he wants) and tipped over the vase, which he would do because he's a cat. Good thing he's so darn cute.
The only option in the article that might work for me is to put my cookbooks in the pantry. Of course, then I would have almost no room for food, dishes or cookware. Such is the dilemma of having a large collection – and mine is not even that big compared to many of our Members. My cookbooks currently reside in a bedroom on several large bookshelves. I have dreams of building a library room off the back of our house, because my husband also has a sizeable book collection.
Until then, I will have to make do with my overflowing shelves and the occasional displays on the coffee table, side table, dining room table, and several chairs. Doesn't it sound much less like clutter to call them displays instead of stacks of books? Yes, let me move this "display" so you have someplace to sit in our living room. The only alternative would be to get rid of them, and I don't even want to think about that.