October 2021 New Cookbook Review
October 27, 2021 by Jenny
As of the time of writing, the books below are published or are to be published by October 31st. But those dates can change at a moment's notice. I've kept our 2021 preview post updated with any changes and continue to update the 2022 preview post.
If you would like to order any of October's titles (or preorder/order any other books or items) using our affiliate links below or BUY BOOK button on the book details page, earns Eat Your Books revenue as an Amazon Associate from qualifying purchases when using our links:
USA * Canada * UK * Book Depository
Please remember your local bookstores during this time as well.
If there is an

available for a cookbook, look for the orange icon in the blurb. Clicking on that icon will take you directly to the preview. Lastly, if events are planned for particular books/authors, I have included a link. Be sure to check our Calendar frequently for new entries.
I've tried to provide as much detail for those titles I have reviewed. As there are so many releases this month, the other titles of interest are books I have not had a chance to see. You can find out more about those titles in the Library record under book details.
To jump to a particular country's listing, please click on the links below.
United States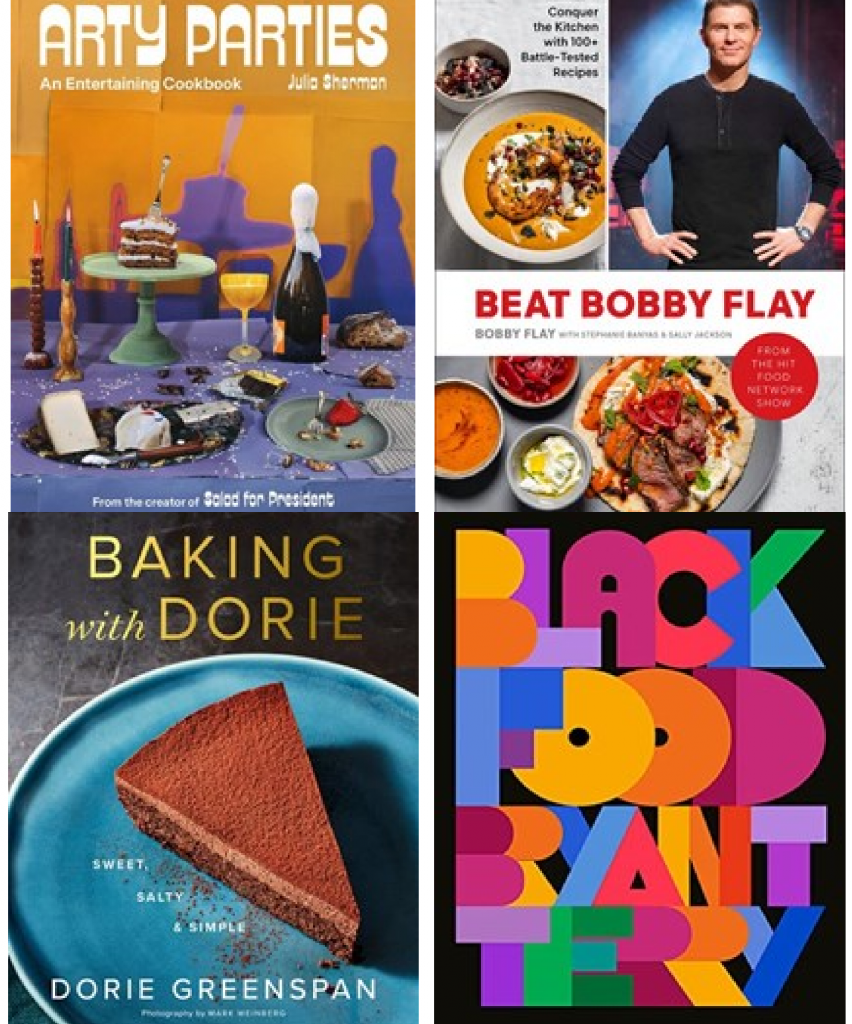 Arty Parties: An Entertaining Cookbook by the Creator of Salad for President by Julia Sherman guides us in creating a memorable bash. Sherman reveals that modern gatherings are less about "getting it right" and more about creating unpretentious and genuine experiences that build community. Sherman shares colorful food with easy-to-follow recipes that value imaginative flavor combinations.

Baking with Dorie: Sweet, Salty & Simple by Dorie Greenspan is everything we expect from one of our queens of baking. Learn more about this title and bookmark a few recipes to try now in our giveaway that includes a gorgeous Emile Henry tarte tatin pan. Hardcover Cook has a great cookbook bundle that gives you all you need to start creating deliciousness. Events
Beat Bobby Flay: Conquer the Kitchen with 100+ Battle-Tested Recipes by Bobby Flay, Stephanie Banyas and Sally Jackson: Beat Bobby Flay (and the Spring and Holiday Baking Championships are about the only thing left on Food Network that I enjoy. It was on this show that I learned my favorite way to pickle red onions from Flay – grenadine and red wine vinegar. Darcie reported recently that Flay and FN have parted ways – at least I'll have this cookbook to turn to when all that FN is airing is Guy Fieri 24/7. Back to the book – sprinkled throughout Bobby's recipes are behind-the-scenes stories of fan-favorite moments, tips to help you "beat the clock" when you're pressed for time, and pro-chef suggestions for everything from meal prep to garnish (when in doubt, add anchovy breadcrumbs!). There are also recipes from competitors who beat Flay.

Black Food: Stories, Art, and More than 75 Recipes from Across the African Diaspora by Bryant Terry: Filled with essays, artwork, and unbelievable recipes from Black culinary stars – it is spectacular. Gorgeous imagery fills this book. Pieces from Michael W. Twitty, Jessica B. Harris PhD, Erika Council and her Buttermilk biscuits and more, Yewande Komolafe's (look for Waffles + Mochi: The Cookbook coming soon) Skillet cakes and so much more. This is a book destined for awards.

Events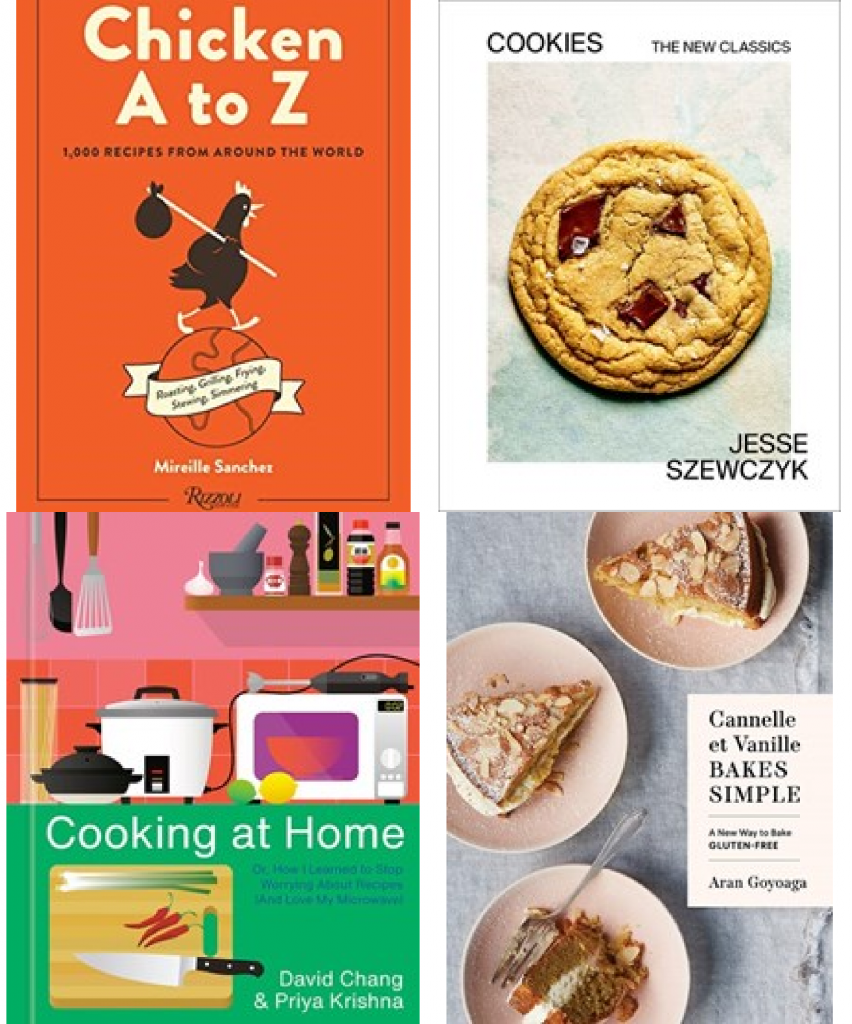 Cannelle et Vanille Bakes Simple: A New Way to Bake Gluten-Free by Aran Goyoaga shares 100 recipes in this new cookbook that will not disappoint. Here she presents easy-to-follow, enticing recipes for breads, cakes, pies, tarts, biscuits, cookies, and holiday treats. For those who are dairy-free, there are substitutes for each recipe and also included are instructions for her gluten-free all-purpose baking mix. This is an incredibly gorgeous book.

Chicken A to Z: 1,000 Recipes from Around the World by Mireille Sanchez: Named "Best Cookbook of the Year" at the 24th Annual Gourmand Awards, this is the only collection of chicken recipes any home cook will ever need. This book gathers more than 1,000 recipes along with anecdotes, stories, and trivia from every continent. Organized by region and country, each recipe comes with complementary recipes such as side dishes, sauces, condiments, or beverages, as well as alternate preparations and variations. Between the main recipes, their variations, and the sides, the book contains nearly 4,000 recipes.
Cookies: The New Classics by Jesse Szewczyk: The first thing popping through your head right now is "do we need another cookie cookbook?" The answer is a resounding YES! These are not your grandma's cookies – not that there is anything wrong with grandma's cookies – we love them and we love grandma; but these cookies are on steroids. Organized by flavor profile each chapter offers a kaleidoscope of textures and flavors. Filled with stunning photographs and reassuring guidance for make ahead, storing, and gifting, this book makes the ideal present for the cookie baker in your family (or yourself). Chocolate tahini bars, Black Forest "Salami" and Sweet Potato Snickerdoodles are examples of some of the recipes you will find here.

Cooking at Home: Or, How I Learned to Stop Worrying About Recipes (And Love My Microwave) by David Chang and Priya Krishna: David came up as a chef in kitchens where you had to do everything the hard way. But his mother, one of the best cooks he knows, never cooked like that. Nor did food writer Priya Krishna's mom. So Dave and Priya set out to think through the smartest, fastest, least meticulous, most delicious, absolutely imperfect ways to cook. The recipes in this book are not set up typically. They are written in a narrative form with no separate listing of ingredients as you can see from our preview. My emotions keep waffling on this style. I absolutely love that we are getting Chang and Krishna's recipes, but I am not very fond of digging through the text for a list of those ingredients even with them being highlighted in underlined green font. Then I waffle back to thoughts that this book is about teaching us to use our instincts in the kitchen and don't mind the style at all. That all being said, I wanted to provide you with as much information as possible so you can begin your own waffling.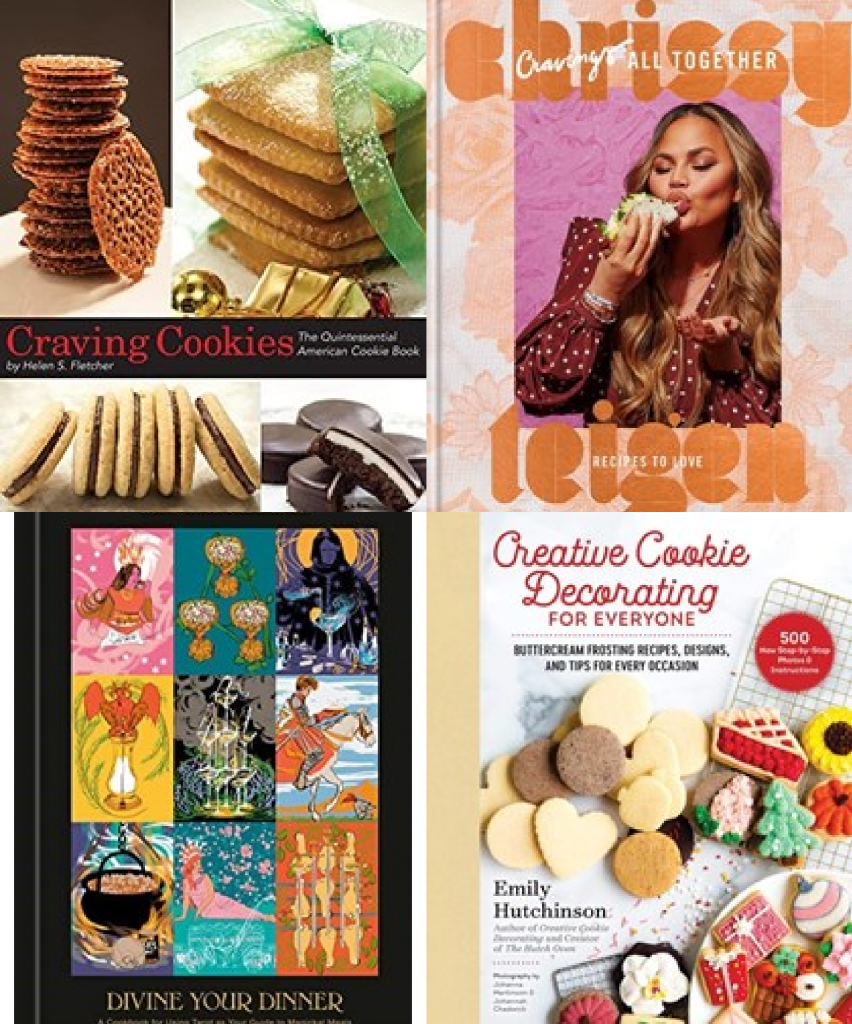 Craving Cookies by Helen S. Fletcher: Helen is a master pastry chef and a talented teacher. Helen provides clear, detailed, and down-to-earth instructions alongside over 200 color pictures. Each cookie recipe features a photograph and wherever necessary additional photos are also offered as a guide. She shares both new and classic recipes and techniques gathered from her years of professional and home baking experience.
Cravings: All Together by Chrissy Teigen: Adeena is back for this title which is very evident. This book reminds me of Teigen's debut cookbook Cravings which Sussman also worked on – meaning I love the recipes. It's vibrant and filled with global flavors and I cannot wait to make the Orange chicken fried sandwich. For those who love photos of the Teigen/Legend family you will not be disappointed.

Creative Cookie Decorating for Everyone: Buttercream Frosting Recipes, Designs, and Tips for Every Occasion by Emily Hutchinson is the follow-up to the beloved Creative Cookie Decorating. In her new book, Emily takes you through decorating with buttercream, with hundreds of step-by-step photos. She covers each season and holiday with new ideas and designs for your cookies. But unique to this book are instructions for how to flood with buttercream. Emily shares twice as many (new!) delicious recipes while also including allergy-conscious cookies that everyone can enjoy. These recipes have been tested and perfected. Emily is a fantastic teacher and I recommend her books and attending her virtual classes. Events
Divine Your Dinner: A Cookbook for Using Tarot as Your Guide to Magickal Meals by Courtney McBroom and Melinda Lee Holm: Each of the 78 recipes in this cookbook interprets a specific tarot card and its energy. Pull a card from your deck, flip to the card's corresponding recipe, and you'll find magickal ingredients to infuse your meals with spiritual energy from the Tarot.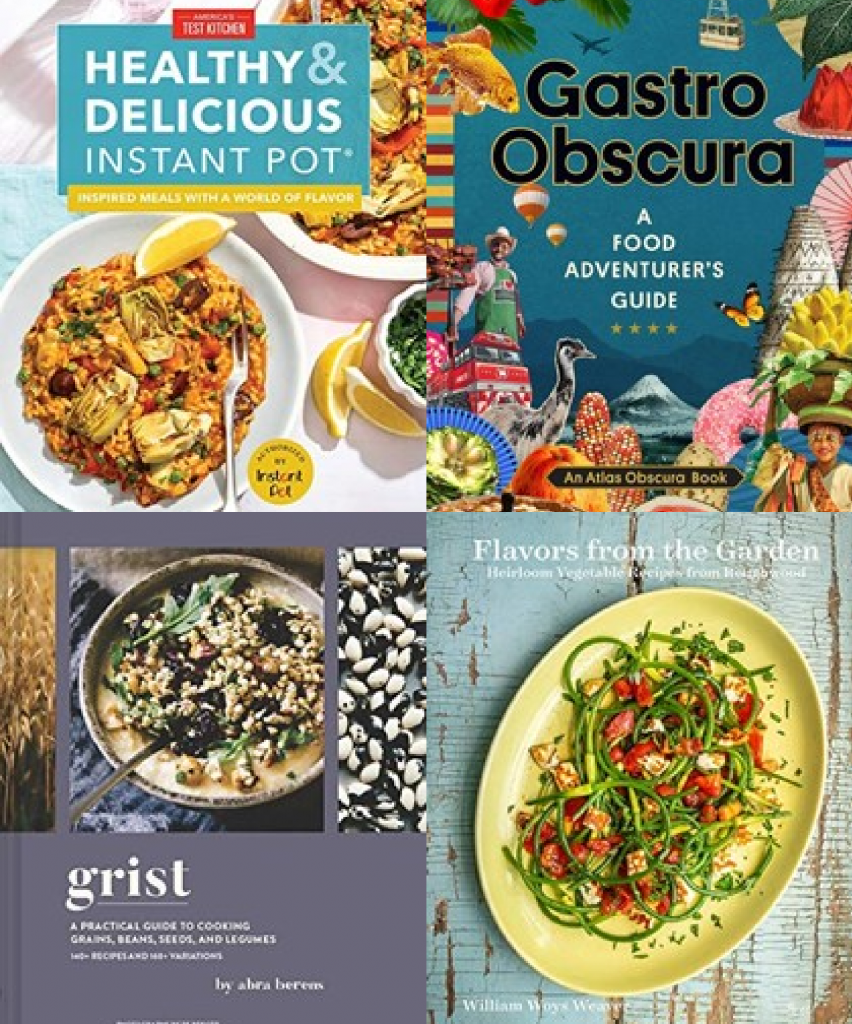 Flavors from the Garden: Heirloom Vegetable Recipes from Roughwood by Williams Woys Weaver shares recipes that follow the seasons with each chapter guiding the reader from the garden to the kitchen to the table. Comforting dishes included here range from fresh salads, slaws, and stir-fries to hearty soups and baked goods. Conserves, marmalades, and pickles preserve peak-season produce for yearlong enjoyment. Weaver's plant-centric recipes include Pennsylvania Dutch favorites as well as inspirations from his global travels. Essays and sidebars offer practical tips on the proper treatment of ingredients.
Gastro Obscura: A Food Adventure (Atlas Obscura) by Cecily Wong and Dylan Thuras and Atlas Obscura is one of those "must have" titles. When I first received the book, I went through it quickly in awe. Then later in the evening, I thoroughly perused each page and was totally smitten. An obscene amount of photographs and illustrations fill the pages along with essays on topics from "Farthest Flung Chinese Restaurants" to "Ukrainian Wedding Bread". It is a generous volume of food knowledge on everything we should know, thought we knew and maybe didn't want to know (anti-masturbatory food or blood as a pantry staple). There are seven recipes in this book but those are just gravy, the value of Gastro Obscura is in the pages and pages of encyclopedic information that is both interesting and sometimes shocking.
Grist: A Practical Guide to Cooking Grains, Beans, Seeds, and Legumes by Abra Berens, a James Beard semifinalist for Outstanding Chef: Great Lakes and author of Ruffage, shares more than 300 recipes and variations, plus substantial reference information to help you discover the next great grain.
Healthy and Delicious Instant Pot: Inspired Meals With a World of Flavor by America's Test Kitchen helps us to embrace the fresher side of Instant Pot cooking with satisfying meals and exciting flavors to invigorate weeknight dinner. These wholesome recipes are easy – over half ready in an hour or less – yet are anything but predictable, with options that bring a variety of flavors to the table. Cook a wide range of cuisines and ingredients with meals that will leave you feeling nourished and energized.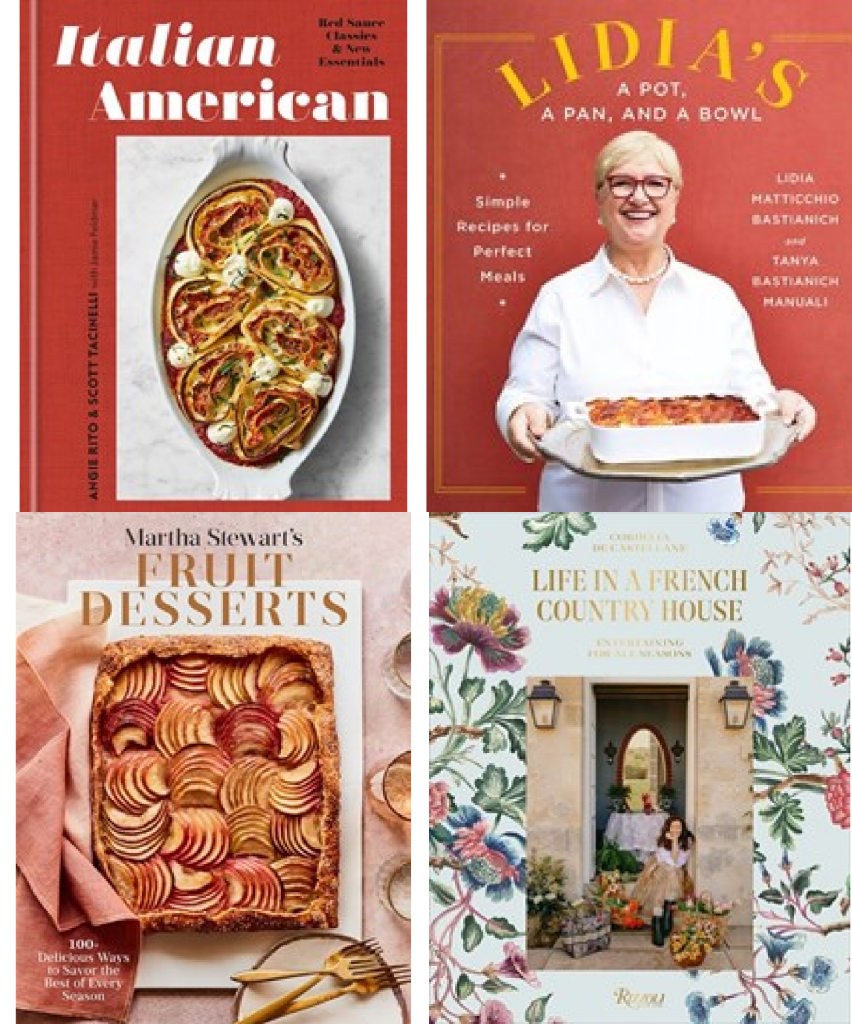 Italian American: Red Sauce Classics and New Essentials: A Cookbook by Angie Rito, Scott Tacinelli and Jamie Feldmar: In their debut cookbook, Angie Rito and Scott Tacinelli, the chefs of Don Angie in New York City's West Village, reinvigorate the genre with a modern point of view that includes multicultural influences inspired by New York City and updated dishes that proudly straddle the line between Italian and American. I want to make so many recipes from this book including the Campari & orange stick ribs shared in our preview:

Lidia's a Pot, a Pan, and a Bowl: Simple Recipes for Perfect Meals by Lidia Matticchio Bastianich and Tanya Bastianich Manuali shares more than 100 homey, simple-to-prepare recipes that require fewer steps and fewer ingredients (and less cleanup), without sacrificing any of their flavor. There are old classics here and new recipes alike – but all with less fuss.
Life in a French Country House: Entertaining for All Seasons by Cordelia de Castellane: As France's most prominent host and the artistic director of Dior Home and Baby Dior, Cordelia de Castellane is a leading ambassador of the Gallic lifestyle. Organized according to the seasons of the year, the chapters uncover Cordelia's tips and inspirations for living and entertaining à la française. With individual sections dedicated to seasonal tableware, recipes, interior design, flower arranging, and more, readers will delight in learning how to re-create chic French style for special events and everyday occasions alike.
Martha Stewart's Fruit Desserts: 100+ Delicious Ways to Savor the Best of Every Season by Martha Stewart is a stunning collection of recipes that takes fruit centerstage. Organized seasonally the book shares recipes for the gorgeous Apple quince tart on the cover, a Tropical fruit crepe cake, and Lemon cake with raspberry cream cheese frosting – just to name a few.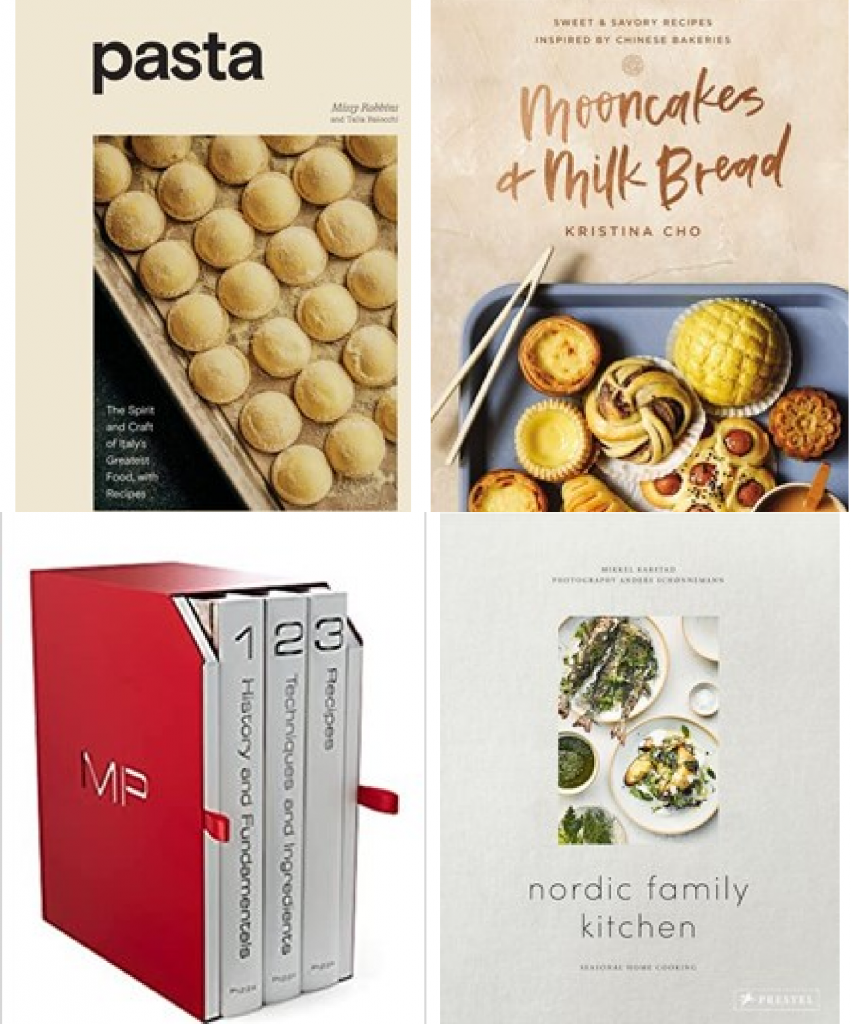 Modernist Pizza by Nathan Myhrvold and Francisco Migoya: We will have a promotion coming next week. This set of books has been indexed by volume number – see the note in the Library record or add the individual volumes to your bookshelf for a full index. Modernist Pizza is spectacular, and I will have so much to tell you in the promotion about how the authors traveled the world to find the best pizza and techniques. If you have a chance to attend one of the events and hear Nathan speak – do it. I hear that the next set of books will be devoted to pastry!

Events
Mooncakes and Milk Bread: Sweet and Savory Recipes Inspired by Chinese Bakeries by Kristina Cho: I am so impressed with the beauty and thoroughness of this book. From how to shop at an Asian market to how to rescue collapsed dough, from myriad step-by-step photographs of folding techniques to highlights of Chinese bakeries around the US, this stunner of a book has it all. I've been buying molds and other items for a while in anticipation of this release, and I am ready to bake! This is one of my most anticipated titles of 2021. Hardcover Cook has a great cookbook bundle that gives you all you need to begin baking.
Nordic Family Kitchen: Seasonal Home Cooking by Mikkel Karstad: The author is a consultant chef and former culinary advisor to the NOMA team who is known for his modern and natural approach to food and cooking. In this book he presents 75 easy, healthy, and delicious recipes for a new green and eco-conscious generation of families. Arranged into 10 chapters (eggs, pasta, baking, breakfast, lunch, dinner, in the forest, in the garden, in the orchard, on the beach), the recipes include everyday dishes that are fun and easy to prepare together as a family, or even for the kids to prepare themselves. This beautiful book makes me want to track down his other titles to add to my collection.
Pasta: The Spirit and Craft of Italy's Greatest Food, with Recipes by Missy Robbins and Talia Baiocchi: A stylish, transporting pasta master class from New York City's premier pasta chef, with recipes for 40 handmade pasta shapes and 100 Italian American, regional Italian, and modern dishes. This is another stunner of a book – and I am sure you are growing weary of me writing this – but publishers and authors are kicking butt and taking names. If you love pasta and are serious about creating greatness in your home kitchen, buy this book.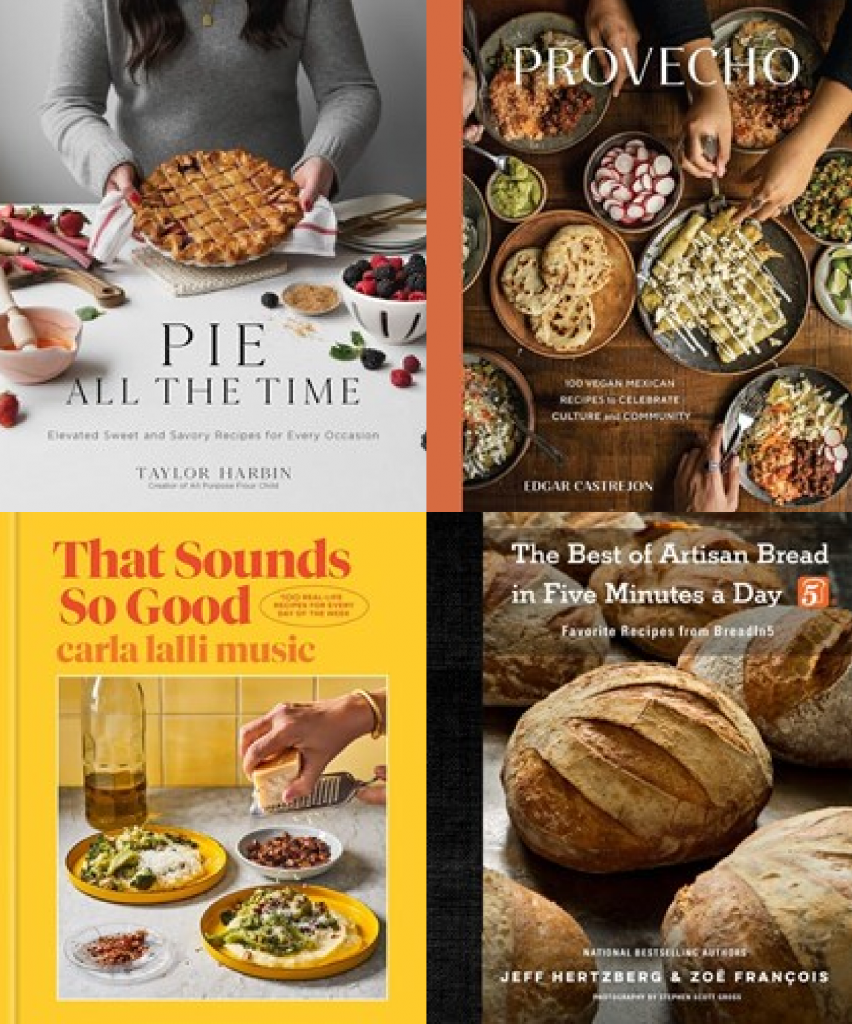 Pie All the Time: Elevated Sweet and Savory Recipes for Every Occasion by Taylor Harbin, founder of the blog All Purpose Flour Child, shares exciting recipes to satisfy readers' cravings for creative new flavor pairings and comforting favorites. Taylor's easy method produces a crisp, flaky crust every time, and her simple, unique fillings are as effortless as they are delicious.

Provecho: 100 Vegan Mexican Recipes to Celebrate Culture and Community by Edgar Castrejon: Provecho is the Spanish expression for wishing someone a good meal – it is a celebration of food and family, honoring the traditional recipes of Mexican culture while cooking with compassion. Edgar shares 100 vegan recipes, many of which take thirty minutes or less and rely on readily accessible ingredients, are organized by how meals are approached in Edgar's family and also include Salvadoran and Colombian influences.

That Sounds So Good: 100 Real-Life Recipes for Every Day of the Week by Carla Lalli Music: The recipes here are organized by needs we all have: quick stovetop suppers and one-pot meals for weeknights, big salads and grain bowls if you want to burn a little cleaner, and lazy lunches and all-day roasts for the weekend. The recipes shared in this book do sound (and look) so good. The Zucchini fritter of my dreams – I could have that every day for the rest of my life. There are loads of recipes that I will turn to time and again.

Events
The Best of Artisan Bread in Five Minutes a Day: Favorite Recipes from BreadIn5 by Jeff Hertzberg M.D. and Zoë François: In this new release, the authors have chosen their favorite 80 recipes from all five of their books, bringing them together into a single volume that is the only bread book a baker needs. Find out more about this title and enter our giveaway here.
The Korean Vegan Cookbook: Reflections and Recipes from Omma's Kitchen by Joanne Lee Molinaro shares recipes and narrative snapshots of the food that shaped the author's family history. Some of the recipes come straight from her childhood while others pay homage to special events in her family. I am not vegan but I do love Korean food and this book is a beautiful collection of recipes that anyone can enjoy.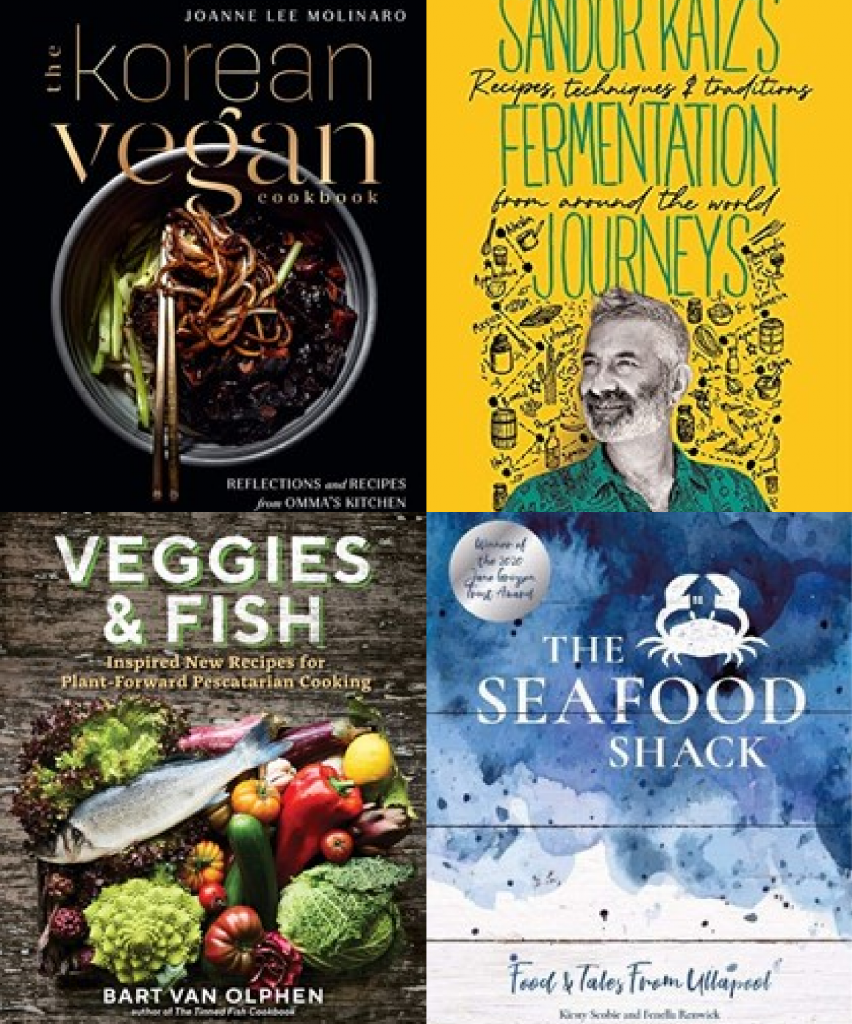 The Seafood Shack: Recipes and Stories from the Scottish Highlands by Kirsty Scobie and Fenella Renwick (US release of UK edition): The Seafood Shack is the winner of the Jane Grigson Trust Award 2020. A tiny catering trailer in Ullapool on the west coast of Scotland is where Kirsty and Fenella take whatever their fishermen friends bring them each day and serve it up for a crowd of locals and tourists. Join them and discover how easy it is to cook mouthwatering seafood with over 80 down-to-earth recipes, plus essential tips on how to prepare, dissect, fillet and cook white fish, smoked and shellfish. Whether it's their signature haddock wrap for a mid-week dinner or their garlic & thyme langoustines for a weekend part treat, this is food that is simple and quick, but more importantly fresh, delicious to eat and an absolute joy to cook.
Veggies & Fish: Modern & Sustainable Plant-Forward Pescatarian Recipes by Bart Van Olphen is a modern pescatarian cookbook with over 95 plant-forward, sustainable seafood recipes, featuring stunning photography from Jamie Oliver's longtime food photographer.

Sandor Katz's Fermentation Journeys: Recipes, Techniques, and Traditions from around the World by Sandor Ellix Katz: For the past two decades, fermentation expert and bestselling author Katz has traveled the world, both teaching and learning about the many fascinating and delicious techniques for fermenting foods. Wherever he's gone, he has gleaned valuable insights into the cultures and traditions of local and indigenous peoples, whether they make familiar ferments like sauerkraut or less common preparations like natto and koji. In his latest book, Katz brings the reader along with him on his journey. Events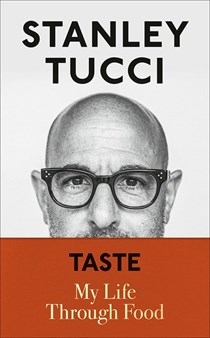 Taste: My Life Through Food by Stanley Tucci: Before the award winning actor became a household name, he grew up in an Italian American family that spent every night around the table. He shared the magic of those meals with us in The Tucci Cookbook and The Tucci Table, and now he takes us beyond the recipes and into the stories behind them. Taste is a reflection on the intersection of food and life, filled with anecdotes about growing up in Westchester, New York, preparing for and filming the foodie films Big Night and Julie & Julia, falling in love over dinner, and teaming up with his wife to create conversation-starting meals for their children. Each morsel of this gastronomic journey through good times and bad, five-star meals and burnt dishes, is as heartfelt and delicious as the last.
Other titles of interest which I haven't reviewed – more information can be found on the Details tab on the EYB Library record:
Canada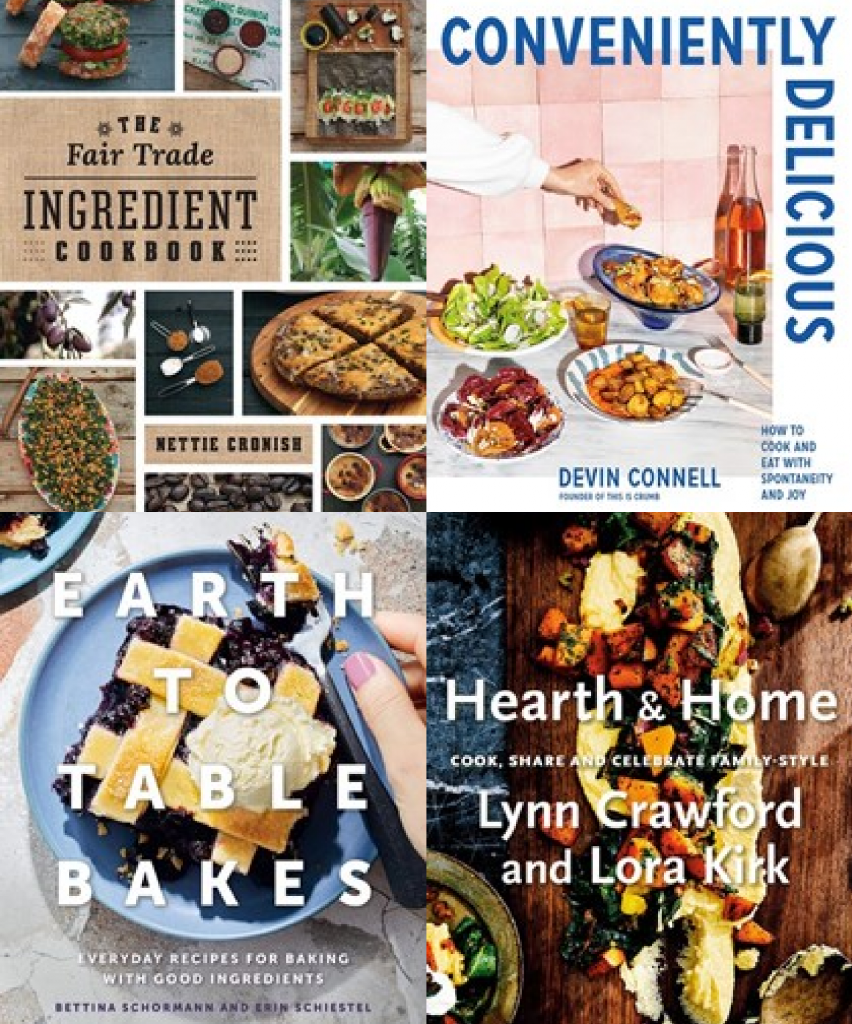 The Fair Trade Ingredient Cookbook by Nettie Cronish gives consumers an understanding of the fair trade process – explaining how an ingredient qualifies for fair trade certification and how that product reaches a supermarket shelf. Each chapter includes an interview with a fair trade producer and provide background along with the benefits of fair trade ingredients. This book is the story of farmers and workers sharing the desire for a better world and is filled with many diverse recipes using fair trade ingredients that would charm many a palate.
Conveniently Delicious: How to Cook and Eat with Spontaneity and Joy by Devin Connell: When Devin opened Delica Kitchen, a cafe and bakery, and then started a family, Devin realized that her cooking style needed to change. She was cooking for a crowd now – customers, friends, children and extended family. But Devin still wanted to maintain the happiness that being in the kitchen always brought to her life. And over the years, Devin learned that she didn't have to meal-plan, that with the right basics and mindset, she could get a meal on the table for her and her kids that was bursting with flavor, yet still doable for a weeknight. She started her lifestyle platform, Crumb, as a forum to celebrate the power of food to bring people pleasure, and to bring them together. To share expert insights, practical tips and tools, and straightforward recipes to make easy, wholesome family meals a reality. And now, she's developed over 100 brand-new recipes to bring to readers worldwide.
Earth to Table Bakes: Everyday Recipes for Baking with Good Ingredients by Bettina Schormann and Erin Schiestel is such a beautiful book that you will not want to dirty it up in the kitchen but you won't be able to help yourself. The recipes in Earth to Table Bakes are designed for everyday baking at home – for indulgent moments shared with family and friends and for celebrations large and small. Lemon olive oil crumble cake, Orange and pistachio loaf and Plum and cardamom coffee cake are calling my name – I'll just be sure not to spill too much on this title's beautiful pages.
Hearth & Home: Cook, Share, and Celebrate Family-Style by Lynn Crawford and Lora Kirk features over 140 delicious and comforting recipes that are all achievable for any home cook. Most of these dishes come together quickly with few ingredients and basic techniques.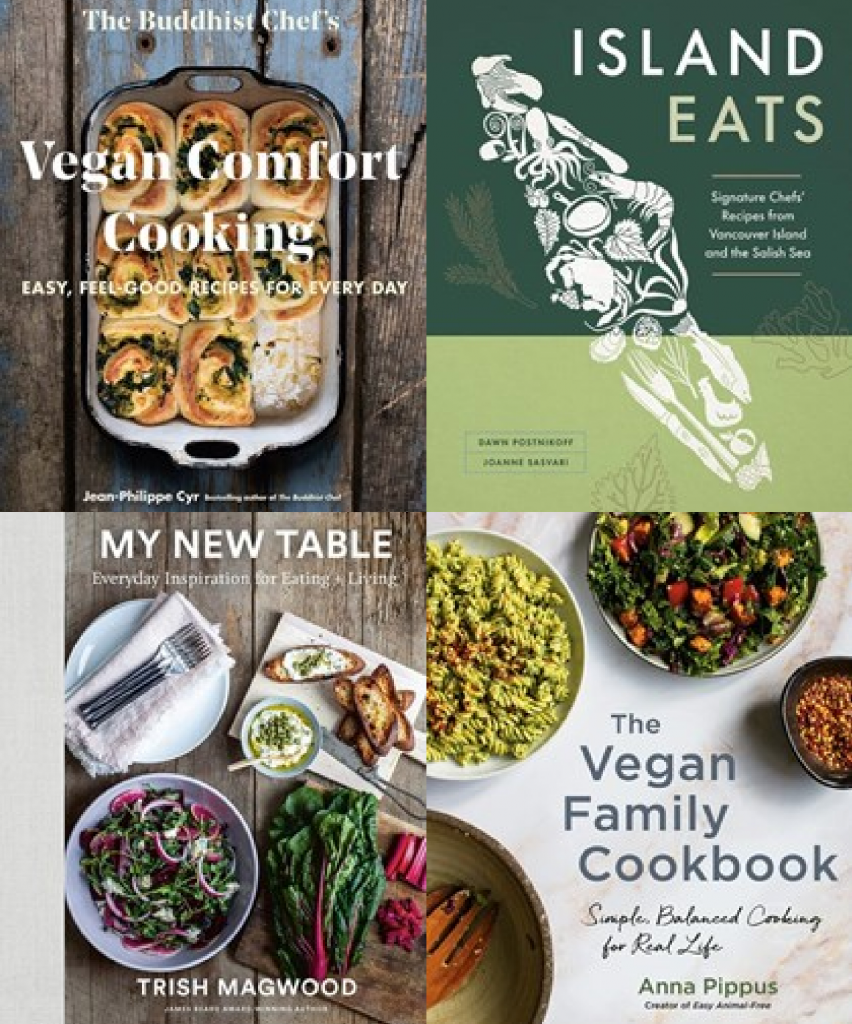 The Vegan Family Cookbook: Simple, Balanced Cooking for Real Life by Anna Pippus: For many years, the author found herself exhausted at the thought of coming up with what to make for dinner every night, until finally she changed how she tackled cooking forever. In The Vegan Family Cookbook, Anna shares the approach she developed to eliminate her mealtime dread: daily cooking themes. Mondays are pasta, Tuesdays are bowls, Wednesdays are one-pot meals, and on Thursdays, it's all about stir-fries.
Island Eats: Signature Chefs' Recipes from Vancouver Island and the Salish Sea by Dawn Postnikoff and Joanne Sasvari: Another wonderful "eats" title from the Figure1 Publishing folks. This title features more than 80 signature dishes, from a classic salmon chowder to island-foraged chantarelle risotto, apple pie waffles to bannock ice-cream sandwich, this inspired collection boasts locally-minded, soul-satisfying dishes that readers will want to make again and again.

My New Table: Everyday Inspiration for Fresh + Simple Eating + Living by Trish Magwood is a collection of more than 100 simple recipes that celebrates the modern table, however you choose to define it. Trish has seen a lot of change over the past several years with blending of families, an ever-evolving career, and renovating a new house. Through it all, she realized, the table – the place where you gather, eat, and connect – remains the anchor. Divided by meal type, this book shares easy and delicious recipes that use simple ingredients, which follow the rhythm of the seasons, to let their natural flavors shine.
The Buddhist Chef's Vegan Comfort Cooking: Easy, Feel-Good Recipes for Every Day by Jean-Philippe Cyr, aka The Buddhist Chef, is back with even more vegan dishes that are easy, classic, comforting, and oh so delicious. Inspired by the comfort foods he enjoyed growing up as well as his travels around the world, this collection of recipes are perfect for every meal of the day, whether it's a quick dinner for two or a weekend brunch for friends.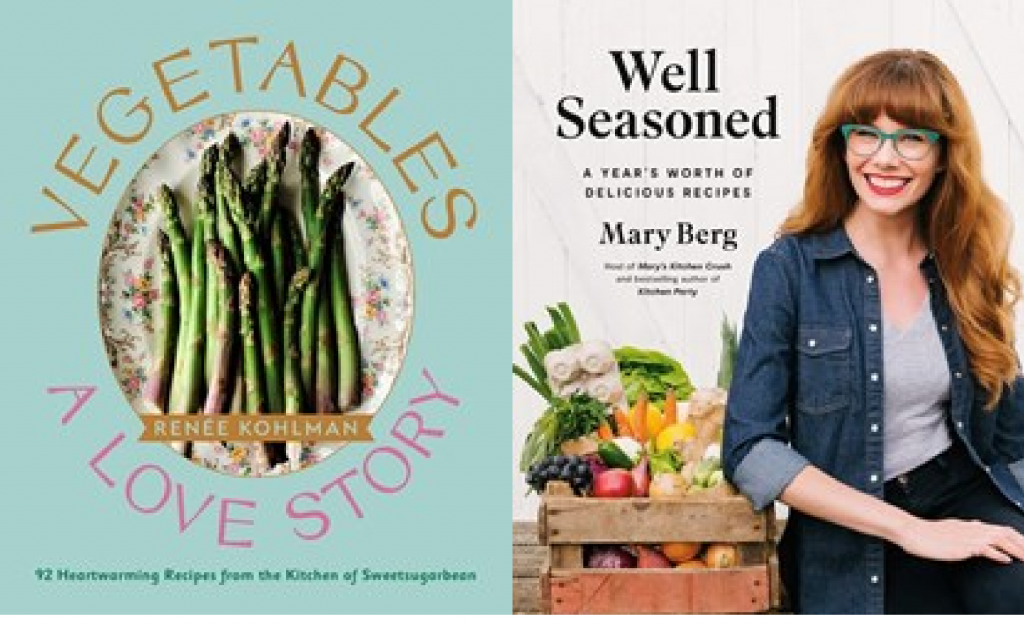 Vegetables: A Love Story in Recipes by Renée Kohlman: In 23 chapters organized by vegetable, from that auspicious Asparagus to the reliable Zucchini, this book includes 92 delicious and easy-to-follow vegetable-forward (but not exclusively vegetarian) recipes. Soups, salads, sides, tarts, casseroles, pastas, snacks, and more are accompanied by vivid photography that celebrates both raw ingredients and finished dishes.
Well Seasoned: A Year's Worth of Delicious Recipes by Mary Berg is a more personal cookbook than Mary's first title. Well Seasoned is still all about food, friends, and family, because cooking and eating are all about sharing and showing love. But in this book, the recipes are inspired by how Mary and her family eat every day. Like so many of us, Mary eats how she feels, and there is a certain rhythm she naturally follows as the year goes by. From fresh, crisp flavors in spring, to vibrant, grill-able foods in summer, to nostalgic, savory dishes in autumn, and hearty, lingering meals in winter, you'll find beautiful recipes to nourish yourself and your family all year long.
United Kingdom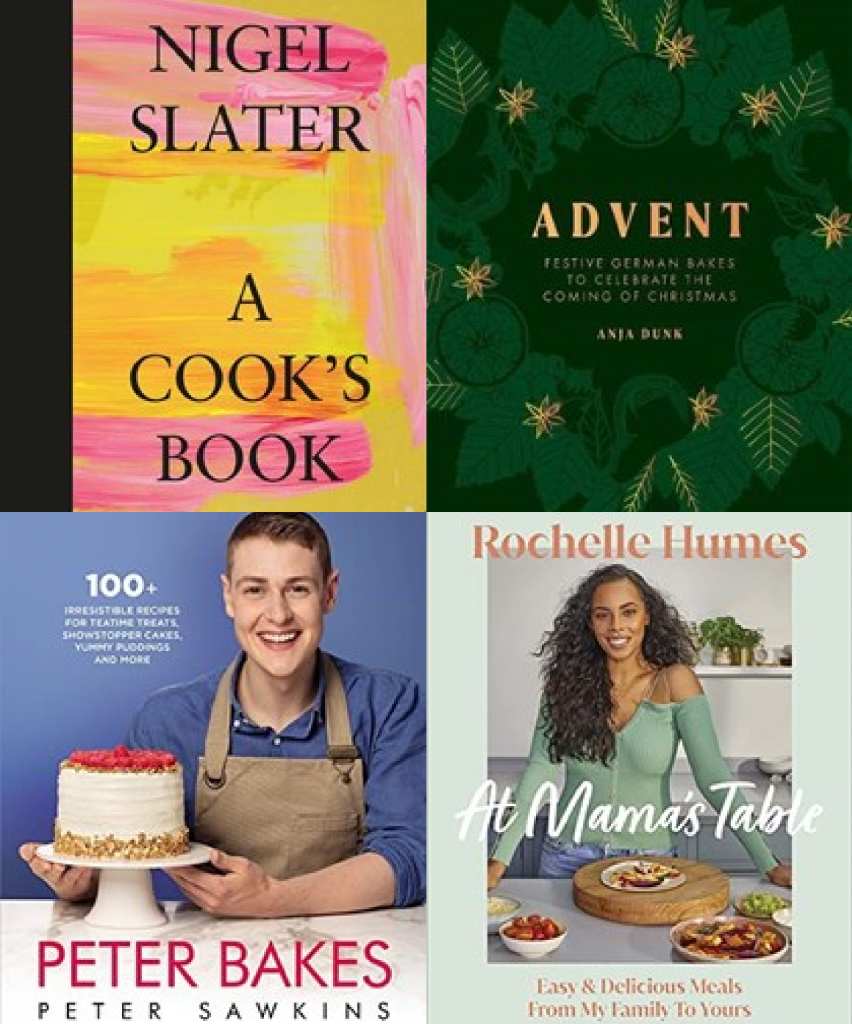 At Mama's Table: Easy and Delicious Meals From My Family To Yours by Rochelle Humes, British singer and television personality, shares recipes in her debut cookbook that bring her family to the table. Rochelle and her husband Marv are big believers in sitting down together as a family to eat, regardless of how busy they are. When she prepares food for her family, she loves using simple, fresh and flavoursome ingredients that they can all eat and enjoy together. At Mama's Table is packed with all crowd-pleasing dishes. Whether it's 'fast' food, prep-ahead recipes, twists on everyday favourites, food on the move, occasion dishes, all the snacks, she has got you covered!
Peter Bakes: 100+ Irresistible Recipes for Teatime Treats, Showstopper Cakes, Yummy Puddings and More by Peter Sawkins: I ordered this book and not so patiently awaited its arrival. It finally arrived and I am pleased to report that Peter has put forth an impressive debut cookbook. The youngest GBBO winner begins by providing an entire chapter (nearly 40 pages) on the basics from Choux pastry; sponges; caramels; buttercreams, nougatine and more. The book is organized by Basics; Cakes; Pastry; Puddings; Desserts; Patisserie; Little Bakes and ends with Christmas. Recipes such as a Lemon, Clementine and Almond cake; Whiskey, Honey and Orange bars; Chocolate and Fig Frasier cake; and a stunning Black Forest Gateau are a few examples of what you will find here. For those of you in the UK, Peter has a few events scheduled at Topping & Co. Also there is an event with Prue Leith at Blackwell's on Oct 29th. My huge post which shares all titles GBBO related can be found here.
A Cook's Book: The Essential Nigel Slater by Nigel Slater was written at the author's kitchen table during COVID but many of the stories and recipes having been milling about for years. Slater reminds us that there are no stylists or props in his photography (ever) and that if things (a plate, a bowl) look familiar that is because they are from his daily life and probably used in another title. I particularly love that fact. I also live for the moments when I am exhausted and come to a book and decide I can slow down a bit and spend some time with it. In this regard, I have a funny story to tell. My order of this book arrived last weekend from Book Depository and after it arrived, I received a notice that the copy I ordered from Waterstones had shipped. Yes, I am a double buyer. Darcie was happy to buy the extra copy from me because she had it on her wishlist. Before, I ship this gorgeous book off to Darcie I am sitting at my desk at 11 pm with the wind howling outside and a dog barking in the distance. I have decided that the day is done and I am taking my time and paging through and reading the introduction like a normal person should. I'm not sure if this break was brought on by exhaustion or the fact that Nigel Slater has a calming effect with his words and his real imagery which is still stunning. The feel of the pages and content make me long to turn on the fireplace and grab my quilt and settle in to absorb every word. I tell myself that this luxury will come after the next month or so and it will be all the more rewarding as good things come to those who wait. If you have never purchased a Slater title before, now is your time.
Advent: Festive Bakes for the 12 Days of Christmas and Beyond by Anja Dunk: Anja's cookbooks are special – Strudel, Noodles and Dumplings is a must own for anyone who loves German food. If you take Anja and add baking and the holidays, you have a very happy Jenny. This book is filled with all the baking joy of the season and sprinkled with German traditions such as narrative on the Christmas markets and the history behind certain baked items. Biscuits, cakes, stollens, breads, rolls and more are overflowing from this gorgeous book!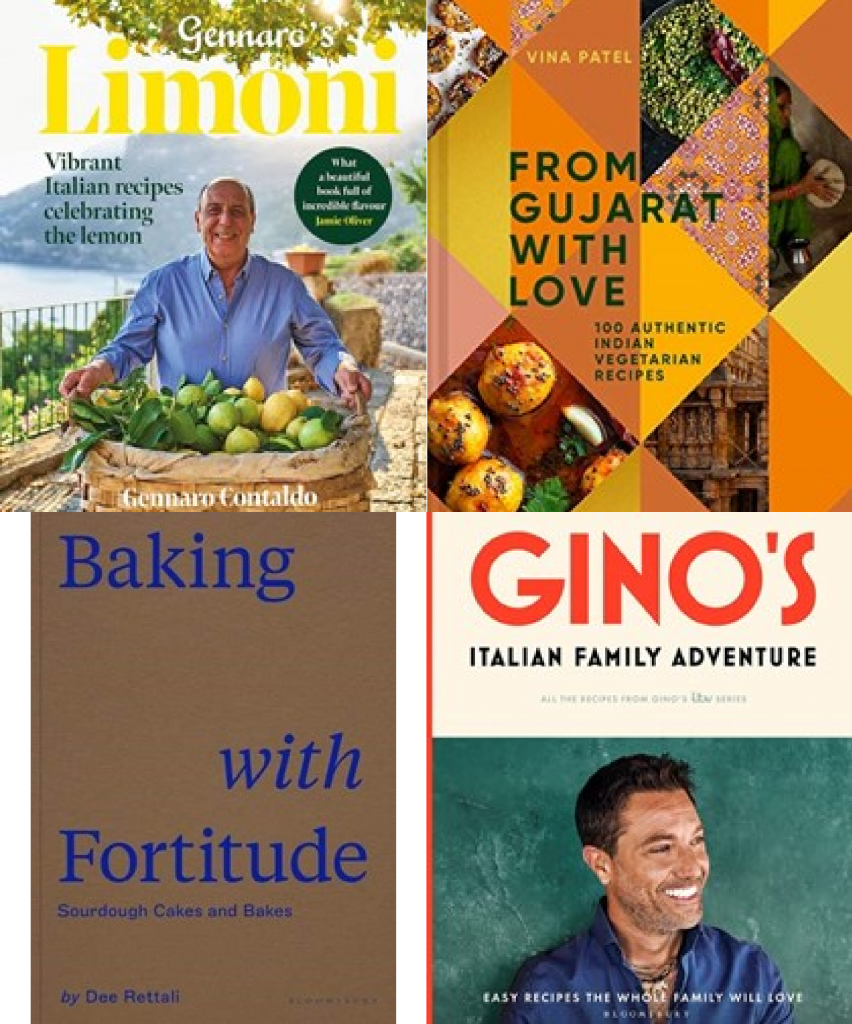 Baking with Fortitude: Sourdough Cakes and Bakes by Dee Rettali: Dee walks us through how to bake with the fruits, spices, and herbs we have around us, loading our bakes with natural flavor and sparing ourselves piles of sugar and artificial flavors. Then, sharing two exciting new techniques that form the essence of craft baking, Dee teaches readers how to bake with a starter and, secondly, to ferment the batter itself. Whether you eat it like a traditional cake or slice it up and eat it like bread, these cakes will be delicious longer than any cake you've ever made. This title will be released in the US in December.
From Gujarat, With Love: 100 Easy Indian Vegetarian Recipes by Vina Patel: Exploring authentic cuisine from the west coast of India, the recipes in this book adopt the region's explosive combination of sweet, spicy, and sour flavors, and are captured visually by world-renowned photographer Jonathan Lovekin. Featuring easy recipes for classic small plates, popular street food, and everything in between, Vina Patel has made her recipes accessible for home-cooks everywhere, including those with dietary requirements.
Gennaro's Limoni: Vibrant Recipes Celebrating the Lemon by Gennaro Contaldo: When many think of the Amalfi Coast, lemons come to mind. The Sfusato Amalfitano is the extraordinary and delectable citrus fruit which Contaldo grew up with. Lemons were and still are a part of daily life for locals of the Amalfi Coast, and, when Gennaro came to the UK over 40 years ago he carried with him this Amalfi tradition. From a sliver of zest in his morning espresso to helping with minor ailments and even household chores, lemons have a wealth of uses. This book shares 80 recipes using lemons to make meals sing.

Gino's Italian Family Adventure: Easy Recipes the Whole Family will Love by Gino D'Acampo: In his ultimate family cookbook, Gino takes inspiration from his upbringing in Napoli, transporting the classic methods and ingredients he grew up with to the modern family table. These are the meals Gino and his family eat time and time again. The recipes grew from years of cooking for and alongside his wife and three children. They represent the Italian way of cooking, catering to the whole family's diverse tastes in a way that is often effortless and always satisfying. Events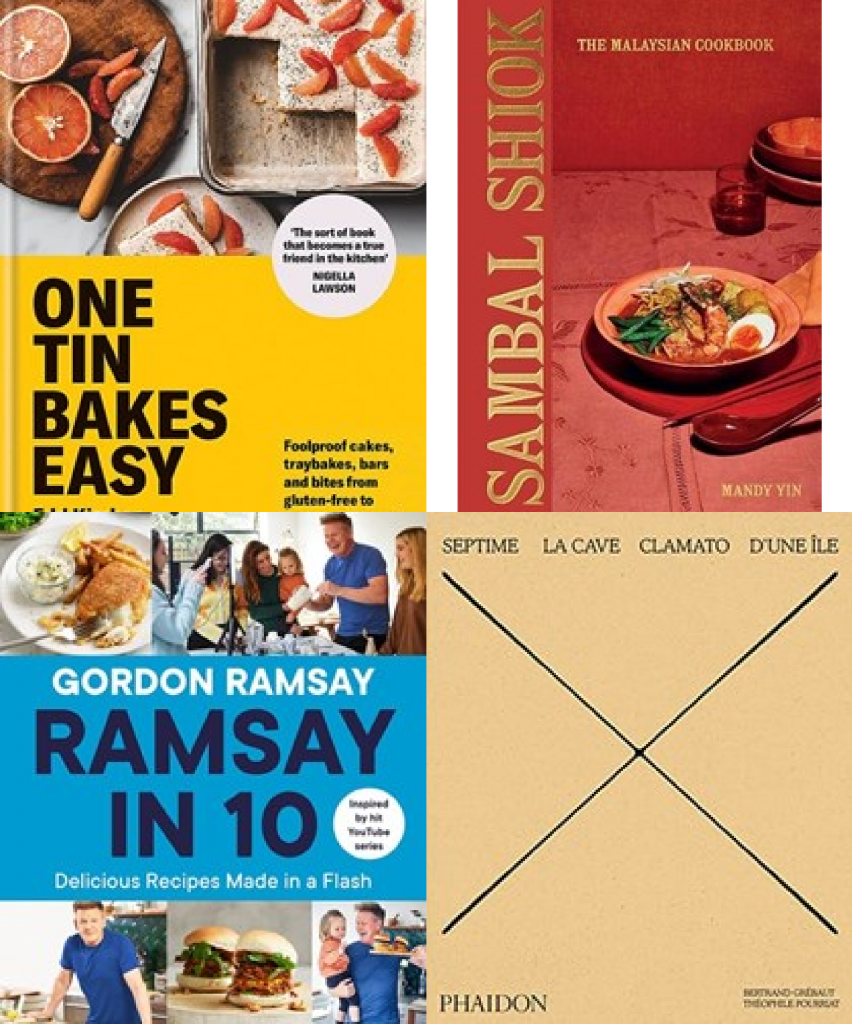 One Tin Bakes Easy: Super Simple Traybakes, Bars, Cookies and Cakes by Edd Kimber: One tin, 70 bakes – whether you want cookies or cakes, pastries or desserts, something fruity, chocolatey or nutty, baking just got even easier. Every bake can be made in the 23 x 33cm (9 x 13in) tin used in Edd's previous book, One Tin Bakes, but Edd will also offer guidance on baking in a 20 x 20cm (8 x 8in) square tin as well as a loaf tin, making these perfectly simple bakes for everyone to try, whatever equipment you have on hand and whoever you're baking for. This title shares ideas for bakes made in one-bowl or with 5-ingredients, as well as popular options for vegan, gluten-free and no-bake treats – allowing everyone at your table to partake. While I love a baking book that presents a challenge, I also have the same loving feeling for one that delivers quick and easy and impressive. Edd does just that with recipes for Banoffee poke cake, Blueberry sour cream bars and Sesame milk chocolate short bread. Get your tins ready!
Ramsay in 10: Delicious Recipes Made in a Flash by Gordon Ramsay has been released in both the UK and US this month. The dishes in this title are inspired by his hit YouTube series. Ramsay promises that we can expect in this book: fast food, great food, clever short cuts, honesty and options. He provides a key to which dishes are vegetarian, vegan, gluten-free, and dairy-free. Some recipes include tips for when you have more time such as: "serve the ramen with a soft boiled egg". There are also tips for how to speed things up such as: "microplaning a chilli instead of chopping it" and chef tips sprinkled throughout. We all love to cook but we also like cooking great food quickly when we are in a crunch. This book will guide you in those times.
Sambal Shiok: The Malaysian Cookbook by Mindy Yin: This book is a vibrant collection of 75 Malaysian-inspired recipes that were handed down from Yin's mother as well as those that she has developed for her cult London restaurant. Here you will find Chicken satay next to a recipe for a Satay burger and Malaysian fried chicken beside Malaysian fried cauliflower. A beautiful blend of classic, fusion, hawker meets home style, dishes await us here.

Septime, La Cave, Clamato, D'une île by Théophile Pourriat, Benoit Cohen and Bertrand Grébaut: This much-anticipated debut book celebrates ten years of chef Bertrand Grébaut and partner Théophile Pourriat's success. Its highly inspiring recipes demonstrate how these two leading figures of 'bistronomy' have moved French cuisine away from the ceremony and grandeur of haute cuisine. By introducing an air of simplicity and modernity to their cooking, they gained a legion of admirers, not only for their much-praised Parisian restaurant Septime but for their work in all four of their premises featured in the book.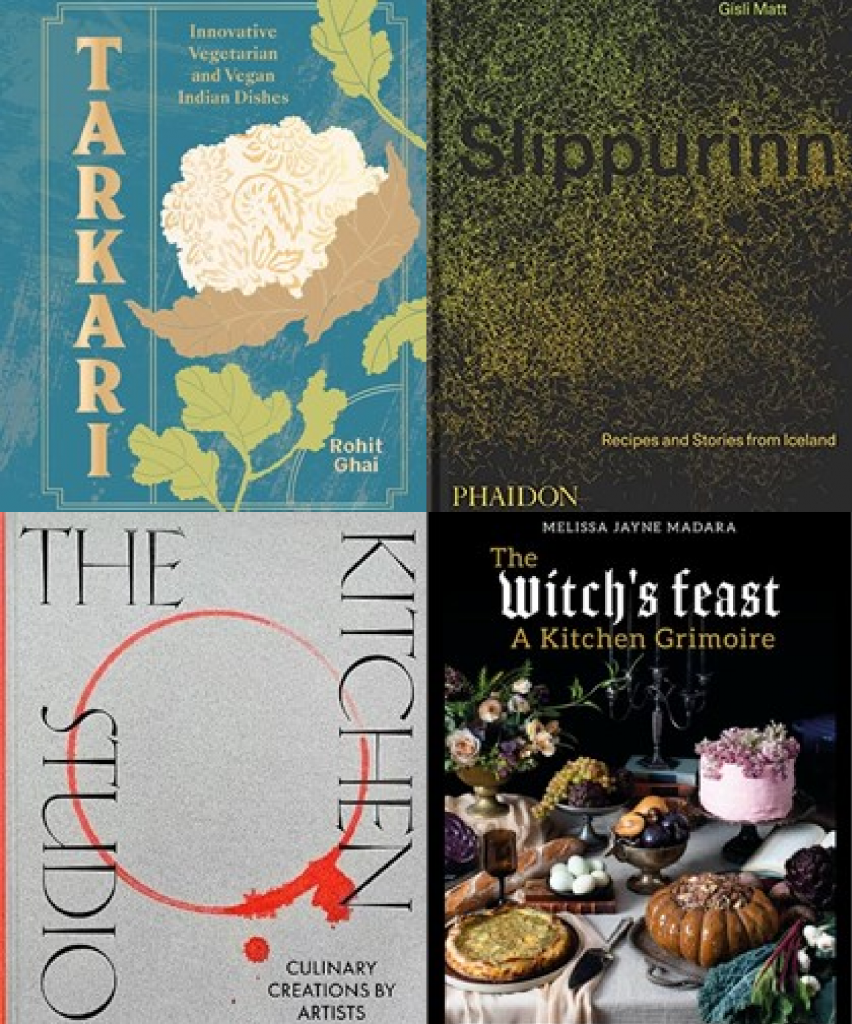 Slippurinn: Recipes and Stories from Iceland by Gísli Matt: Another great debut title from Phaidon this month. This one from rising star chef Gísli Matt of Slippurinn, the international destination restaurant in Iceland's Westman Islands. Matt built Slippurinn with his family in a historic shipyard building of a small town whose landscape was changed forever by the lava flow from a 1973 erupted volcano. In this most incredible environment, where plants grow on mountains created out of lava, Matt created a menu that both respects the local and traditional and pushes boundaries of contemporary cuisine. His first book takes the reader right to the heart of Matt's fascinating culinary world and island life.

Tarkari: Innovative Vegetarian and Vegan Indian Dishes with Heart and Soul by Rohit Ghai: Chef Ghai has gained a reputation for colourful, flavour-rich curries that showcase both classic and lesser-known Indian flavours. Tarkari, meaning 'vegetable' in Urdu, is Rohit's first book and similarly celebrates this diverse heritage – but on a more personal, homely note. Packed with innovative vegetarian and vegan dishes, it pays homage to the food his parents ate. This is a beautiful book filled with recipes that vegans and carnivores can appreciate.
The Kitchen Studio: Culinary Creations by Artists by Phaidon Editors: Expand your cooking repertoire with 100 recipes created and illustrated by a stellar array of international contemporary artists.

The Witch's Feast: A Kitchen Grimoire by Melissa Madara: Written by herbalist, witch, chef and co-owner of the famous occult bookshops Catland Books, Melissa Madara, this book reveals the storied history of kitchen witchcraft. Through decadent recipes, accompanied by correspondences, lore and historical context, this practical introduction to magical cooking explores five different facets of the occult tradition: traditional pagan dishes, cooking through the wheel of the zodiac, devotional meals to the planets, seasonal feasts to celebrate solstices and equinoxes, and practical spellwork through food and potions.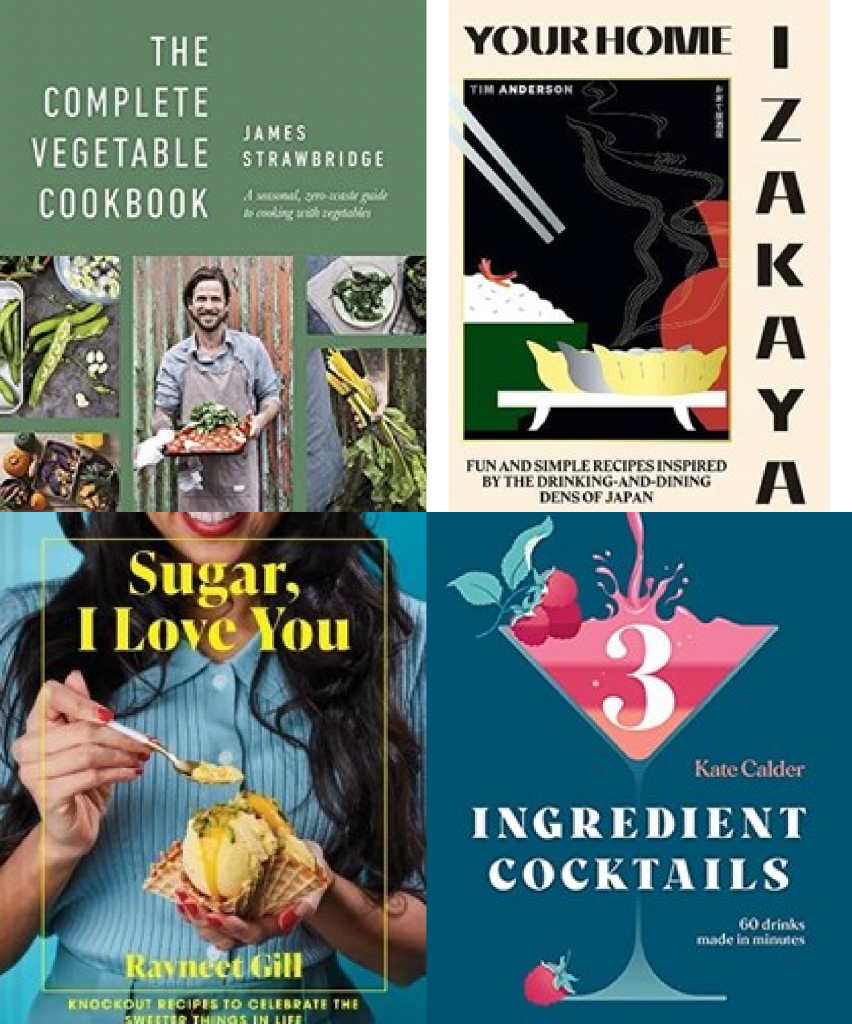 The Complete Vegetable Cookbook: A Seasonal, Zero-Waste Guide to Cooking with Vegetables by James Strawbridge is being released in the UK this month and the US next. Strawbridge opens your eyes to more than 40 vegetables, profiling them one by one and sharing innovative new recipes, old classics, and twists on tradition. An advocate of zero-waste cooking, James shows you all the edible parts of each vegetable and suggests ways you can use the different elements in your cooking. Then, learn about each plant and its varieties in more detail before being guided through the best ways to prepare, butcher, and preserve. There are over 120 delicious vegetarian recipes for you to enjoy: main meals, light lunches, and sides.
Sugar, I Love You: A Pastry Chef's Ode to Sugar in All Its Glory by Ravneet Gill: Following on from the bestselling The Pastry Chef's Guide, Ravneet Gill returns to elevate homemade patisserie to the next level. Having laid down the basics and demystified the technicalities of baking in her first book, this second offering is a personal love letter to patisserie bursting with color and flavor, sprinkled with personal anecdotes and killer recipes. With detailed recipes encompassing cheesecakes from around the world (Japan, Basque, New York and more), multi-layered, multi-textured cakes, sweet doughs to plaits, soufflés, fritters and many more, Ravneet's signature style and easy-to-follow approach will guide any level baker to greatness. Roasted hazelnut, blueberry and mascarpone cookies, The Brioche cube (a perfect little square of brioche, lovingly stuffed with custard and then covered in sugar and bruleed (yes!) and LPC (Lazy person's cake) are just a few examples of what you will find here. I love Ravneet's books – they are keepers.
Three Ingredient Cocktails: 60 Drinks Made in Minutes by Kate Calder: With 60 recipes, this title demonstrates that all the best cocktails are made with no more than three ingredients – think martini, old fashioned and margaritas. Divided by main ingredient – gin, vodka, tequila, whisky, rum and sparkling wine – each drink can be whipped up in five minutes or less, with simple snack suggestions at the end of each chapter to pair with them.

Your Home Izakaya: Fun and Simple Recipes Inspired by the Drinking-and-Dining Dens of Japan by Tim Anderson: Tim's books are nothing short of spectacular. I say that as a cookbook lover and lover of all things Japanese. Izakaya (居酒屋) is made up of three kanji (system of Japanese writing) meaning, in order, "stay-drink-place." A spot to grab a drink, settle in, and get comfortable. Izakaya began as sake stores that allowed their customers to drink on the premises, and, over time, they began to serve food as well. The food is simple to prepare but big on flavour, making it conducive to sociable snacking in between gulps of booze. Pepper steak with garlic soy sauce, Cheese and onion gyoza, and Karaage 6.0 (the sixth version of fried chicken that Tim has written.)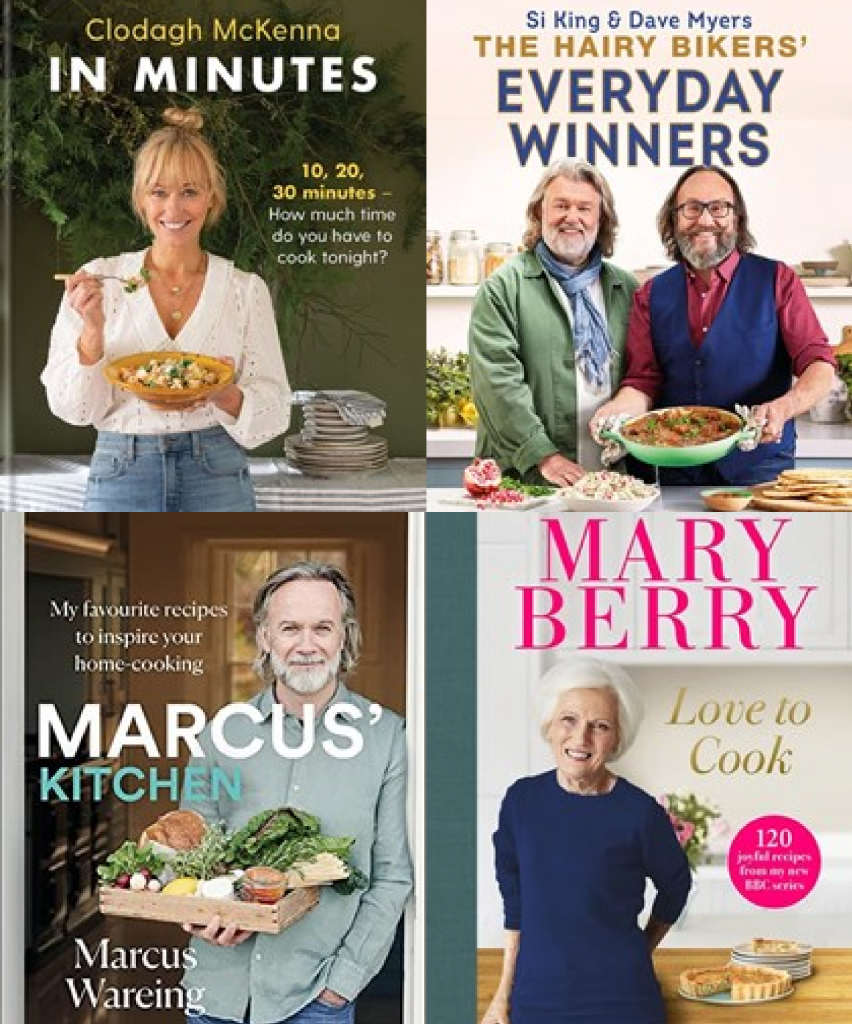 In Minutes: Simple and Delicious Recipes to Make in 10, 20 or 30 Minutes by Clodagh McKenna: Clodagh's brand-new title is inspired by how much time you have in your busy life and is packed with flavourful, speedy recipes that you can cook from start to finish in 10, 20 or 30 minutes. Destined to become the most useful book in your kitchen, In Minutes is filled with 80 recipes that will soon be weekly staples, from Warm Lentil Salad with Goat's Cheese to Spring Garden Gnocchi and Chicken Katsu Ramen. (US release Feb 2022)
Marcus' Kitchen: My Favourite Recipes to Inspire your Home-Cooking by Marcus Wareing: Learn to cook the Michelin-starred chef's favourite home-cooked recipes and enjoy his most mouth-watering meals. This is the food that Marcus loves to create and share at home with his family and friends. From delicious weeknight suppers and weekend wonders, to showstopping dishes and special desserts, there is something satisfying and flavoursome on every page.
Mary Berry: Love to Cook by Mary Berry: In this brand-new tie-in book to her BBC series, Mary will help you see your meals in an entirely new light. Every recipe is infused with her love of simple home cooking and fresh ingredients that feed the body and mind.
The Hairy Bikers' Everyday Winners: 100 Simple and Delicious Recipes to Fire Up Your Favourites! by Hairy Bikers: For this book, Si and Dave have gone to their fans and asked what we all love to eat at home and what our go-to dishes are. With all this in mind, they share 100 new recipes for easy and delicious ways to elevate these everyday family favourites into taste sensations.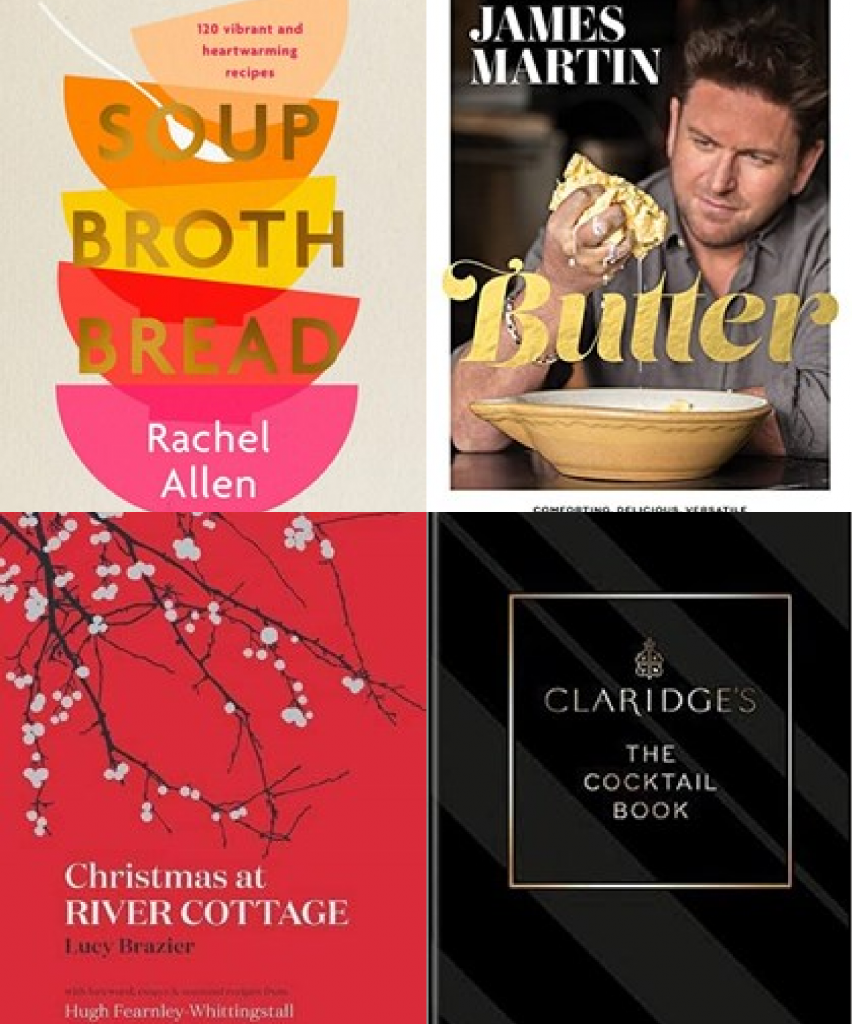 Soup Broth Bread: 120 Vibrant and Heartwarming Recipes by Rachel Allen: In this love-letter to the world's most ubiquitous dish, the acclaimed TV chef, cookery writer and renowned teacher explores everything soup has to offer. Whether as a starter or main dish, a quick fix or a leisurely indulgence, to nourish a cold or heal a broken heart, or to feed yourself, your family or a crowd of friends, there is a soup for every occasion. With Rachel's guidance you can learn the classics and then expand your horizons, with delicious, achievable, heart-warming recipes you'll turn to time and time again.
Butter: Comforting, Delicious, Versatile – Over 130 Recipes Celebrating Butter by James Martin is the essential book for anyone who loves to cook with this glorious, versatile ingredient. Through over 130 original recipes, James Martin presents some of his favourite new dishes and classics – everything from savoury delights like Butter-poached lobster, Truffle butter brioche, Chicken with 'nduja butter and Dover sole meunière, to sweet treats including Rhubarb custard bread and butter pudding, Shortbread and Rum Baba.
Christmas at River Cottage by Lucy Brazier invites you to bring a little River Cottage magic to your festive celebrations, taking you from the autumn equinox, through advent and Christmas and merrily into the new year.
In this book are the most delicious recipes, honed over the years and rooted in the River Cottage foundations of tradition, seasonality and sustainability.
Claridge's: The Cocktail Book by Claridges: Classic cocktails, original creations and modern libations from the Art Deco treasure in the heart of London's Mayfair – the celebrated setting for drinks with the great, the good and the bright young things of every generation since 1856. This glorious guide contains all the inspiration you need for cocktail hour, with 350 recipes for cocktails at Claridge's anytime, anywhere.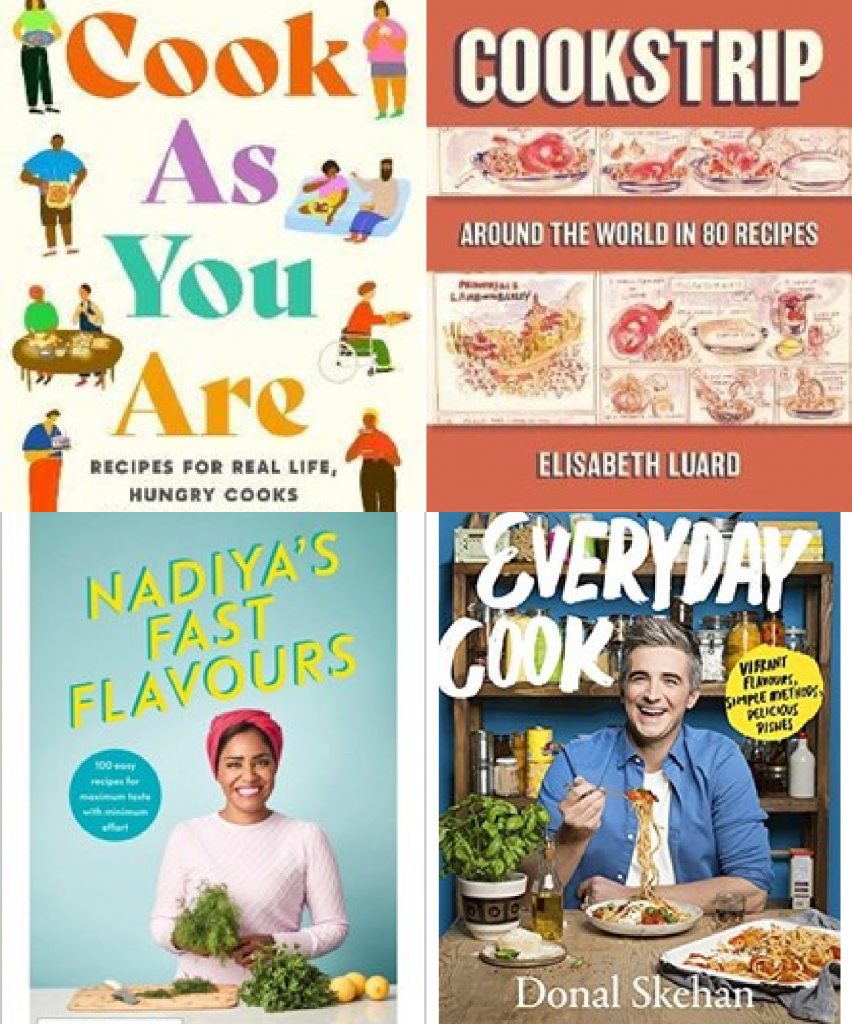 Cook As You Are: Recipes for Real Life, Hungry Cooks and Messy Kitchens by Ruby Tandoh: Ruby wants us all to cook, and this is her cookbook for all of us – the real home cooks, juggling babies or long commutes, who might have limited resources and limited time. From last-minute inspiration to delicious meals for one, easy one-pot dinners to no-chop recipes for when life keeps your hands full, Ruby brings us 100 delicious, affordable and achievable recipes, including salted malted magic ice cream, one-tin smashed potatoes with lemony sardines and pesto and an easy dinner of plantain, black beans and eden rice. This is a new kind of cookbook for our times: an accessible, inclusive and inspirational addition to any and every kitchen. You don't have to be an aspiring chef for your food to be delectable or for cooking to be a delight. Cook as you are.
Cookstrip: Around the World in 80 Recipes by Elisabeth Luard: It's fun, it's friendly, it's practical, it's a recipe-book in pictorial storyboard design with stories, for everyone who wants to know how everyday dishes are prepared in their land of origin. Some of the dishes will be familiar, others less so – but all are the everyday dishes we cook to remember who we are, the ones we carry with us, if only in memory. Ingredients might have to replaced, methods adapted, but the spirit remains. Each storyboard – which is really what these cartoons are – is accompanied by Elisabeth Luard's own memories of when and where and with whom she gathered the recipe.
Everyday Cook: Vibrant Recipes, Simple Methods, Delicious Dishes by Donal Skehan: This book gives you the answer to the common kitchen question: "What's for Dinner?" Filled with comfort food classics and everyday favorites, simplified meals for the everyday cook, one pot wonders and fast feasts that take less than 15 minutes from kitchen to plate, Everyday Cook is the go-to cookbook for the busy home cook!
Nadiya's Fast Flavours: 100 Easy Recipes for Maximum Taste with Minimal Effort by Nadiya Hussain: This is the companion book to Nadiya's BBC2 series, Nadiya will bring the excitement back into your daily meals, with all the recipes she cooks on the programme and more besides.
Other titles of interest:
Australia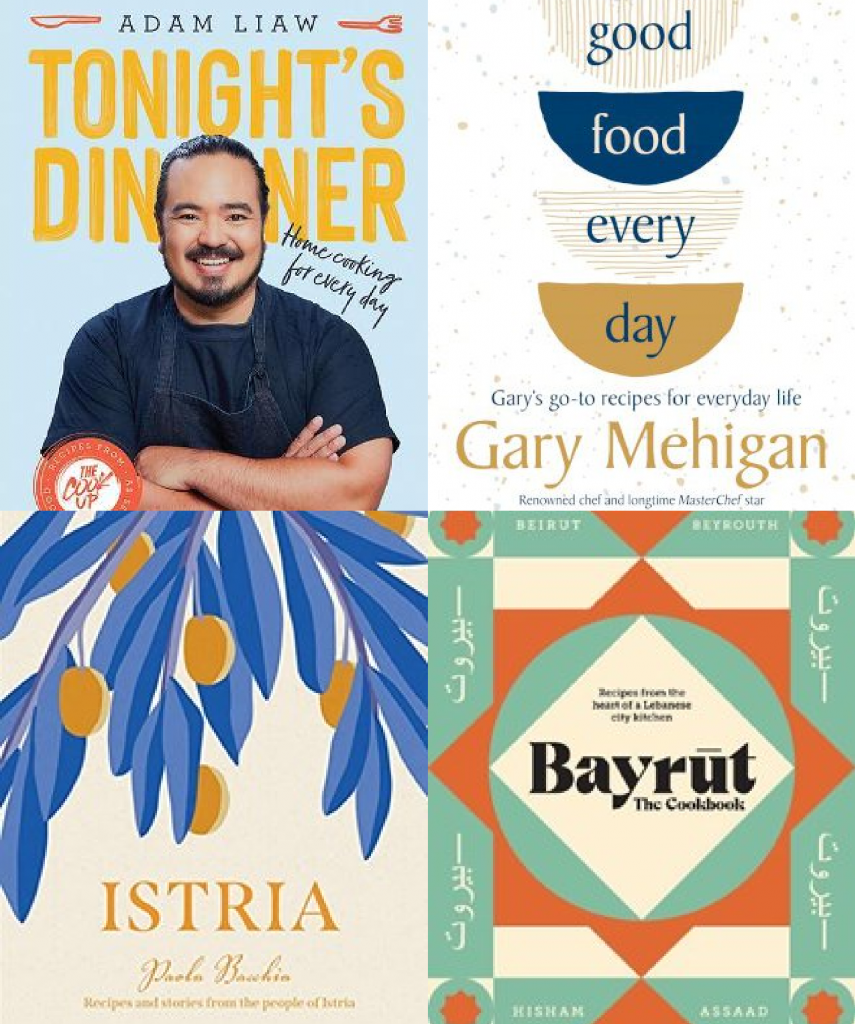 Bayrut: The Cookbook: Recipes from the Heart of a Lebanese City Kitchen by Hisham Assaad: The energy, diversity and intoxicating food culture of Lebanon's vibrant capital Beirut (aka Bayrut), make it one of the most incredible cities in the Middle East. Famed for its varied, flavourful dishes that emphasize whole grains, fresh fruits, vegetables and seafood, Beirut is a true food lover's paradise. Hisham Assaad provides more than just the 70 accessible and mouth-watering recipes. Beirut is packed with stunning location photography and personal anecdotes from Hisham, making it a love letter about (and to) the Middle Eastern capital. This book is a dream with incredible food and stories that reflects the beauty and magic of this alluring city.

Tonight's Dinner: Home Cooking for Every Day by Adam Liaw brings us fresh, modern everyday food inspired by the expanding spread of dishes on Australian tables today. Adam's warmth, humour and dynamic cooking-style will put the joy of cooking back into your kitchen easily, so you can feed your friends and family with thoughtful, healthful meals. These recipes require minimal preparation, are balanced in nutrition, affordable and light on the washing up! Because, often, the key to good home cooking is to just do good home cooking. This title will be published in the UK Dec 2021.
Good Food Every Day: Gary's Go-to Recipes for Everyday Life by Gary Mehigan brings us into the author's own kitchen and shares the tried and tested and most loved recipes he's been serving with confidence for many years – regular, down-to-earth meals that he comes back to again and again.
Istria: Recipes and Stories From the People of Istria by Paola Bacchia: This book is a record of traditions, of these cultures and of Paolo's family: recipes from her childhood, the region's past, and her relatives and friends who still live beside the Adriatic coast. Among recipes for potato dumplings, baked antipasti, and strudels made with cherries, apricots, and plums, are memories of the region and the stories of the recipes' authors: the Italian-Istrians who remained in the region after the 1940s, and those who left for new countries. Istria is full of recipes inspired by home kitchens and memories of what grew in the owner's gardens.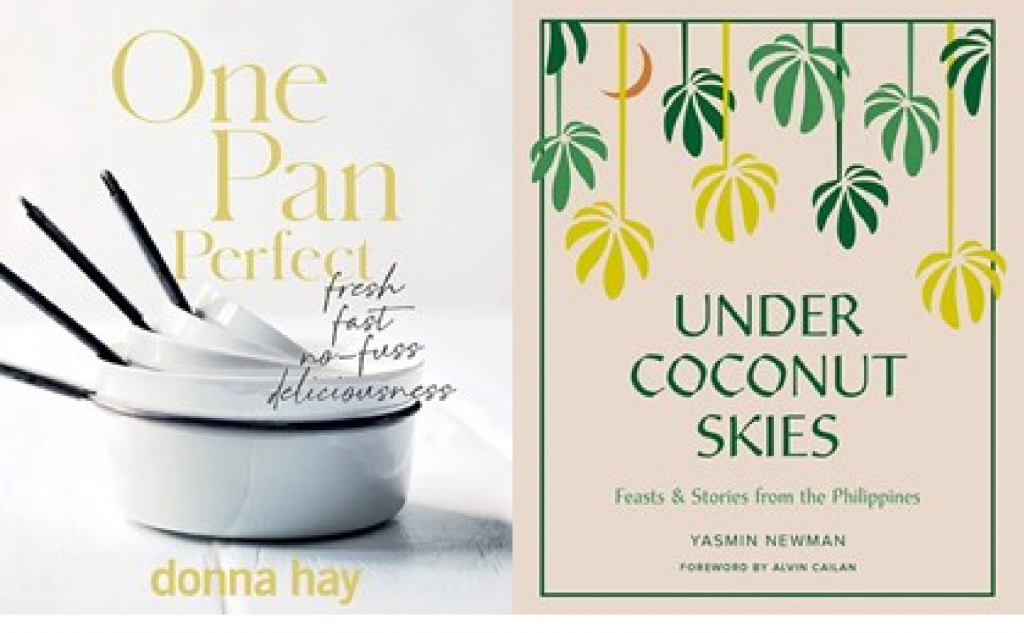 One Pan Perfect by Donna Hay: Donna loves to make it easy for home cooks. Her stunning new cookbook features over 120 recipes for simple, easy, no-fuss deliciousness which only need one pot, pan, tray or bowl – it will take you from the kitchen to the table in no time at all, and make your whole family happy.
Under Coconut Skies: Old and New Recipes from the Philippines by Yasmin Newman: The Filipino food are based in four main tastes: sour, salty, sweet and funk-bitter. Newman builds on her first title 7000 Islands and invites you into her kitchen and on a journey through the lush surrounds, weaving together old and new recipes, personal stories and the rich traditions that run through the Philippines' regions and food.

New Zealand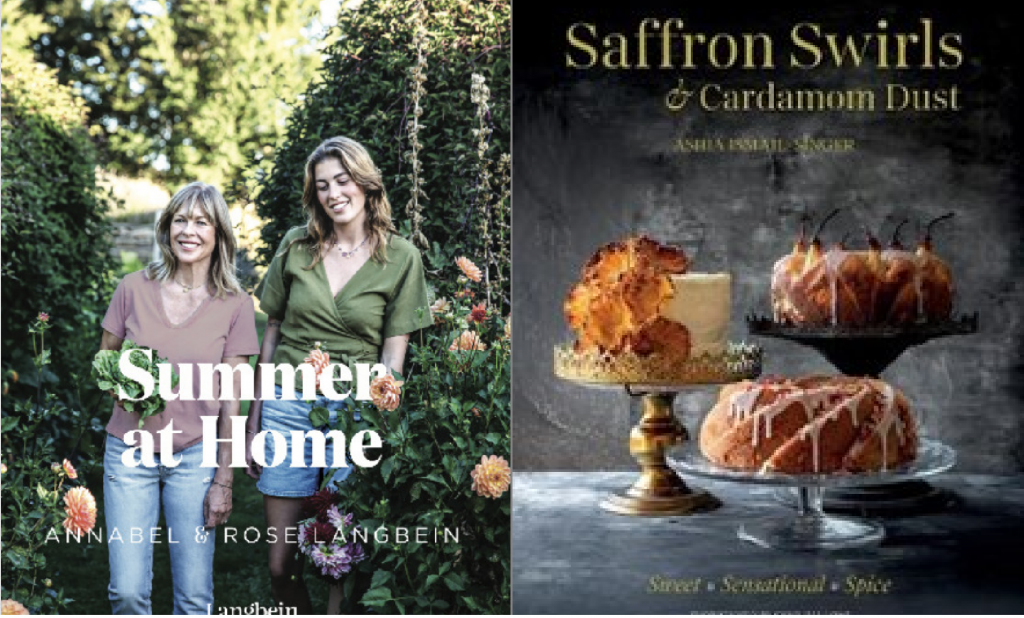 Saffron Swirls & Cardamom Dust: Sweet Sensational Spice by Ashia Ismail-Singer: This title is an explosion of vibrant colors and flavors filled with stunning imagery and tempting bakes. Saffron Swirls is written by the author of My Indian Kitchen (2018 NZ) which will be published in the US in December under the title Ashia's Table: Family Recipes from India and Beyond. Just flipping through the pages fills me with inspiration. The spices in these bakes are exciting and the resulting desserts are showstoppers. One can never have enough baking books!
Summer at Home by Annabel and Rose Langbein: In this beautiful new bookazine, best-selling New Zealand cookbook author Annabel Langbein has once again collaborated with her daughter Rose to develop over 70 brand-new on-trend recipes inspired by their garden in Wanaka. It's the perfect accompaniment for a Kiwi summer full of delicious simple food.

Dish Fast by Sarah Tuck is chock-full of quick and easy classics and up-to-the-minute recipes, specially developed to take the stress out of cooking. The collection of 100+ seasonal recipes from dish Editor Sarah Tuck and Food Editor Claire Aldous offers a wealth of super-speedy, simple and delicious dishes. Whether you're a couple, a single, a family or a group of friends, this book offers maximum-impact food with minimum fuss.