Good Food Kitchen is the cooking show you didn't know you needed
October 25, 2021 by Darcie
Who needs another cooking program? If that is your first thought on hearing of a new show debuting, you might want to reserve judgment until after you watch Good Food Kitchen, hosted by Danielle Alvarez and Adam Liaw, a new "chop-and-chat show that takes viewers behind the scenes as Good Food's recipes come to life." The program debuted earlier this month, with three episodes in the can and more on the way.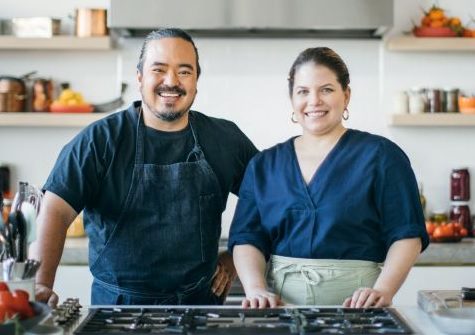 Australians can view episodes on Channel 9 at 1 pm on Saturdays or can catch up on online at 9Now. The full video stream is only available in Australia, but you can see highlights from the program on the Good Food website. These clips capture all of the recipes so you won't miss out, even if the viewing experience is not as pleasant or seamless. Alvarez and Liaw host and prepare many of the recipes, and they are joined by guests such as Jill Dupleix, Katrina Meynink, Mark Best, Jacqui Challinor and Mark LaBrooy.
Alvarez says that one of her goals for the program is to encourage home cooks to attempt recipes they would normally be hesitant to make. "Cooking should be an important part of all of our lives," she says. "The knock-on effects are so much greater than simply food for fuel: it keeps money in local communities and gets people sitting around a table together talking about things that matter and things that don't. A home-cooked meal is one of the greatest things we can do for ourselves."
Adam Liaw's Tonight's Dinner: Home Cooking for Every Day is set to be released on Oct 27th, 2021.
Seen anything interesting?
Let us know
& we'll share it!