Liguria – Cookbook Giveaway
October 12, 2021 by Jenny
Enter our US giveaway to win one of three copies of Liguria: The Cookbook: Recipes from the Italian Riviera by Laurel Evans.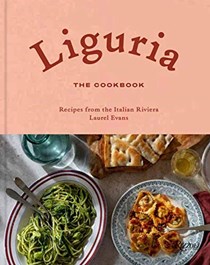 Liguria: The Cookbook: Recipes from the Italian Riviera by Laurel Evans will definitely make my best books of 2021 list. Evans, an award-winning author and food writer, has been immersed in the cuisine of Liguria for 15 years, ever since her Italian boyfriend (now husband, and the photographer for this book) brought her to his family's hillside villa in Moneglia on the Mediterranean coast. There, she delved into the kitchens, restaurants, and markets, building relationships with the chefs, shopkeepers, producers, and grandmothers who drive the local cuisine. This book showcases all that she discovered: a cuisine that is beautiful but humble, plant-based and waste-conscious at its core, with a particular spirit and history that she unravels for readers new to the region.
The imagery here is stunning whether it be of the tempting dishes, gorgeous landscape or of the people of Liguria. I particularly love Evans' recipe for Pollo in Fricassea and am making it for company this coming Saturday. I also wish to try her Focaccia col Formaggio. I've made a version of this type of thin focaccia before and it is time to make it again especially since it always has a wow factor with guests.
Special thanks to the publisher for sharing the following recipes for our members to try now and for providing three copies of this title in our giveaway below.
---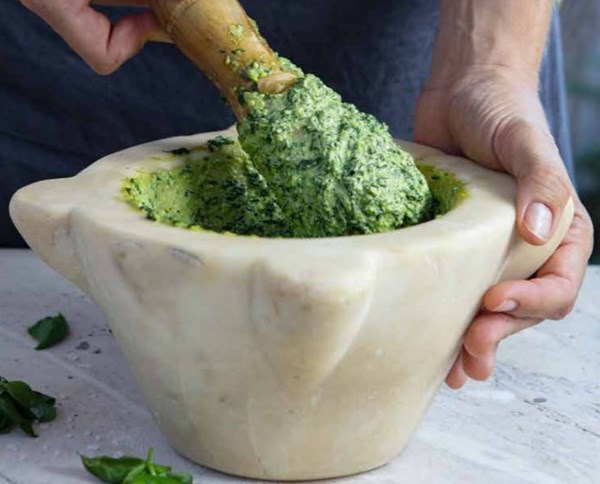 Traditional pesto (Pesto tradizionale) Makes about 1 ⅓ cup, enough for 8 servings
Add this recipe to your Bookshelf (click the blue +Bookshelf button)
3 cups (2 ½ ounces) tightly packed, fresh, small basil leaves, stems removed
1 large or 2 small cloves of garlic, halved and inner green germ removed
¼ cup (1.2 ounces) pine nuts
¼ teaspoon coarse sea salt
1 cup, packed (3 ½ ounces) finely grated Parmigiano-Reggiano
⅓ cup, packed (1 ounce) finely grated pecorino, preferably Fiore Sardo
½ cup extra-virgin olive oil, plus more as needed
Special equipment: Mortar and pestle
The first time I tasted real pesto in Liguria, made in a mortar and pestle, I couldn't believe my palate. It was beyond delicious, a completely different experience from the packaged, or even made-in-a-food-processor versions I tasted in the past.
Undoubtedly the most iconic dish of Liguria, pesto has made quite the journey since its humble beginnings. It is now wildly popular, in some form or another, the world over. However, I have to agree with the locals: It's nearly impossible to eat a decent pesto outside the region, much less outside of the country. Even within Liguria, no two pestos are alike. The recipe varies from valleys to hilltops, from mother to child, from brother to sister. In Moneglia, my mother-in-law and her two sisters, who grew up in the same house and learned to cook from the same women, make three completely different pestos: one is creamier, one is heavier on the basil, one is chunkier. Whose is the correct one is a fiercely contested matter.
What all Ligurians do agree upon is that you should ideally prepare pesto in a mortar and pestle and seek out the absolute best ingredients: the sweetest, Italian pine nuts, the youngest, most tender basil leaves grown in and around Pra, outside Genoa, Ligurian extra-virgin olive oil from prized Taggiasche olives, Parmigiano-Reggiano aged over 24 months, and a perfect pecorino Fiore Sardo (a slightly smoky, raw sheep's milk cheese from Sardinia). While Ligurians are ferocious about fine quality of ingredients,
they are also a thrifty folk, so while frowned upon, walnuts are a permitted substitution for pine nuts by the official local guidelines. Arm yourself with patience and strong biceps for this recipe; the result is
well worth the effort.
Gently wash the basil in a tub of cold water, being careful not to bruise or smash it. Drain carefully and transfer to a clean kitchen towel to air dry or use a salad spinner. Using a mortar and pestle, grind garlic into a paste. Add pine nuts and continue to crush and mix with the pestle until finely ground. Add about half of the basil leaves and the salt. Grind (don't pound) the mixture against the interior walls of the mortar in a circular motion into a smooth paste. The basil leaves should be finely shredded, not smashed or bruised. Add the other half of the basil leaves and continue grinding into a thick, dark green paste. Stir in both cheeses, then slowly drizzle in the olive oil, stirring constantly with the pestle until you obtain a bright green, creamy sauce. Add more oil, if desired, for a smoother consistency. Serve over pasta of your choice (see page 60 or 61 for recipes), being sure to thin the sauce first with a bit of the pasta cooking water. Alternatively, scoop pesto into a container and cover with a layer of olive oil to prevent oxidation. Cover and refrigerate for up to 2 days or freeze for up to 3 months.
---
Stockfish and potato stew (Stoccafisso accomodato) – Serves 6
Add this recipe to your Bookshelf (click the blue +Bookshelf button)
4 medium Yukon gold potatoes, peeled and cut into large cubes
2 pounds presoaked stockfish
1 tablespoon white wine vinegar
3 tablespoons extra-virgin olive oil, plus more for serving
4 oil-packed anchovy fillets
1 large carrot, diced
1 large celery rib, diced
1 large white or yellow onion, diced
2 cloves garlic, minced
2 tablespoons flat-leaf parsley
2 tablespoons pine nuts
1 tablespoon salted capers, rinsed
20 Taggiasche or Niçoise olives pitted
⅓ cup dry white wine
5 ripe plum tomatoes, chopped

With a shelf life of several years, dried stockfish was a favorite both on long sea voyages and in port cities like Genoa. This ancient Genovese recipe pairs dried cod with potatoes, pine nuts, and olives for a hearty, flavorful seafarer's stew. Try to get your hands on presoaked stockfish to cut down on days of prep time, otherwise see page 113 for soaking instructions.
Fill a large bowl with cold water and stir in a teaspoon of salt; add the potato pieces and set aside.
Bring a large pot of water to boil, add stockfish to vinegar, and cook for 5 to 10 minutes, or until the bones and skin come apart easily from the flesh.
Drain fish and discard cooking water. When cool enough to handle, remove skin and pin bones, cut fish into large chunks, and set aside.
Heat olive oil in a large skillet or Dutch oven over medium-low heat, add anchovies and cook over low heat, stirring often, until they dissolve, 3 to 5 minutes. Add carrot, celery, and onion; cook over medium heat until onion is translucent and beginning to brown around the edges, 5 to 7 minutes.
Add fish pieces, garlic, and 1 tablespoon parsley. Cook over high heat for a couple minutes, then add pine nuts, capers, olives, and wine. Bring to a boil, add chopped tomatoes, cover and simmer over low heat for 1 hour, stirring occasionally and adding a splash of hot water as necessary to keep fish from sticking to the bottom of the pan.
Add potatoes and a pinch of salt. Cover and continue to cook until potatoes are soft and creamy, adding a splash of water if fish and potatoes are dry,about 45 minutes.
Add salt and pepper to taste, garnish with remaining tablespoon of parsley, drizzle with olive oil, and serve warm.
---
Chickpea flatbread (Farinata) Makes one 11 × 17-inch tray of farinata
Add this recipe to your Bookshelf (click the blue +Bookshelf button)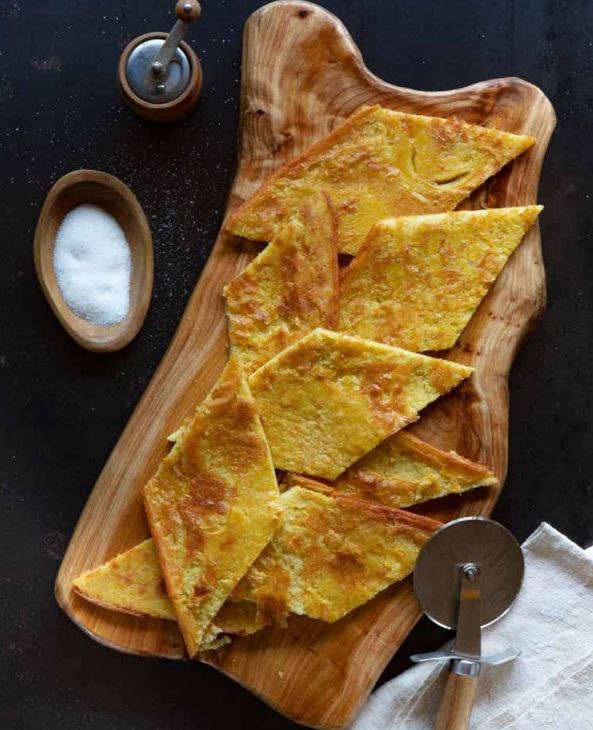 2 cups (7 ounces) chickpea flour
2 ½ cups lukewarm water
1 ½ teaspoons salt
½ cup extra-virgin olive oil
While it's often described as a "chickpea pancake" or "tart," neither of those terms adequately describes the texture and consistency of this popular and ancient Ligurian street food. When made correctly, it should be thinner than a pancake, with a crisp, flakey exterior and a soft, almost custardy center. Naturally vegan and gluten-free, the recipe appears deceptively simple thanks to its short ingredient list: water, chickpea flour, salt, and oil. Don't be fooled; the devil is in the details when it comes to making farinata. It's traditionally cooked in a piping-hot, wood-fired oven in wide, round copper pans, so adapting the recipe to a home kitchen required quite some tweaking. The exact proportions of water to flour are fundamental here, as is the long rest time and, most of all, the thickness of the batter in the pan, which should never exceed ¼ of an inch (6 millimeters). Therefore, it is not advised to double the recipe or use a different size pan than the one indicated here.
Pour the chickpea flour int o a large bowl and toss with a fork to loosen. Slowly add lukewarm water, a little at a time, whisking until smooth. Cover with plastic wrap and set aside to rest at room temperature for 6 to 8 hours.Every 2 hours stir the mixture and skim the surface to remove any foam that forms on top.
Place an oven rack in the lowest position and one in the highest position and preheat to 500°F. Place a rectangular 11-by-17-inch sheet pan or jelly roll pan on either rack in the oven while it preheats.
Meanwhile, heat olive oil in a small saucepan over medium-low heat. Do not let it come to a simmer; it should be hot but not smoking.
Remove the pan from the oven and let it cool until it is warm to the touch but not scalding. Add the salt to the farinata batter and stir to combine. Slowly pour the warm olive oil directly into the pan, swirling to coat. Pour the batter swiftly into the center of the pan. Bake on the bottom rack of oven for 20 minutes, or until farinata is light golden. If your oven permits, you may also bake it directly on the floor of the oven for this step.
Turn on the broiler to high and move the farinata to the top rack. Broil, watching closely, until a light brown crust forms on the surface, 2 to 4 minutes.
Remove from oven and let cool in pan for 5 minutes. Cut into 12 rectangles and serve hot.
---
Pine nut and almond tart (Pinolata della Val d'Aveto) Makes one 12-inch tart
Add this recipe to your Bookshelf (click the blue +Bookshelf button)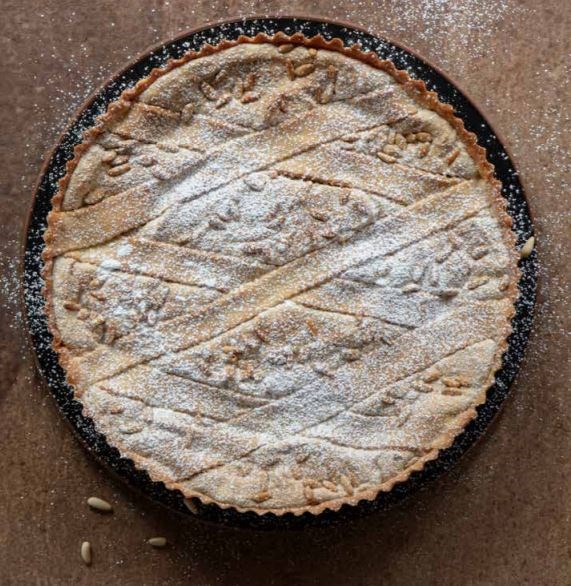 For the crust:
2 cups (9 ounces) all-purpose flour, plus more for dusting
⅛ teaspoon salt
½ cup sugar
½ cup cold unsalted butter, plus 1 tablespoon, melted, for brushing
1 large egg
For the filling:
1 cup (4 ½ ounces) blanched almonds, or 1 ⅓ cup almond flour
1 cup plus 2 tablespoons sugar, divided
4 large egg whites
¼ teaspoon salt
½ teaspoon almond extract
½ teaspoon finely grated lemon zest
To finish:
1 cup (4 ½ ounces) pine nuts
Powdered sugar, for sprinkling (optional)
Pine nuts, I'm sure you've noticed by now, are a staple of Ligurian cuisine, providing crunch and flavor (and non-animal protein) to countless recipes in this book. This delicious and pretty tart pairs them with a chewy almond filling and a buttery pastry crust. There is no need to toast the nuts beforehand, as they will get plenty of color while baked on the surface of the tart.
Combine flour, salt, and sugar in the bowl of a food processor fitted with a metal blade. Pulse to combine. Add butter and pulse briefly until a crumbly mixture forms. Add egg and pulse until combined into a smooth dough.
Remove from food processor, wrap tightly in plastic wrap, and refrigerate for at least 1 hour, up to overnight.
Brush a light layer of melted butter on the bottom and sides a 12-inch tart pan.
Remove dough from refrigerator. Roll out to about ⅛-inch thick on a lightly floured work surface, then transfer to prepared tart pan. Press to adhere the dough to the bottom and sides of pan. Trim off excess and briefly knead scraps into a ball, then press into a disc and wrap in plastic wrap. Poke a few holes in the bottom of the dough with a fork; then transfer tart pan and leftover dough to the refrigerator while you prepare the filling.
Preheat oven to 350°F. Combine almonds and 2 tablespoons sugar in a blender or food processor and grind into a fine powder, set aside. If using almond flour, simply stir it together with 2 tablespoons sugar in a small bowl.
In a large bowl, beat egg whites and salt on low speed until frothy, then raise to medium-high speed and beat until soft peaks form. Begin to add sugar, a tablespoon at a time, and beat until glossy, stiff peaks form. Beat in almond extract and lemon zest. Slowly fold in ground almonds, being careful not to deflate the meringue. Scoop the mixture into the prepared tart shell and sprinkle evenly with pine nuts.
Roll out the remaining dough and cut into 6 ribbons, ¾-inch-wide each. Place them over the filling in a crosshatch pattern, pressing to adhere to the edge. Trim off excess. Transfer tart to the oven and bake until golden and cooked through, about 40 minutes. If the surface begins to darken before the filling is set, tent the tart with aluminum foil for remaining cooking time. Remove from oven and let cool completely in pan before slicing and serving. Sprinkle with powdered sugar, if desired.
Rizzoli is offering three copies of this title in our US promotion. Entry options include answering the following question in the comments section of this blog post.
Which recipe in the index would you like to try first?
Please note that you must be logged into the Rafflecopter contest before posting or your entry won't be counted. For more information on this process, please see our step-by-step help post. Once you log in and enter your member name you will be directed to the next entry option – the blog comment. After that, there are additional options that you can complete for more entries. Be sure to check your spam filters to receive our email notifications. Prizes can take up to 6 weeks to arrive from the publishers. If you are not already a Member, you can join at no cost. The contest ends at midnight on December 12th, 2021.
Recipes are shared from Liguria: The Cookbook: Recipes from the Italian Riviera by Laurel Evans with permission of the publisher Rizzoli. All images © Emilio Scoti.
a Rafflecopter giveaway