The Great British Bake Off / Baking Show Recap – Episode 2 – Biscuit Week
October 2, 2021 by Jenny
Before we begin our recap of this week's episode, I have a few notes: a member mentioned it took her a long time to find last week's recap. To locate the recaps quickly, I have tagged all 2021 GBBO related posts with #gbbo2021 – so bookmark that link. You can also use "Search this Blog" from the blog page – type in a few common search words: Great British Bake Off – and hit "Go". You may use that function for any articles you are seeking. Also every week in the roundup, I list all the prior week(s) posts and links enabling you to click and read any blog posts you may have missed. Lastly, Jane, our resident Brit, will participate in these recaps as our translator for our non-UK members – or as I like to call her Rosetta Stone for UK slang. Narrative not labeled as Darcie or Jane was written or compiled by Jenny.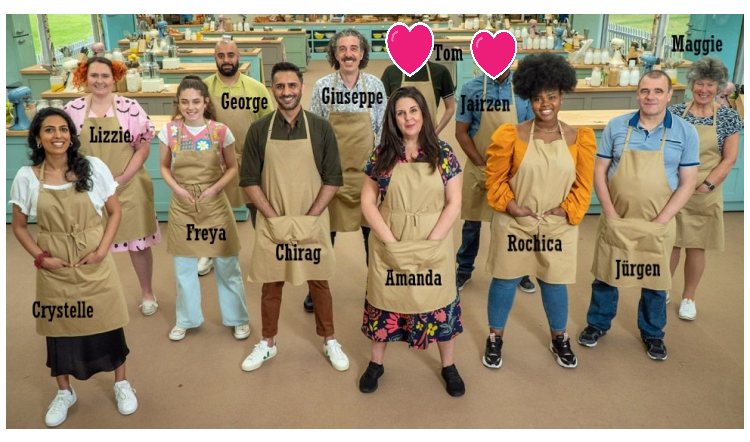 Note: Fans of Jeopardy – may have gotten this question correct last week: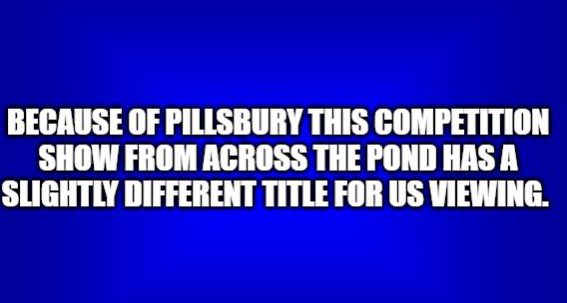 Signature challenge: Two dozen identical Brandy snaps in two hours.
The signature challenge proved that Brandy snaps are not a snap to create in two hours. It was a mad rush to bake, form, create fillings and then fill and decorate the snaps. I think most of the snaps looked delicious – save George's who were a little unreasonable to look at. Lizzie gets the prize for watching a "wizard" movie instead of practicing this week.
Recipes:
Items that may be needed for snaps: stainless steel molds, rolling pin, Silpat. Of course, you could make do with items you already own.
Jane: Lizzie's Liverpool accent is definitely the hardest for me to understand. There was one bit that I replayed 4 times and still could not get what she said. Her apple topping (designed to resemble a McD hot apple pie) had clagginess – this is gummy, gluey consistency. Not a translation but I was delighted by Freya's pronunciation of capp-a-cheener. I think the hosts were as well since they kept asking her to repeat it. It even made it onto Twitter.
Darcie: Strangely enough, I don't have too much trouble understanding Lizzie, but I think that might have to do with the Norwegian influence on the Liverpool/Scouse accent (I live in an area with a lot of Norwegian descendants. Just Google how Minnesotans say "about" and you will see what I mean.) Back to the baking – I have never made brandy snaps, but have made oatmeal lace cookies and tuiles which also have to be formed while they are still warm. I have never done this without burning myself and breaking the majority of them so kudos to the bakers for creating 24 filled snaps under the pressure of the tent. Coffee flavors ruled the day, but I loved the idea of the mastic in George's snaps and am currently scouring the internet for a source. If anyone has a brand to recommend, please share!
---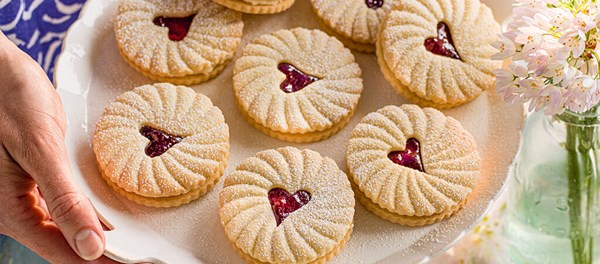 Technical: Paul set this week's technical. A dozen Jammy Biscuits (Jammie Dodgers) in 1 hour and 45 minutes.
The technical didn't go well for many. Because Jammie Dodgers is a brand name, they had to call these cookies Jammy Biscuits. Rochica came in last with Jürgen taking first place. I am already drawing up a petition that Jürgen be given his own baking show. We could learn so much from him.
Darcie: Sometimes the challenges that seem the most simple are the ones that break the bakers. As anyone who has used a cookie stamp knows, the dough must be the perfect temperature and consistency for the impression to hold after baking. This can be a fiddly process, as the bakers learned. Those who did best chilled the dough well before stamping. I am not sure what went wrong with Crystelle's jam but as Paul said, "I reckon I could paste a poster on the wall with that." Precision paid off for Jürgen ("putting the buttercream on atom by atom") and for the engineer Giuseppe, who gave Jürgen a new nickname (see below). Jairzeno's laid back, relaxed attitude did not serve him well, as his biscuits were not evenly shaped and were too hard. I am happy they did this challenge, as I just picked up three more cookie stamps at the Nordic Ware outlet last week.
Items needed to bake the Jammy biscuits at home: Fluted cutter; Mini heart cutter (along with other shapes); Nordic Ware swirl cookie stamps
---
"They shoot horses, don't they?"
Preparing for the weekend ahead. #FridayFeeling #GBBO pic.twitter.com/WKNPryEMzO

— British Bake Off (@BritishBakeOff) October 1, 2021
Showstopper: A 3-D cookie display of a childhood toy with an interactive component in 4 hours.
The horses are at the gates. Freya's pony, Winnie, is sitting pretty. Amanda's horse had to be euthanized. George's plane went from not flying to Tasmanian devil speed. Loved Jürgen's grandfather's windmill and everything about this sweet man. While Jairzeno's tall ship was more shipwreck in nature – I appreciate his calm demeanor. When his sail fell, he just smiled and uttered "typical". Many of the baker's showstoppers were impressive including Freya's gorgeous pony, Crystelle's vanity, Chig's Snooker table, Guisepppe's board game, Rochica's pinball game and even Lizzie's truck painting creation.
Darcie: There isn't much to add to Jenny's great descriptions. I think some of the bakers' ambitions got the better of them, save for Jürgen who seemingly cannot fail even when constructing a tall windmill out of thin gingerbread (although I did see a couple of cracks – could this be a portend? I hope not). My heart went out to Amanda as her horse went from beautiful to needing to be put out of its misery. I am not a fan of the "build something from biscuits" showstopper because it seems to highlight the bakers' engineering and building skills (or lack thereof) rather than emphasizing actual baking. Maybe this is because I have tried to build with biscuits and have had my own construction disasters. For this competition I would say that my favorite toy was a pet rock.
Recipes:
Jane: Paul – "don't give me that waffle" – in this case waffle is not a breakfast food but a line of patter designed to put someone off the scent.
Star baker: Oops he's done it again. Congratulations to Jürgen, star baker for the second week in a row – "The Baking Terminator".
Farewell to: Jairzeno went down with his ship.
A plea to the powers that be in the UK. Please, we are in dire need of An Extra Slice in our country. What can we barter to make that happen?
Darcie: I echo that request! Please please please please please?
Jane: A third from me. I love Jo Brand and I always watch this show when I'm in the UK during GBBO season. It's such a good-natured show – the bakers and the audience laugh together over the disasters and cheer together over the triumphs. We need shows like this right now!