How to clean out the pantry, tastefully
September 9, 2021 by Darcie
The change of seasons, whether from summer to fall or winter to spring, is the perfect time to reassess the half-empty boxes and bags, close to 'best by' date tinned items, and the random items you purchased on a whim with no recipe in mind. It can seem like an episode of Chopped when you start to inventory the contents of your pantry. But don't panic! Annabel Smith of Good Food (Aus) has you covered.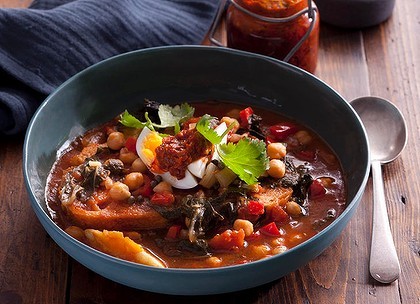 The article explores myriad ways to use dried and canned beans, coconut milk, tidbits of pasta, tetra-packs of stock, and miscellaneous grains. Smith points to soups as a catch-all that will accommodate nearly anything you have in your pantry, but the recommendations go well beyond that. Take polenta for instance – Smith notes that a sprinkling of polenta (or semolina) "adds a pleasant grit to a galette or a sweet pie crust", can be used to make a variety of cakes, or can be formed into polenta chips.
If you have packs of instant noodles but can't bear the thought of eating them as-is, Smith provides a link to a great stir-fry you can use them in. Since I bought way too many cans of chickpeas (there's only so much hummus I can eat), I appreciated the 20 recipes that make good use of them. As the days get shorter here, I am in 'nest-building' mode so I need to make sure my pantry is well-organized. Cleaning out the dribs and drabs of partially emptied packages will do wonders in that regard.
Photo of Tunisian breakfast soup with greens from Good Food (Aus) by Jill Dupleix