Everyday Entertaining Cookbook Giveaway
September 8, 2021 by Jenny
Enter our US giveaway to win one of three copies of Everyday Entertaining: 110 Recipes for Going All Out When You're Staying In by Elizabeth Van Lierde.
Elizabeth van Lierde is a writer, photographer, recipe developer and food stylist. After starting a career in event planning, Elizabeth discovered her true passion: entertaining. She launched her blog The College Housewife as a creative outlet and way to show everyone how to make entertaining fun and easy. Elizabeth received Saveur Magazine's coveted "Best Entertaining Blog" award and her work has been featured in many news outlets.
Her debut cookbook Everyday Entertaining shares expert tips for party planning and her must-have recipes. Chapters are organized by occasion – Alfresco Golden Hour; Boards and Platters; Do You Want Me to Bring a Side? (recipes to wow the host of the party and her guests); and 'Tis the Season are examples.
While Elizabeth began her blog to help a younger crowd entertain with purpose, her recipes and ideas are fantastic for all ages. Try the Green suiza chicken enchiladas or Sunday chipotle chorizo chili for your new game day celebration. Many of the recipes can be made together to put an even bigger spread out for your guests. Couple the enchiladas with Koko's tangy black bean salad (for the vegetarians) and finish off the offerings with Elizabeth's Mocha almond fudge brownies. Whether your six or sixty, these recipes are sure to please.
Other recipes that stood out for me include the Cacio e pepe risotto with shrimp, Oven-baked hot honey chicken tenders, and a Melon slab salad with honey lime drizzle which definitely has a wow factor presentation. This book is filled with great food and fun ideas.
Our

takes you inside this beautiful book and features the following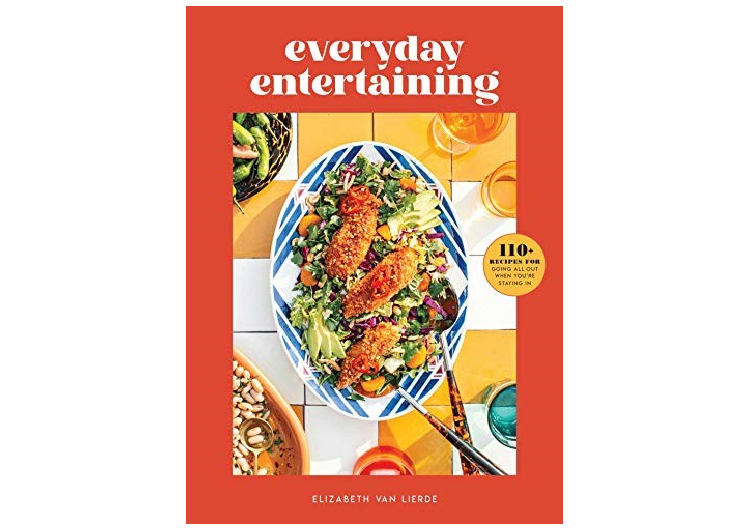 Special thanks to the publisher for providing three copies of this title in our promotion. Entry options include answering the following question in the comments section of this blog post.
Which recipe in the index would you like to try first?
Please note that you must be logged into the Rafflecopter contest before posting or your entry won't be counted. For more information on this process, please see our step-by-step help post. Once you log in and enter your member name you will be directed to the next entry option – the blog comment. After that, there are additional options that you can complete for more entries. Be sure to check your spam filters to receive our email notifications. Prizes can take up to 6 weeks to arrive from the publishers. If you are not already a Member, you can join at no cost. The contest ends at midnight on November 8th, 2021.
a Rafflecopter giveaway