Looking forward to 2022 cookbooks
August 31, 2021 by Jenny
Every September, I begin cataloging the following year's cookbook releases. I do this for several reasons: 1) so our members know what is waiting down the pipeline and 2) it makes the monthly new cookbook reviews a little easier for me as I keep the original post updated when changes occur. Preview posts for the second half of 2021 – more sneak peeks – are just going out and we still have loads of great books coming our way in 2021, but if I do not get this post ready now, I fear with September through December being so busy, it might not be done. So now you know the method to my madness.
Publication dates, covers and titles may change, but I will continually update this listing as well as add new books when they are announced. I will add new titles to the top of each month so when you check you will not have to review the entire post! It is already a huge listing and it is not nearly complete. I have highlighted in bold font major titles whose authors are member favorites or those I specifically wanted to call to your attention. I had to restrain myself with the bold font – somewhat.
From the looks of this compilation (so far), 2022 will be another great year for cookbooks. A few authors have mentioned that the amount of pre-orders weigh into how much money the publishing companies put into publicity for a particular cookbook, so preorder your favorites. Using our Buy Book button earns EYB an affiliate commission but also please remember your local bookshops.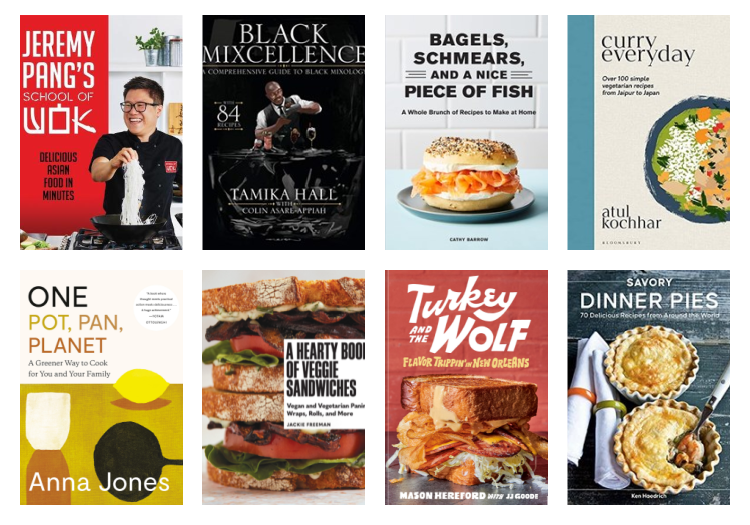 January 2022
February 2022
Tacos by Lily Ramirez-Foran (UK)
Always Home: A Daughter's Recipes & Stories by Fanny Singer (Paperback version)
The Complete Fish Cookbook: A Celebration of Seafood with Recipes for Everyday Meals, Special Occasions, and More by Dani Colombatto
Home Cooked: Recipes from the Farm by Kate Humble (UK)
Aesthetic Dining: The Art Restaurant Around the World by Christina Makris (UK)
Mind Food: Plant-Based Recipes for Positive Mental Health by Lauren Lovatt (UK)
Caketopia: Your Guide to Decorating Buttercream Cakes with Flair by Sheri Wilson
Italian Breakfast by elBullifoundation (UK)
Dinner Express: Fast, easy dinners (+ hacks!) for busy people by George Georgievski (AU)
PlantYou: 140+ Ridiculously Easy, Amazingly Delicious Plant-Based Oil-Free Recipes by Carleigh Bodrug
Foolproof Fish: 60 Delicious Dishes to Make at Home by Libby Silbermann (UK)
Fridge Love: Organize Your Refrigerator for a Healthier, Happier Life―with 100 Recipes by Kristen Hong
The Carnivore Code Cookbook: Reclaim Your Health, Strength, and Vitality with 100+ Delicious Recipes by Paul Saladino
The Little Chocolate Cookbook by Sue Quinn (UK)
Salad: 100 Recipes for Simple Salads & Dressings by Janneke Philippi (AU)
The Thai Kitchen of Boo Raan: Sharing Recipes From Dokkoon Kapueak by Dokkoon Kapueak (Belgium/US)
Spill the Beans: Global Coffee Culture and Recipes (Germany, US)
Food IQ: 100 Questions, Answers and Recipes to Raise Your Cooking Smarts by Daniel Holzman and Matt Rodbard
The Brownie Diaries: My Recipes for Happy Times, Heartbreak and Everything in Between by Leah Hyslop
Crazy for Cookies, Brownies, and Bars: Super-Fast, Made-from-Scratch Sweets, Treats, and Desserts by Dorothy Kern
Ayla: A Feast of Nepali Dishes from Terai, Hills and Himalayas by Santosh Shah
The Savory Baker: 150 Creative Recipes, from Classic to Modern by America's Test Kitchen
The Fresh Eggs Daily Cookbook: Over 100 Fabulous Recipes to Use Eggs in Unexpected Ways by Lisa Steele
Feed Your Family!: Exciting Recipes from Chefs in Schools by Nicole Pisani and Joanna Weinberg (UK)
Prawn on the Lawn: Fish and Seafood to Share by Rick & Katie Toogood
The Steger Homestead Kitchen: Simple Recipes for an Abundant Life by Will and Rita Mae Steger and Beth Dooley
Pie Maker & Co.: 100 Top-Rated Recipes for Your Favourite Kitchen Gadgets by taste.com.au (AU)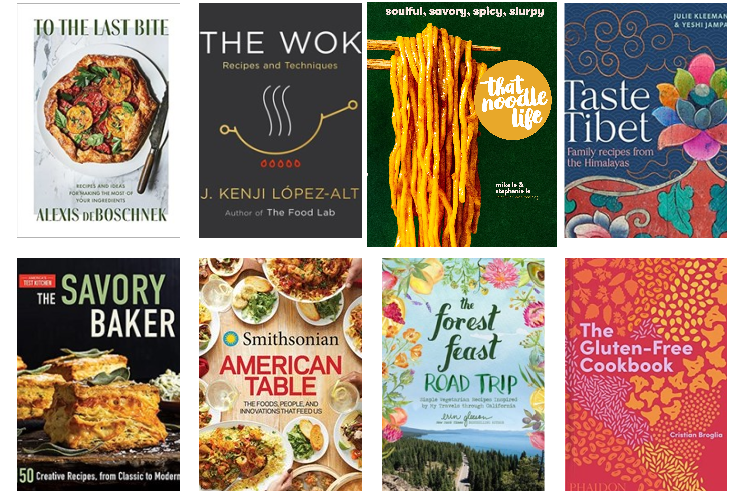 March 2022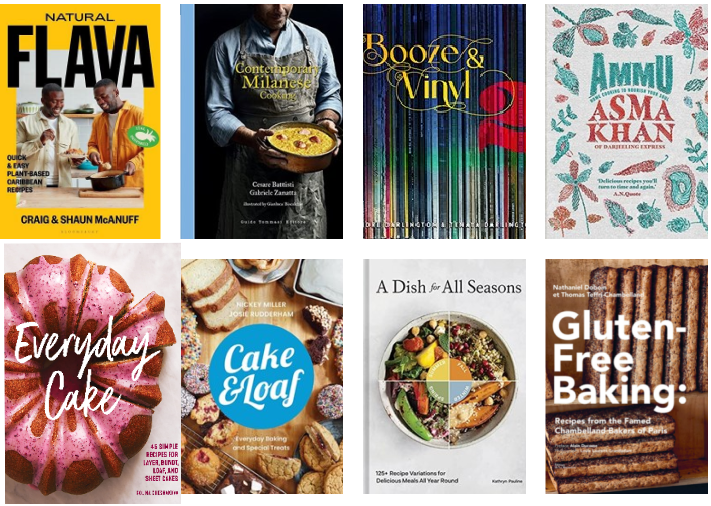 April 2022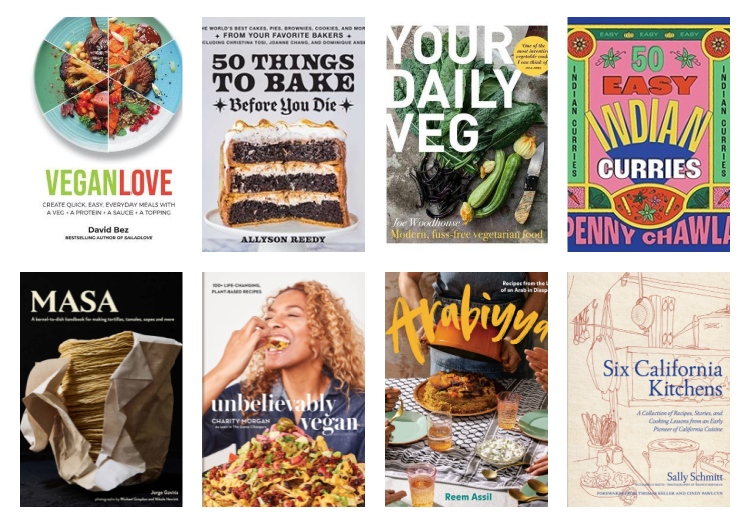 May 2022
The Cook You Want to Be: Everyday Recipes to Impress by Andy Baraghani
Portugal: The Cookbook by Leandro Carreira (UK)
Friends. Food. Flavour.: Michael Olivier's Great South African Recipes by Michael Olivier (South Africa/US)
Early Jewish Cookbooks: Essays in Hungarian Jewish Gastronomical History by Andras Koerner
Fast Feasts: Quick, Easy Recipes with a Middle-Eastern Twist by John Gregory-Smith (UK)
Yum! by Nadia Lim (NZ)
Layer Up!: The Ultimate Glow Up Guide for Cakes by Yolanda Gampp
The Green Barbecue Cookbook: Modern Vegetarian Grill and BBQ Recipes by Martin Nordin (AU)
Food You Love: That Loves You Back by Rorie Weisberg
The Kindred Life: Stories and Recipes to Cultivate a Life of Organic Connection by Christine Marie Bailey
Mi Cocina: Recipes and Rapture from My Kitchen in Mexico by Rick Martinez
Just a Spritz: 57 Simple Sparkling Sips with Low to No Alcohol by Danielle Centoni
Wild Fruits, Berries, Nuts & Flowers: 100 Good Recipes for Using Them by B. James (reissue of 1942 classic)
Hot Fat by Russell Alford and Patrick Hanlon (UK)
The Artful Pie Project: A Sweet and Savoury Book of Recipes by Denise Marchessault and Deb Garlick (CA)
Outside: Recipes for a Wilder Way of Eating by Gill Meller (UK)
Pride and Pudding: The History of British Puddings, Savoury and Sweet by Regula Ysewijn (UK) – Second edition of this title Pride and Pudding
Paon: Real Balinese Cooking by Tjok Maya Kerthyasa and I Wayan Kresna Yasa (AU)
The Everyday Athlete Cookbook: 130 Recipes to Boost Energy, Performance, and Recovery by America's Test Kitchen
Maggie Beer's Autumn Harvest Recipes and Maggie Beer's Summer Harvest Recipes by Maggie Beer (AU) Reissues
From Coast & Cove: An Artist's Year in Pen and Paint by Anna Koska (UK)
Vegan Pasta by Clémance Catz (UK)
Tapas: Classic Small Dishes from Spain by Elisabeth Luard (UK)
Beef It Up!: 50 Mouthwatering Recipes for Ground Beef, Steaks, Stews, Roasts, Ribs, and More by Jessica Formicola
Southern and Smoked: Cajun Cooking through the Seasons by Jarred I. Zeringue
The Magnificent Book of Vegetables by Alice Hart (UK)
Jeremy Pang's School of Wok by Jeremy Pang (UK, US)
The Van Life Cookbook: Delicious, Practical Recipes for Life in Small Spaces by Danny Jack and Hailee Kukura (UK)
Watermelon and Red Birds: A Cookbook for Juneteenth and Black Celebrations by Nicole A. Taylor
Vegan Richa's Instant Pot™ Cookbook: 150 Plant-based Recipes from Indian Cuisine and Beyond by Richa Hingle
Snackable Bakes: 100 Easy-Peasy Recipes for Exceptionally Scrumptious Sweets and Treats by Jessie Sheehan
Learning Korean: Recipes for Home Cooking by Peter Serpico
A Year at Catbird Cottage: Recipes for a Nourished Life by Melina Hammer
The Bartender's Manifesto: How to Think, Drink, and Create Cocktails Like a Pro by Toby Maloney, Emma Janzen and The Bartenders of The Violet Hour
Eitan Eats the World: New Comfort Classics to Cook Right Now by Eitan Bernath
Around the Kitchen Table: Good Things to Cook, Create and Do – the Whole Year Through by Sophie Hansen (UK)
Sea Salt: Unlock the Flavour – Perfect Your Cooking by Lea-Wilson Family (UK)
Men with the Pot Cookbook: Delicious Grilled Meats and Forest Feasts by Kris Szymanski and Slawek Kalkraut
Sam the Cooking Guy: Between the Buns: Burgers, Sandwiches, Tacos, Burritos, Hot Dogs & More by Sam Zien
Real Mexican Food: Authentic Recipes for Burritos, Tacos, Salsas and More by Ben Fordham and Felipe Fuentes Cruz (UK)
The Weekend Cook: Good Food for Real Life by Angela Hartnett (UK)
The Year of Miracles: Recipes to Save Your Life by Ella Risbridger (UK)
My America: Recipes from a Young Black Chef by Kwame Onwuachi with Joshua David Stein
Zabar's: A Family Story, with Recipes by Lori Zabar
Kin Thai: Modern Thai Recipes to Cook at Home by John Chantarasak (UK)
Cakes by Post: Over 50 Cakes, Cookies and Treats to Send by Mail by Lucy Burton (UK)
The Last Bite: A Whole New Approach to Making Desserts Through the Year by Anna Higham (UK) (US)
Green Fire: Extraordinary Ways to Grill Fruits and Vegetables, from the Master of Live-Fire Cooking by Francis Mallmann
The Backyard BBQ Bible: 100+ Recipes for Outdoor Grilling by Oscar Smith (AU)
The Seasonal Baker: Baking All Year Round by Michelle Evans-Fecci (UK) GBBO contestant
Great Scoops: Recipes from a Neighborhood Ice Cream Shop by Marlene Haley and Amelia Ryan (Canada)
Bread & Butter: A Taste of Nostalgia from Granny's Stove by Ciara McLaughlin (Ireland)
Curry Guy BBQ: 100 Curry Classics to Cook Over Fire or on your Barbecue by Dan Toombs (UK)
Snacks for Dinner by Lukas Volger
The Breakfast Book: A New Edition of the Classic Cookbook by Marion Cunningham
Pig Beach Cookbook: Smoked, Grilled, Roasted, and Sauced by Matt Abdoo and Shane McBride
Teach Yourself Cake Decorating: Learn How to Bake, Make, and Decorate Sweet Desserts by Robert Lucas (UK)
Breaking Bread: New England Writers on Food, Cravings, and Life by Various authors
Al Fresco: Inspired Ideas for Outdoor Living by Julie Pointer Adams
Peak Season: 12 Months of Recipes Celebrating Ontario's Freshest Ingredients by Deidre Buryk (CA)
Berber&Q: On Vegetables: 100 Recipes for Grilling, Roasting, Smoking, Pickling and Slow-cooking Veg by Josh Katz (UK)
Bourbon is my Comfort Food by Heather Wibbels
June 2022
July 2022
August 2022
The Vegan Pasta Cookbook: Easy, Indulgent Plant-Based Versions of Mac and Cheese, Pad Thai, Gnocchi, Ramen and More by Rebecca Hincke
The Amalfi Coast: A Collection of Italian Recipes by Katie and Giancarlo Caldesi (UK) (Reprint)
Franchi Cookbook: Game On by Franchi Food Academy (Italy, US)
The Outdoor Table: Recipes for Living and Eating Well by Alanna O'Neil
The Hairy Dieters Simple Healthy Food by The Hairy Bikers (UK)
Bake and Sprinkle by Chahrazad Al Hajjar
A Dish for All Seasons: 125+ Recipe Variations for Delicious Meals All Year Round by Kathryn Pauline
The Great American Recipe Cookbook: Regional Cuisine and Family Favorites from the Hit TV Show by The Great American Recipe
Big Has HOME: Recipes from North London to North Cyprus by Hasan Semay (UK)
Mushrooms: Over 70 Recipes Which Celebrate Mushrooms by Martin Nordin (AU, UK)
The Cake Collection by Brian Hart Hoffman
Homage: Recipes and Stories from an Amish Soul Food Kitchen by Chris Scott
The United Nations of Cookies by Jess Murphy and Eoin Cluskey (UK)
The Herbivorous Butcher Cookbook: 75+ Recipes for Plant-Based Meats and All the Dishes You Can Make with Them by Aubry & Kale Walch
From Harvest to Home by Alicia T. Chew
More Fish, More Veg: Simple, Sustainable Recipes and Know-how for Everyday Delicious Meals by Tom Walton (AU); UK pub Sep 22
Batch Baking: Get-ahead Recipes for Cookies, Cakes, Breads and More by Cynthia Barcomi Friedman (UK)
Return to Ireland: A Culinary Journey from America to Ireland by Judith McLoughlin (Ireland)
Jane's Patisserie Celebrate!: Bake Every Day Special by Jane Dunn (UK)
Persiana Everyday: All New Recipes from the Best Selling Author of Persiana by Sabrina Ghayour (UK)
World Cocktail Adventures by Loni Carr and Brett Gramse (AU)
Chinese-ish by Rosheen Kaul (AU/UK)
Everyday Cake: 45 Simple Layer, Bundt, Loaf, and Sheet Cakes by Polina Chesnakova
Forest + Home: Cultivating an Herbal Kitchen by Spencre McGowan
Simply Chinese: Recipes from a Chinese Home Kitchen by Suzie Lee
Bake It. Slice It. Eat It.: One Cake Tin, Over 70 Unbeatable Recipes and a Lot of Fun by The Exploding Bakery, Oliver Coysh and Tom Oxford
Pierogi: Over 50 Recipes to Create Perfect Polish Dumplings by Zuza Zak (UK)
Masala: An Invitation to the Magic of Indian Spices, with Recipes by Anita Jaisinghani
A Place in the World: Finding the Meaning of Home by Frances Mayes
Deliciously Ella: How To Eat Plant-Based: A how-to guide to going vegan – for everyone by Ella Mills (UK)
Beautiful Bread: A Step-by-Step Guide to 75 Edible Creations by Theresa Culletto
Modern Jewish Comfort Food: 100 Fresh Recipes for Classic Dishes from Kugel to Kreplach by Shannon Sarna
Simple Pasta: Pasta Made Easy. Life Made Better. by Odette Williams
The Vegan Chinese Kitchen: Recipes and Modern Stories from a Thousand-Year-Old Tradition by Hannah Che
Mission Vegan: Wildly Delicious Food for Everyone by Danny Bowien and JJ Goode
Essentials of Classic Italian Cooking: 30th Anniversary Edition by Marcella Hazan
Wild Meat: From Field to Plate – Recipes from a Chef who Hunts by Ross O'Meara (AU)
Boards All Day: Shareable, Meal-Worthy Platters & Spreads by Yasmin Fahr
The Red Truck Bakery Farmhouse Cookbook: Sweet and Savory Comfort Food from America's Favorite Rural Bakery by Brian Noyes
Forever Beirut: Recipes and Stories from the Heart of Lebanon by Barbara Abdeni Massaad
I Am From Here: Stories and Recipes from a Southern Chef by Vishwesh Bhatt
Small Batch Bakes by Edd Kimber (UK)
Cook: Your Friend in the Kitchen by Karen Martini (AU)
Dispatches from the Gilded Age: A Few More Thoughts on Interesting People, Far-Flung Places, and the Joys of Southern Comforts by Julia Reed
Whole Food for Your Family: Simple, Budget-Friendly Meals by Autumn Michaelis
Plant-Based India: Nourishing Recipes Rooted in Tradition by Dr. Sheil Shukla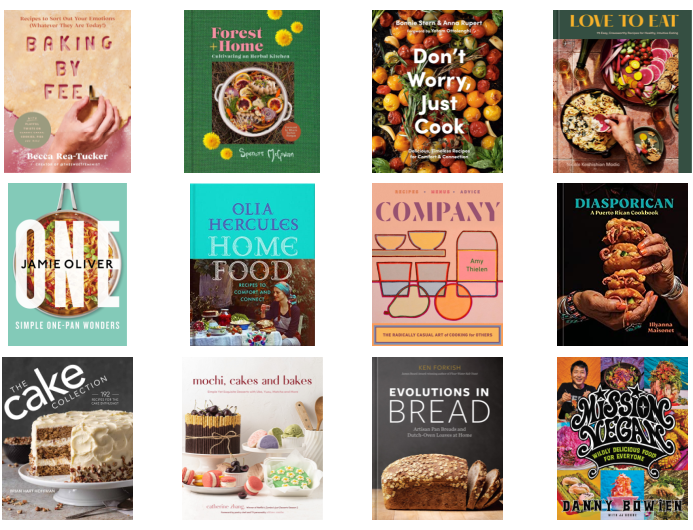 September 2022
One: Simple One-Pan Wonders by Jamie Oliver (UK) – US release in Jan 2023
Anna's Family Kitchen: Navigating Through Food, Faff and Family Life by Anna Stanford (UK)
Avoca at Home by Avoca (Ireland)
Bake: Traditional Irish Baking with Modern Twists by Graham Herterich
A Sense of Place: A journey around Scotland's whisky by Dave Broom (UK)
Honey Cake & Latkes: Recipes from the Old World by the Auschwitz-Birkenau Survivors by Auschwitz-Birkenau Memorial Foundation
From Scratch by Fiona Weir Walmsley (AU)
Africana by Lerato Umah-Shaylor (UK)
The Kew Gardens Cookbook: A Celebration of Plants in the Kitchen by Jenny Linford (UK)
Bliss on Toast: 75 Simple Recipes by Prue Leith (UK)
Nadiya's Everyday Baking by Nadiya Hussain (UK)
Orchard: Recipes from a Kitchen Garden by James Rich (UK)
Delicious Gatherings: Recipes to Celebrate Together by Tara Teaspoon
Bras, the Tastes of Aubrac by Sébastien Bras (UK, Phaidon)
Masa: Techniques, Recipes, and Reflections on a Timeless Staple by Jorge Gaviria
Ottolenghi Test Kitchen: Extra Good Things by Yotam Ottolenghi and Noor Murad (UK)
The Hebridean Baker: My Scottish Island Kitchen by Coinneach MacLeod (UK)
The Complete Chinese Takeout Cookbook: Over 200 Favorite Chinese Recipes to Make at Home by Kwoklyn Wan (UK)
Expressions: Art in Pastry by Julie Jones (UK) – US release Oct 2022
Cocktail Botanica: 60+ Drinks Inspired by Nature by Elouise Anders (AU)
Pasta Night: 60+ Recipes for Date Nights, Lazy Nights, and Party Nights by Deborah Kaloper (AU)
Good Mornings: 50 Delicious Recipes to Kick Start Your Day by Deborah Kaloper (AU)
Adventures in Wonderland: Alice's Tea Party + Cocktails by Smith Street Books (AU)
Don't Worry, Just Cook: Delicious, Timeless Recipes for Comfort and Connection by Bonnie Stern and Anna Rupert (CA)
One: Simple One-Pot Meals by Jamie Oliver (UK) – US release Jan 2023
The Cocktail Cabinet: The art, science and pleasure of mixing the perfect drink by Zoe Burgess (UK)
Real Life Recipes by Tom Kerridge (UK)
Pipers Farm Sustainable Meat Cookbook: Recipes & Stories for Considered Carnivores by Peter and Henri Grieg (UK) – note US release Oct 4, 2022.
The Vegan Italian Kitchen: A Modern Guide to Italian-Style Cooking by Brianna Claxton
More Mandy's: More Recipes We Love by Mandy and Rebecca Wolfe and Meredith Erickson (CA)
Let's Do Lunch by Georgia Levy (UK)
Salamati: Hamed's Persian Kitchen by Hamed Allahyari (AU/UK)
Gateau: The Surprising Simplicity of French Cakes by Aleksandra Crapanzano
Simply Vegan Baking by Freya Cox
Home Is Where the Eggs Are by Molly Yeh
JapanEasy Bowls & Bento: Simple and Satisfying Japanese Recipes for All Day, Every Day by Tim Anderson (UK)
Oren: An Eastern Mediterranean Food Story from Tel Aviv by Oded Oren (UK)
Bake Yourself Happy: Recipes for Delicious Bakes with a Dollop of Joy by Steph Blackwell (UK)
Spice: A Cook's Companion by Mark Diacono (UK)
Modern Bistro Cooking by America's Test Kitchen
Dinner in One: 100 Recipes / One Pot/Pan/Dish / In Under One Hour by Melissa Clark
Bread Head: Baking for the Road Less Traveled by Greg Wade
Fresh Midwest: Modern Recipes from the Heartland by Maren Ellingboe King
Simple Japanese by Maori Murota
Cooking: Simply and Well for One or Many by Jeremy Lee (UK)
Pasta Grannies: Comfort Cooking: Traditional Family Recipes From Italy's Best Home Cooks by Vicky Bennison
The Italian Pantry: 10 Ingredients, 100 Recipes – Showcasing the Best of Italian Home Cooking by Theo Randall
Northern Soul: 70+ Authentic Southern Recipes from the Bold North by Justin Sutherland
More Fish, More Veg: Simple, Sustainable Recipes and Know-how for Everyday Delicious Meals by Tom Walton (UK)
The National Parks Cookbook: The Best Recipes From (and Inspired by) the Eateries of America's National Parks and Monuments by Linda Ly
Moro Easy by Samantha and Samuel Clark (UK)
Jacques Pépin Art Of The Chicken: A Master Chef's Recipes and Stories of the Humble Bird by Jacques Pépin
Chinese Homestyle Cooking: 90 Plant-Based Recipes for Homemade Sauces, Favorite Takeout and Dim Sum, and Everyday Meals by Maggie Zhu
Danielle Walker's Healthy in a Hurry: Real Life, Real Food, Real Fast by Danielle Walker
Food52 Simply Genius: Recipes for Beginners, Busy Cooks, and Curious People by Kristen Miglore
Mezcla: Recipes to Excite by Ixta Belfrage (US)
Motherland: The Journey of Jamaican Food by Melissa Thompson (UK; US release next month)
New England Desserts: Classic and Creative Recipes for All Seasons by Tammy Donroe Inman
Eatertainment: Recipes and Ideas for Effortless Entertaining by Sebastien and Sheila Centner (CA)
Good Food: Best Biscuits by Good Food (UK)
Good Food: Best Breads by Good Food (UK)
October 2022
Hoppers: The Cookbook: Recipes and Stories from Sri Lanka and Beyond by Karan Gokani (UK)
Modern Classic Cocktails: 60+ Stories and Recipes from the New Golden Age in Drinks by Robert Simonson
Le Cordon Bleu Bakery School by Le Cordon Bleu (UK)
It's All About Dinner: 100 No-think Delicious Dishes by Nicky Corbishley (UK)
Taco-Tastic!: Over 60 Recipes to Make Taco Tuesday Last All Week Long by Victoria Elizondo
Paachakam: Heritage Cuisine of Kerala by Sabita Radhakrishna (India/US)
The Complete Language of Food: Health, Healing, and Folklore of Ancient Food by S. Theresa Dietz
The Complete Book of Pasta Sauces: The Best Italian Ragouts, Pestos, Marinaras, and Other Cooked and Fresh Sauces for Every Type of Pasta Imaginable by Allan Bay
The Whole Duck: Inspired Recipes from Chefs, Butchers, and the Family at Liberty Ducks by Jennifer Reichardt
The Betty Crocker Cookbook, 13th Edition: Everything You Need to Know to Cook Today by Betty Crocker
Christmas Treats: 50 Sweet Treats for the Festive Season by Guillaume Marinette (UK)
Nadiya's Everyday Baking by Nadiya Hussain (US)
Holiday Cookies Collection: Over 100 Recipes for the Merriest Season Yet! by Brian Hart Hoffman
New European Baking: 99 Recipes for Breads, Brioches and Pastries by Laurel Kratochvila (Germany, US)
Sundays with Sophie: Family Recipes from Our Table to Yours by Bobby and Sophie Flay
Via Carota: Vegetable-Centric Recipes from the Beloved Greenwich Village Restaurant: A Cookbook by Jody Williams, Rita Sodi and Anna Kovel
The Food Almanac: Volume Two by Miranda York (UK)
The River Cafe Look Book: Recipes for Kids of All Ages by Ruth Rogers (UK)
BUDMO!: Recipes from a Ukrainian Kitchen by Anna Voloshyna
Desserts Illustrated: The Ultimate Guide to All Things Sweet 500+ Recipes by America's Test Kitchen
The Art of Modern Cakes: Contemporary Decorating Techniques and Recipes for Couture Confections by Heidi Holmon
Enebla: Recipes from an Ethiopian Kitchen by Luladey Moges (CA)
Ballymaloe Desserts: Iconic Recipes and Stories from Ireland by JR Ryall (UK, Phaidon)
Savory Baking: Recipes for Breakfast, Dinner, and Everything in Between by Erin Jeanne McDowell
The Hachland Hill Cookbook by Carter Hach
Ottolenghi Test Kitchen: Extra Good Things by Noor Murad and Yotam Ottolenghi (US release)
Ottolenghi Test Kitchen: Extra Good Things by Noor Murad and Yotam Ottolenghi (CA release)
The Edgy Veg Easy Eats: Quick * Tasty * Vegan by Candice Hutchings (CA)
Raising the Bar: A Bottle-by-Bottle Guide to Mixing Up Masterful Cocktails at Home by Brett Adams and Jacob Grier
Stagioni: Modern Italian Cookery to Capture the Seasons by Olivia Cavalli Williamson (UK)
Peter's Baking Party: Fun & Tasty Recipes for Future Star Bakers! by Peter Sawkins (UK)
The Social Food: Home Cooking Inspired by the Flavors of the World by The Social Food
The Delmonico Way: Sublime Entertaining and Legendary Recipes from the Restaurant That Made New York by Max Tucci
Deeda Blair: Food, Flowers & Fantasy by Deeda Blair
Go-To Dinners by Ina Garten
Sheet Pan Sweets: Simple, Streamlined Dessert Recipes by Molly Gilbert
The Shared Kitchen: Meals Made for Sharing with Your Community by Clare Scrine (AU)
The Art of the Board: Fun & Fancy Snack Boards, Recipes & Ideas for Entertaining All Year by Olivia Carney
Bar Menu: 100+ Drinking Food Recipes for Cocktail Hours at Home by André Darlington
Cure: New Orleans Drinks and How to Mix 'Em from the Award-Winning Bar by Neal Bodenheimer and Emily Timberlake
Ciao Italia: Plant, Harvest, Cook! by Mary Ann Esposito
Cooking with Mushrooms: Unlocking the Powerful Flavors and Health-Giving Properties of the World's Most Magical Ingredient by Andrea Gentl
Fish for You: Inspired Seafood Recipes from Market by Spencer Watts (CA)
Snow Food: Warming Winter Alpine Dishes by Lindor Wink
Love Food Family: Recipes from the Kitchen Disco by Sophie Ellis-Bextor and Richard Jones
How To Write a Novel in 20 Pies: Sweet and Savory Tips for the Writing Life by Amy Wallen and Emil Wilson
Lune: Eating Croissants All Day, Every Day by Kate Reid (AU)
Giuseppe's Italian Bakes: 60 Inspired Recipes Like Papa Used to Make by Giuseppe Dell'Anno (UK)
The Art of Better Cooking by Alice Zaslavsky (AU/UK)
Bake My Day by Katherine Sabbath (AU/UK)
Simple Vegan Baking by Freya Cox (AU/UK)
Rice Is Life: Recipes and Stories Celebrating the World's Most Essential Grain by Caryl Levine, Ken Lee and Kristin Donnelly
The Food Saver's A-Z by Alex Elliott-Howery and Jaimee Edwards (AU/UK)
First Nation's Food Companion by Damien Coulthard and Rebecca Sullivan (AU)
Comfort Baking: Feel-Good Food to Savor and Share by Stephanie Wise
Motherland: A Jamaican Cookbook by Melissa Thompson (US release)
Milk Street: Cook What You Have: Make a Meal Out of Almost Anything by Christopher Kimball
Somebody Feed Phil the Book: The Official Companion Book with Photos, Stories, and Favorite Recipes from Around the World by Phil Rosenthal
Donna Hay's Christmas by Donna Hay (AU)
Make Every Dish Delicious: Modern Classics and Essential Tips for Total Kitchen Confidence by Lesley Chesterman
Win Son Presents a Taiwanese American Cookbook by Josh Ku and Trigg Brown
The Fast Five by Donna Hay (AU)
Tava: Eastern European Baking and Desserts From Romania & Beyond by Irina Georgescu (UK)
Supper: Recipes Worth Staying in For by Flora Shedden (UK)
The Cookie Bible by Rose Levy Beranbaum
The King Arthur Baking School: Lessons and Techniques from the Baker's Classroom by King Arthur Baking Company
First Generation: Recipes from My Taiwanese-American Home by Frankie Gaw
Delectable: Sweet & Savory Baking by Claudia Fleming
The Instant Kitchen Cookbook: Perfectly Timed, Fast and Easy Family Meals using your Electric Pressure Cooker and Air Fryer Oven by Coco Morante
The Modern Hippie Table: More Than 60 Recipes for Eating Simply and Living Beautifully by Lauren Thomas
Dynamite Kids Cooking School by Sara Kate Gillingham
Baking By Feel by Becca Rea-Tucker
A Bartender's Guide to the World: Cocktail Recipes and Stories from 50 Countries by Lauren Mote & James O. Fraioli
Give My Swiss Chards to Broadway: The Broadway Lover's Cookbook by Gideon Glick and Adam Roberts
Feels Like Home: A Song for the Sonoran Borderlands by Linda Ronstadt and Lawrence Downes
California Soul: A Memoir by Keith Corbin and Kevin Alexander
This is Not a Cookbook by Heston Blumenthal (UK)
Evergreen Kitchen: Weeknight Vegetarian Dinners for Everyone by Bri Beaudoin (CA)
Justice of the Pies by Maya-Camille Broussard
Diasporican: A Puerto Rican Cookbook by Illyanna Maisonet
The Little Library Parties by Kate Young (UK)
The Siete Table: Nourishing Mexican-American Recipes from Our Kitchen by Miguel Garza, Veronica Garza, Alexandra Janss Garza and Bayley Wiltshire
Savor: A Chef's Hunger for More by Fatima Ali and Tarajia Morrell
Love to Eat: 75 Easy, Craveworthy Recipes for Healthy, Intuitive Eating by Nicole Keshishian Modic
Listen To Your Vegetables by Sarah Grueneberg and Kate Heddings
Castle Rock Kitchen: Wicked Good Recipes from the World of Stephen King by Theresa Carle-Sanders
Bigger Bolder Baking: Every Day by Gemma Stafford
Viva Desserts by Nicole Presley
The Miracle of Salt: Flavor, Ferment, Transform by Naomi Duguid
Ghetto Gastro Black Power Kitchen by Jon Gray, Pierre Serrao and Lester Walker
Simple Small Batch Baking Book: 60 Recipes for Perfectly Portioned Cookies, Cakes, Bars, and More by Mike Johnson
Showstopping Cakes by Rahul Mandal (UK) – GBBO winner
The Pain D'Avignon Baking Book: A War, An Unlikely Bakery, and a Master Class in Bread by Uliks Fehmiu and Kathleen Hackett
The United Nations Cookbook: For People and Planet by Kitchen Connection
Cheer: A Liquid Gold Holiday Drinking Guide by Mike Wolf
Healthy Vegan Street Food: Sustainable & healthy plant-based recipes from India to Indonesia by Jackie Kearney (UK)
The Vegan Baking Bible: Over 300 recipes for Bakes, Cakes, Treats and Sweets by Karolina Tegelaar (UK)
Vegan Cooking for Two: 200+ Perfectly Portioned Recipes for Everything You Love to Eat by America's Test Kitchen
Rambutan: Fresh Sri Lankan Recipes from an Immigrant Family by Cynthia Shanmugalingam (UK)
November 2022
Power Plant: How Eating Mostly Plants Helped Me Live My Best Life by Richard Blais
(Serious) New Cook: Recipes, Tips, and Techniques by Leah Su Quiroga and Cammie Kim Lin
San Antonio Cooks: Favorite Recipes from Local Chefs and Restaurants by Julia Celeste Rosenfeld (CA)
Butter and Flower (CA)
Wild Drinks: The New Old World of Small-Batch Brews, Ferments and Infusions by Sharon Flynn (AU)
Kitchen Julie by Julija Steponaviciute
Biting Biting: Snacking Gujarati-Style by Urvashi Roe (UK)
Fresh MOB by Ben Lebus (UK)
Chicano Bakes by Esteban Castillo
Gino's Italy: Like Mamma Used to Make by Gino D'Acampo (UK) US release Nov '22
Jewish Flavours of Italy: A Family Cookbook by Silvia Nacamulli (UK)
Fatty Fatty Boom Boom: A Memoir of Food, Fat, and Family by Rabia Chaudry
Cheers!: Cocktails & Toasts to Celebrate Every Day of the Year by Philip Greene
The Bread Book by Éric Kayser (UK)
Good Comfort: Best Loved Favourites, Made Better for You by Hugh Fearnley-Whittingstall (UK)
Chinese-ish: Home Cooking Not Quite Authentic, 100% Delicious by Rosheen Kaul and Joanna Hu (US release) (AU – July/UK – August)
The Perfect Loaf by Maurizio Leo
What's for Dessert?: Simple Recipes for Dessert People by Claire Saffitz
The Unofficial Harry Potter Vegan Cookbook: Extraordinary plant-based meals inspired by the Wizarding World by Imana Grashuis and Tylor Starr
Healthy Vegetarian & Vegan Slow Cooker: Over 60 recipes for nutritious, home-cooked meals from your slow cooker by Nicola Graimes (UK)
The New Cooking School Cookbook: Advanced Fundamentals by America's Test Kitchen
The Bundt: 120 Recipes for Every Occasion, from Everyday Bakes to Fabulous Celebration Cakes by Melanie Johnson and Nordic Ware (UK)
The Giggling Squid Cookbook: Tantalising Thai Dishes to Enjoy Together by Giggling Squid (UK)
Smitten Kitchen Keepers: New Classics for Your Forever Files by Deb Perelman
Spanish at Home: Feasts from the Iberian Peninsula by Emma Warren (AU/UK)
That Time We Ate Our Feelings: 150 Recipes for Comfort Food from the Heart by Lisa Lucas and Debrianna Mansini (moved from 2021)
The Instant Air Fryer Bible by Bruce Weinstein and Mark Scarbrough
The Complete Modern Pantry Cookbook: 350+ Ways to Cook Well with What's on Hand by America's Test Kitchen
Good Housekeeping One-Pot Magic: 200 Warm & Wonderful Recipes by Good Housekeeping
Meat Free Mowgli: How to Cook Simple, Nutritious & Ultra-Tasty Plant-Based Indian Meals by Nisha Katona (UK)
Wok by Kwanghi Chan (UK)
First, Cream the Butter and Sugar by Emelia Jackson (AU) Dec UK release
Baking Bread with Kids: Trusty Recipes for Magical Homemade Bread by Jennifer Latham (of Tartine)
Sweet Land of Liberty: A History of America in 11 Pies by Rossi Anastopoulo
Baking for Beginners: Easy Recipes and Techniques for Sweet and Savory At-Home Bakes by James O. and Tiffany Fraioli
Behind the Bar: Gin: 50 Gin Cocktails from Bars Around the World by Alia Akkam (UK)
Cocktail Time!: The Ultimate Guide to Grown-Up Fun by Paul Feig
Foolproof Slow Cooker: 60 Modern Recipes That Let The Cooker Do The Work by Rebecca Woods (UK)
Easy Speedy Vegan: 100 Quick Plant-Based Recipes by Katy Beskow (UK)
Petite, Pretty and Piped: 60 Delicate Cupcakes and Mini Cakes to Satisfy Every Sweet Craving by Ginny Dyer
Where the River Narrows: Classic French & Nostalgic Québécois Recipes From St. Lawrence Restaurant by Jean-Christophe Poirier (CA)
The Woks of Life: Recipes to Know and Love from a Chinese American Family by the Leung Family
Baking Imperfect by Lottie Bedlow (GBBO contestant)
All About Cookies: A Milk Bar Baking Book by Christina Tosi
The Big Texas Cookbook by Texas Monthly
Bliss on Toast: 75 Simple Recipes by Prue Leith
New Indian Basics: 100 Traditional and Modern Recipes from Arvinda's Family Kitchen by Preena and Arvinda Chauhan (CA)
Southern Inspired: More Than 100 Delicious Dishes from My American Table to Yours by Jernard A. Wells
The Lemon Apron Cookbook: Seasonal Recipes for the Curious Home Cook by Jennifer Emilson (CA)
Bake Anime: 75 Sweet Recipes Spotted In―and Inspired by―Your Favorite Anime by Emily J. Bushman
The Curious Bartender: In Pursuit of Liquid Perfection by Tristan Stephenson (UK)
Bao: Asian-Style Buns, Dim Sum and More from Your Bamboo Steamer by Loretta Liu (UK)
The Pasta Queen: A Just Gorgeous Cookbook: 100+ Recipes and Stories by Nadia Caterina Munno
The Kitchen Healer: The Journey to Becoming You by Jules Blaine Davis
The Spirited Kitchen: Recipes and Rituals for the Wheel of the Year by Carmen Spagnola
Mochi, Cakes and Bakes: Simple Yet Exquisite Desserts with Mochi, Yuzu, Matcha and More by Catherine Zhang
The Anchor Brewing Story: America's First Craft Brewery & San Francisco's Original Anchor Steam Beer by David Burkhart
Noma 2.0: Vegetable, Forest and Ocean by René Redzepi and Mette Søberg
This Is a Book About Noodles by Brendan Pang
Vegan Africa: Over 70 Plant-Based Recipes from Ethiopia to Senegal by Marie Kacouchia
Instant Pot Miracle Mediterranean Diet Cookbook: 100 Simple and Tasty Recipes Inspired by One of the World's Healthiest Diets by Urvashi Pitre
Cakeboi: A Collection of Classic Bakes by Reece Hignell
Mastering Sourdough: The Ultimate Guide to Baking Top-Level Bread by Shannon Peckford
Flavor Lab Concoctions: A Mixologist Guide to Unique Drink Recipes by Logan Richardson
December
Lebanese Cuisine, Second Edition: More than 200 Simple, Delicious, Authentic Recipes by Madelain Farah and Leila Kirske
Sugar & Spice: Creative Cookies for Modern Baking by Megan Neveu
The Vegan Week: Meal Prep Recipes to Feed Your Future Self by Gena Hamshaw
Savory vs. Sweet: From Our Simple Two-Ingredient Recipes to Our Most Viral Rainbow Unicorn Cheesecake by Shalean LaBerge and Stephanie Ghitis
Parsi: From Persia to Bombay: Recipes & Tales from the Ancient Culture by Farokh Talati (UK)
Boards & Bites: Food Styling and Homemade Recipes for Elegant Party Planning by Melissa Francis
Dishes For Two: 100 Easy Small-Batch Recipes for Weeknight Meals & Special Celebrations by Goodhousekeeping Editors
Fresh Pasta at Home: 12 Doughs, 20 Shapes, 100+ Recipes, with or without a Machine by America's Test Kitchen
A Year with Our Food Stories: Gluten-Free Seasonal Fare by Our Food Stories (Germany, UK, US)
The Complete Guide to Healthy Drinks: Powerhouse Ingredients, Endless Combinations by America's Test Kitchen
Home Food: Recipes to Comfort and Connect by Olia Hercules
The Blue Zones American Kitchen: 100 Recipes to Live to 100 by Dan Buettner
Can I Lick the Spoon, Mum?: A Comics-Style Cookbook for Creating Asian Bakes and Family Memories in the Kitchen by Pamela Lim
Miette: Recipes from San Francisco's Most Charming Pastry Shop by Meg Ray (reprint)
White Rabbit: Recipes & Stories from Russia by Vladimir Mukhin (UK) – publication moved from April. Will update when new date is available.