Even more delicious things I am adding to my list of baking intentions
August 23, 2021 by Jenny
My list of baking intentions continues to grow. I've been working on the usual end of the month posts, the new cookbook review and our EYB Cookbook Club summary, but needed to take a break last night to do something creative. My reasoning is that if there isn't a due date, it is creative. Plus if I document my baking dreams, I have taken a step in a positive direction.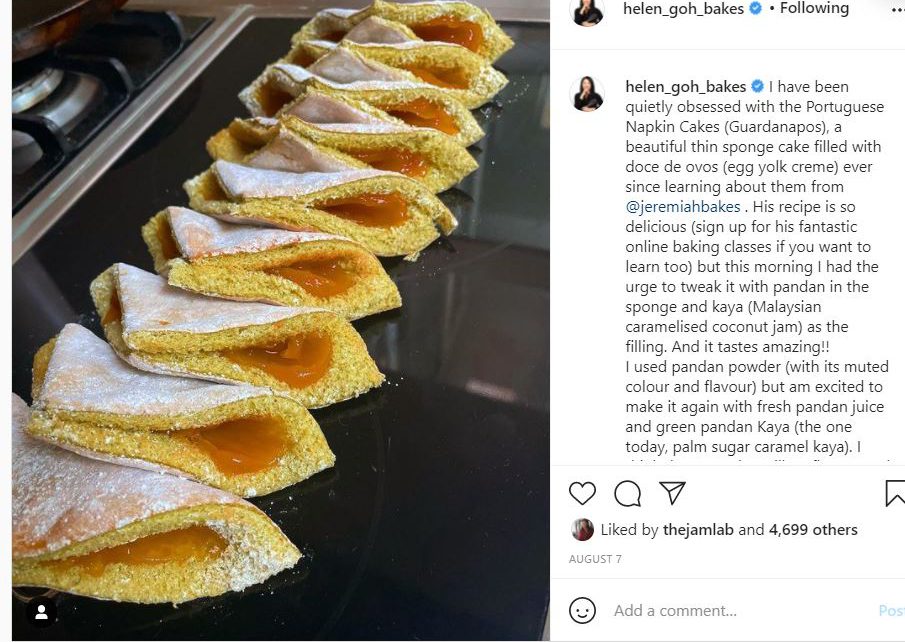 While I was scrolling through Instagram, I came upon Helen Goh's post on Portuguese napkin cakes (above). Helen recommends Jeremiah Bakes for his online class on these pretty little cakes. When I visited Jeremiah's site, I had some trouble signing up for the class and am looking into it (all the dates seem to be in the past.) Jeremiah Duarte Bills, the author of the blog, appeared on ABC's The Great American Baking Show in 2016 and was praised by Mary Berry and other judges for his bakes. I'll update this post if I learn more about his classes.
I then turned to my friend Google to learn more about these baked treats and found a few recipes but I saved this one and indexed it for our Library: Guardanapos bolos recipe (Portuguese napkin cake).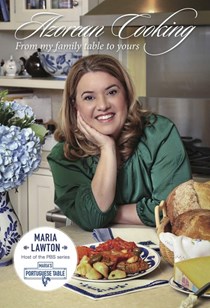 This led me on a virtual search through all my Portuguese cookbooks. And I remembered a title I received last week. Azorean Cooking: From My Family Table to Yours by Maria Lawton. I really am loving reading this book and am impressed with the Breads and Desserts chapters (of course!). Portuguese popovers, Milk tarts, Custard tarts, and Pineapple pie all look so amazing. The final chapter Other Favorites includes recipes for Fresh cheese, Liqueurs and Jams. There are also chapters on Soup and Entrees, but I zoned in on the baking recipes. Maria makes everything in her book look easy and approachable. Maria has a show on PBS – Maria's Portuguese Table – be sure to check your local listings.
We have over 100 cookbooks in our EYB Library devoted to Portuguese cooking. I traveled further down the rabbit hole and took a look at books devoted to Spanish cuisine and we have 769 titles that cover that topic. With regard to desserts The Desserts of Jordi Roca: More Than 80 Sweet Recipes is a beautiful book and is a bargain right now. Of course, there are loads of books devoted to European desserts and our friend, Rick Rodgers has a slew of online classes for European bakes.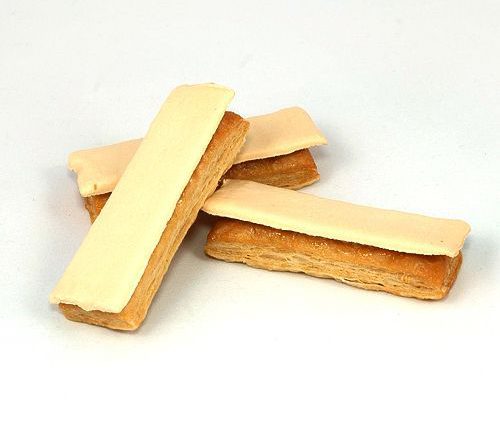 Another item to add to my list (calling it a list at this point is not quite accurate as it is more like an endless volume filled with baking dreams) are hojaldre but more specifically the Polkas Paul Vitale of Sweet Paul recently posted on Facebook.
From the Confiteria Santos website: "Polkas, a typical sweet from Torrelavega, is the queen of puff pastry and the star product of Confitería Santos." I enjoyed reading about the history behind the puff pastry empire and their collection of jugs – you might enjoy it too. I think I am going to be heading to Madrid. (Note: Mil hojas were covered here which is in the puff pastry realm of greatness.)
I will end this article with a reminder that we have many great titles coming in the following months. Mooncakes and Milk Bread is one that has me longing for October. Do not get me wrong, I am excited for a number of incredible books but I love a totally new experience which this book offers in spades.
What are your baking goals? Something you have wanted to make but have put off?
Update: Our weekly roundup that shares news about baking classes and television programming has been updated on 8/25 with news of a new show called Baking It.