Sheet Cake Cookbook; USA Pan Half Sheet Pan and Ateco Off-Set Spatula Giveaway and Quick Bites with Abby Dodge
August 17, 2021 by Jenny
Enter our US giveaway to win one of three copies of Sheet Cake: Easy One-Pan Recipes for Every Day and Every Occasion by Abigail Johnson Dodge and one of three USA half sheet pans and one of three Ateco off-set spatulas. Three winners will receive a cookbook, sheet pan and off-set spatula!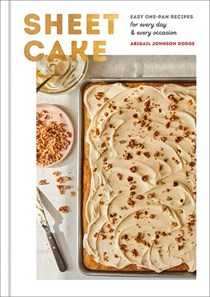 Today is not only the publication day for Sheet Cake but it is also Abby Dodge's birthday! Happy Birthday Abby! What a great gift to have your new book released on your special day and what a great gift you have been to so many bakers. Thank you.
---
If there were ever a time for cake, it is now and Abby Dodge delivers a beauty in Sheet Cake: Easy One-Pan Recipes for Every Day and Every Occasion. The baking guru shares her vast baking knowledge in this title beginning with techniques for excellent sheet cakes such as the importance of using a scale, how mise en place sets one up for success and more. The book shares over 150 recipes such as a Double chocolate mousse cake; Peach studded cream cheese pound cake; a S'mores stacked cake and a Chai mango cake.
Measurements are given in volume and weight and all recipes are baked in a half-sheet pan measuring 13 x 18 x 1 with instructions for transforming into various shapes such as three layer rounds or squares – i.e., the stacked recipes.
Our

takes you inside this beautiful book to give you an idea of what is in store here. The foundation for each of the four recipes is shared in our EYBD Preview but the "soak" or "icing" may be found on another page in the cookbook. I am working on obtaining all the components of at least one of the recipes and will update this post. That being said, you can use your favorite cream cheese frosting to make the Red velvet cake below and so forth.

---
To celebrate the publication of Sheet Cake, our good friends at USA Pan are offering three of their sturdy half sheet pans to accompany the cookbooks being given away. You can read more about my love of their products in a prior promotion.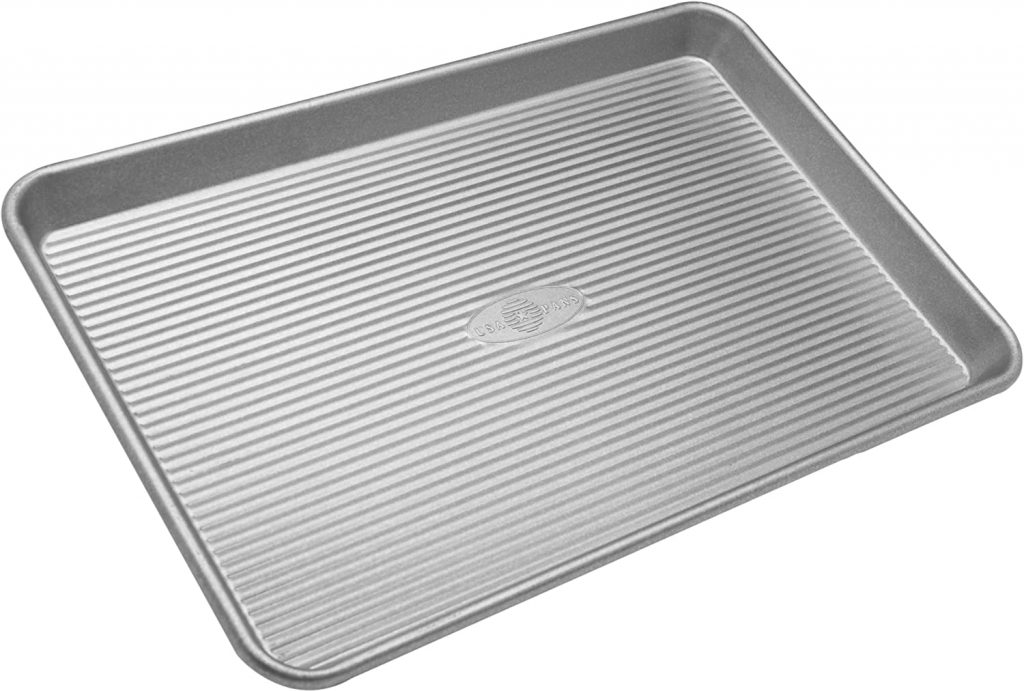 My friend, Monique, at Hardcover Cook has provided me with three Ateco 1385 Offset Spatulas to accompany this giveaway! Be sure to check out the planned subscription boxes for the remainder of this year in our cookbook club roundup.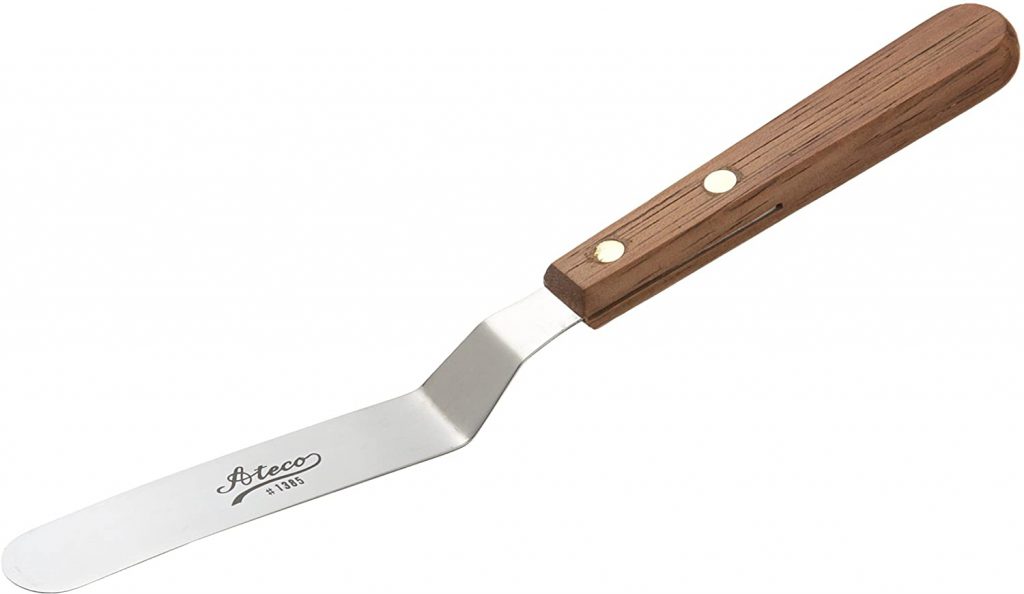 Abby took some time to answer a few questions for our members.
Abigail Johnson Dodge is the author of eleven cookbooks, including The Everyday Baker – a James Beard Foundation Finalist and IACP Cookbook Award Winner. She is a widely respected food writer, acclaimed instructor, and media personality. Abby was the founding test kitchen director at Fine Cooking magazine, where she served as a contributing editor and writer for more than twenty-five years. She has also written and contributed to dozens of popular, well respected online and print media outlets. She hosts a monthly column on CooktheVineyard.com called Baking Together and her online baking classes can be found on Craftsy.com. For more information, please visit her website, AbbyDodge.com.
Q: What first triggered your interest in baking? What is your first baking memory?
I learned how to bake alongside my sweet Mom. When I was young, it was our Sunday afternoon activity. She would tear out recipes from some of the women's service magazine – like Redbook and Woman's Day – and we would dive in together and bake up something fun to serve for Sunday night dessert. Luckily, I grew up with three older brothers and they were very willing and happy recipients of my early baking efforts.
I distinctly remember making Floating Island and this was long before I knew Ile de Flotante was such a French Classic. I think I was around ten years old. Poaching the meringue "islands" in milk then making a sweet, creamy custard with the milk was mind-blowing! Gosh, just the thought of it makes me want to make it right now!
Q: If you had to describe your baking style, what would it be?
With all of my recipes, my hope is to make baking more streamlined, approachable and modern for as many folks – bakers as well as those new-to-baking – as possible. While I'm classically trained, I like to take the mystery and difficulty out of baking and make it fun as well as rewarding.
Q: Are you a cookbook collector? If so, tell us about your collection?
Here's a (very!) candid peak into my small office. As you can see, I have an eclectic collection ranging from classics Joy of Cooking – 1995 & 1997; Cookwise; La Varenne Pratique; The Way To Cook; Maida Heatter; The Silver Palate Cookbook) to perennial faves (All About Braising; The Instant Pot Bible; Pie Squared; Simple Green Suppers; Snacking Cakes) as well as some of my own books too.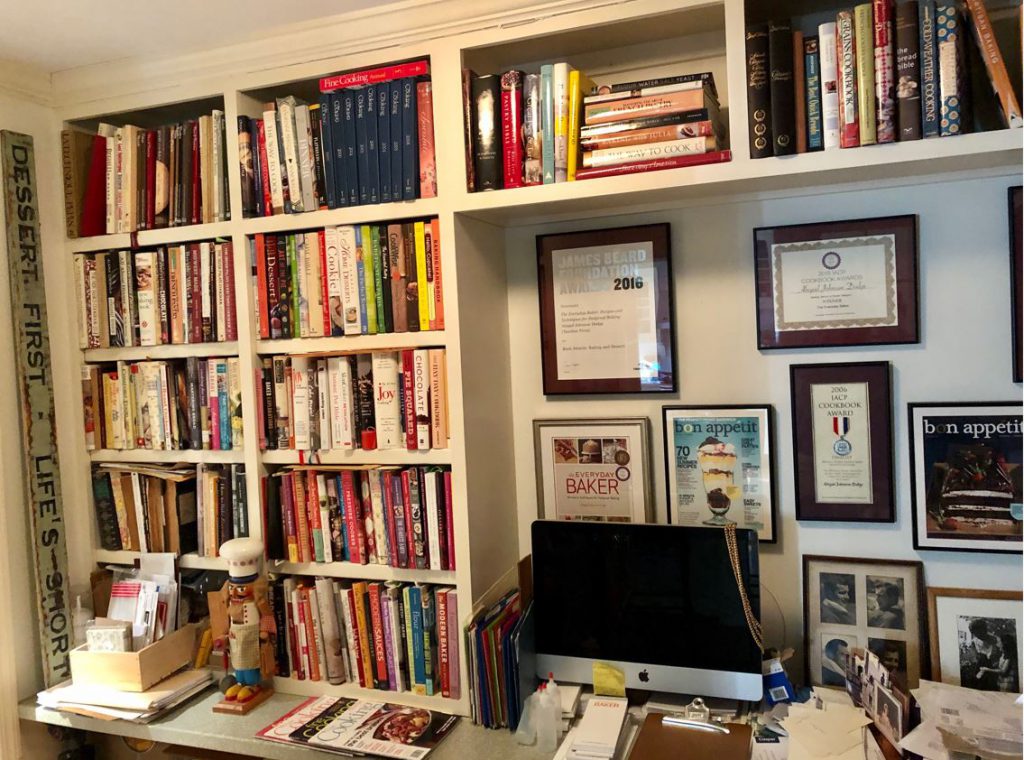 The opposite wall holds a lot of my favorite magazines. I'm especially proud of my Woman's Day and Parents magazines – from my early editorial work – and my complete series of Fine Cooking mags.
I can't name just one "favorite". They are all excellent companions; the best co-workers and they serve as constant inspiration. (Jenny's note: If I didn't already love Abby, these sentences would seal the deal. A girl after my own heart.)
Q: What is the best part of your job? Do you sometimes feel like working with food all day keeps you from wanting to get creative in the kitchen?
The very best part of my job is when I am working with fellow bakers on recipes from my books or classes. As a baker, I think my most important and most enjoyable role is as a teacher or guide leading readers and students through their baking adventures.
When I'm knee deep in the testing process for a project, the days can be long and draining especially if there's a big pile of dishes to tackle before I move into dinner-prep mode. I will admit that on those nights, it's difficult to be a creative dinner preparer so I try to plan ahead and have something ready-to -go or, at least, a solid game plan for dinner.
Q: What is your go to for a quick dinner – quick dessert?
I like to keep it super easy in the summer. A grilled protein – last night it was salmon – and a tossed-together salad of on-hand veggies, herbs and maybe some pasta or beans (sometimes both because why not?) drizzled with olive oil and a splash of acid. As a bonus, the leftovers make a yum lunch for me or anyone who's WFH.
Quick Dessert? To be honest, weeknight desserts consist of the day's baking tests or a simple scoop of ice cream. My current fave is Haagen-Daz Caramel Cone.
Q: What is the most elaborate baking project you have taken on?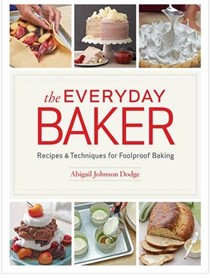 Tough question as there have been so many different types of challenges through my baking years. If I had to choose one challenging or elaborate project, I would have to say that writing my book The Everyday Baker was a monster-size task. There were spreadsheets upon spreadsheets to track the recipes (flavor profiles, specific techniques for call-outs and cross-references), endless weeks of recipe development & testing, countless hours of still (beauty and technique) and video shoots, prop tagging, editing, and, how could I forget, the grocery shopping & dishpan hands! Ultimately, the finished product was well worth the effort and I am grateful for the opportunity that my editor and publisher offered me. I'm a lucky gal.
Q: Tell us about your new cookbook.
This is a super cute, easy-to-use cake cookbook and I'm really excited about it! You'll discover that one half-sheet pan—the same one you already own and use for shortcut dinners—is the only pan you need to create festive and delicious cakes that deliver big-time flavor-filled results with minimal time, effort and stress.
I've laid out three cake styles (classic, stacked, or rolled) in a myriad of flavors and teamed them with everything you need to make tried-and-true options like Chocolate Mousse, and Gingerbread, to fun combos like Fluffernutter, and Chai Mango. What's more, with endless options for variation and customization with all the flavors and frostings, Sheet Cake will be your new favorite resource to build a cake you're guaranteed to love. As I like to say, "All you need is a half sheet pan and a sweet tooth!
Please be sure to follow Abby on Facebook; Instagram; and Twitter.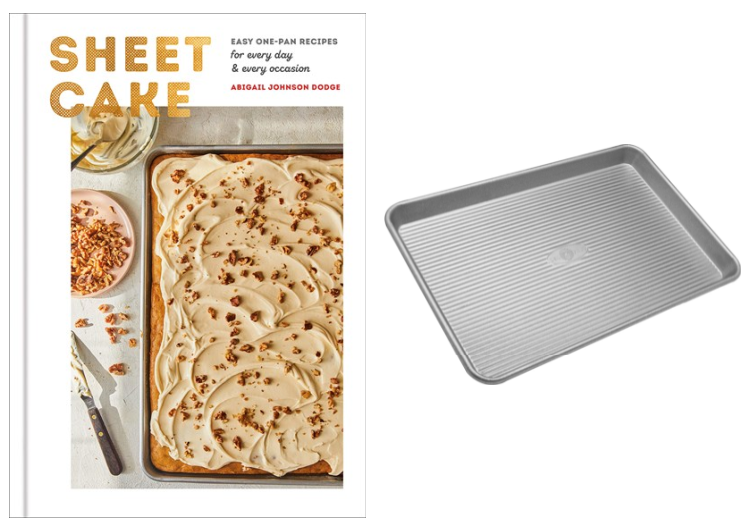 Special thanks to the publisher for providing three copies of this title and to USA Pan for providing three half-sheet pans in our promotion. Entry options include answering the following question in the comments section of this blog post.
Which recipe in the index would you like to try first?
For additional entries leave two more comments as set out below:
Visit USA Pan and leave a second comment on which products you would like to try?
Visit Hardcover Cook and leave a third comment on which subscription box catches your fancy?
Please note that you must be logged into the Rafflecopter contest before posting or your entry won't be counted. For more information on this process, please see our step-by-step help post. Once you log in and enter your member name you will be directed to the next entry option – the blog comment. After that, there are additional options that you can complete for more entries. Be sure to check your spam filters to receive our email notifications. Prizes can take up to 6 weeks to arrive from the publishers. If you are not already a Member, you can join at no cost. The contest ends at midnight on October 22nd, 2021.
a Rafflecopter giveaway