Martha Stewart's Very Good Things; GoodCook and Infuse by Casabella Cleaning Products – Giveaway
August 7, 2021 by Jenny
Today's giveaway features Martha Stewart's Very Good Things: Simple Tips and Genius Ideas for an Easier and More Beautiful Life by Martha Stewart and a product package from GoodCook as well as a cleaning package from Infuse at Casabella. Learn more below.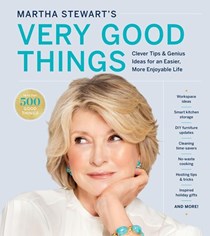 In January of this year Martha Stewart's Very Good Things: Simple Tips and Genius Ideas for an Easier and More Beautiful Life was published. Inside these pages Martha shares all her best good things – the original life hacks for the home – to make your life easier, more fun, more delicious, and more efficient.
These practical tricks cover all areas of Martha's domestic expertise, including cooking, crafting, gardening, organizing, entertaining, and more. From clever ways to solve common problems (use lip balm to lubricate a stuck zipper) to time-saving tricks (label window screens to avoid confusion when they come down for cleaning) to stress reducers (color-code kids' bathroom gear to make mornings less hectic), every one of these ideas will make you wonder, "Why didn't I think of that?"
Also included are ways to use what you have (infuse vinegar with herb blossoms), streamline your stuff (use just a few handy tools for many different purposes), or just make life a little more luxurious (serve party snacks in pretty decanters).
Sprinkled throughout are recipes for drink updates, formulas for salad dressing, foolproof scrambled eggs and more. This isn't a cookbook filled with recipes – it is a guide to better living, the Martha Way. This book would make an ideal bridal shower or housewarming gift.
---
Along with Martha's book, we have some amazing products to share with you in this giveaway: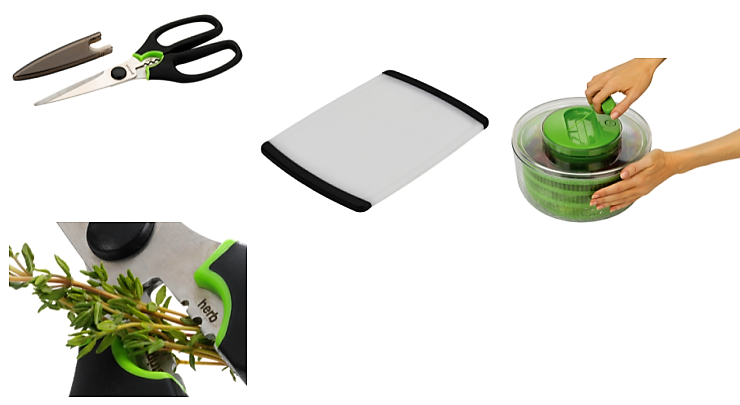 A set of kitchen products from GoodCook including: kitchen shears with built-in herb stripper, plastic cutting board, and salad spinner.
Who doesn't need an extra pair of kitchen shears? I appreciate that these shears have a built-in herb stripper making them a multi-purpose tool. I am also always looking for a cutting board for meats that I can clean with hot water and not have to worry about cross contamination – saving my wooden boards for veggies, aromatics and the like.
Everyone needs a salad spinner – not just for produce but I use mine for potatoes – hear me out. When I make homemade potato chips or fries – after soaking the potatoes – I run them through the spinner to help dry them before spreading on a tea towel. It works beautifully.
For over 30 years, GoodCook® has created the tools that have made life in the kitchen easier and more enjoyable from a simple whisk to whip an egg or a durable pan to bake a cake. Their product philosophy has always been to design dependable, easy to use products at a good price.

Casabella's Infuse multi-surface floor cleaning kit, Infuse refillable all-purpose spray bottle and mini brush with holder. Before I prepared this promotion I used the aforementioned products for over a month and I love them so much so I ordered myself another refillable all-purpose spray bottle to keep upstairs, an extra floor cleaning pad, micro-fiber cloths and a dozen concentrate refills for the floor and spray bottle.
What I love about these products is that they work, reduce waste and eliminate harmful chemicals. Another bonus, they are reasonably priced and makes your whole house smell fresh. I admit I have always been the bleach and chemical girl – which could explain why I no longer have finger prints from years of cleaning. Casabella has changed that.
The floor kit does an incredible job. No more wet cleaning rags on a stick for me that get tossed into the trash. After mopping the floors, I rinsed the reusable cleaning pad in hot water and then set up a pot with water and a little baking soda, placed the pad in and let it simmer on the stove for 15 minutes. It was clean and ready for the next session.
Lastly, I know this will sound unbelievable but I use the little mini brush every day – for dishes, pots, and scrubbing the sink afterwards.
Be sure to check out Casabella's main site for other cleaning products. Their Infuse at Casabella is a separate website.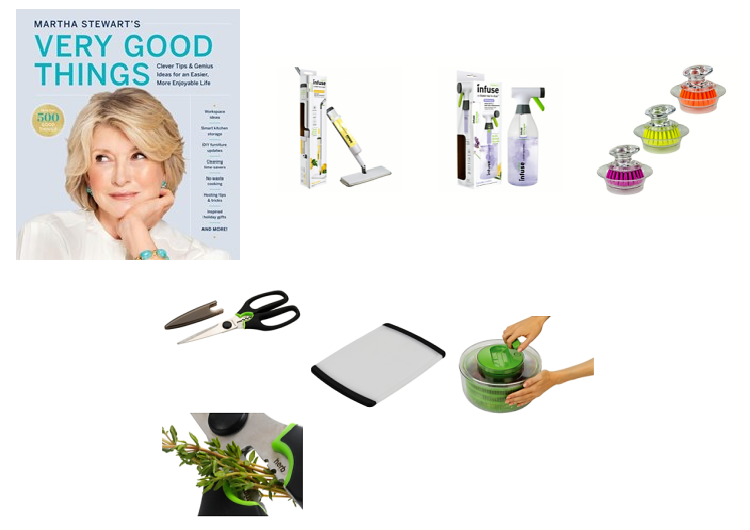 Special thanks to Mariner Books for providing a copy of Martha Stewart's Very Good Things, GoodCook for providing a set of their kitchen products and Infuse at Casabella for providing a set of their cleaning tools. Entry options include answering the following question in the comments section of this blog post.
What product at GoodCook would you like to try?
What product at Infuse at Casabella interests you the most?
Please note that you must be logged into the Rafflecopter contest before posting or your entry won't be counted. For more information on this process, please see our step-by-step help post. Once you log in and enter your member name you will be directed to the next entry option – the blog comment. After that, there are additional options that you can complete for more entries. Be sure to check your spam filters to receive our email notifications. Prizes can take up to 6 weeks to arrive from the publishers. If you are not already a Member, you can join at no cost. The contest ends at midnight on October 27th, 2021.
a Rafflecopter giveaway
Please note: Mariner Books provided me with a copy of Very Good Things to review. GoodCook and Casabella provided me with sample products to review.