The path to better fried foods
July 30, 2021 by Darcie
A few years ago when I wrote a post about the secrets to better frying, I briefly thought about titling the post 'Fear of frying' but thought the title was too esoteric, as not that many people would get the reference I was making. A couple of days ago, I received an email from The Bittman Project where Mark Bittman chose to use the title that I decided against using. I will never know whether he intended to reference the same book that I did, or whether he was merely being straightforward about people being afraid to fry foods. In either case, Bittman lays out the groundwork for successful frying in his post.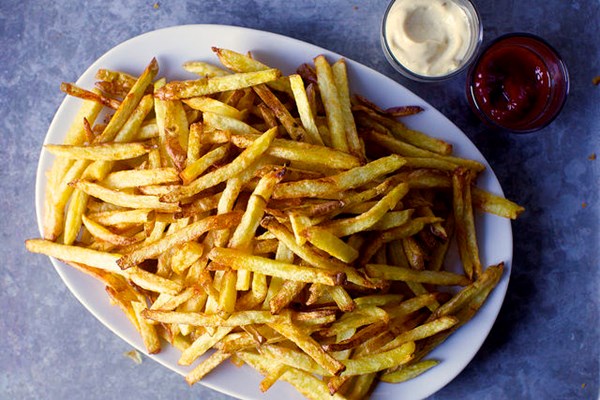 It's true that many people are intimidated by fried foods, thinking they are finicky, that the process is messy, and that there is only a slim chance the foods will turn out crispy and delicious. The messy part is true, but the rest isn't, says Bittman. He provides useful general guidelines that allow us see that few facets of frying are nondiscretionary and that most provide plenty of leeway.
Bittman breaks down the part of frying that gives most people pause – determining whether the oil temperature is right. Of course he suggests using a thermometer and gives us a range of temps, but he also provides visual clues that make it seem simple: "if your food sinks halfway and then bounces to the top, it's perfect. If it sinks and stays there, the oil is too cold; if it doesn't sink at all, it's too hot," he explains. Like most cooking, we need not overthink frying. And the results are delicious.
Oh, one more thing – while I passed on the title 'Fear of frying', I did write a column about frying with the headline: 'If at first you don't fricasse, fry, fry again." To make up for that, here are some highly rated frying recipes from the EYB Library: