Get a gold medal for snacks
July 29, 2021 by Darcie
This year's summer Olympics are unlike any other: first they were postponed for a year, then the spread of the Delta variant of the coronavirus meant that fans would not be able to attend in person. Athletes are contending not only with their competitors but also with heat, oddly quiet arenas and playing fields, and cardboard beds (which are much stronger and more comfortable than you might think). Still, the games continue to awe and inspire millions of us across the globe, as we watch the competition – and snack.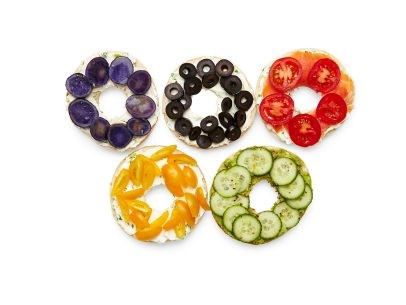 Game-time snacks are serious business for tailgaters and sports fans. Everyone has their go-to recipes, but sometimes you want a break from the same old things. If this describes you, Good Food (Australia) has the line on easy sweet and savory snacks ranging from 'nduja and haloumi pizza to one-bowl chocolate chai cookies. Eater assembled a list of the best Japanese snacks, in honor of the host country.
Delish provided a list of snacks favored by Olympic athletes, while Food and Wine lets you get ready well in advance of your viewing party with seven make-ahead snacks (the Brigadeiro are tempting me). Food Network chimes in with their patriotic take on Olympic party foods (plenty of countries use red, white and blue in their flags so this is not just for US fans). The Food Network list includes several cocktails that look fantastic.
I am still celebrating the gold medal win in gymnastics for Minnesota native Sunisa Lee, and the silver in swimming for another Minnesotan, Regan Smith. Even if your favorites don't end up on the podium, the Olympics are fascinating to watch. These athletes sacrifice so much to be on the world stage and they are all amazing, standout performers. Sometimes I think they should have an "average Joe" competing in every event so you can see just how elite all of the Olympians are (and perhaps silence some of the armchair critics who seem to think they know what the athletes should do). Each of the competitors at the Games is a winner in my book, whether they take home gold or step back to take care of themselves.
Photo of Olympic rings bagel bar from Food Network Magazine