July 2021 New Cookbook Review
July 26, 2021 by Jenny
Believe it or not, book publication dates are still changing from month to month. Shortage of staff, shipping delays and other issues have caused release dates to move back. Several books from July have moved to August or beyond and those months are already packed with releases. I am trying to keep the 2021 Cookbook Preview updated with the changes.
If you would like to order any of these titles, using our affiliate links below or BUY BOOK button on the book details page, earns Eat Your Books revenue as an Amazon Associate from qualifying purchases when using our links: USA * Canada * UK * Book Depository. Please remember your local bookstores during this time as well.
If there is an

available for a cookbook, look for the orange icon in the blurb. Clicking on that icon will take you directly to the preview. Lastly, if events are planned for particular books/authors, I have included a link. Be sure to check our Calendar frequently.
To jump to a particular country's listing, please click on the links below.
United States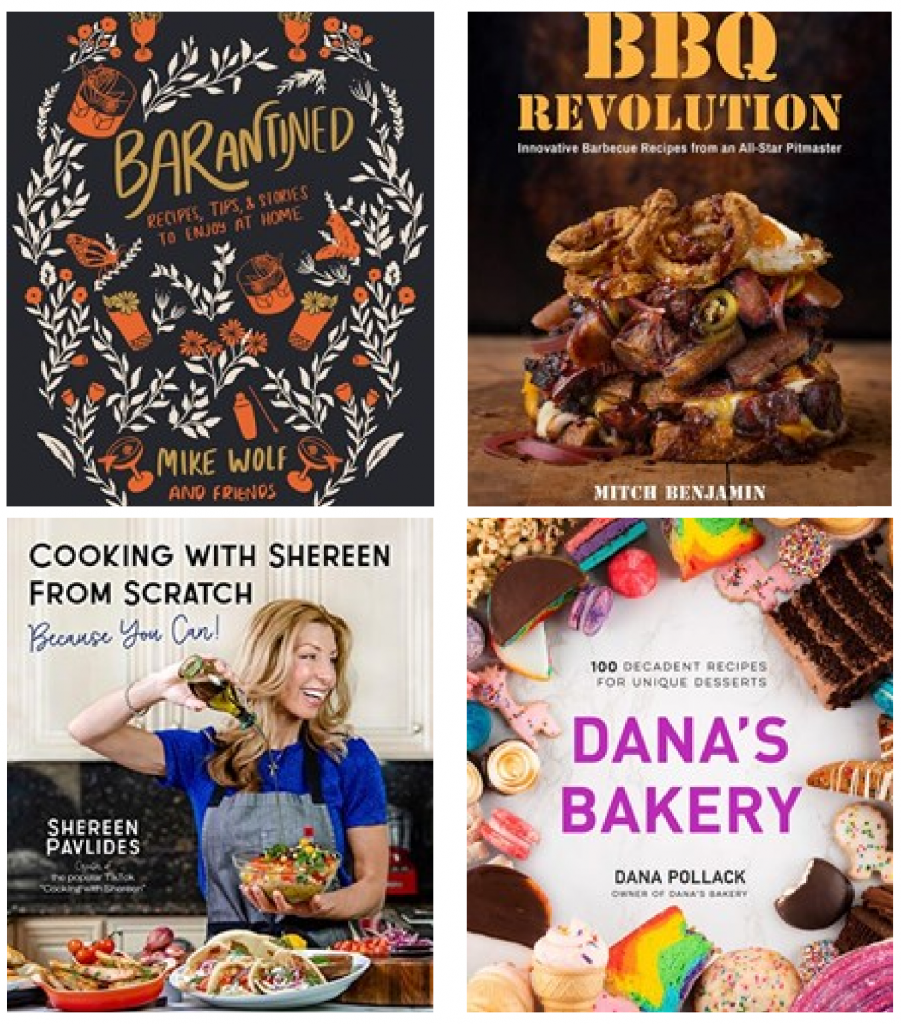 Barantined: Recipes, Tips, and Stories To Enjoy At Home by Mike Wolf: Shake, stir, and sip your way through more than 80 easy-to-make cocktail recipes, techniques for making cordials, and the best drinking tips from mavericks of the mixology scene. With insights gathered from more than 50 expert bartenders and sommeliers, this title provides engaging advice for staying entertained at home from music playlists, to reading recommendations, to suggestions for drinks to pair with takeout.
BBQ Revolution: Innovative Barbeque Recipes from an All-Star Pitmaster by Mitch Benjamin: The author of this title has helped open BBQ restaurants in Paris, served his smoked meat to baseball legends at Yankee Stadium, and taken home some serious hardware from just about every major BBQ competition. In this book, he throws open the doors to his kitchen (or as he calls it, his "Mitchen") and takes BBQ on a wild ride as only he can! From competition rubs, marinades and sauces to precise details on grilling meats to perfection, this book has it all.

Cooking with Shereen from Scratch: Because You Can! by Shereen Pavlides: The mega-viral brand Cooking With Shereen, has garnered millions of fans across various platforms thanks to Shereen's affectionate personality and her confidence-building approach to cooking from scratch. Now, in her debut cookbook, she's bringing all that knowledge right to your kitchen. Through 60 impressive recipes, Shereen shows you that it's possible to make the best food you've ever tasted without depending on frozen, precooked or store-bought ingredients and without spending all day cooking.

Dana's Bakery: 100 Decadent Recipes for Unique Desserts by Dana Loia Pollack: The recipes in this book are all reimagined "in true Dana fashion" which means coloring outside the box. Dana believes in turning classic desserts into new creations with fresh and unique color and flavor profiles. This gorgeous book has exciting recipes that include S'mores macarons, Chocolate chip cookie dough pizza, and Grape cobbler with peanut butter cookie topping.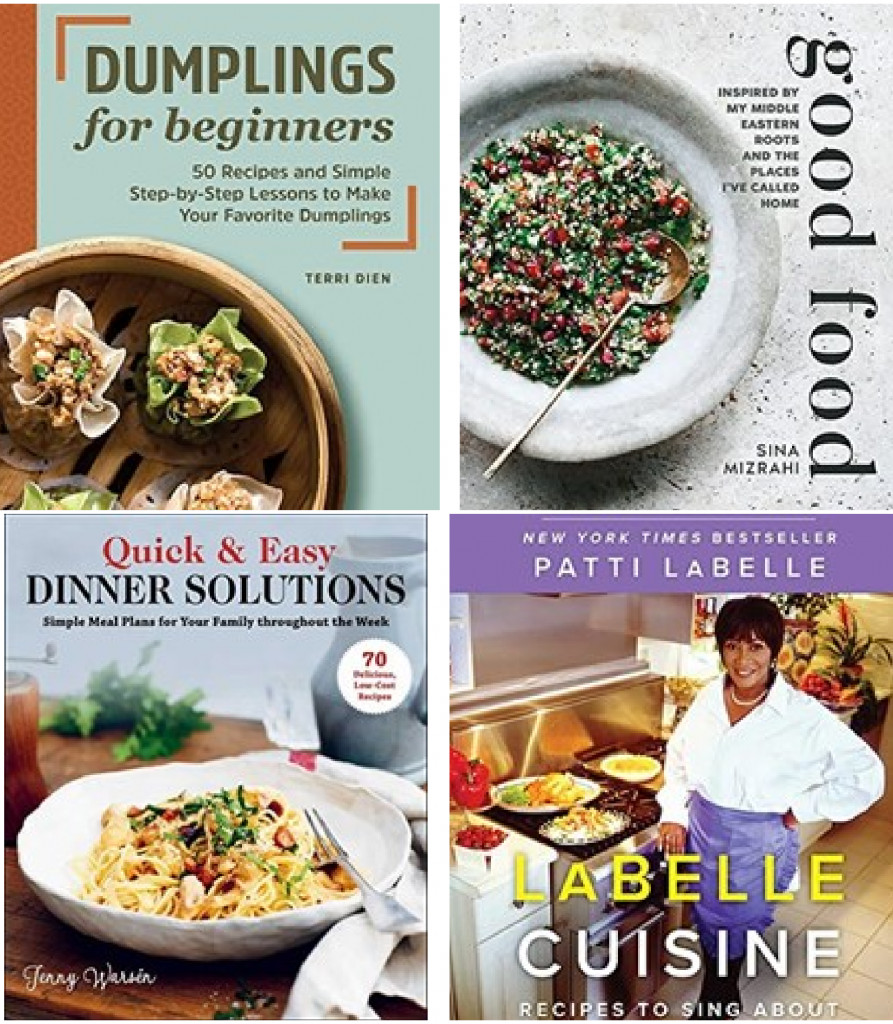 Dumplings for Beginners: 50 Recipes and Simple Step-by-Step Lessons to Make Your Favorite Dumplings by Terri Dien is filled with instructions and guidance for every step of the dumpling-making process. You'll find easy-to-follow recipes for boiled, steamed, deep-fried, and pan-fried dumplings, plus soups, sides, and dipping sauces. Learn how to make three types of dough and how to portion, roll out, and fold five classic dumpling shapes as well as how to switch up dumpling flavors and textures with suggestions for alternate fillings, sauce and stock pairings, cooking methods, and more.
Good Food: Inspired by My Middle Eastern Roots and the Places I've Called Home by Sina Mizrahi, recipe writer and photographer of the blog Gather a Table, shares over 160 recipes that incorporate fresh, bold flavors in satisfying meals and sweets. With approachable, vibrant dishes inspired by her Middle Eastern roots, she encourages you to gather around the table to share in the blessing of good food with the people you love.
LaBelle Cuisine: Recipes to Sing About by Patti LaBelle is the special 20th anniversary edition of LaBelle Cuisine: Recipes to Sing About. Combining mouthwatering and accessible recipes with charming personal reminisces of her remarkable life – from learning to cook by observing her parents to whipping up meals for her band after dazzling shows – LaBelle Cuisine will fill your heart as well as your stomach.
Quick & Easy Dinner Solutions: Simple Meal Plans for Your Family throughout the Week by Jenny Warsen is written for the busy homemaker or home cook who is out of ideas, is full of yummy, creative, and easy-to-make recipes for weekly dinners that the whole family will love—and that will save you time and money. Choose among seventy simple and tasty recipes, and make life even easier by following a four-week menu plan. Prepare meat, seafood, vegetarian, and dessert dishes for weeknights, as well as more festive party meals for weekends.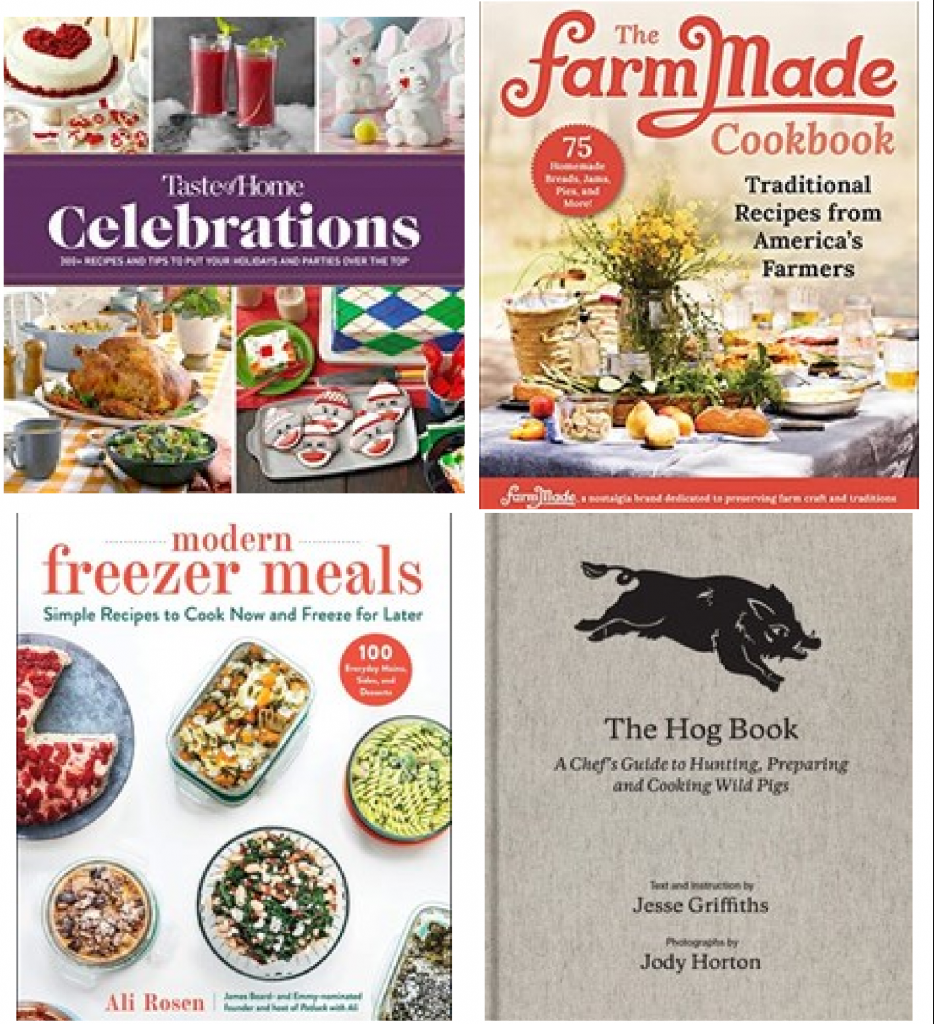 Modern Freezer Meals: Simple Recipes to Cook Now and Freeze for Later by Ali Rosen: Despite our food culture's deification of preserving ingredients through classic methods like canning and fermenting, we've relegated the freezer to the category of TV dinners and overwrought casseroles. But the freezer can be your best meal-prepping friend, and the easiest way to always have a ready-made meal on hand. This title provides one hundred fresh recipes for frozen food – from healthy, vibrant grain bowls to proteins cooked straight from the freezer with tons of flavor still intact.
Taste of Home Celebrations: 500+ Recipes and Tips to Put Your Holidays and Parties Over the Top by Taste of Home Editors: This title is an updated version of Taste of Home: Celebrations Cookbook printed in 2005 and features tried-and-true recipes, tips, hints and hosting ideas make for memorable moments all year long.
The FarmMade Cookbook: Traditional Recipes from America's Farmers by Patti Johnson-Long and FarmMade: A time capsule of food, craft, and tradition, this title shares seventy-five multi-generational recipes from farms all over the country. Hailing from New England, the Deep South, the Midwest, Southwest, and Northwest, each authentic farm-made recipe represents its region's unique farming culture. Recipes are paired with each farm's unique story of resilience and connection with the land, resulting in a tangible agrarian gift to us all.
The Hog Book: A Chef's Guide to Hunting, Butchering and Cooking Wild Pigs by Jesse Griffiths: I came across this title as a GoFundMe project and backed it. This title provides the hunter tips on locating hogs and hunting hogs, diagrams for building a simple hog trap and everything one would need to know about butchering and more. What I love is the recipes which include an exhaustive exploration of methods to make the most of this resource – including brining, curing, smoking, grilling, sausage and stock making, charcuterie, offal cookery, and even how to cook the heads. There are recipes perfect for a quick weekday dinner, elaborate, celebratory deep dives, and even recipes for desserts and baked goods. Sauces, salsas, and complementary side dish recipes are found throughout. The Buy Book link takes you to The Hog Book site where you can order a copy.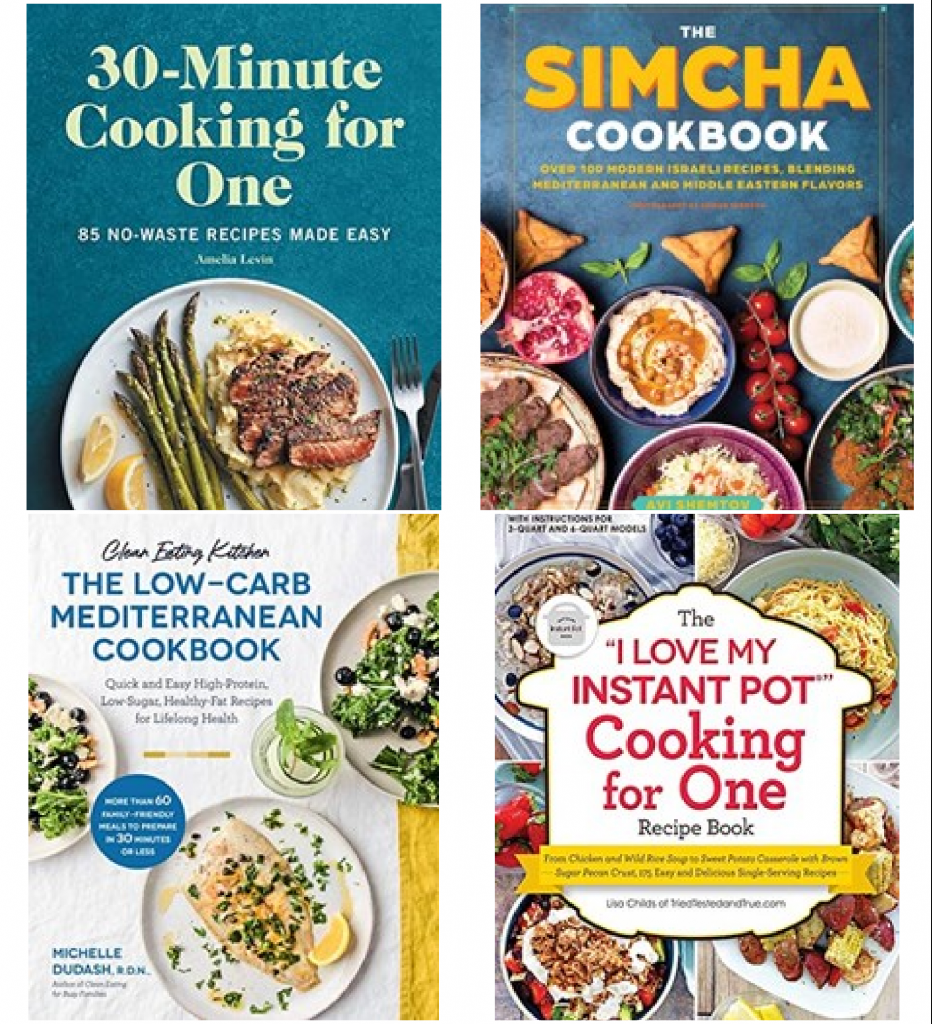 The Simcha Restaurant Cookbook: Over 100 Israeli and Middle Eastern Inspired Recipes by Avi Shemtov: In Hebrew, simcha means "joy and celebration" and Chef Avi Shemtov's food has been filling diners with these delicious emotions for several years at Simcha, located in Sharon, Massachusetts. These delectable dishes honor the traditions of Shemtov's Turkish-Israeli roots, with contemporary flavor-forward twists: Yemenite fried chicken with labne and smoked potato purée, whole-roasted cauliflower with soom tahini, and ras el hanout pork belly with pickled apple sauce, shakshuka, and octopus salad with green zhug, the traditional Yemenite hot sauce.
The I Love My Instant Pot® Cooking for One Recipe Book: From Chicken and Wild Rice Soup to Sweet Potato Casserole with Brown Sugar Pecan Crust: 175 Easy and Delicious Single-Serving Recipes by Lisa Childs: With this book you can enjoy all the benefits of using the Instant Pot without dealing with leftovers! Whether you live alone or need a quick meal just for yourself, this cookbook teaches you how to create perfectly portioned recipes right in your Instant Pot. With 175 recipes, photographs, and an easy-to-understand overview of how the Instant Pot works, this cookbook is a must-have for beginner and experienced users alike.
The Low-Carb Mediterranean Cookbook: Quick and Easy High-Protein, Low-Sugar, Healthy-Fat Recipes for Lifelong Health by Michelle Dudash: This cookbook combines the best aspects of the Mediterranean diet with more than 100 nutritious recipes that help the whole family eat clean including 60 meals that can be prepared in 30-minutes or less.

30-Minute Cooking for One: 85 No-Waste Recipes Made Easy by Amelia Levin: Put an end to piles of takeout boxes, unwanted leftovers, and wasted ingredients. This book makes it easy to save time and money with simple recipes that are perfectly portioned for one. In addition to convenient recipes, discover plenty of helpful advice that'll make even the most novice chef feel like a pro as they prepare these dishes in a half-hour or less.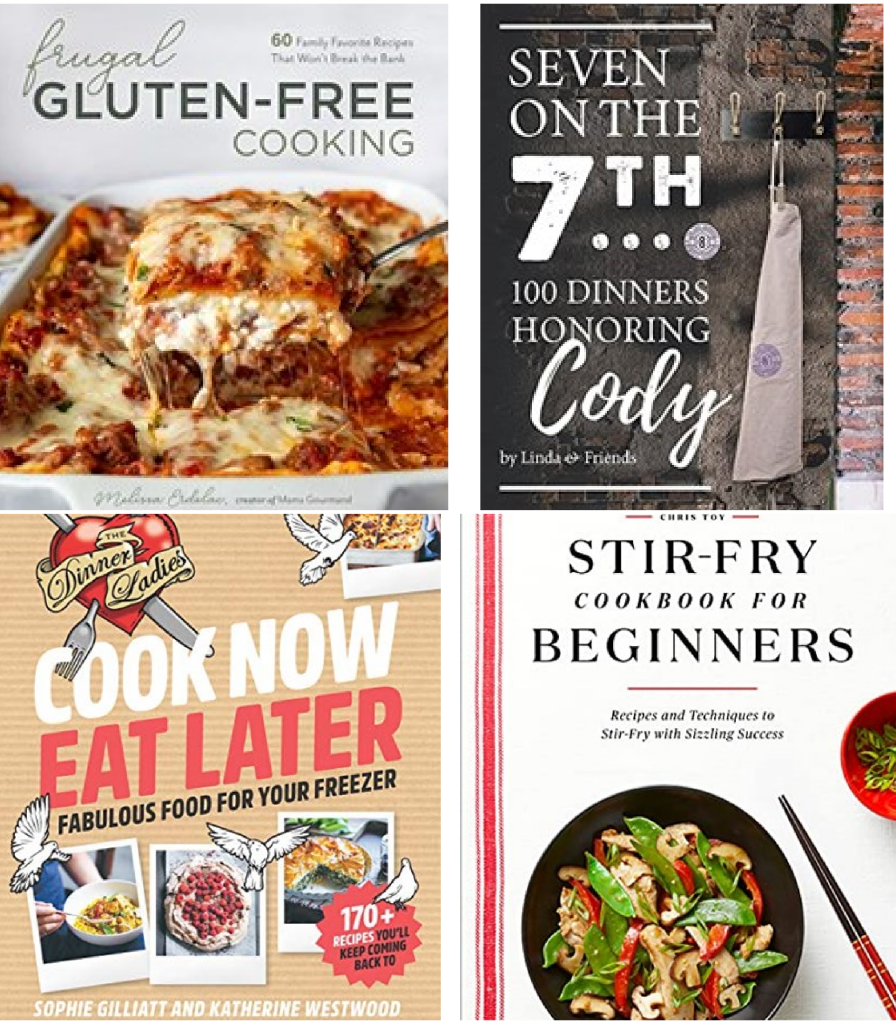 Frugal Gluten-Free Cooking: 60 Family Favorite Recipes That Won't Break the Bank by Melissa Erdelac: Thanks to the fuss-free and delicious recipes here getting an affordable dinner on the table is easy as can be. Rather than relying on expensive store-bought gluten-free products, Melissa's recipes are full of economic kitchen staples like beans, grains, veggies and low-cost cuts of meat. Quick and easy weeknight meals as well as culinary masterpieces perfect for entertaining are provided. And dispel yourself of the belief that gluten-free bread is unsatisfying or too expensive. Recipes like Honey Oatmeal Bread, Lemon-Glazed Zucchini Bread and Sharp Cheddar Herb Bread are every bit as good as their glutenous counterparts and cost a fraction of what pricy store-bought gluten-free breads do.

Stir-Fry Cookbook for Beginners: Recipes and Techniques to Stir-Fry with Sizzling Success by Chris Toy: Quick, naturally healthy, and full of richly varied flavors, stir fry is the perfect food. And the best part? Anyone can learn to make restaurant-quality stir fry at home! This complete guide makes stir frying simple with easy-to-follow directions that cover everything from prep work to serving. No matter your skill in the kitchen, you'll be enjoying the tantalizing spiciness of Kung Pao Chicken or a veggie-filled Buddha's Delight thanks to this standout among stir fry cookbooks.
Cook Now, Eat Later: The Dinner Ladies: Fabulous Food for Your Freezer by Sophie Gilliatt and Katherine Westwood was released in Australia in March. When time is short, enter the Dinner Ladies, the duo that guides us to the beauty of stocked-up fridges and freezers with a wide-ranging repertoire of nourishing, reliable make-ahead meals.

Seven on the 7th: 100 Dinners Honoring Cody by Linda & Friends: Cody Jude Barrasse died at 22 years old on April 7, 2013 after being hit by a car as a pedestrian. "Seven on the 7th" describes the journey of his friends and family who were determined to keep his spirit alive. For one hundred months, they have met for dinner at 7 p.m. on the 7th of each month to remember Cody. This book was written by Cody's mother and the friends who gathered for these special meals.
United Kingdom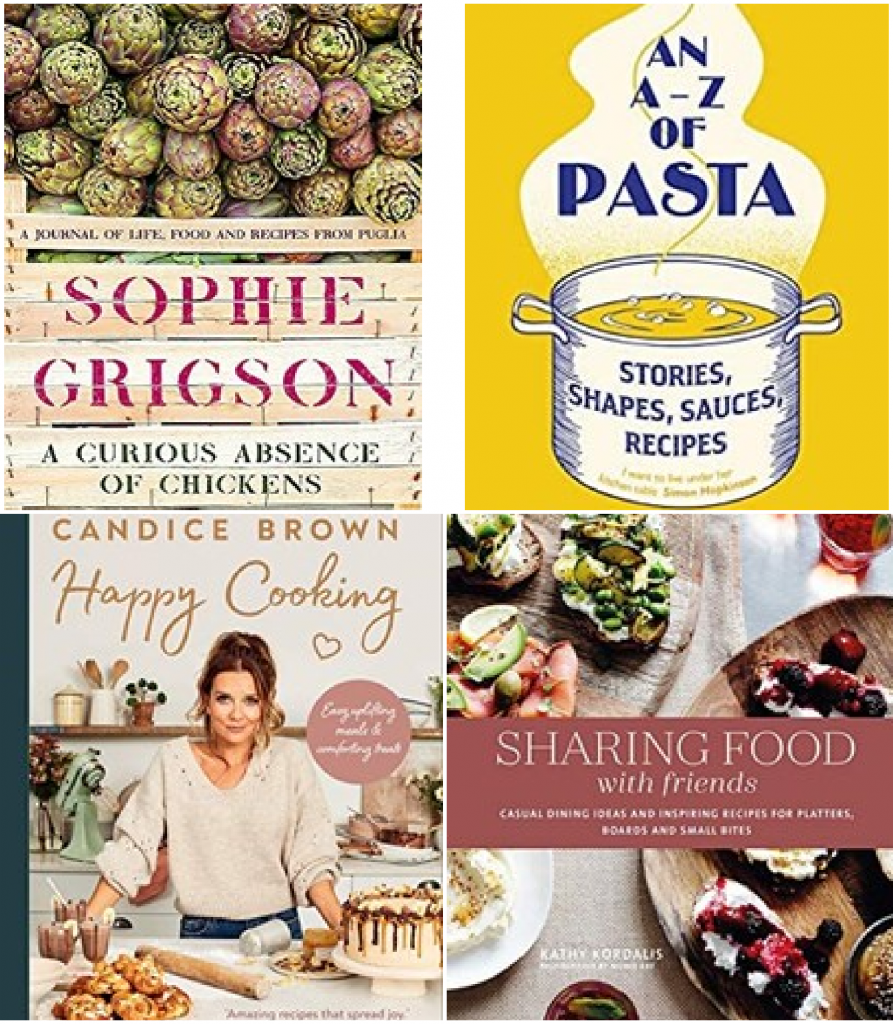 A Curious Absence of Chickens: A Journal of Life, Food and Recipes from Puglia by Sophie Grigson: After her children grew up and left home, Sophie Grigson found herself living alone. About to turn 60, she took the decision to sell or give away most of her belongings, to pack up her car and to drive to Puglia on her own to start a new life. In a part of Italy where she didn't know anyone, having last visited the region 40 years ago, this narrative book of food writing, stories and recipes brings to life the region, its food and the local characters that she meets along the way. This is a book about courage, hope, new horizons and, above all, delicious food.
An A-Z of Pasta by Rachel Roddy: This is the story of pasta. In it, Guardian columnist and award-winning food writer and Rome dweller Rachel Roddy condenses everything she has learned about Italy's favourite food in a practical, easy-to-use and mouth-watering collection of 100 essential pasta and pasta sauce recipes. A stunning book as all of Rachel's books are; here you will find gorgeous photography and approachable yet beautiful recipes that you will turn to time and again and the silk ribbon marker is a bonus.
Happy Cooking: Easy Uplifting Meals and Comforting Treats by Candice Brown: Cooking has always been about more than the finished dish for Candice, GBBO finalist and pub owner. It's about the whole process and what that process can do for your mind, as well as your tummy. This title is packed with simple and delicious recipes to bring a little warmth back into those grey days when it all feels a bit too much. Here you'll find your favorite bakes to bring a smile to your face, quick pick-me-ups for the busy weekdays, therapeutic recipes to keep your hands busy, and hearty dishes that take care of themselves as well as you. These are recipes to live for, to get out of bed for, to eat under the duvet, and to share with the ones you love. This book will be released in the US in October.
Sharing Food with Friends: Casual Dining Ideas and Inspiring Recipes for Platters, Boards and Small Bites by Kathy Kordalis: This is food you can whip up at the end of a working day or during a busy weekend. Kathy Kordalis offers inspired ideas for creating dishes to share at home, whether you are serving brunch, lunch, dinner, nibbles with drinks or a family feast. Within each sharing menu there are lists of things to buy in, dishes that require simple preparation, plus recipes to cook from scratch.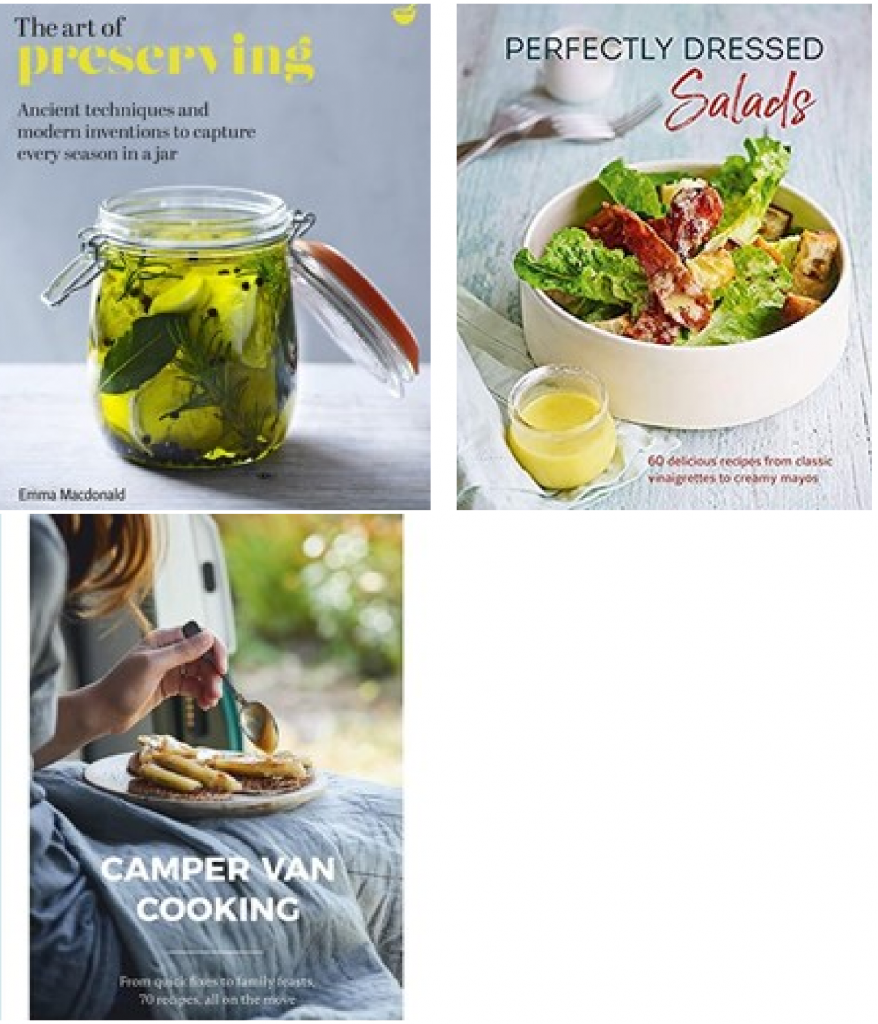 The Art of Preserving: Ancient Techniques and Modern Inventions to Capture Every Season in a Jar by Emma MacDonald is an updated volume featuring the recipes of The Bay Tree Preserving and The Artisan Market. From jams and marmalades to candied and cured foods, Emma covers it all in this beautiful book filled with loads of photos and advice to up your preserving game.
Camper Van Cooking: From Quick Fixes to Family Feasts, 70 Recipes, All on the Move by Matt Williamson and Claire Thomson: Discover the joys of throwing family, friends and food into the camper van and setting off into the wide blue yonder! The husband and wife duo offer 70 recipes that will make any road trip a breeze. Life on wheels doesn't have to mean eating out of cans and packets – Claire has assembled the essential travelling cupboard and toolkit so that you only need the basics to produce wonderful meals.

Perfectly Dressed Salads: 60 Delicious Recipes from Tangy Vinaigrettes to Creamy Mayos by Louise Pickford: This is a re-issue of the 2014 title The Perfectly Dressed Salad that features delicious recipes for a wide variety of exciting dressings that take their inspiration from different world cuisines – from classic French emulsified oil and vinegar vinaigrettes to creamy, mayonnaise-based dressings, plus exciting Asian and Japanese-style dressings to discover.

Australia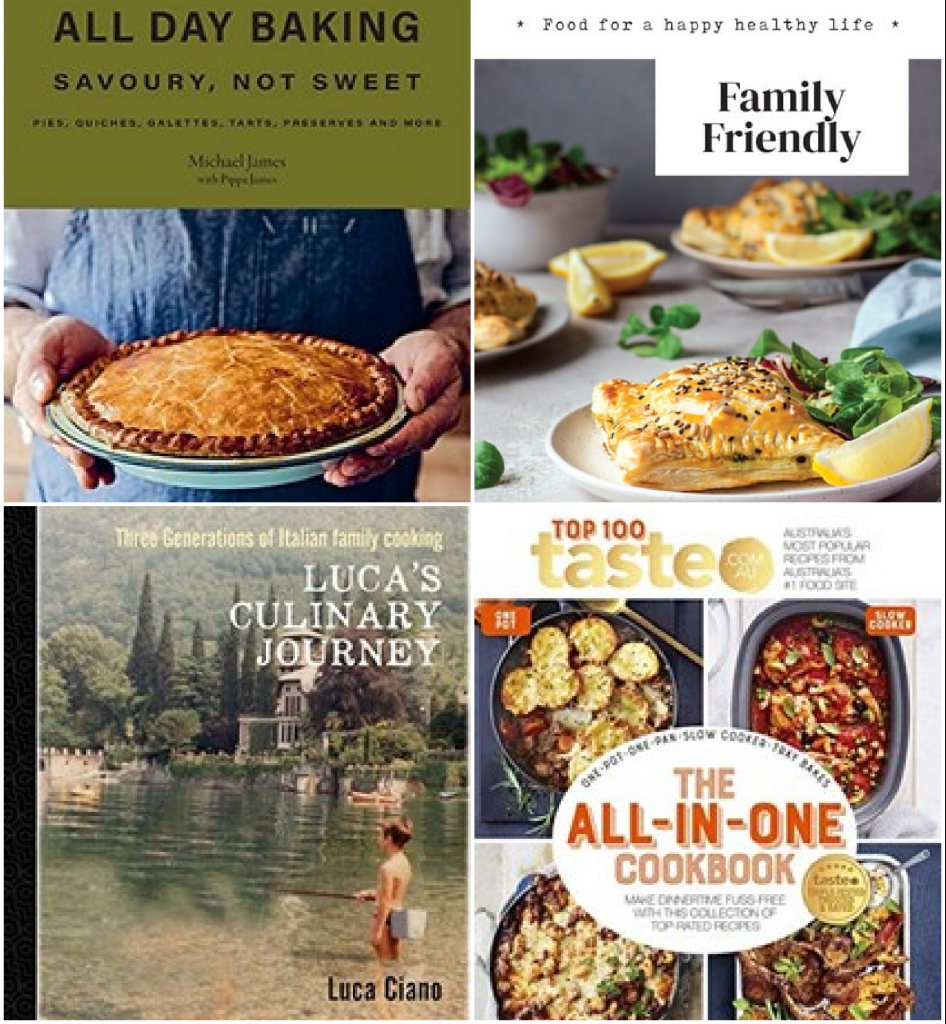 All Day Baking: Savoury, Not Sweet by Michael and Pippa James is a baking book for the savoury lover. Michael is a Michelin-restaurant chef by training who was drawn early to the art, precision, and satisfaction of baking. In this, his second book, he turns his attention to the pasties of his UK childhood, the pies he creates today for his young family, and the quiches, sausage rolls, palmiers and galettes that have earned him a cultish following in Australia and beyond. As well, he delivers a master class in pastry – from puff to rye to vegan and gluten-free – gifting readers a foundation knowledge that sets them on a path to their own freewheeling baking adventures.

Luca's Culinary Journey: Three Generations of Italian Family Cooking by Luca Ciano: Luca's new cookbook highlights his adventure to become an international chef showcasing a home cooking style, growing up in Italy. From what he learned as the basics from his mother and grandmother to life in a different time in Milan, Italy and holidays at Lake Como to moving to London and then to Australia to establish himself to be one of the most credible chefs on Italian cuisine. Easy home style cooking with beautiful photography and photos from Luca's childhood.
Family Friendly: Food for a Happy Healthy Life: 150 Recipes: The secret to simple, delicious and nutritious family meals is contained within the 150 recipes in this cookbook. With plenty of kidproof breakfasts and lunchboxes, snacks and treats – they've got you covered for every meal and moment of the day.
The All-in-One Cookbook: 100 Top-Rated Recipes for One-Pot, One-Pan, One-Tray and Your Slow Cooker by taste.com.au is a collection of the top-rated, most-cooked and must-know tips you need to create sensational meals and desserts in one-pot, one-pan, one-tray or a slow cooker. This collection is the best of the best one-dish wonders for: tray bakes, stews, casseroles, soups, roasts, and desserts.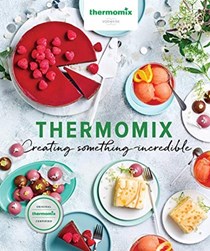 Thermomix: Creating Something Incredible: Twenty years ago Grace Mazur brought Thermomix to Australia. Since then Thermomix has become a household name across Australia and New Zealand, with over half a million families, passionate cooks, chefs and influencers embracing this cutting-edge appliance that can literally do everything in one, from weighing, chopping, blending, grinding, kneading, cooking and so much more.
To celebrate 20 years in Australia, this beautiful new cookbook tells the story of Thermomix's journey through delicious recipes that inspired cooks at the time (and still do!) and delightful stories that highlight just how this amazing appliance has helped create something truly incredible for all of us.
New Zealand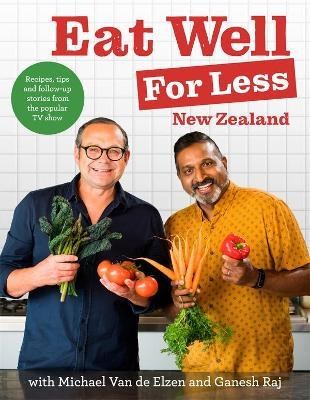 Eat Well for Less New Zealand by Michael Van De Elzen and Ganesh Raj: Cheap and cheerful recipes full of flavour, from series 1 and series 2 of New Zealand's hit series Eat Well for Less NZ. The New Zealand version of Eat Well for Less was a big hit and had a huge impact on the families involved. This book gives all the recipes from series 1 and series 2, plus tips and tricks on tasty, easy and economical cooking from the hosts Michael Van de Elzen and Ganesh Raj. With nearly 70 recipes from light meals and snacks, to main meals and sweet treats – from chicken sliders to lamb moussaka or beef noodle salad to mixed berry frozen yoghurt with choc-almond topping. Includes ideas on smart shopping, nutrition, kitchen tips, and a peek at the participants from series 1 and how they fared after the cameras stopped rolling.