Doing the can-can
July 21, 2021 by Darcie
Just as the home gardening trend has continued this year, so has the demand for canning supplies. Last year's shortage of canning jar lids spilled over to 2021, and it is still difficult, if not impossible, to find jar lids in the US – at least if you want to buy US made lids. In late 2020, I scoured the internet for jar lids, wanting to get a jump on this year's canning season. I expected that by January or February manufacturers would have been able to match the demand for lids. I was wrong. Lids (without bands or jars) were still in short supply so I took a chance on a site I had never tried, which imported lids from Canada that were made in the US by Newell, the parent company of Ball and Kerr. I ordered several boxes at an absurd price, and received them in plenty of time for the start of this year's canning season.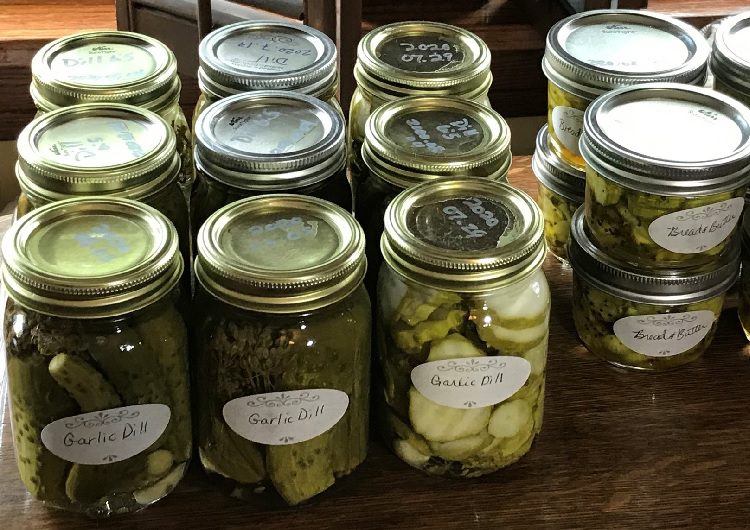 I'm glad I bought them when I did, because the canning lid shortage continues. Although I had success with an online supplier and received the real thing, there are stories about counterfeit lids being passed off as genuine Ball products. A local hardware store recently received a shipment of off-brand lids made in China, but I have not used any to compare the quality with the Ball lids I normally use.
Even the Ball/Kerr lids seem to have declined in quality in the past few years. I have experienced more sealing failures than I ever did in years past, when I might have 2 or 3 jars per year that did not seal. More recently, the failure rate has been hovering around 10 percent. The higher failure rate began about the same time that Newell changed to BPA-free lids so that may have played a role. Since I do not want to go back to BPA I will tolerate a few unsealed jars.
So far this summer I have put up 18 half-pints of raspberry and strawberry preserves, and finished 6 pints of pickles with more to come. It looks like I will get a sizeable yield from the Roma tomatoes and the tomatillos are also looking spiffy, so I'm looking forward to canning those as well. If you are doing any home canning, please share your experience in the comments below.