Bavel and Greenfeast: Spring, Summer Cookbook Giveaway
July 1, 2021 by Jenny
Enter our US giveaway to win a set of books: Bavel: Modern Recipes Inspired by the Middle East by Ori Menashe, Genevieve Gergis and Lesley Suter and Greenfeast: Spring, Summer by Nigel Slater.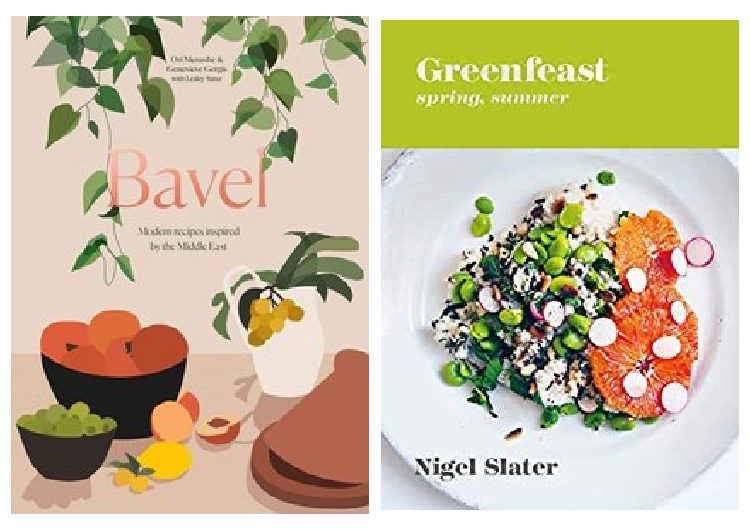 Bavel: Modern Recipes Inspired by the Middle East by Ori Menashe and Genevieve Gergis (with Lesley Suter): from Ori and Genevieve, the acclaimed chefs behind the wildly popular Los Angeles restaurants Bestia and Bavel, comes a gorgeous cookbook featuring personal stories and more than 85 recipes that celebrate the diversity of Middle Eastern cuisines. Their first cookbook Bestia focused on the dishes served at Bestia – mainly Italian cuisine with Middle Eastern influences. (The Kindle version of Bestia is 2.99 and if you do not own it, you need to.)
Bavel, pronounced bah-VELLE, the Hebrew translation of "Babel" is a metaphor for the myriad of cultural, spiritual, and political differences that divide us. The food of Bavel tells the many stories of the countries defined as "the Middle East." These recipes are influenced by the flavors and techniques from all corners of the region, and many are inspired by Menashe's Isreali upbringing and Gergis's Egyptian roots. Bavel celebrates the freedom to cook what we love without loyalty to any specific country, and represents a world before the region was divided into separate nations. This philosophy speaks to me on a deep level.
There is so much babble of late about keeping foods authentic and a lack of forgiveness with regard to who is allowed to cook certain cuisines. No one is allowed any rope to change up recipes to make them their own without that rope pulling taut to restrict that creativity. Bavel is the type of book that embraces differences and the result is a truly beautiful collection of recipes that little pieces of the world can take credit for and enjoy. I am truly enamored by this book – its spirit, content and beauty.
Our

takes you inside this beautiful book and features the following

---
Greenfeast: Spring, Summer by Nigel Slater was released in the US in April of this year. The UK version was published in May of 2019. This title is the green follow-up to Eat, packed full of short, doable and fast vegetable recipes that are usefully divided into In the frying pan, In the hand, On the hob and Puddings.
Our

takes you inside this beautiful book and features the following

Other online recipes:
Special thanks to Ten Speed Press for offering a set of the above books in our US giveaway. Entry options include answering the following questions in the comments section of this blog post.
Which recipe in the Bavel index would you try first?
Which recipe in the Greenfeast index would you try first?
Please note that you must be logged into the Rafflecopter contest before posting or your entry won't be counted. For more information on this process, please see our step-by-step help post. Once you log in and enter your member name you will be directed to the next entry option – the blog comment. After that, there are additional options that you can complete for more entries. Be sure to check your spam filters to receive our email notifications. Prizes can take up to 6 weeks to arrive from the publishers. If you are not already a Member, you can join at no cost. The contest ends at midnight on September 13th, 2021.
a Rafflecopter giveaway