Bryant Terry To Launch 4 Color Books Imprint With Ten Speed Press
May 6, 2021 by Jenny
Bryant Terry's presence in the vegan/vegetarian cookbook genre is well established. His popular and critically acclaimed cookbooks, including last year's, Vegetable Kingdom are EYB member favorites. He is a James Beard award-winning author, educator, chef, and activist. Now he can add publisher to his impressive resume.
Ten Speed Press, an imprint of Random House, has announced the launch of a new publishing imprint with NAACP Image and Terry. The new imprint, called 4 Color Books, will collaborate with the most forward-thinking and groundbreaking BIPOC chefs, writers, artists, activists, and innovators to craft visually stunning nonfiction books that inspire readers and give rise to a more healthy, just, and sustainable world for all.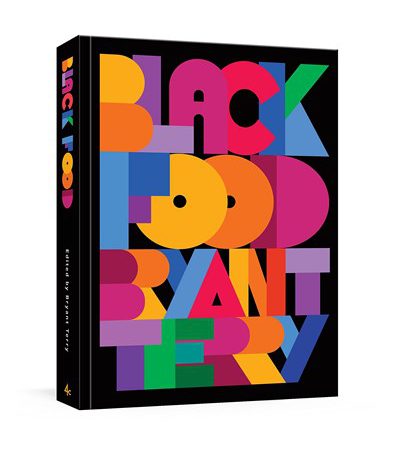 4 Color's flagship publication will be Black Food: Stories, Art, and Recipes from Across the African Diaspora (October 2021), curated and edited by Terry. From the publisher:
In this stunning and deeply heartfelt tribute to Black culinary ingenuity, Bryant Terry captures the broad and divergent voices of the African Diaspora through the prism of food. With contributions from more than 100 Black cultural luminaires from around the globe, the book moves through chapters exploring parts of the Black experience, from Homeland to Migration, Spirituality to Black Future, offering delicious recipes, moving essays, and arresting artwork.

As much a joyful celebration of Black culture as a cookbook, Black Food explores the interweaving of food, experience, and community through original poetry and essays, including "Jollofing with Toni Morrison" by Sarah Ladipo Manyika, "Queer Intelligence" by Zoe Adjonyoh, "The Spiritual Ecology of Black Food" by Leah Penniman, and "Foodsteps in Motion" by Michael W. Twitty. The recipes are similarly expansive and generous, including sentimental favorites and fresh takes such as Crispy Cassava Skillet Cakes from Yewande Komolafe, Meatballs with Egusi and Squash from Edouardo Jordan, Jerk Chicken Ramen from Suzanne Barr, Avocado and Mango Salad with Spicy Pickled Carrot and Rof Dressing from Pierre Thiam, and Sweet Potato Pie from Jenné Claiborne. Visually stunning artwork from such notables as Black Panther Party creative director Emory Douglas and artist Sarina Mantle are woven throughout, and the book includes a signature musical playlist curated by Bryant.

With arresting artwork and innovative design, Black Food is a visual and spiritual feast that will satisfy any soul.
Our heartfelt congratulations to Bryant, Ten Speed Press and 4 Color Books. Be sure to follow Bryant, 4 Color Books and Ten Speed Press on Instagram.