April 2021 New Cookbook Review
April 27, 2021 by Jenny
Every month is a surprise, I never know which books will have publication date, title or cover revisions. Even with updating the 2021 preview post weekly, many times I'm met with changes! Many of these cookbooks will be the subject of giveaways – and some already have a promotion published. Please keep checking the blog for updates.
If you would like to order any of these titles, using our affiliate links below or the BUY BOOK button on the book details page, will help to support EYB and our indexing efforts (as well as help us to include worldwide options in some promotions). Please remember to click here before any online shopping Amazon USA * Amazon Canada * Amazon UK * Book Depository. Please remember your local bookstores during this trying time as well.
If there is an

available for a cookbook, look for the orange icon in the blurb. Clicking on that icon will take you directly to the preview.
To jump to a particular country's listing, please click on the links below.
UNITED STATES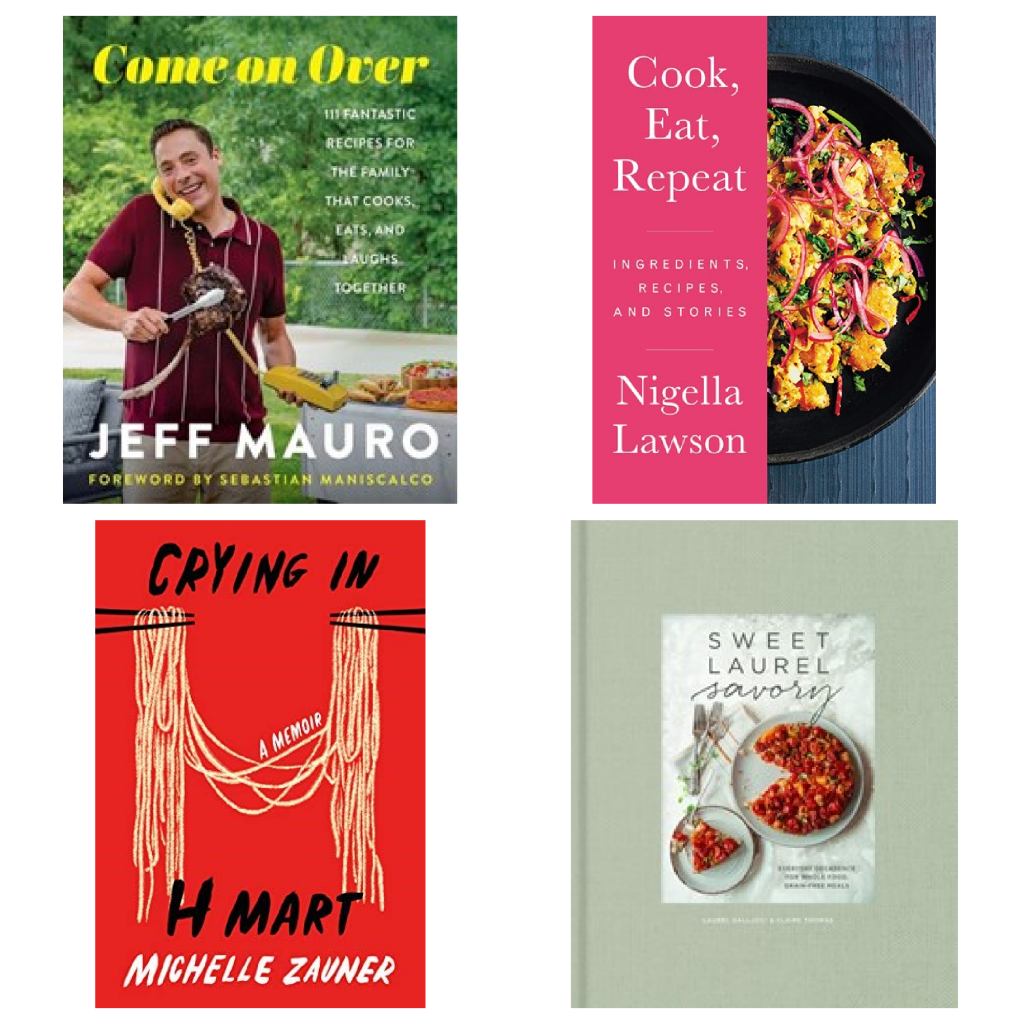 Sweet Laurel Savory: Everyday Decadence for Whole Food, Grain-Free Meals by Laurel Gallucci and Claire Thomas: from the authors of Sweet Laurel: Recipes for Whole Food, Grain-Free Desserts comes a savory edition. Filled with 85 beautifully photographed recipes for delectable dishes and satisfying snacks that are gluten-free, refined sugar-free, keto and paleo-friendly, and made with whole food ingredients, from the trendsetters behind Sweet Laurel Bakery.

Come On Over: 111 Fantastic Recipes for the Busiest House on the Block by Jeff Mauro: Even with his busy schedule as the host of the Emmy-nominated The Kitchen on Food Network, Jeff makes time to entertain his family. For Jeff, there's no better way to create shared memories than over a good meal. In his new book, he invites everyone to share in the fun, providing delicious recipes for all occasions, from game day to birthdays to brunch, along with fun stories from his life.
Cook, Eat, Repeat: Ingredients, Recipes, and Stories by Nigella Lawson was released last October in the UK and is now being published in the US. Nigella's latest is a delicious and delightful combination of recipes intertwined with narrative essays about food. Whether asking 'What is a Recipe?' or declaring 'Death to the Guilty Pleasure', Nigella's wisdom about food and life comes through with tasty new recipes that readers will want to return to again and again.
Crying in H Mart: A Memoir by Michelle Zauner: From the indie rockstar of Japanese Breakfast fame, and author of the viral 2018 New Yorker essay that shares the title of this book, comes an unflinching, powerful memoir about growing up Korean American, losing her mother, and forging her own identity.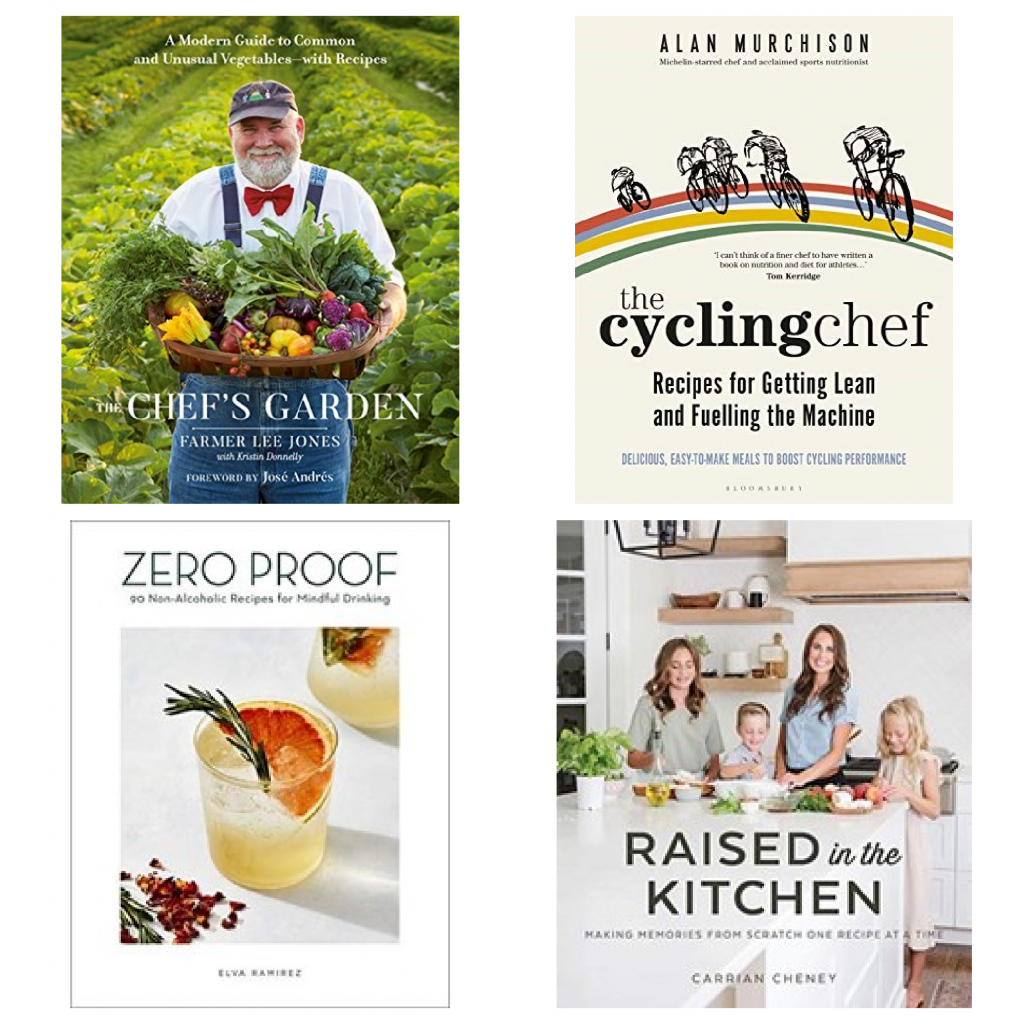 The Chef's Garden: A Modern Guide to Common and Unusual Vegetables–with Recipes by Farmer Lee Jones shares the wealth of knowledge this group of gardeners/chefs have amassed on how to select, prepare, and cook vegetables. Featuring more than 500 entries, from herbs, to edible flowers, to varieties of commonly known and not-so-common produce, this book will be a new bible for farmers' market shoppers and home cooks.
The Cycling Chef: Recipes for Getting Lean and Fuelling the Machine by Alan Murchison draws on the author's Michelin-starred kitchen expertise, to feature more than 65 mouth-watering recipes each designed with busy cyclists in mind. They are all rich in protein, can be cooked in under 30 minutes, and are made from ingredients available in a local supermarket.
Zero Proof: 90 Non-Alcoholic Recipes for Mindful Drinking by Elva Ramirez: More than 100 years after Prohibition was enacted, bartenders are actually excited about people not drinking again. What do the world's most talented bartenders concoct when they can't use booze? This book answers that question with 90 lush and sophisticated recipes that take the craft to new heights. Veteran reporter Ramirez interviewed the biggest names in cocktails and collected recipes for vibrant no-proof drinks from the world's top bars in Paris, London, and New York.
Raised in the Kitchen: Making Memories from Scratch One Recipe at a Time by Carrian Cheney, Oh, Sweet Basil food blogger, is back with her second cookbook. Here are recipes that Carrian has perfected and makes with her family and for her family. Look for a promotion and author article very soon.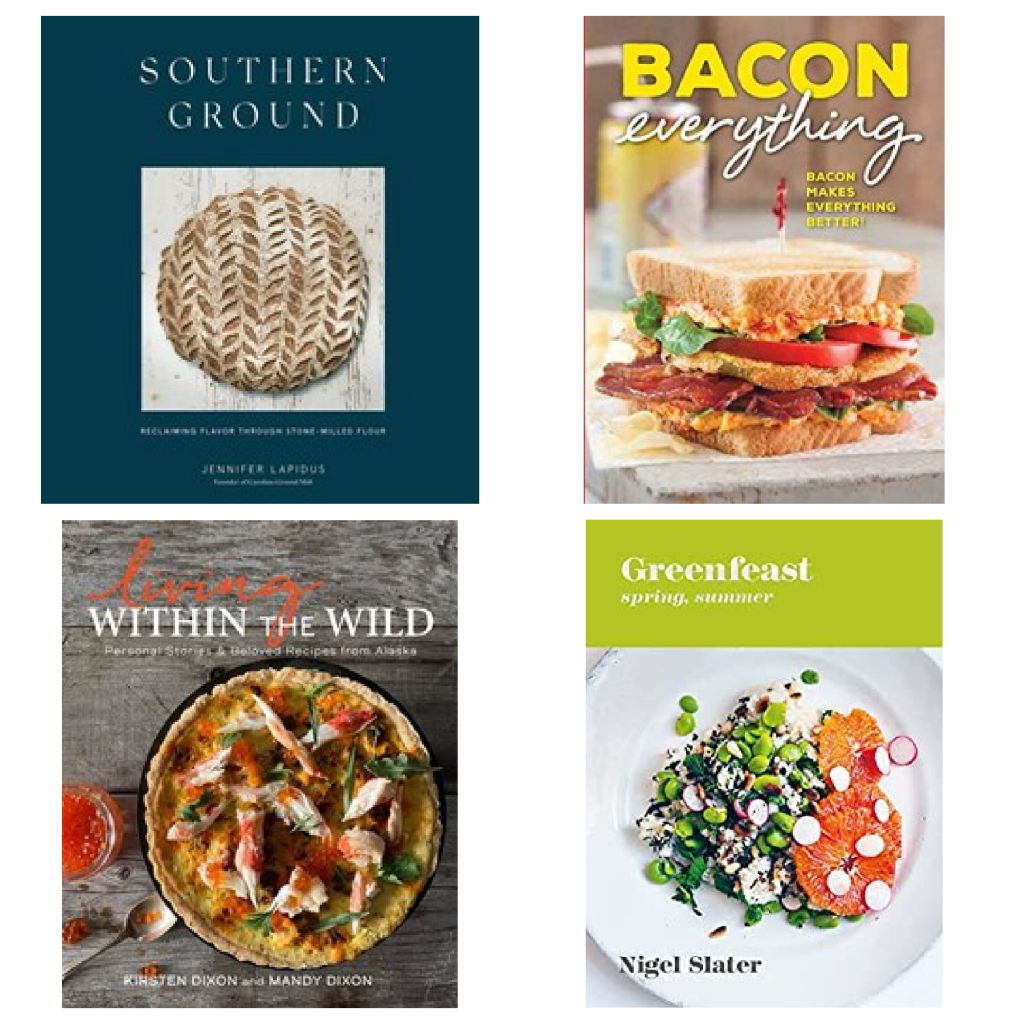 Bacon Everything: Bacon Makes Everything Better! by Brooke Bell: Embrace your love of all things bacon with more than 50 indulgent recipes in this cookbook. From cheesy bacon-topped casseroles and hearty roasts to bacon-filled breads, flavorful sides, and even desserts!
Southern Ground: Reclaiming Flavor Through Stone-Milled Flour by Jennifer Lapidus is a highly curated collection of 80 recipes from twenty acclaimed craft bakeries in the South that showcases superior cold stone-milled flour and highlights the importance of baking with locally farmed ingredients. Lapidus is the founder and principal of Carolina Ground Flour Mill in Asheville, North Carolina. Her intensely flavorful flour, made from grains grown and cold stone-milled in the heart of the South, is transforming bakeries from Louisiana to North Carolina to Florida. Part one of this book contains background and profiles of prominent bakers. Part two is devoted to tools and techniques and recipes from the bakers. Ciabatta sandwich rolls, Porridge bread, and Cornmeal crackers are a sampling of the recipes (you can check out more in the book's index). Lapidus includes a baker's percentage index as well as a list of resources to purchase flours from mills and online stores. Also included are other recommended readings. This is a book for the serious baker or those who dream to be. Events

Living Within the Wild: Personal Stories & Beloved Recipes from Alaska by Kirsten and Mandy Dixon features over 100 original recipes, accompanied by personal stories and photographs, to illustrate the lives of one Alaska family that has learned to live well amidst the intense but scenic backcountry of Alaska. Alaska is on my bucket list and I need to get my hands on this book!
Greenfeast: Spring, Summer by Nigel Slater is being released in the US this month. The UK version was published in May of 2019. This title is the green follow-up to Eat, packed full of short, doable and fast vegetable recipes that are usefully divided into In the frying pan, In the hand, On the hob and Puddings.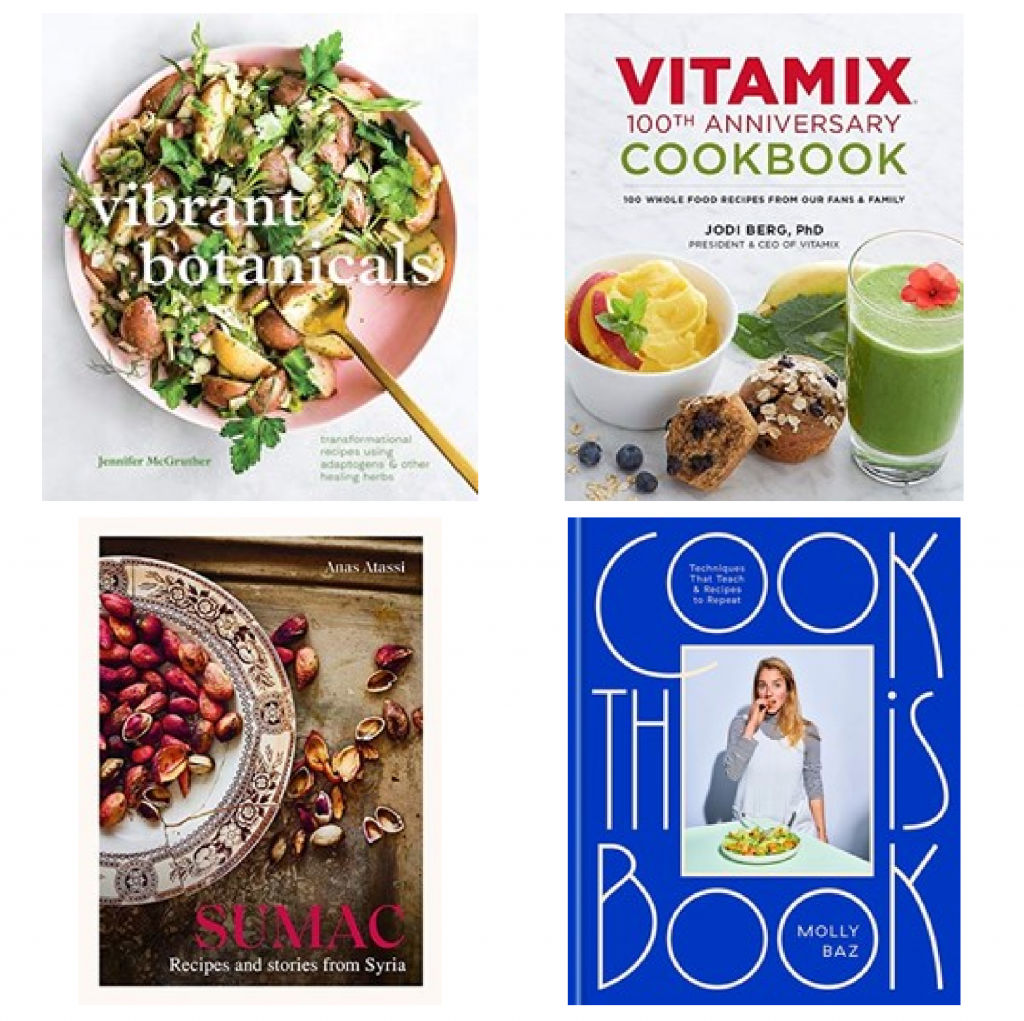 Vibrant Botanicals: Transformational Recipes Using Adaptogens & Other Healing Herbs by Jennifer McGruther provides 75 recipes for helping you feel your best using herbal infusions. You'll discover how ginseng and maca naturally awaken the body and can be incorporated into granolas, lattes, and smoothies to jump-start your day. Garlic, chaga, reisihi, and more star in homemade broth and fire cider to help build immunity, while passionflower, ashwaganda, and chamomile are mixed into creamy milk blends and teas to ensure a restful sleep. All this information is packed into a beautifully photographed book.

Vitamix 100th Anniversary Cookbook: 100 Whole Food Recipes from our Fans & Family by Dr. Jodi Berg PhD: The favorite recipes, preparation techniques, and stories from Vitamix and Vitamix fans and celebrities in this book will inspire you to make delicious and easily prepared whole foods part of your lifestyle. If you thought all you can make in a Vitamix are soups, sauces, and smoothies, you can treat yourself with fan-favorite recipes for pancakes, scrumptious Flourless Blueberry Banana Muffins, and mouth-watering Applesauce Cookies.
Sumac: Recipes and Stories from Syria by Anas Atassi was published in the UK/AU last month and is now being released in the US. Sumac includes over 80 recipes inspired by Atassi's family recipes and travels, as well as the stories, celebrations and memories of loved ones in Syria that inspired the recipes. It includes the wonderful Friday breakfasts he'd eat in his grandmother's garden, his mother's sfeeha, along with the falafel he now loves to make for his friends, along with many other mezze, salads, meats, vegetables, and desserts. Sumac is the vibrant gem of the spice world and this book artfully captures the brilliance and beauty of the cuisine of Syria.

Cook This Book: Techniques That Teach and Recipes to Repeat by Molly Baz breaks the essentials of cooking down to clear and uncomplicated recipes that deliver big flavor with little effort and a side of education, including dishes like Pastrami roast chicken with schmaltzy onions and Dill, chorizo and chickpea carbonara, and of course, her signature Cae Sal. There are dozens of QR codes throughout the book accessed through the camera app on your smartphone, that link to short technique-driven videos hosted by Molly to help illuminate some of the trickier skills. The recipes in this book are dripping with deliciousness.

Events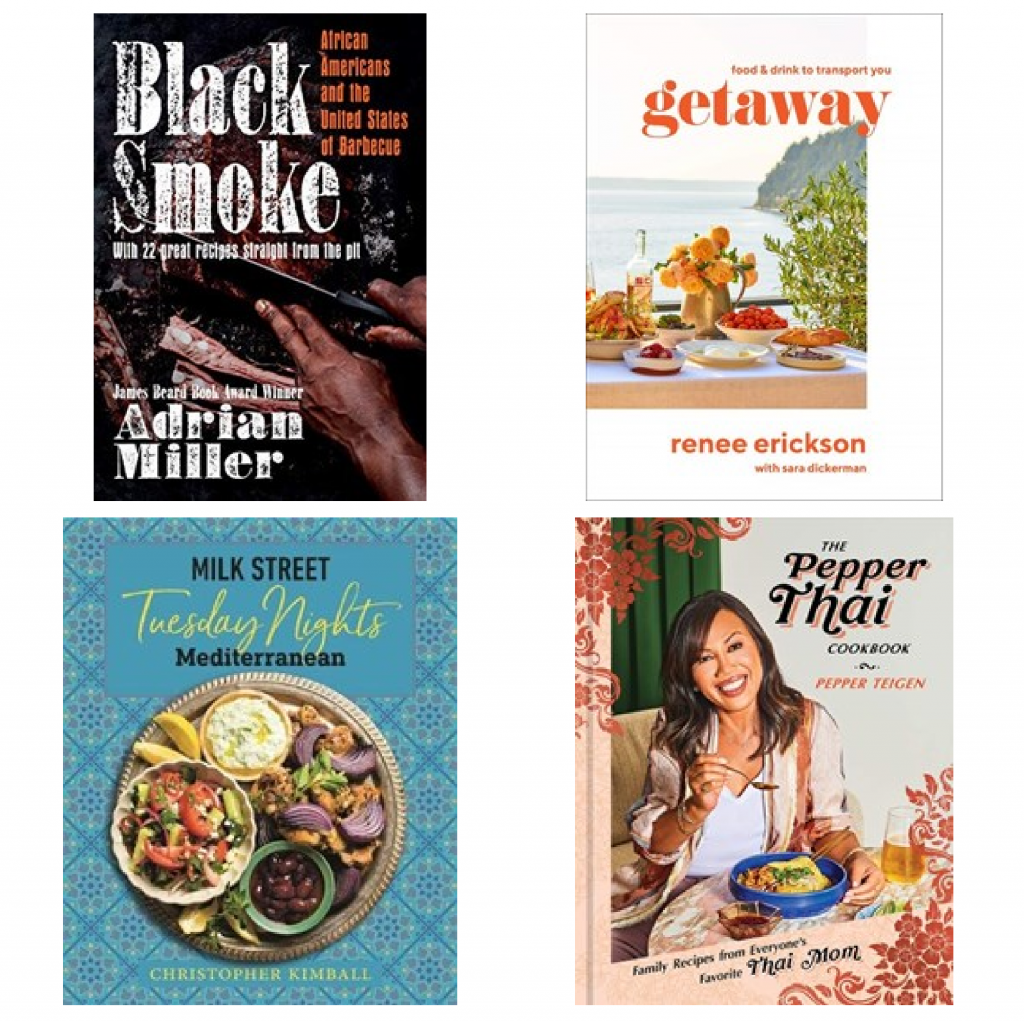 Getaway: Recipes + Drinks to Transport You by Renee Erickson invites you on a culinary journey via the acclaimed chef's favorite places in the world Rome, Paris, Normandy, Baja California, London, and her hometown, Seattle. Equally aspirational travelogue and practical guide to cooking at home, the book offers 120 recipes and 60 cocktail recipes for simple meals that evoke the dreamiest places and cuisines. Since traveling is still difficult Getaway provides a vacation for our families in our own kitchens. Events

Black Smoke: African Americans and the United States of Barbecue by Adrian Miller chronicles how Black barbecuers, pitmasters, and restauranteurs helped develop this cornerstone of American foodways and how they are coming into their own today. It's a smoke-filled story of Black perseverance, culinary innovation, and entrepreneurship. Though often pushed to the margins, African Americans have enriched a barbecue culture that has come to be embraced by all. Miller celebrates and restores the faces and stories of the men and women who have influenced this American cuisine. This beautifully illustrated chronicle also features 22 barbecue recipes collected just for this book.
The Pepper Thai Cookbook: Family Recipes from Everyone's Favorite Thai Mom by Pepper Teigen (Chrissy's mom) and Garrett Snyder is everything I hoped it would be. Take a little Cravings and a lot of Pepper's love of food and you have one great title and the photos of the Legend/Teigen family are a bonus.

Milk Street: Tuesday Nights Mediterranean: 125 Simple Weeknight Recipes from the World's Healthiest Cuisine by Christopher Kimball is another homerun from the Milk Street team. I've already made the Pan-fried beef filled pitas that my husband and I are still raving about. For more about this fantastic book see our promotion and giveaway.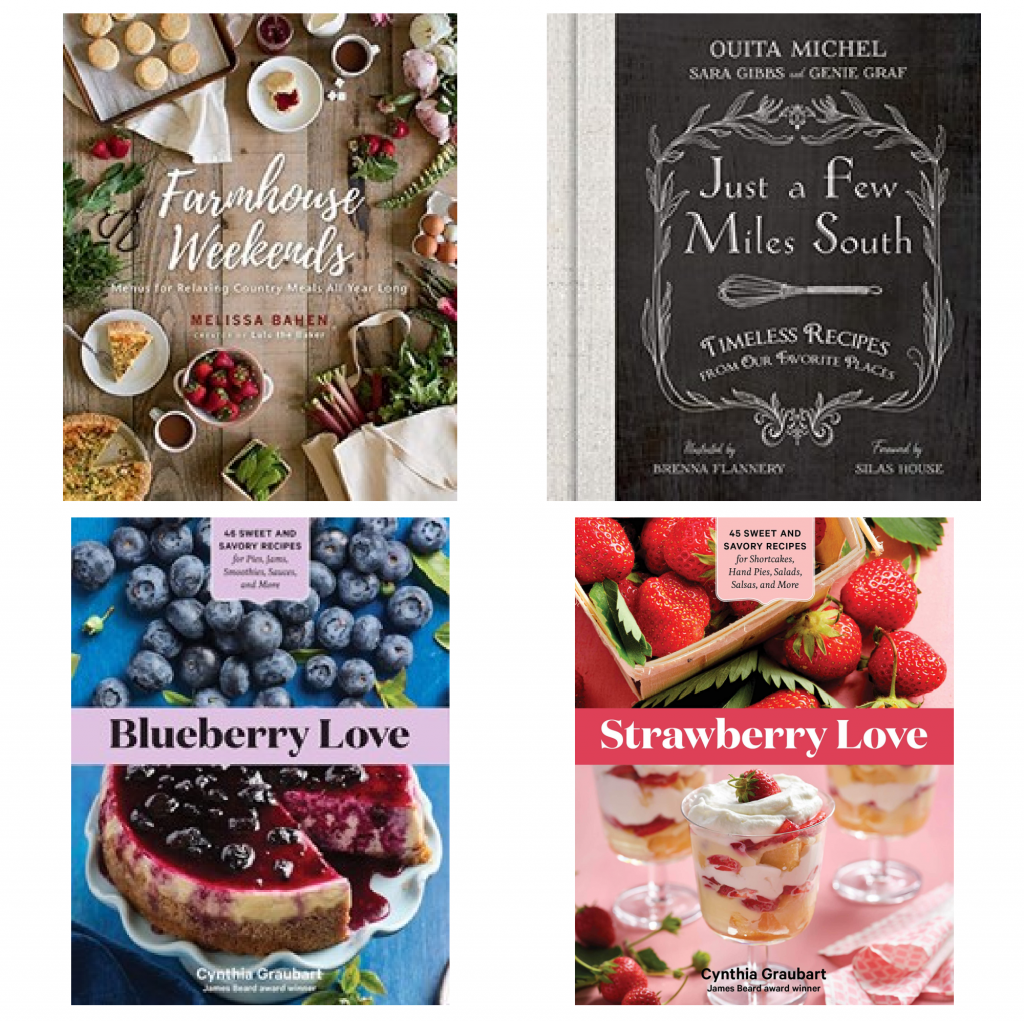 Farmhouse Weekends: Menus for Relaxing Country Meals All Year Long by Melissa Bahen is the cookbook for anyone who daydreams of country life. Prepare meals and experiences to enjoy in the easy companionship of family and friends – everything you need to create the perfect farmhouse weekend, no matter where you live, is found within these pages.

Just a Few Miles South: Timeless Recipes from Our Favorite Places by Ouita Michel is a beautifully illustrated book that introduces readers to some of the recipes which patrons of Michel's restaurants have come to know and love. Featuring Windy Corner Market recipes for Cheese grits, Red-eye gravy, and Country ham, and Apple and cheddar quiches; they spotlight and explore the ingredients of quintessential old-fashioned Kentucky breakfasts. Along the way, they introduce readers to the Wallace Cubano (a take on a traditional Cuban sandwich) as well as a Bourbon Banh Mi with a country pate. I found this book to be exceptionally done and would make a lovely gift for fans of the South.
Blueberry Love: 46 Sweet and Savory Recipes for Pies, Jams, Smoothies, Sauces, and More and Strawberry Love: 45 Sweet and Savory Recipes for Shortcakes, Hand Pies, Salads, Salsas, and More by Cynthia Graubart: These two new titles celebrate these summer fruits with 46/45 recipes for enjoying each fruit whether they be fresh or frozen.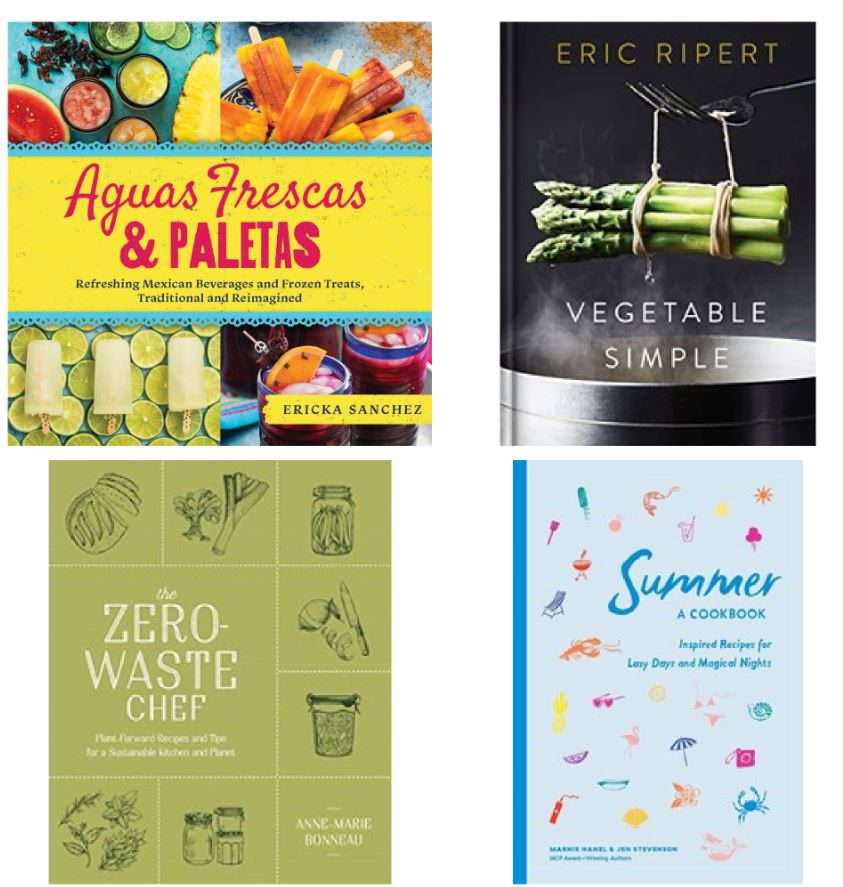 Aguas Frescas & Paletas: Refreshing Mexican Drinks and Frozen Treats, Traditional and Reimagined by Ericka Sanchez delivers 38 easy recipes for anyone who loves traditional Mexican fare. Ranging from familiar flavors like horchata and lime to more unique combinations like Hibiscus & Spiced Orange, Mint Blackberry, and Avocado Coconut, the recipes in Aguas Frescas & Paletas use less sugar than traditional Mexican treats and simple ingredients that can all be found at your local supermarket. !Buen provecho!
Vegetable Simple by Eric Ripert: Here the celebrity chef turns his singular culinary imagination to vegetables: their beauty, their earthiness, their nourishing qualities, and the many ways they can be prepared. Complete with gorgeous photos, this is a necessary guide for the way we eat today. I haven't seen this title yet but have read reports that the book is "simple" and not Top Chef type dishes.
Summer: A Cookbook: Inspired Recipes for Lazy Days and Magical Nights by Marnie Hanel and Jen Stevenson features 75 recipes are accompanied by bonus tips on the do's and don'ts of outdoor eating and entertaining, including how to scout the best beach spot, keep the sand out of your sandwich, read the tides so a waterfront dinner doesn't turn into a deep-sea disaster, and even thwart pesky flies. Hello Summer provides menus for feeding a crowd and recipes that can be mixed and matched for every meal, some make-aheads to save precious vacation time and others to eat on the go, with plenty of tiki cocktail recipes to end the perfect summer day.
The Zero-Waste Chef: Plant-Forward Recipes and Tips for a Sustainable Kitchen and Planet by Anne-Marie Bonneau: In her decade of living with as little plastic, food waste, and stuff as possible, Bonneau, who blogs under the moniker Zero-Waste Chef, has learned that "zero-waste" is above all an intention, not a hard-and-fast rule. Because, while one person eliminating all their waste is great, if thousands of people do 20 percent better it will have a much bigger impact on the planet. The good news is you likely already have all the tools you need to begin to create your own change at home, especially in the kitchen. In her debut book, Bonneau gives readers the facts to motivate them to do better, the simple (and usually free) fixes to ease them into wasting less – you can, for example, banish plastic wrap by simply inverting a plate over your leftovers – and, finally, the recipes and strategies to turn them into more sustainable, money-saving cooks.
How to Grill Vegetables: The New Bible for Barbecuing Vegetables over Live Fire by Steven Raichlen (Hardcover & Paperback) America's grilling guru offers a primer for how to grill vegetables – with lots of creative flavors and techniques – whether you're eating main dishes that highlight vegetables, or you're rounding out the barbecue menu with grilled garden-fresh sides. Not a vegetarian book, but vegetable-forward (and with vegetarian and vegan adaptations). Update: just notified that publication moved to May 2021.
It's Always Freezer Season: How to Freeze Like a Chef with 100 Make-Ahead Recipes by Ashley Christensen and Kaitlyn Goalen: Make the cook in your family's life easier with this stellar book from the Southern chef extraordinnaire. All Christensen's secrets for meal prep, freezing and more are shared here.

The Lighter Step-By-Step Instant Pot Cookbook: Easy Recipes for a Slimmer, Healthier You – With Photographs of Every Step by Jeffrey Eisner: Eisner's internationally bestselling Step-by-Step Instant Pot Cookbook was the easiest-to-follow set of Instant Pot recipes ever assembled – showing even the most reluctant cooks how to make magic in their pressure cookers. Now, in this new cookbook featuring over 90 new simple and delicious dishes, Eisner shows how the Instant Pot can be a part of your plan to slim down and keep the weight off – without losing any of the flavor.
To Asia, With Love: Everyday Asian Recipes and Stories from the Heart by Hetty McKinnon, author of a number of highly praised cookbooks, returns to her roots. She states, 'To Asia, With Love is my homecoming, a joyous return to the humble, yet deeply nurturing flavours and meals of my childhood as a Chinese girl born in Australia. It is also a celebration of the exciting and delicious possibilities of modern Asian cooking.' Hetty photographed the gorgeous images for this book herself. Beginning with condiments, tutorials on Asian greens and more, Hetty offers an exciting approach to vegetarian options for everyday meals. Egg, pea and ginger fried rice, Condensed milk French toast, or Wontons and noodles in ginger-turmeric broth are a few examples of the recipes here. The book was released in September 2020 in Australia and now is available in the US and UK.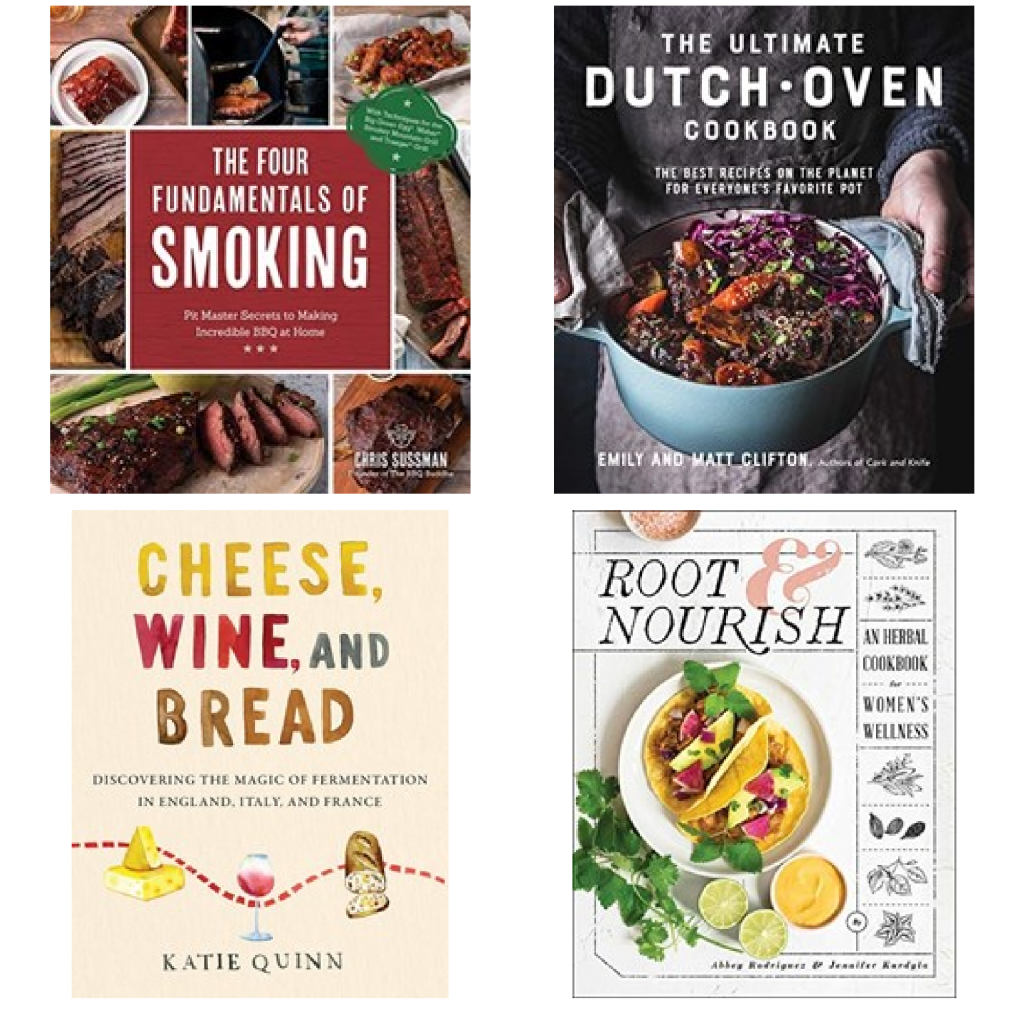 The Ultimate Dutch Oven Cookbook: The Best Recipes on the Planet for Everyone's Favorite Pot by Emily and Matt Clifton, authors of Cork and Knife, show you just how practical and exciting this essential kitchen appliance can be through 60 mouthwatering recipes. Be it sweet or savory, long-simmered or last-minute, there is little you can't do in your Dutch oven – your dinners will never feel dull or complicated again.

The Four Fundamentals of Smoking: Pit Master Secrets to Making Incredible BBQ at Home by Chris Sussman: During his own BBQ journey, Chris discovered that four fundamental principles have the most impact on whether the meat comes out tasting succulent, tender and pleasantly smokey, or dry, rubbery and bland. These are 1) building the right fire with the right fuel; 2) controlling humidity to infuse smoke flavor throughout the meat; 3) managing the ideal "BBQ Zone" temperature range on the three most popular brands of smokers; and 4) recognizing the visual and touch cues that indicate when the meat is ready to pull from the smoker. Understand and properly execute the nuances of each step, and you will be able to get the results you want with each cook. Chris will show you how. Packed with photographs, tutorials, pro tips, helpful reference charts and a complete illustrated tutorial that walks you step by step through a whole packer brisket, this book has the answers to all of your BBQ questions. Chris also shares 50 simple yet unique recipes (and a full-page photograph for each one) to showcase these principles at work in delicious ways.

Root & Nourish: An Herbal Cookbook for Women's Wellness by Abbey Rodriguez and Jennifer Kurdyla: These two wellness experts teach women how to incorporate herbalism into their busy lives to restore and maintain their unique state of health. Expanding the herbal repertoire beyond teas and tinctures to include wholesome breakfasts, satisfying mains, indulgent desserts, and, yes, a full menu of teas and beverages for day and night, it's the first cookbook of its kind to pair everyday herbal cooking with women's health concerns – specifically related to digestion, mental health, and female reproductive hormonal health.
Cheese, Wine, and Bread: Discovering the Magic of Fermentation in England, Italy, and France by Katie Quinn In this delightful, full-color tour of France, England, and Italy, YouTube star Katie Quinn shares the stories and science behind everyone's fermented favorites – bread, cheese, and wine – along with classic recipes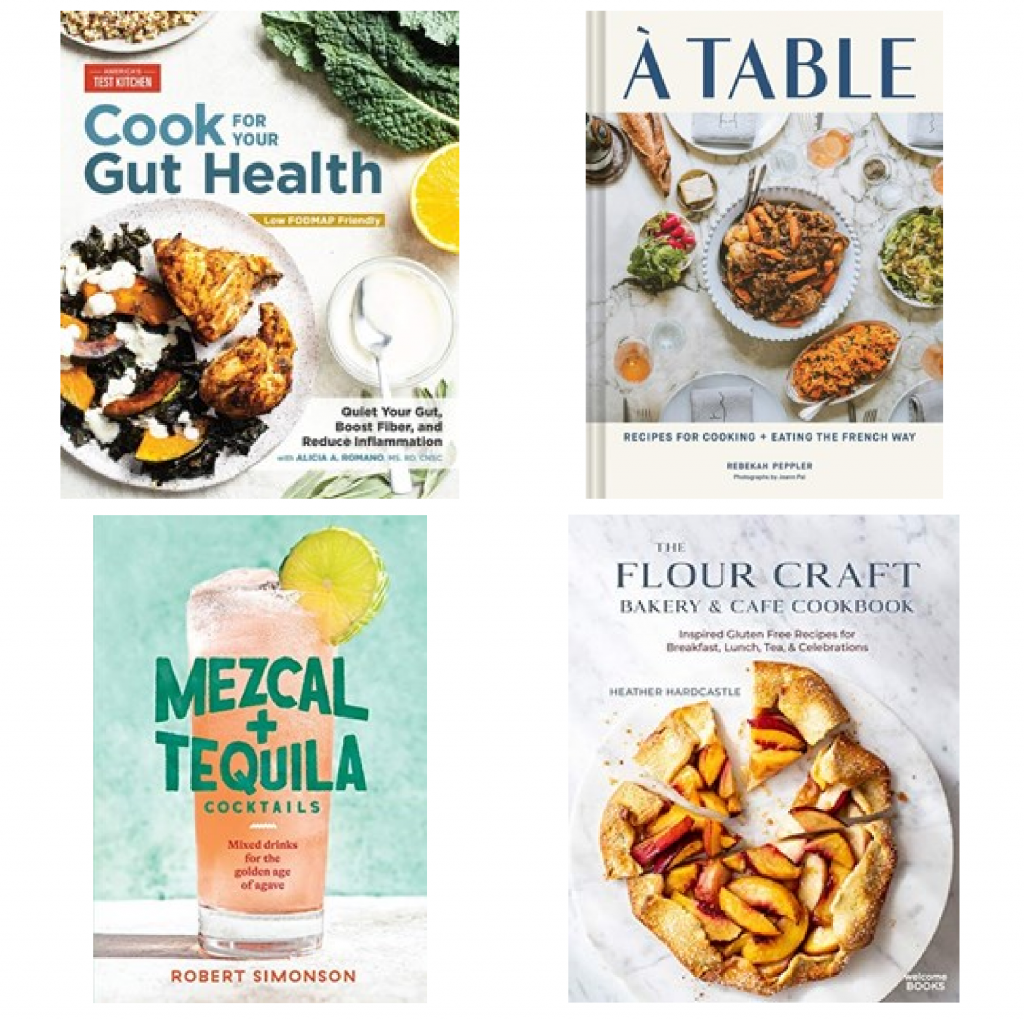 The Flour Craft Bakery & Cafe Cookbook: Inspired Gluten Free Recipes for Breakfast, Lunch, Tea, and Celebrations by Heather Hardcastle empowers readers with simple and approachable recipes for mouthwatering cakes and cookies, pastry and savory bakes, everyday treats and holiday centerpieces, plus fresh salads and soups – all naturally gluten free. 75+ recipes cover breakfast, brunch, lunch, teatime, and dessert, from coffee cakes to focaccia, scones to tartines.
À Table: Recipes for Cooking and Eating the French Way by Rebekah Peppler: At once a repertoire-building cookbook and a stylish guide to easy gathering over food and drink, this book features 125 simple, elegant recipes that reflect a modern, multicultural French table.
Mezcal and Tequila Cocktails: Mixed Drinks for the Golden Age of Agave by Robert Simonson gives us good, simple, doable recipes to enjoy agave spirits more often and in more varied ways. These versatile spirits pair with a broad range of flavors in nearly every classic cocktail formula, from the flip to the julep. The recipes here are easy to assemble, most only requiring three or four ingredients.

Cook for Your Gut Health: Quiet Your Gut, Boost Fiber, and Reduce Inflammation by America's Test Kitchen and Alicia A. Romano: ATK went to the kitchen to develop a collection of easy, satisfying ways to get in the vibrant vegetables, hearty grains, and optimal fiber that support the gut. Cook with flavor and flair (and ease) with nutritious, high-fiber meals that promote gut health, including 60 completely low-FODMAP recipes.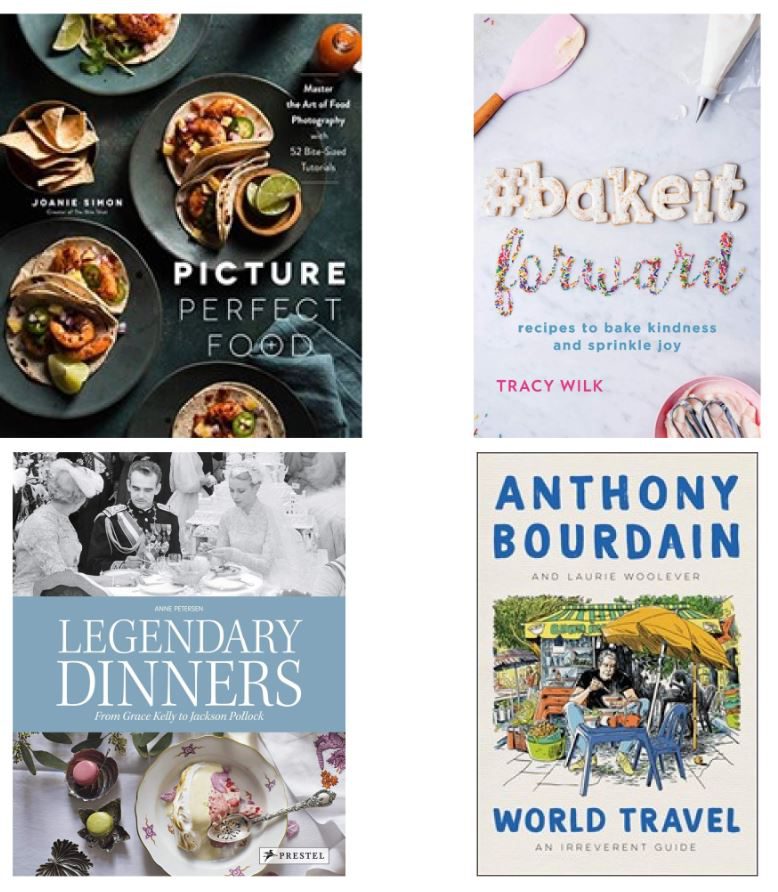 Legendary Dinners: From Grace Kelly to Jackson Pollock by Anne Peterson: This beautifully designed book brings together twenty menus – both authentic and imagined – along with instructions for preparing each dish and recreating the dinners in your home. Each event is represented in multi-page spreads that feature contemporary photographs to help you recreate the meals in your kitchen, while archival images and entertaining essays provide important historical context. It is a stunning work for those who love the past and days where elegance was everything.
World Travel: An Irreverent Guide by Anthony Bourdain and Laurie Woolever: Here a life of experience is collected into an entertaining, practical, fun and frank travel guide that gives readers an introduction to some of his favorite places in his own words. Featuring essential advice on how to get there, what to eat, where to stay and, in some cases, what to avoid, this title provides essential context that will help readers further appreciate the reasons why Bourdain found a place enchanting and memorable.
Picture Perfect Food: Master the Art of Food Photography with 52 Bite-Sized Tutorials by Joanie Simon: Snapping unbelievably gorgeous food photos has never been simpler than with Joanie's help in this all-in-one guide to delicious-looking images from the prolific photographer and educator. Whether you're an up-and-coming food blogger, looking to break into commercial photography or capturing food just for fun (and EYB photos), this approachable collection of tutorials will have you taking tantalizing and tasty shots with every snap of the shutter.

#BakeItForward: Recipes to Bake Kindness and Sprinkle Joy by Tracy Wilk: Executive Pastry Chef and Culinary Instructor Wilk has always found the kitchen to be a place of comfort. It makes sense that during the height of the COVID-19 pandemic, she whipped up as many sweet dishes as she could think of, until baked goods reached the ceiling of her New York City apartment. That's when she decided to spread joy, kindness, and sprinkles of hope with her neighborhood, dropping off boxes of Salted chocolate chunk cookies, Old-fashioned oatmeal cream pies, and Lemon raspberry cupcakes with essential workers, from frontline doctors and nurses to firefighters and grocery store clerks. I love everything about this book – the message and the content are extraordinary. The recipes look spectacular and "My Dad's Favorite Brownies" are unlike any brownie recipe I've seen before.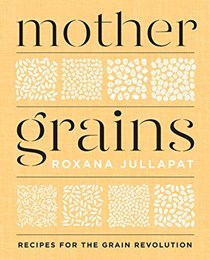 Mother Grains: Recipes for the Grain Revolution by Roxana Jullapat: As the head baker and owner of a beloved Los Angeles bakery, Roxana knows the difference local, sustainable flour can make: brown rice flour lightens up a cake, rustic rye adds unexpected chewiness to a bagel, and ground toasted oats enrich doughnuts. Her bakery, Friends & Family, works with dedicated farmers and millers around the country to source and incorporate the eight mother grains in every sweet, bread, or salad on the menu. In her debut cookbook, Roxana shares her greatest hits, over 90 recipes for reinventing your favorite cakes, cookies, pies, breads, and more. Perfect for beginner bakers and pastry pros alike, Mother Grains proves that whole grains are the secret to making any recipe so much more than the sum of its parts.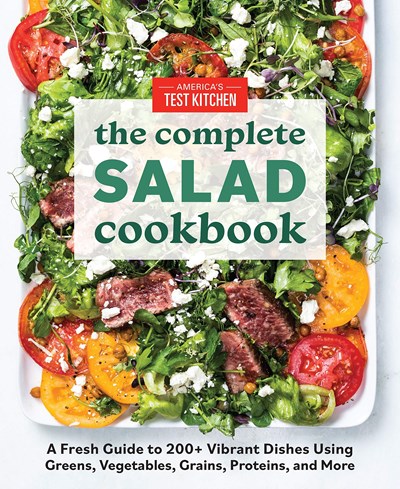 The Complete Salad Cookbook: A Fresh Guide to 200+ Vibrant Dishes Using Greens, Vegetables, Grains, Proteins, and More by America's Test Kitchen features simple but surprising leafy salads and more filling salads incorporating vegetables and proteins. There are international offerings or updates on pasta salads. The book is dotted with information about unexpected salad ingredients like za'atar, dates, and persimmons. You'll also acquire ideas and inspiration to assemble your own dishes, with tips on mixing and matching greens with raw or cooked vegetables, nuts, fruits, and cheese. The Salad Bar chapter equips you with an assortment of dressings and toppings. This is the cookbook you pull out when you want inspiration for dinner, a feast for the eyes, and some salad for thought in the kitchen.
Other Titles of Interest:
CANADA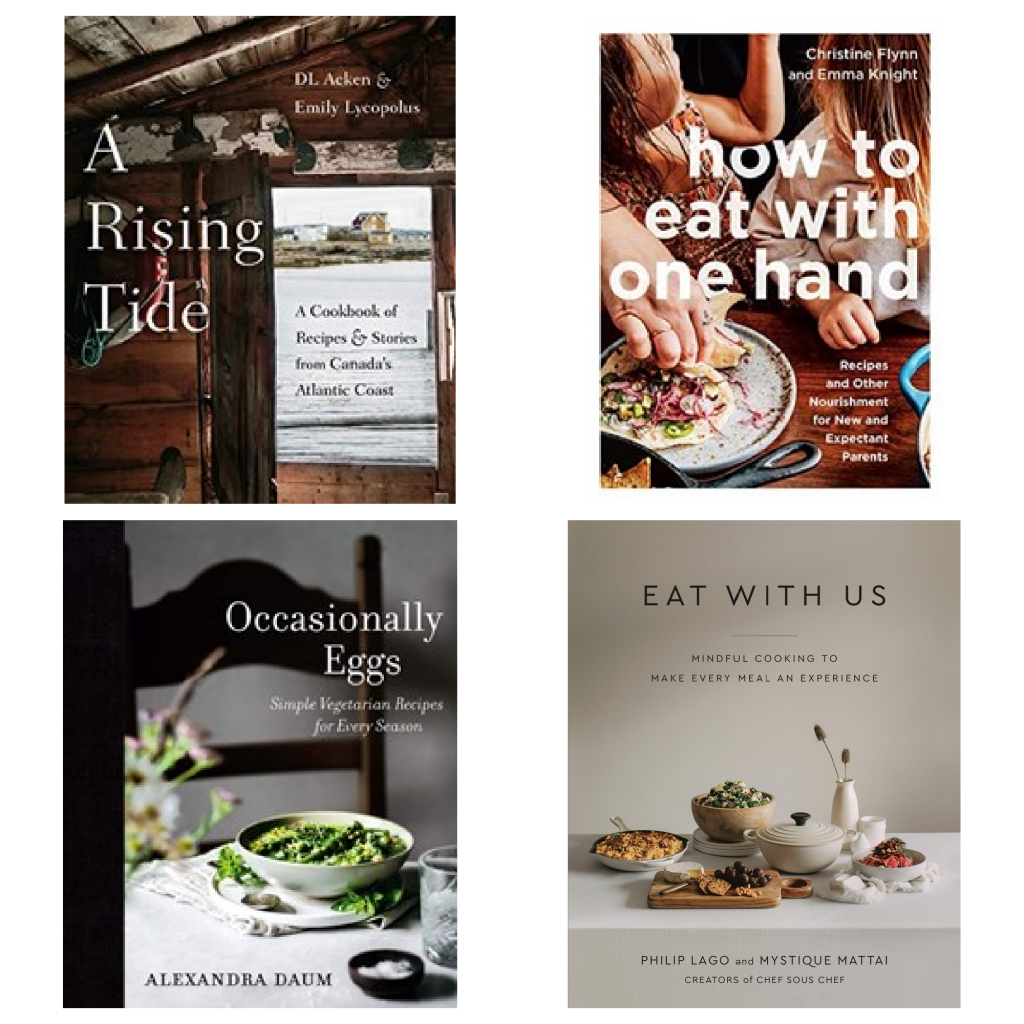 Occasionally Eggs: Simple Vegetarian Recipes for Every Season by Alexandra Daum shows us how simple it can be to cook healthy(ish) vegetarian meals with local fruits and vegetables, and pantry staples, like grains and legumes. Largely plant-based, with the exception of occasional uses of honey and eggs, this book will inspire you to include fresh, local produce in your daily meal preparation. The book is filled with beautiful imagery along with recipes that will inspire your weekly menu planning. Honey thyme crostini, Harissa French toast, Sweet corn and zuccini pakora and a stunning Lemon vanilla layer cake are a few examples of the recipes here.
A Rising Tide: A Cookbook of Recipes and Stories from Canada's Atlantic Coast by Danielle Foreman Acken and Emily Lycopolus is a love letter to the culinary renaissance of Canada's Atlantic Coast written by DL Acken and Emily Lycopolus – both of whom grew up eating classic Atlantic Canadian dishes and spent months in the region exploring its burgeoning food scene. Whether you are discovering the East Coast's countryside, seaside towns, or bustling cities, there is a thriving food scene, united by a revived culinary identity that celebrates the region's terroir, and marries heritage with innovation.
How to Eat with One Hand: Recipes and Other Nourishment for New and Expectant Parents by Christine Flynn and Emma Knight: Over 80 simple, feel-good recipes and 20 essays that take you behind the blackout curtain of early motherhood, where Christine and Emma, the two perfect allies for any new parent, await.
Eat With Us: Simple, Mindful Recipes to Make Every Meal an Experience by Philip Lago and Mystique Mattai: This title asks us to consider a slower, more mindful approach to cooking and eating together. A way to disconnect from the outside world's distractions and truly connect to each other and yourself. For Philip and Mystique (the co-creators and couple behind the blog Chef Sous Chef), this approach in the kitchen is a way of life. Mystique is the "sous" to Philip's "chef," and through her elegant, authentic touches, his delicious dishes come to life. The book is beautiful and perfect for those cooks who wish to up their cooking game whether it be Instagram worthy Mac daddy nachos or a Deconstructed samosa salad, there is something for everyone here. The book is organized as follows: Recipes for Every Day (Simple); Recipes for the Soul (Comfort); Recipes for Special Occasions (Lavish); Recipes for Outdoor Dining (Al Fresco); and Recipes for Gathering (Feast).
UNITED KINGDOM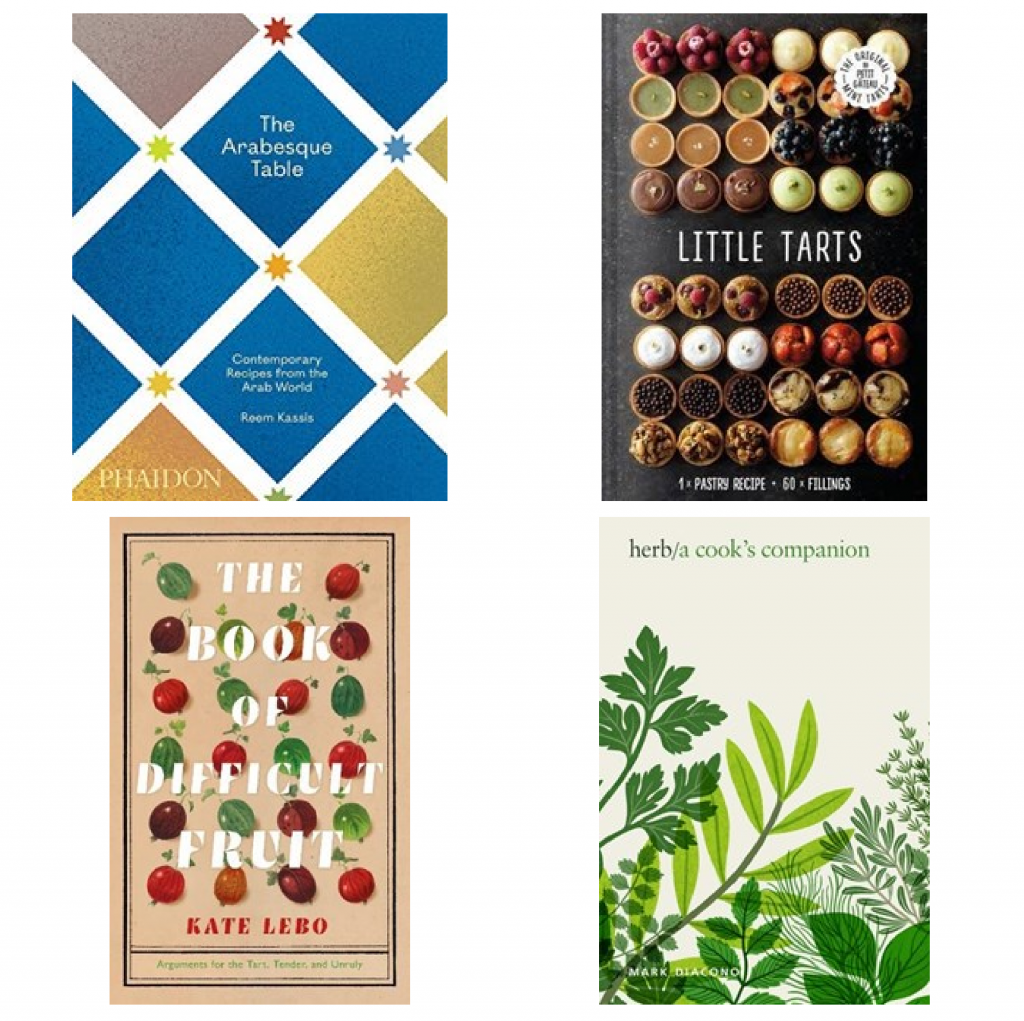 Little Tarts: 1 x Pastry Recipe 60 x Fillings by Meike Schaling: From the celebrated European patisserie Petit Gateaux, comes the recipe book with one basic tart recipe and sixty variations. Once the 'base' recipe is perfected, you can experiment and make any tart you want! Gorgeous little rounds are turned into works of art throughout the pages here.
The Book of Difficult Fruit: Arguments for the Tart, Tender, and Unruly by Kate Lebo: Inspired by twenty-six fruits, the essayist, poet, and pie lady Kate Lebo expertly blends natural, culinary, medical, and personal history. I haven't had the opportunity to review this title but a review at the Seattle Times by my friend Rebekah Denn is a great read.
The Arabesque Table: Contemporary Recipes from the Arab World by Reem Kassis, the author of The Palestinian Table, is a gorgeous book filled with luscious recipes that are approachable and inspirational. I am particularly enamored by the desserts shared here.

Herb: A Cook's Companion, from Plot to Plate by Mark Diacono is a plot-to-plate exploration of herbs with just enough of the simple art of growing to allow the reader to welcome a wealth of home-grown flavours into their kitchen. Diacono is a gardener as well as a cook. Packed with ideas for enjoying and using herbs, this title is much more than a recipe book. Techniques are shared including sourcing, preparing and using herbs well, enabling you to make delicious food that is as rewarding in the process as it is in the end result. The book will explore how to use herbs, when to deploy them, and how to capture those flavours to use when they might not be seasonally available. Diacono's books are stellar and this one is no exception.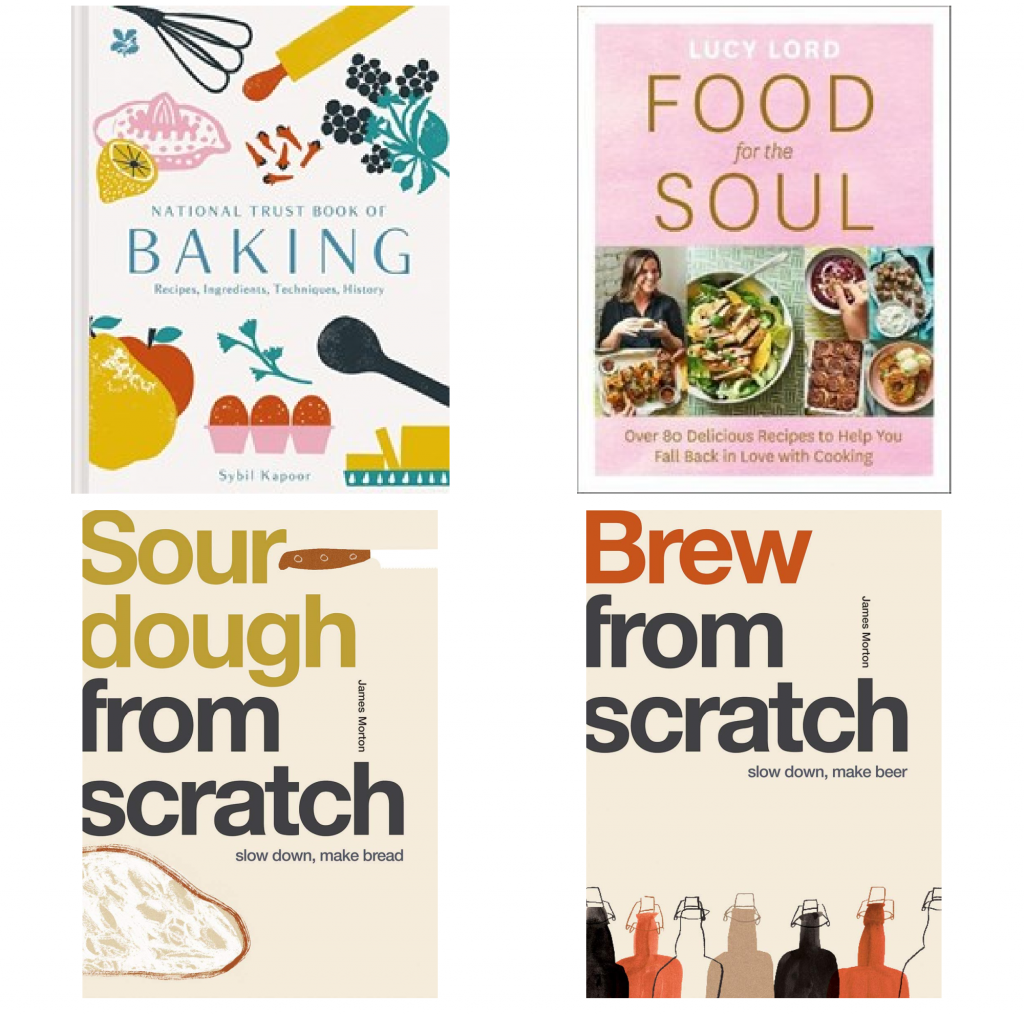 The National Trust Book of Baking by Sybil Kapoor: Baking is one of life's great pleasures. In the new edition of this beautiful book, Kapoor brings together an inspiring collection of baking recipes, both sweet and savory. A baker's bible from a much-loved expert in the field, this book draws on the best of Britain's baking heritage. Readers will delve into Britain's delicious and deservedly famous repertoire of cakes, pastries, savory bakes, and bread and learn how best to use fresh seasonal produce to create perfect bakes.
Food for the Soul: Over 80 Delicious Recipes to Help You Fall Back in Love with Cooking by Lucy Lord: Reclaim your time, your kitchen, and your tastebuds with over 80 delicious recipes to feed your soul! Whether you have 15 minutes, or an hour to spare, this gorgeous debut cookbook from Lucy Lord will re-ignite your love for cooking, help you get creative in the kitchen, and re-define your relationship with food.
Sourdough from Scratch: Slow Down, Make Bread by James Morton is extracted and updated from Super Sourdough

and Brew from Scratch: Slow Down, Make Beer has been extracted and updated from Brew: The Foolproof Guide to Making World-Class Beer at Home.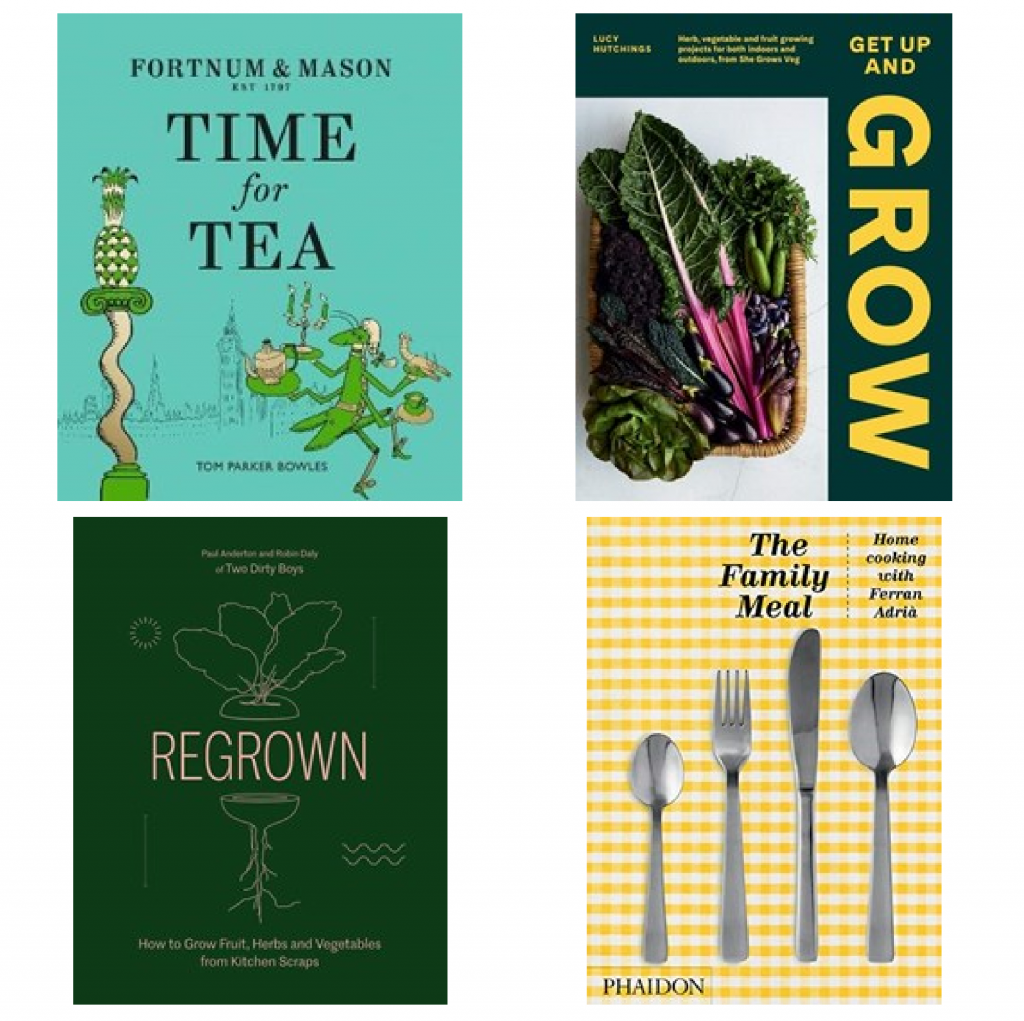 The Family Meal: Home Cooking with Ferran Adrià, 10th Anniversary Edition by Ferran Adrià is a reprint anniversary edition of The Family Meal: Home Cooking with Ferran Adrià (2011).
Fortnum & Mason: Time for Tea by Tom Parker Bowles: This fun and deeply authoritative guide whisks you through all the information you need to get the most out of your cuppa. It instructs on how to make the perfect brew or infusion and helps identify a wide range of teas to try that will suit different tastes whether for a single estate Darjeeling, a smoky or a delicate tea from China or a regular builder's. It also explores which teas are best to kickstart the day, revive the spirits or soothe at evening's end.
Get Up and Grow: Herb, Vegetable and Fruit Growing Projects for Both Indoors and Outdoors, from She Grows Veg by Lucy Huthings: In this truly innovative book the author proves that vegetable gardening doesn't always require outdoor space. Through clever uses of space and containers, understanding of growing conditions and a unique, design-led approach, Lucy showcases how anyone can grow pretty much anything in their back garden, courtyard, balcony or kitchen.

Regrown: How to Grow Fruit, Herbs and Vegetables from Kitchen Scraps by Paul Anderton is a beginner's guide to growing fruit and vegetables from kitchen scraps. With a focus on repurposing produce found in any supermarket, it shows how to regenerate, propagate and give new life to cuttings otherwise bound for the waste bin. Ranging from fruits and herbs that will sprout in a matter of days, to vegetables that will delight in later seasons, this easy-to-follow book includes everything from carrot tops and mushroom stalks to ginger, avocado and even pineapple. Paul and Robin guide budding gardeners through the process of reusing items to grow plants that are every bit as delicious as their first incarnations.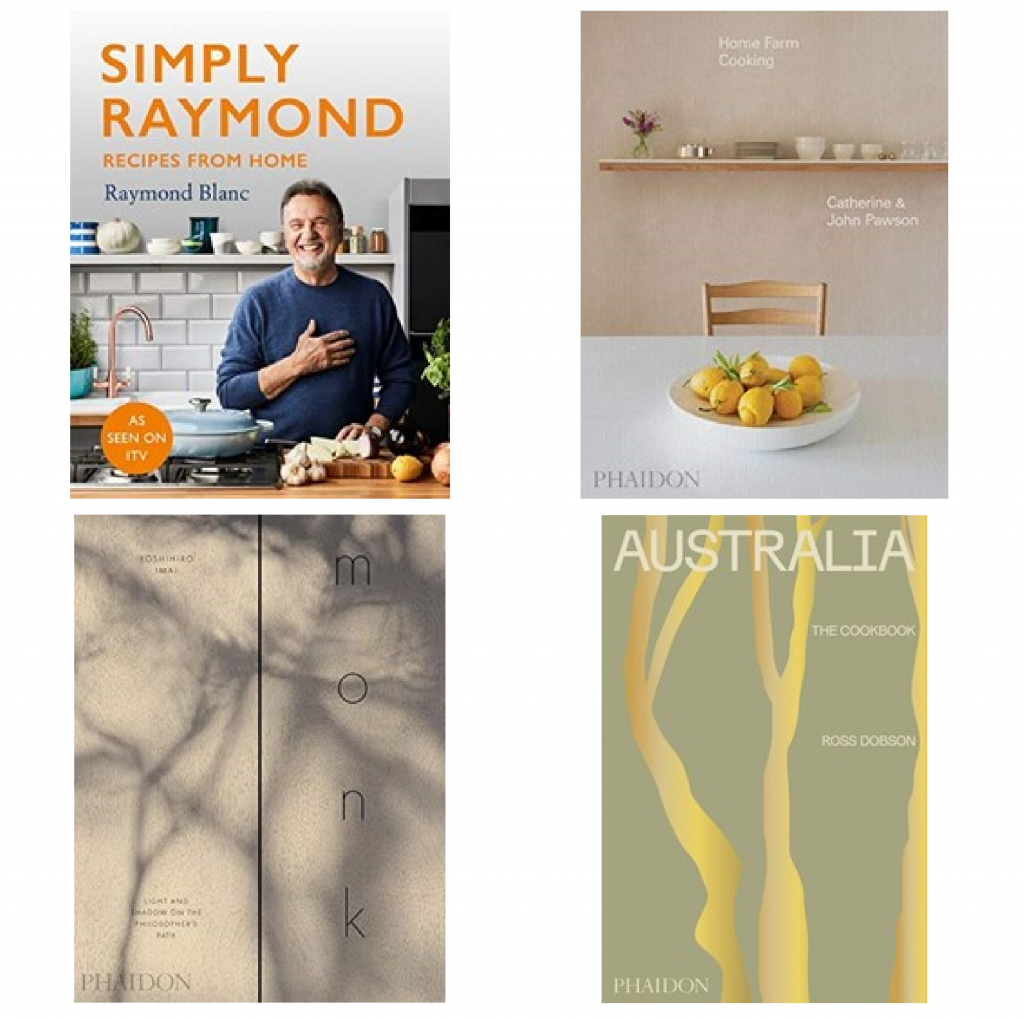 monk: Light and Shadow on the Philosopher's Path by Yoshihiro Imai is the story of Yoshihiro Imai's 14-seat, seasonally inspired restaurant, set on the cherry blossom-lined Philosopher's Path in Kyoto. Through personal essays, reflections, recipes, and photography, Yoshihiro describes stories of the farmers, makers, and exceptional ingredients – from foraged vegetables to herbs and flowers – that inspire his omakase-style menu, explains why cooking with fire is central to the restaurant, and traces the evolution of the unpretentious, innovative, and flavorful pizza for which he is now renowned globally.
Australia: The Cookbook by Ross Joseph Dobson. Australia is a true melting pot of cultures and this is reflected in its cooking. This recipe collection is relevant to home cooks everywhere. I have paged through this book several times and find that almost every recipe is highly approachable and the desserts and baking chapters extraordinary.
Home Farm Cooking by John and Catherine Pawson: Home Farm is the Pawson family's base in the heart of the English countryside. Five years in the making, the beautiful house was built to unite friends and relatives in a bucolic, simple setting. In this personal, inspiring recipe collection John and Catherine share 100 favorite dishes, all fundamental to their home-cooking and entertaining repertoire. The result speaks beautifully of food shared and enjoyed in a space designed to accommodate and adapt to the seasonal shift in cooking and eating.
Simply Raymond: Recipes from Home by Raymond Blanc: Raymond, like the rest of the world, struggled to find his way through lockdown. At home, and isolated from his family – as well as his army of chefs at the world-renowned two-star Michelin restaurant Le Manoir aux Quat'Saisons and his Brasserie Blanc restaurants – Raymond cooked. He opted for the simple dishes that evoked the happy memories, provided the connection to those he could not be with. He focused on recipes that were neither a challenge nor fussy. They required ingredients that were easily-available and needed only basic kitchen equipment. The result is this title. It is a collection of his favourite home-cooked recipes – the dishes that mean the most to him; the ones that connect family and friends, and dishes that took him on stove-side travels to other parts of the world.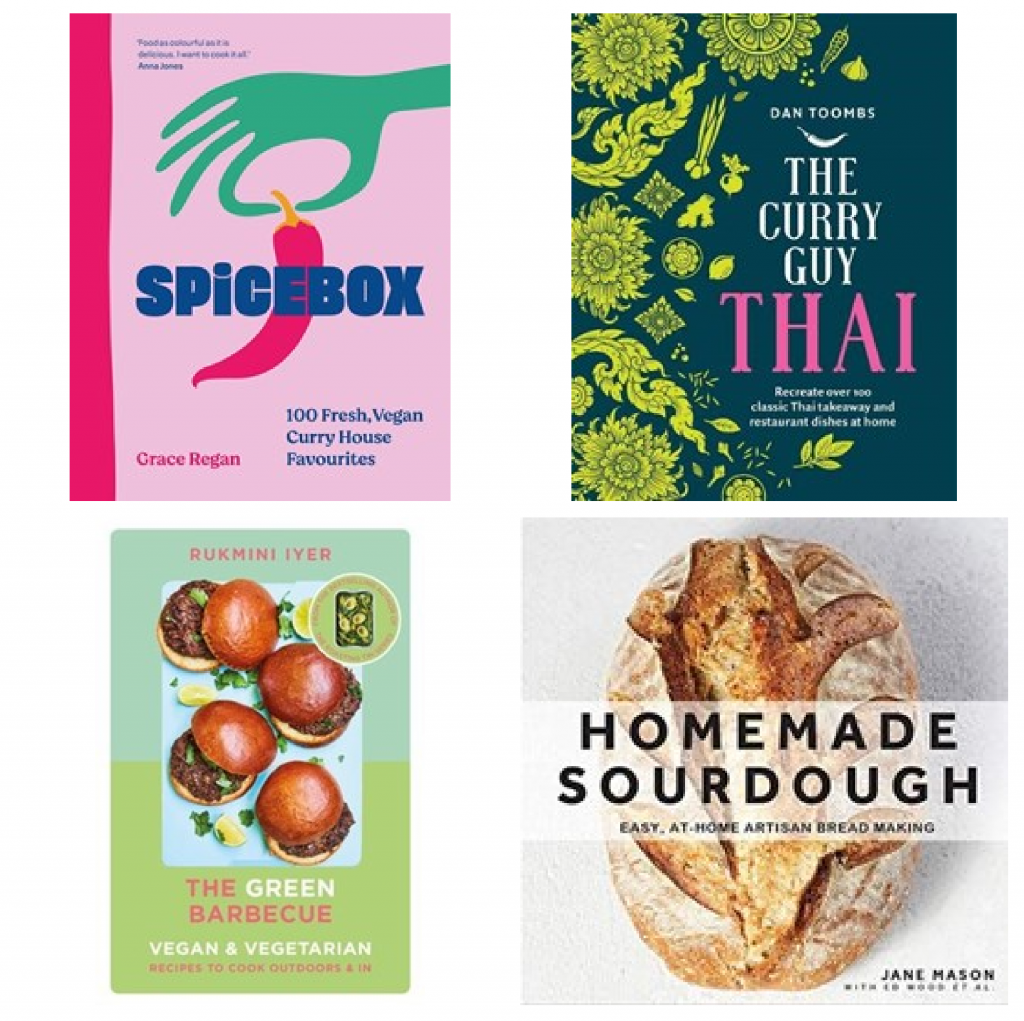 The Green Barbecue: Modern Vegan & Vegetarian Recipes to Cook Outdoors & In by Rukmini Iyer: If prepping a meat-free BBQ seems a challenge, think again: this collection of 75 flavour-packed and mouth-watering recipes is completely meat-free. Whether you're entertaining for vegetarian guests or you're preparing a flexitarian feast, these recipes are quick and easy to make, great for all the family and completely fuss-free. With a wide range of veggie-friendly options, from griddled papaya and charred tenderstem to crispy barbecue tofu and dill-soused feta, this is the ultimate veggie book of 2021, to cook outdoors or in.
Homemade Sourdough: Easy, At-Home Artisan Bread Making by Jane Mason is the ultimate guide to creating your own sourdough bread. Learn sourdough formulas and recipes and follow along as the author explains the science behind sourdough and provides a guide to the world of starters, wild yeasts, proofing, pre-ferments, and motherdough.
The Curry Guy Thai: Recreate over 100 Classic Thai Takeaway Dishes at Home by Dan Toombs: Thai cuisine is known for its light dishes that are packed with diverse flavours and textures, and which make the most of a fine balance of sour, sweet and salt. In this book, Dan offers up his own versions of those much-loved dishes, including beef massaman curry, red duck curry, pad Thai, fishcakes and summer rolls. With over over 100 recipes, beautiful colour photography throughout, plus store cupboard tips and advice, you'll learn how to create your own classic dishes at home.
Spicebox: 100 Curry House Favourites Made Vegan by Grace Regan: Make all the curry house dishes you love, packed with vibrant colourful ingredients and incredible flavour. Learn how to cook the classics, including Aloo Gobi, Chana Masala, Cauli Tikka Masala, Jackfruit Jalfrezi, Onion Bhaji and Chana Chaat, BUT with one twist – they are all vegan. This is easy, everyday food that delivers big flavour.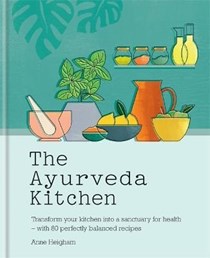 The Ayurveda Kitchen: Transform your Kitchen into a Sanctuary for Health – with 80 Perfectly Balanced Recipes by Anne Heigham: With this beautiful introduction to Ayurveda, learn how to use your kitchen as a natural pharmacy to improve your health and prevent imbalances with key Ayurvedic ingredients, 80 perfectly balanced vegetarian recipes and simple home remedies. Ayurveda aims to bring health back into balance, nourishing agni (metabolic fire) and prana (life force), while clearing ama (metabolic waste or 'sludge').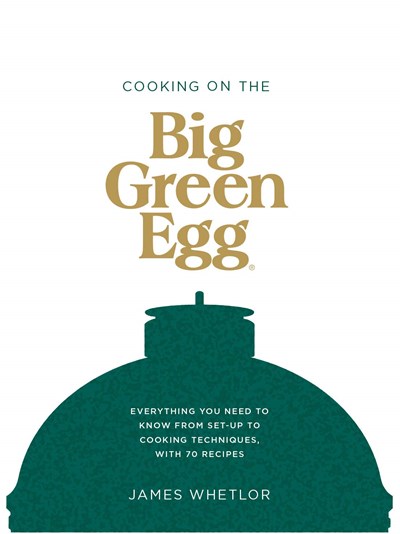 Cooking on the Big Green Egg: Everything you Need to Know from Set-up to Cooking Techniques, with 70 Recipes by James Whetlor showcases the vital piece of outdoor cooking equipment (the Big Green Egg) and offers instructions and recipes for everything you'd ever want to cook in it. Award-winning author of Goat, Whetlor, guides the reader through the basics of using your Big Green Egg, with a full explanation of how it works and how to get the best out of it, whether you're cooking on the grill or plancha, oven roasting, smoking, baking, cooking 'dirty' directly on the coals, or taking it low and slow.

AUSTRALIA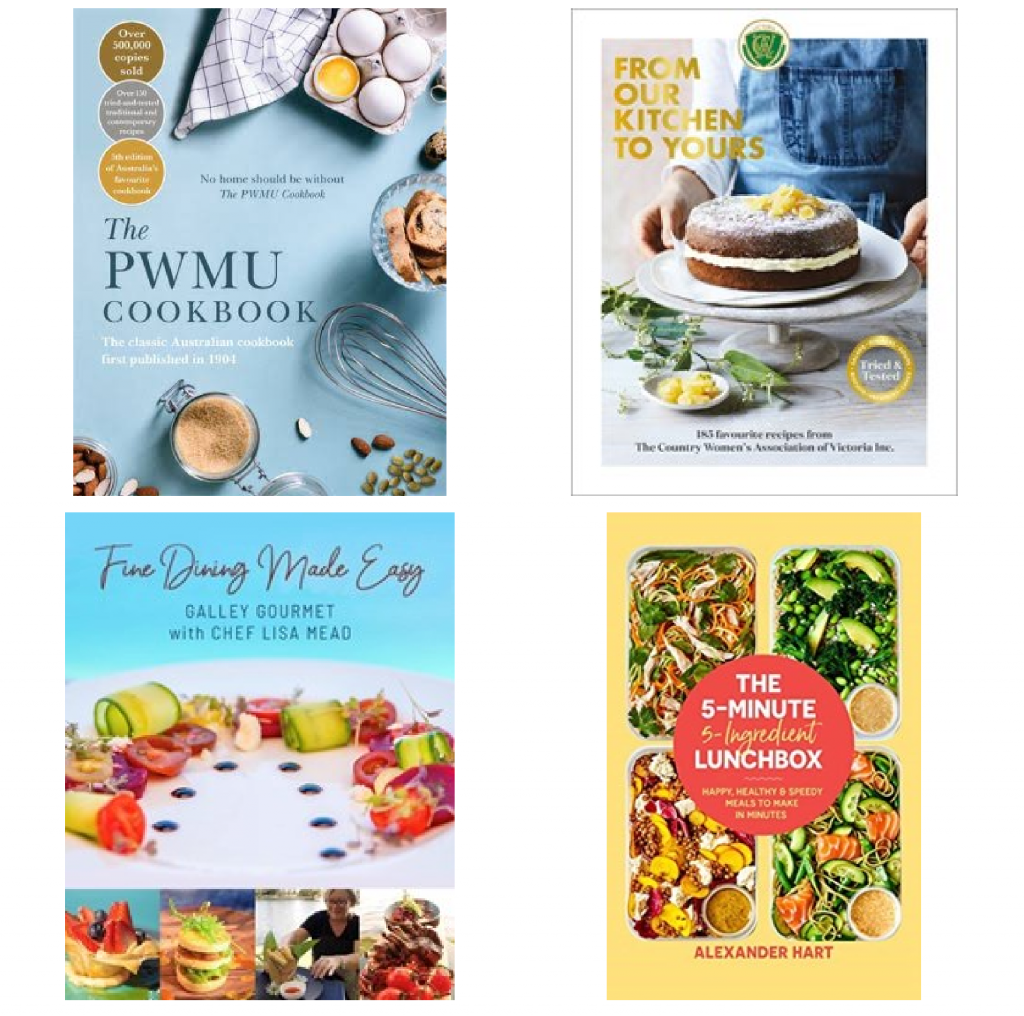 From Our Kitchen to Yours: 185 Favourite Recipes from the Country Women's Association of Victoria Inc by Country Women's Association Victoria: The recipes gathered here come from the wonderful cooks of The Country Women's Association of Victoria Inc., some of whom would never have envisaged that their recipes would still be in such demand. The 185 tested and true recipes in this book have been shared countless times between friends and published as community cookbooks to raise funds for cash-strapped good causes.
The 5-Minute, 5-Ingredient Lunchbox: Happy, Healthy & Speedy Meals to Make in Minutes by Alexander Hart: When your cupboard is looking a bit bare, it's hard to get inspired to make lunch for the day ahead. We can often run out of ideas too, meaning we end up with the same dull lunch every day – or worse yet, buying every meal out and about. Those costs add up. This title aims to streamline your lunch each day a breeze according to what you have lying around. These 52 recipes will show you how to quickly turn them into a nutritious and delicious lunch.
Fine Dining Made Easy: Galley Gourmet by Lisa Mead: This Australian chef has been cheffing on board luxury yachts throughout the Caribbean and the Mediterranean for the past 26 years. During this time, Lisa has cooked for all walks of life, including royalty and the rich and famous, and for the past seven years she has been hosting her own cooking TV show Galley Gourmet With Chef Lisa. Now she has written a cookbook which is slated for publication this month.
The PWMU Cookbook: The Classic Australian Cookbook First Published in 1904 by PWMU Committee: This latest collection of 150 recipes includes a selection of Australia's most tried-and-tested treats including lemon meringue pie, scones, shortbread and steamed pudding; recipes for everyday meals including curries, casseroles and the perfect roast; contemporary dishes including stir fries and bakes; plus tips on jam making, preserving and chutneys; notes for new cooks; hints for cleaning and home remedies.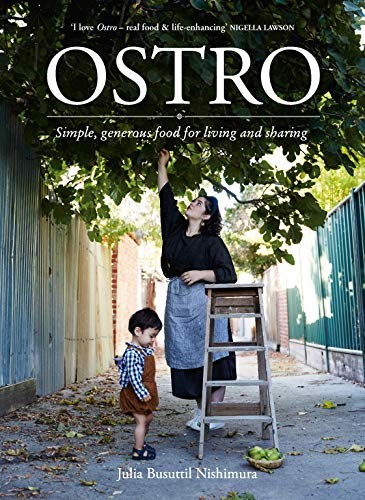 Ostro: Simple, Generous Food for Living and Sharing by Julia Busuttil Nishimura: The latest reprint with a new cover (as Julia is calling it Ostro 2.0 "Same recipes, different look! A sturdier cover and a lower price point than the original!") is a reminder of the joy derived from the pleasure of handmade food and the shared table.
NEW ZEALAND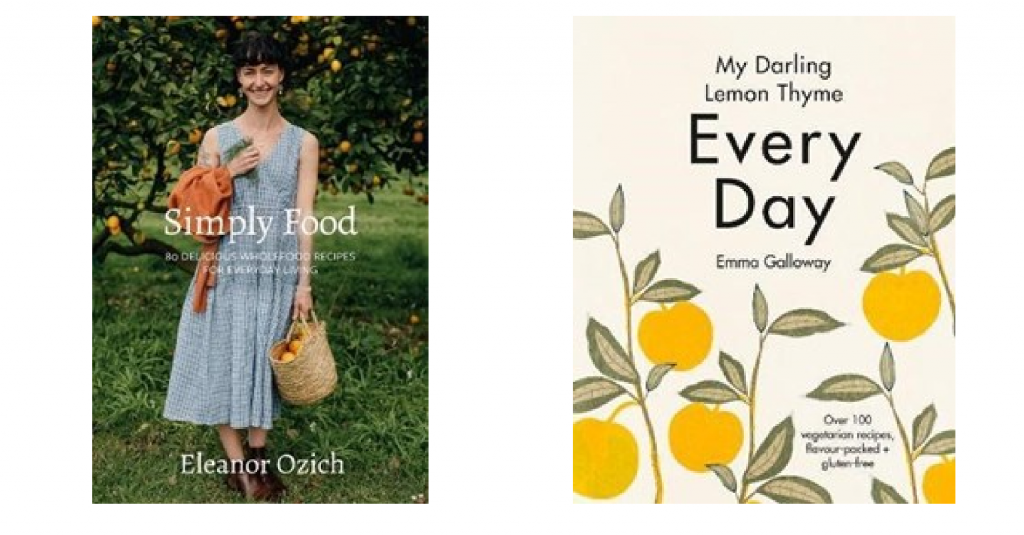 Simply Food: 80 Delicious Wholefood Recipes for Everyday Living by Eleanor Ozich: Everyone is short of time these days. And most people still want to eat tasty, healthy food. This stylish cookbook contains 80 recipes that can be made with just 15 minutes of hands-on time to produce a healthy and delicious meal. Eleanor Ozich is well known for her blog tutorials and her previous successful books and her fans are keen to see another cookbook in her effortlessly cool style.
My Darling Lemon Thyme: Every Day by Emma Galloway contains over 100 vegetarian recipes for flavour-packed and gluten-free eating from the popular New Zealand blogger.