My new obsession – June Xie and accepting that I am less than perfect
March 28, 2021 by Jenny
I am always on the cutting edge of all culinary news – not. You can ask me about Diana Henry's cookbook that is slated for 2022 and I'm there with the scoop – by the way it is titled North. But when it comes to YouTube, Instagram or other internet sensations well let's put it this way "I am still mourning the loss of the AOL chat room (where I met my husband in 1998 on March 31st)".
Lately with loads of work and my deletion of all types of network shows from my DVR scheduled to be recorded folder because I wanted to erase distractions, I've been scrolling YouTube and reading books like mad. Normally, I would only hit up YouTube for a music video but a few months ago I went in search of Friends' bloopers. The marketing geniuses behind these sites started dangling all types of videos in front of me. "Jenny, you know you want to look…" "You might be interested…" I can blame the blooper reels as the gateway into my YouTube addiction.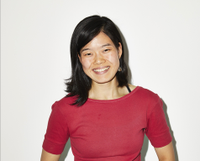 Just today, I was teased with a Budget Eats video by June Xie of Delish. June is an absolute delight and an incredible cook. She cooks with less than perfect ingredients and creates fantastic looking meals. What impresses me the most is her ability to orchestrate these dishes in her relatively tiny kitchen space which has a serious lack of expensive cookware and gadgets save a Vitamix.
The next thing I know I'm watching this amazing chef make a Thanksgiving feast for four with only $25.00 and thinking I want to be like June. Just watching two videos I have a list of dishes I want to make. Her minimalist set up is in line with My Big Fat Cookbook Purge of 2021 and provides further motivation for me to cook more and buy less. Do I really need another Dutch oven? No. Do I want to go purchase bruised citrus and be like June? Yes!
I find June to be calming and honest. Her difficulty with prepping a whole duck and her appreciation for the animal's life was touching. In one video, she began with mentioning having a rough morning with depression and having to work through that to begin cooking. She even comes back after the first day of cooking a week's worth of meals and admits that the pancakes she made the day before were dry and she makes them again.
June you are amazing, and I want to be your friend. Thank you for reminding me that it is okay to be less than perfect. Being a serious cook and baker, I often feel that everything must be just right. I am working toward finding enjoyment in the kitchen – even when things are not just right – and making the most of what I have in all aspects of my life.
---
On the subject of budget eats, I recently joined Imperfect Foods. This service delivers surplus grocery items and less than perfect produce and other ingredients to our doors every week. I can customize my boxes, skip a week, cancel at any time and save loads of money! I am not being sponsored by Imperfect Foods but if you use my link you can take $20.00 off your first box and I receive a credit.
Even if you do not use my link, check them out – I am thrilled to be helping our earth by using imperfect products in my kitchen. I had no plans on even mentioning Imperfect Foods in this space but the magic that June weaves with bargain ingredients reminded me that my first box is coming Tuesday. Using those ingredients and searching through the recipes here in the EYB Library, I hope to become more creative in the kitchen and less wasteful.
Check out June on YouTube and follow her on Instagram. You will love her!
Update 3/29/2021 As I was updating the library, I noticed a new title coming in January 2022 – Good Enough: A Cookbook: Embracing the Joys of Imperfection, in and out of the Kitchen by Leanne Brown, author of Good and Cheap: Eat Well on $4/Day.
Seen anything interesting?
Let us know
& we'll share it!