Food Between Friends Cookbook and a Jesse Tyler Ferguson Spatula Giveaway
March 25, 2021 by Jenny
Enter our worldwide giveaway to win a copy of Food Between Friends by Jesse Tyler Ferguson and Julie Tanous along with a Jesse Tyler Ferguson spatula from the No Kid Hungry line at Williams Sonoma.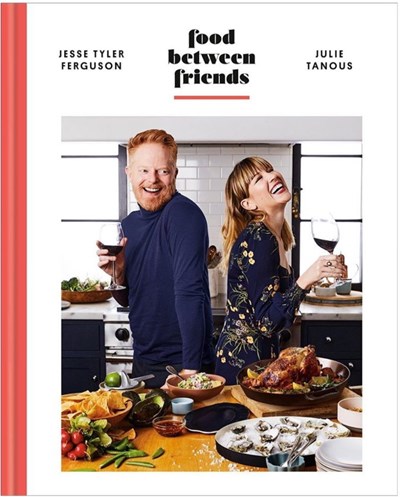 Food Between Friends by Jesse Tyler Ferguson ("JTF") and Julie Tanous ("Julie") is a gorgeous book filled with yumminess. Most of us know JTF from his role on the popular sitcom Modern Family along with other acting roles but what about Julie? Who the heck is Julie? According to Julie's website, "Julie Tanous is a sought-after recipe developer, food writer and, with Jesse Tyler Ferguson, the co-creator of "Food Between Friends," an acclaimed blog featuring recipes regularly covered in leading print and online media."
How did JTF and Julie become a team? Well I learned how they met as follows:
I had registered to be a part of the Williams-Sonoma ("WS") bake-along with JTF, Julie and Brian Hart Hoffman on the 15th of March. WS didn't email a link to the bake along and I did not realize this until five minutes before the class start time. I have taken all of Brian's classes and always received an email. I wasn't the only one waiting on the edge of my seat – others were as well.
So there I sat at 5:55 MST, searching my emails and no link. I was distraught, well I was miffed – ok, I was a little put out. But fortunately the next day, WS sent me a link to the video so I was able to witness the dynamic energy between JTF and Julie.
The class began with a story as to how the two friends met. I'll try to recall the details but honestly I was still stinging from the lack of not being able to watch them live that it was difficult to pay close attention. I'm over it now. I think. So here's the story: Apparently, both JTF and Julie were to attend a dinner event. They didn't know each other and neither wanted to go this event but had committed. To make a long story, even longer – they ended up at the same table with Julie pretending she didn't know who JTF was – he was just some bearded redheaded stranger. There was copious amounts of alcohol and talk of cookbooks and slam bam thank you ma'am – Julie and Jesse Cook was born and like everything in Hollywood – they ended up doing a little surgery to their brand name making them Food Between Friends.
Back to this impressive book, there are fudge brownies with a spicy peanut butter swirl, Miso polenta, and Chile relleno meatloaf as a few examples of the recipes here. I have already made the Sweet and sticky orange cardamom rolls and they are addictive and I want to make them again very soon.
The book brings Julie's southern cooking roots and JTF's New Mexico cuisine experience together brilliantly. We learn about green chile, red chile, sorghum, how to make the perfect pie dough and so much more. Most of you know I am going through a major cookbook purge, but this title will make the cut – it stays.
Our

takes you inside this fun book and features the following


During the bake-along, JTF pulled out his No Kid Hungry spatula he designed for WS. He hinted to the rareness of this spatula as being similar to seeing Elvis at a 7-Eleven. He also mentioned they were quite pricey to track one down. I went to E-bay and ordered three – two for me (with the intent to hold on to one to cash in for retirement) and one to be sent to Brian in Alabama because I am a giver.
Well, the lovely sellers at e-bay saw that I had paid for three and put all of the priceless kitchen tools in one package and sent them to me in Colorado. Even though I was snippy (I blame that on being still miffed about the missing WS link), the sellers were great. They informed me to keep the third spatula and they would send Brian out one that afternoon.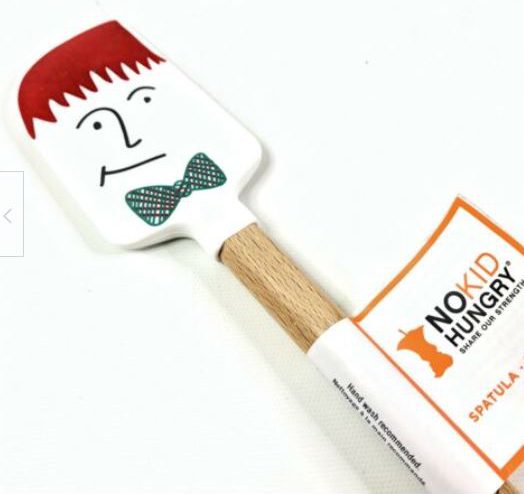 So instead of being selfish, I have decided to give away one of these spatulas to one lucky winner with a copy of the book. Whoever wins has to promise me that when this spatula is worth millions they will find me – and treat me to a new hip. By entering this contest you agree to that stipulation. (Joking.)
Since I have the spatula in hand, Ten Speed Press is mailing off another copy of the book to me – and I will marry the book and spatula together and will – just for this giveaway – ship them to one worldwide winner. Again, I am a giver.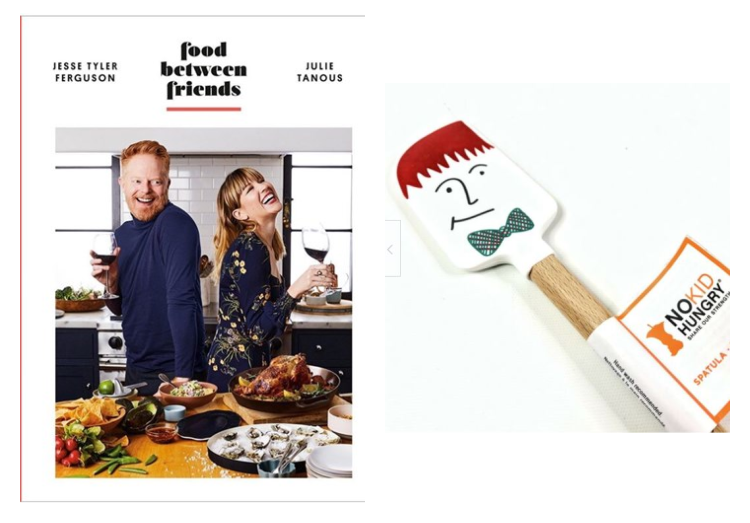 Special thanks to the publisher for providing me with an extra copy of this title to giveaway. Entry options include answering the following questions in the comments section of this blog post.
Which recipe in the index would you like to try first?
For more entries: did anything in this post make you smile?
Please note that you must be logged into the Rafflecopter contest before posting or your entry won't be counted. For more information on this process, please see our step-by-step help post and this forum post. Once you log in and enter your member name you will be directed to the next entry option – the blog comment. After that, there are additional options that you can complete for more entries. Be sure to check your spam filters to receive our email notifications. Prizes can take up to 6 weeks to arrive from the publishers. If you are not already a Member, you can join at no cost. The contest ends at midnight on June 25th, 2021.
a Rafflecopter giveaway