March 2021 New Cookbook Review
March 23, 2021 by Jenny
March roars in like a lion with a big gust of releases to usher in another cookbook season. As it seems to be the new normal, a handful of titles had their publishing dates moved to another month in the near future. COVID is wreaking havoc with printing and shipping in the publishing world.
I keep my 2021 preview post updated to show these monthly releases and I have also prepared a Spring preview post. The Spring preview post shares books I have taken a look at and/or am very excited about! Also, there are some preorder perks for certain Spring titles. Find out more here. Many of these cookbooks will be the subject of giveaways – and some already have a promotion published. Please keep checking the blog for updates.
If you would like to order any of these titles, using our affiliate links below or the BUY BOOK button on the book details page, will help to support EYB and our indexing efforts (as well as help us to include worldwide options in some promotions). Please remember to click here before any online shopping Amazon USA * Amazon Canada * Amazon UK * Book Depository. Please remember your local bookstores during this trying time as well.
If there is an

available for a cookbook, look for the orange icon in the blurb. Clicking on that icon will take you directly to the preview.
To jump to a particular country's listing, please click on the links below.
United States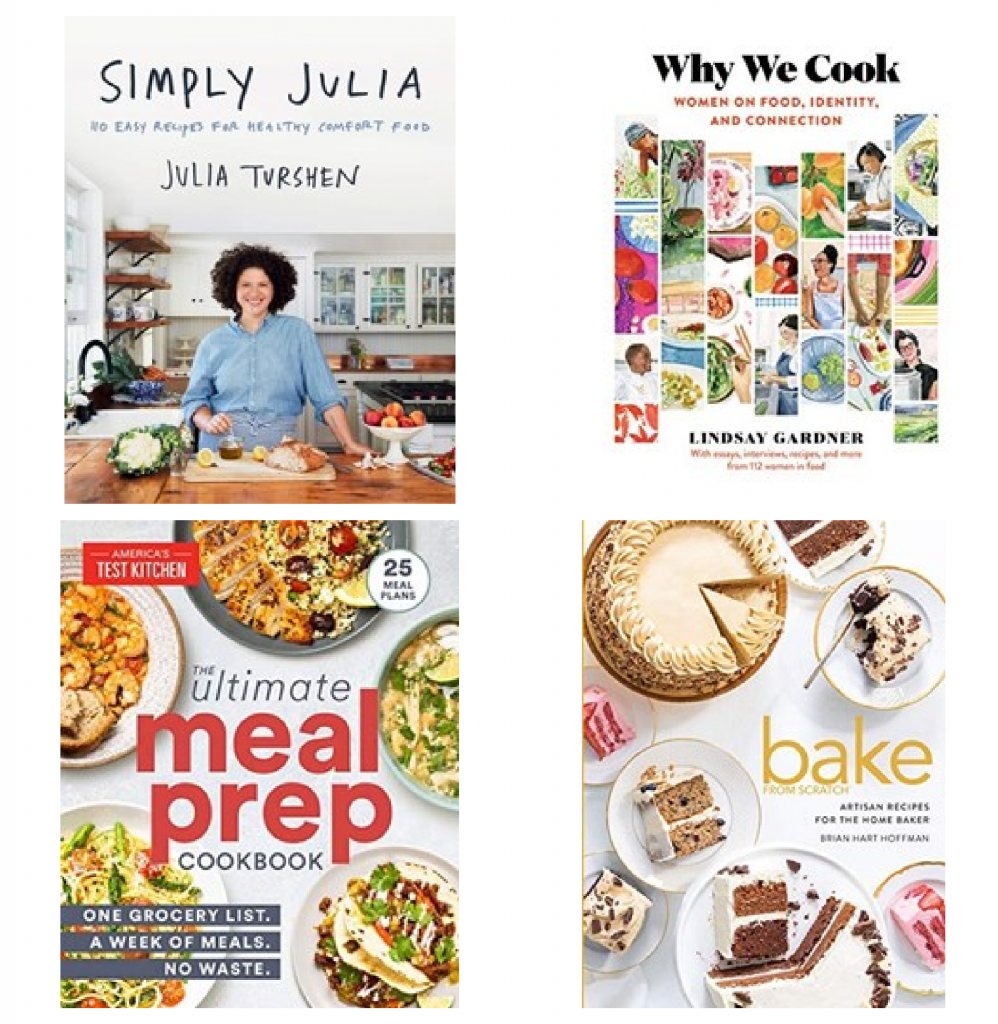 Simply Julia: 110 Easy Recipes for Healthy Comfort Food by Julia Turshen, our generation's culinary icon, latest book showcases her laid-back style and modern approach to cooking. The book begins with simple, concise lists giving a peek into Julia's kitchen staples. Find out more and enter our giveaway to win a copy of this fantastic title.

The Ultimate Meal-Prep Cookbook: One Grocery List. A Week of Meals. No Waste by America's Test Kitchen contains 25 meal plans and 130 recipes that strike just the right balance of guidance and flexibility for simple (but realistic) meal planning. With minimal shopping and no food waste, these meals are easier, healthier, less expensive, and full of fresh modern flavors.

Why We Cook: Women on Food, Identity, and Connection by Lindsay Gardner: This treasure features 112 women in the culinary field with essays, kitchen profiles, interviews, recipes and more. It is brilliantly illustrated and a delight to read and savor.
Bake from Scratch, Volume 5: Artisan Recipes for the Home Baker by Brian Hart Hoffman brings all the recipes from the gorgeous magazine that has revived print media. Yes, I love the magazine arriving every month to inspire my baking but nothing feels as great as holding the cookbook filled with all those recipes. Volume 5 is a collection of more than 650 recipes, commemorating the fifth year of Bake from Scratch magazine. The gorgeous photography that is well-known from the magazine accompanies the recipes in this compilation.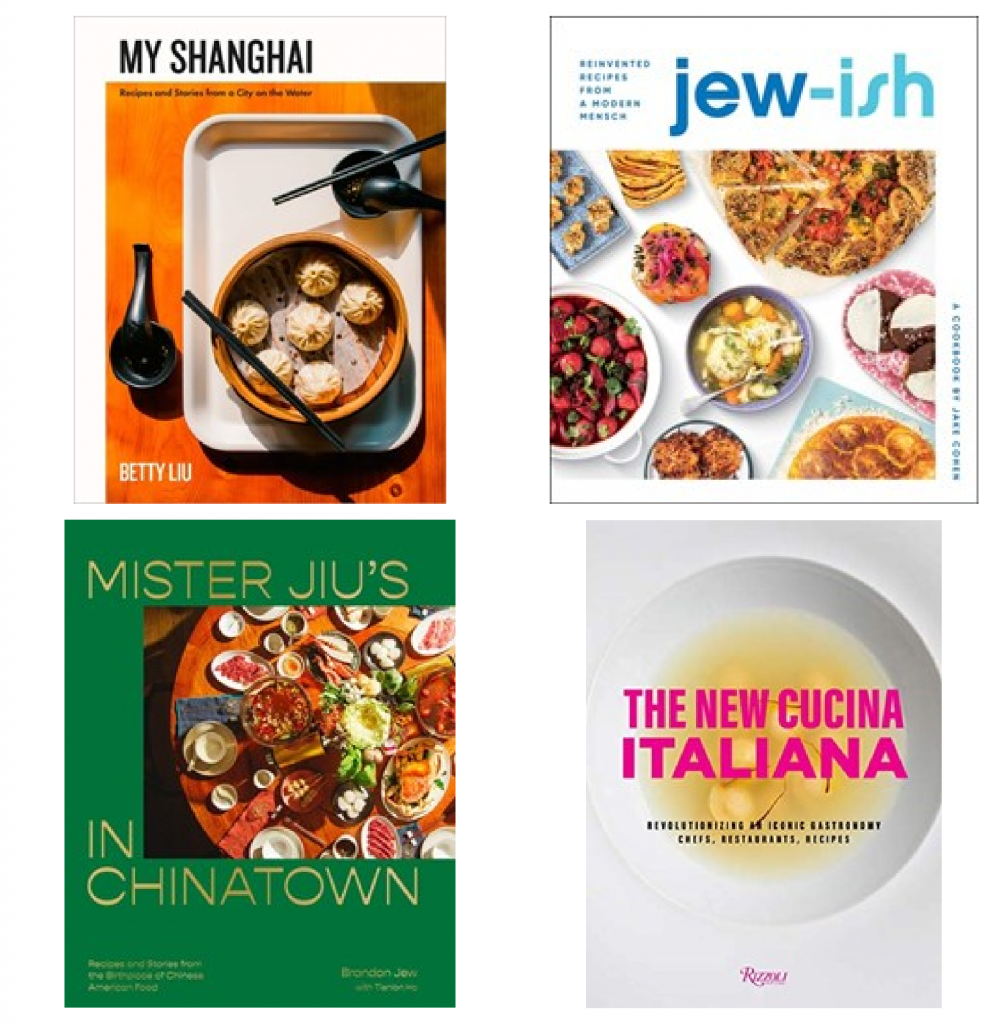 My Shanghai: Recipes and Stories from a City on the Water by Betty Liu brings her family's recipes, through her lens as a modern home cook born and raised in America. In this book which is also part travelogue, the author takes us to discover where hairy crabs are farmed, how bamboo is foraged, and the traditions of Chinese holidays, with as much stunning photography as she could fit into the book. Find our more and enter our giveaway here.

The New Cucina Italiana: What to Eat, What to Cook, and Who to Know in Italian Cuisine Today by Laura Lazzaroni shares recipes from the kitchens and restaurants of Italy's new culinary masters, who combine an innate sixth sense for quintessentially Italian flavor with a contemporary approach, defining an exciting new gastronomy. The author organizes this beautiful book as follows: Mentors, Farmers and Foragers, Sunday Restaurateurs, Fine Dining Creatives, Pizzaioli, Forces of Neo-Osterie and Neo-Trattorie to deliver a truly unique look at Italian cuisine.
Mister Jiu's in Chinatown: Recipes and Stories from the Birthplace of Chinese American Food by Brandon Jew and Tienlon Ho: The acclaimed chef behind the Michelin-starred Mister Jiu's restaurant, Brandon Jew, shares the past, present, and future of Chinese cooking in America through 90 mouthwatering recipes. The book begins with tips on how to make the most of the recipes contained therein and then shares a plethora of spice blends, oils, mustards and more before gracing us with the actual dishes that include: Sourdough green onion pancakes, the most scrumptious looking Orange chicken wings, and a several page spread on the Four seasons of pot stickers. Each recipe gives the cook prepare ahead information, active time needed for the recipe plus any special equipment required. The instructions are detailed, the imagery spectacular and the dishes drool-worthy.

Jew-ish: A Cookbook: Reinvented Recipes from a Modern Mensch by Jake Cohen: This title is everything you would expect from Jake (follow him on Instagram and see for yourself). Jew-ish contains craveable recipes, gorgeous photos, step-by-step process images for braiding challah and other techniques. You've heard of Persian rice tahdig – Jake takes tahdig to new levels – potatoes, sweet potatoes, latkes – and more – this is just one example of his genius! Find out more and enter our giveaway to win a copy here.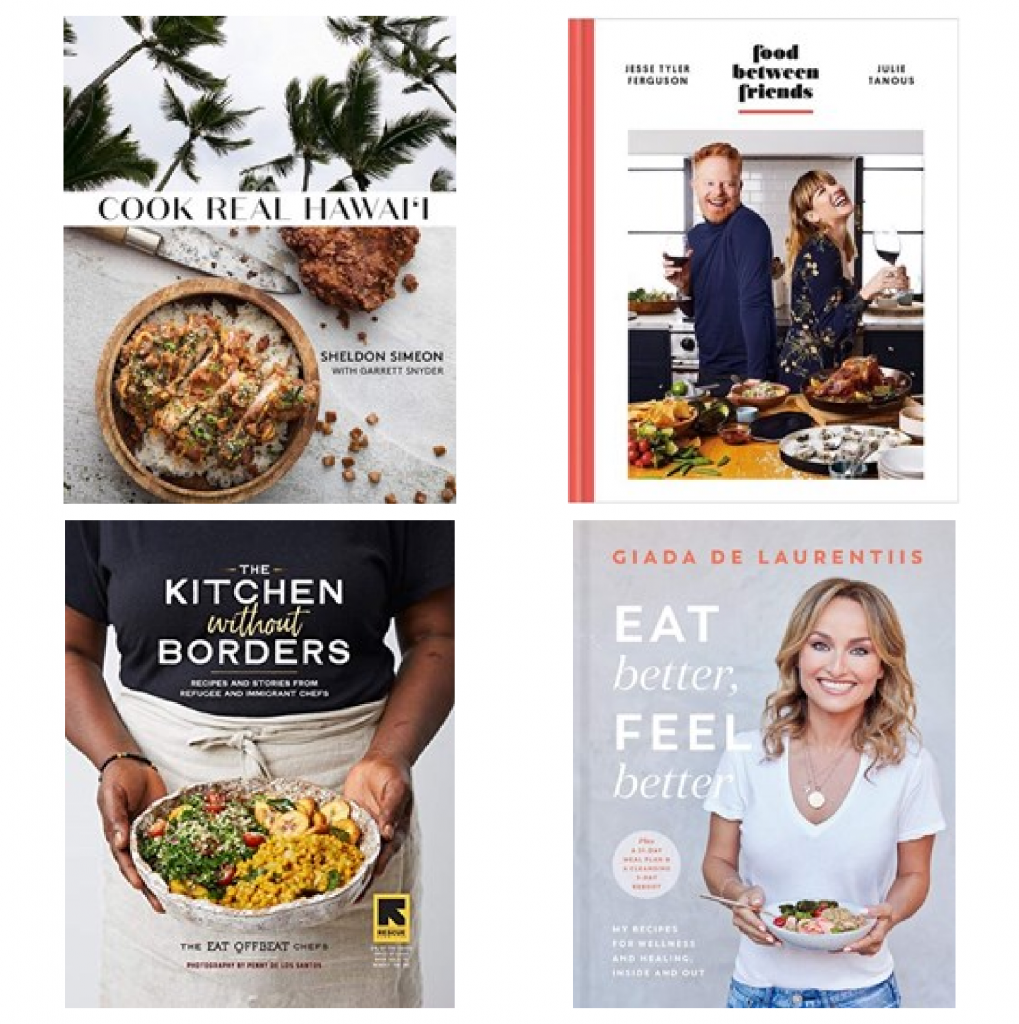 Food Between Friends by Jesse Tyler Ferguson and Julie Tanous have created a gorgeous book filled with yumminess. Fudge brownies with a spicy peanut butter swirl, Miso polenta, and Chile rellano meatloaf are a few examples of the recipes here and I will bring you more details in our upcoming promotion . I have already made the Sweet and sticky orange cardamom rolls and they are addictive.

Cook Real Hawai'i by Sheldon Simeon and Garrett Snyder: Sheldon is a two-time Top Chef finalist and Fan Favorite and his food always impressed me. Here he delivers 100 recipes that embody the beautiful cross-cultural exchange of the Hawaiian islands. Crispy gau gee with shoyu mustard, Maui flying saucers (described as a love child between sloppy Joe's and a grilled cheese) and Condensed milk cheesecake with Ovaltine crust are a few examples that give you a taste of what Sheldon is offering here.

Eat Better, Feel Better: My Recipes for Wellness and Healing, Inside and Out by Giada De Laurentiis: Get an inside look at Giada's approach to healthy, balanced living as the celebrity chef walks you through how to select food that can actually make you feel better and curate a personalized wellness routine to support a healthy mind and body. Find out how reconfiguring her diet to control inflammation can turn your life around and how to use complementary wellness tactics like intermittent fasting, meditation, and other self-care routines to optimize your well-being.
The Kitchen Without Borders: Recipes and Stories from Refugee and Immigrant Chefs by The Eat OffBeat Chefs: This book started as a Kickstarter campaign and found a publisher, Workman. As an early backer of this project, I was fortunate to receive the book last year. Profiles of the chefs are shared from Eat Offbeat along with recipes from their ethnic backgrounds. Chef Dhuha's Potato kibbeh (Iraq), Chef Rachana's Samosas (Nepal), and Chef Larissa's Red pepper soup (Central African Republic) are just some examples of the dishes in this lovely book filled with photographs.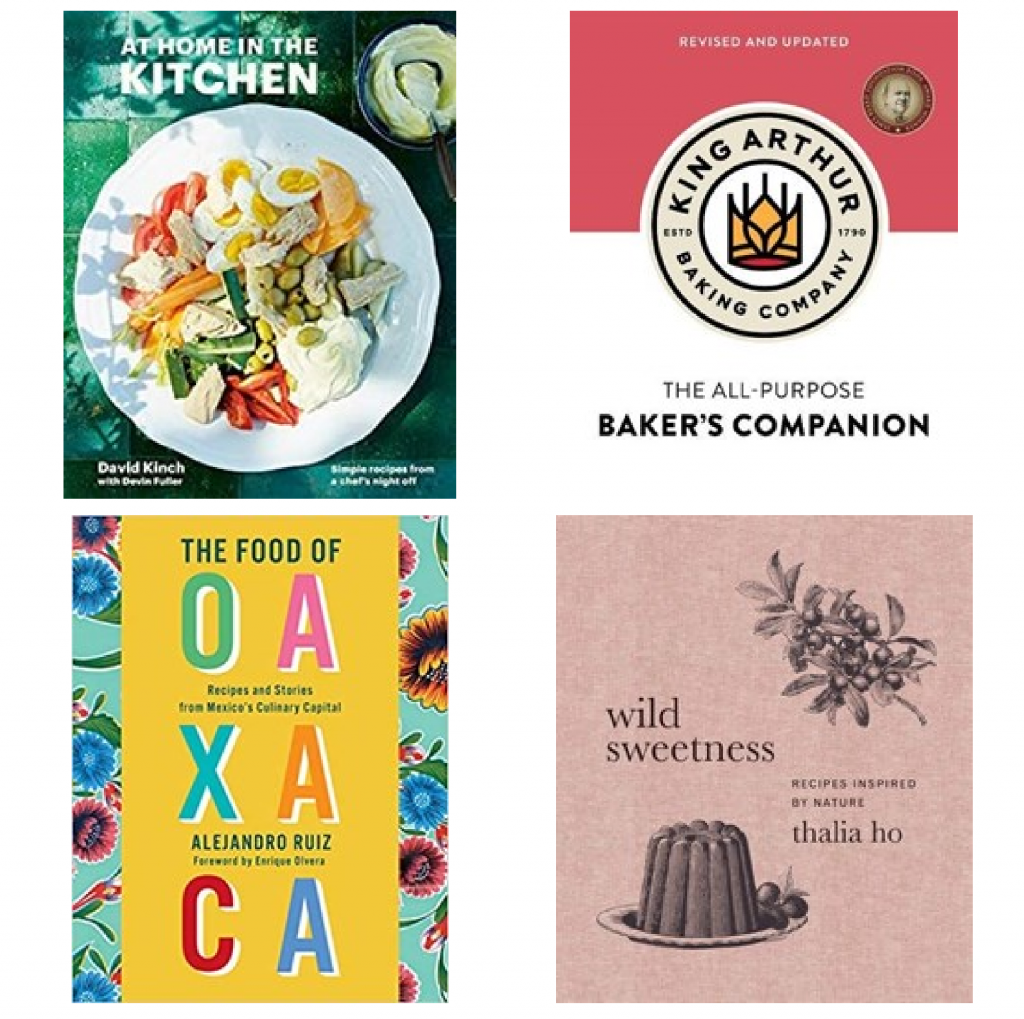 King Arthur Baking Company: The All-Purpose Baker's Companion (Revised and Updated) by King Arthur Baking: Winner of the 2004 Cookbook of the Year Award by the James Beard Foundation, this dependable cookbook has been reinvigorated with new photography, recipes, and revisions to keep it relevant to today's modern baker. In October, The King Arthur Baking Company: Essential Cookie Companion will be published – so heads up.
The Food of Oaxaca: Recipes and Stories from Mexico's Culinary Capital by Alejandro Ruiz introduces home cooks to the vibrant foods of the chef's home state Oaxaca referred to as the culinary capital of Mexico by CNN. Here are more than 50 recipes both ancestral and original which are divided into three parts, the book covers the traditional dishes of the region; the cuisine of the Oaxacan coast; and the food he serves today at his acclaimed restaurant, Casa Oaxaca. Photographs are generous throughout this book that is far more than a collection of recipes – it is a love letter to the cuisine of Oaxaca and the Oaxacan people.
At Home in the Kitchen: Simple Recipes from a Chef's Night Off by David Kinch and Devin Fuller: 120 plus recipes for the casual meals from simple breakfasts to 2 a.m. snacks that the James Beard Award-winning, three-Michelin-starred chef of Manresa cooks at home. While each recipe has only a few key ingredients, the chef's clever techniques, subtle twists, and fresh flavor combinations offer delicious results in short order. This beautifully photographed cookbook also features David's recommendations for the best songs to listen to while cooking and the classic cocktails that should precede every meal.

Wild Sweetness: Recipes Inspired by Nature by Thalia Ho, award-winning food blogger behind Butter and Brioche, delivers a unique and beautifully designed full-color cookbook that brings wild flavors to seasonal desserts. Thalia comes from a long line of European bakers and her cooking combines her European and Asian heritage. This title is elegant and approachable and has a dream-like quality to its pages and prose.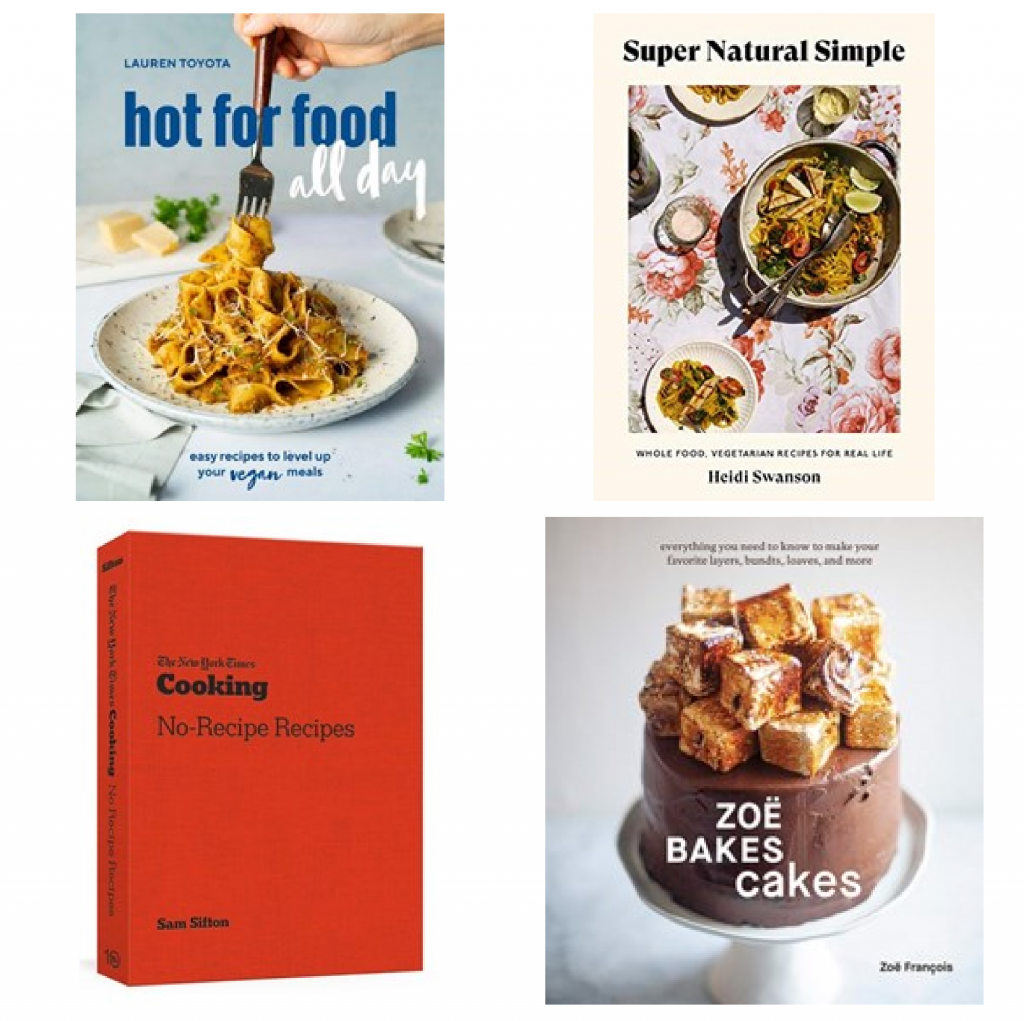 Super Natural Simple: Whole-Food, Vegetarian Recipes for Real Life by Heidi Swanson shares more than 120 whole-food, vegetarian recipes for quick weeknight meals full of flavor, spice, color, and nutrition from the New York Times bestselling author of several cookbooks. These are recipes that will please any eater and appetite. Her Deviled egg toast, Easy olive oil cake, or Spicy, creamy, carroty peanut noodles which are just a few of the dishes on my list to make first.

The New York Times Cooking No Recipe Recipes by Sam Sifton is a no recipe cookbook. Yes, you read that correctly. The goal of this book is for people to create recipes without being precise with regard to measurements and instructions. Darcie wrote about this interesting book earlier this month.

Hot for Food All Day: Easy Recipes to Level Up Your Vegan Meals by Lauren Toyota delivers more than 100 utterly simple, crazy-delicious vegan recipes that satisfy cravings all day, everyday, from YouTube guru and bestselling author of Vegan Comfort Classics.

Zoë Bakes Cakes: Everything You Need to Know to Make Your Favorite Layers, Bundts, Loaves, and More by Zoë François is my dream baking book. You can read more about this fantastic title and enter our giveaway to win a copy along with a set of bakeware from Anolon here.

Anyone Can Cook by Kitchen Stories: Since its launch in 2014, the Kitchen Stories app has acquired a dedicated following among seasoned and beginner cooks alike. The best of their recipes, expertise, and tips are distilled into this essential cookbook that will help even a timid home chef feel like a pro. Designed with the elegant simplicity their fans have come to expect, this title focuses on dinners – for many the most important and stressful meal to prepare by offering recipes that take no more than one hour from kitchen to table, and many can be cooked in a single pot or pan. Most importantly, the book is designed to help beginner cooks develop basic skills, stock their kitchens and pantries, and master easy yet elegant meals.

Rodney Scott's World of BBQ: Every Day Is a Good Day by Rodney Scott and Lolis Eric Elie celebrates the James Beard award-winning chef's incredible culinary legacy through his life story, family traditions, and unmatched dedication to his craft. There are many barbecue cookbooks – there are many cookbooks period – but this one is special and actually made me want to fire up a grill during a blizzard while I was reading through it. Take a look at our preview to see the magic that awaits you here.

The Twisted Soul Cookbook: Modern Soul Food with Global Flavors by Deborah VanTrece provides invigorating authentic Southern soul cooking with new inspiration. The acclaimed chef elevates classic comfort food into unique, surprising dishes worth celebrating.
It's Not Complicated: Simple Recipes for Every Day by Katie Lee offers recipes designed to simplify cooking (and life!) After years of throwing lavish, carefully planned dinner parties, hosting numerous food shows, and jet-setting across the globe, Katie Lee has settled down. Having married the love of her life (and recently given birth to her first child, a beautiful girl named Iris) Lee prefers quiet dinners at home. Her life is guided by a new principle: Things don't need to be complicated to be good.
Wine Time: 70+ Recipes for Simple Bites That Pair Perfectly with Wine by Barbara Scott-Goodman is an updated edition of the bestselling Wine Bites. This book includes more than 65 all-new recipes for simple, scrumptious bites to go with your glass of vino. There are recipes for every occasion, whether a barbeque or book club, romantic date night or solo dinner, as well as wine pairings that complement each dish. With the added bonus of wine cocktails, step-by-step instructions for putting together a first-class cheese board, and a chapter on sauces and chutneys to elevate an hors d'oeuvres spread, this is a resource for anyone who likes to host parties, drink wine, and dabble in the kitchen.
Water, Wood, and Wild Things: Learning Craft and Cultivation in a Japanese Mountain Town by Hannah Kirshner is an immersive journey through the culture and cuisine of one Japanese town, its forest, and its watershed -where ducks are hunted by net, saké is brewed from the purest mountain water, and charcoal is fired in stone kilns – by an American writer and food stylist who spent years working alongside artisans.
Rice: A Savor the South® Cookbook by Michael W. Twitty shares fifty-one recipes for rice in Creole, Acadian, soul food, Low Country, and Gulf Coast kitchens, as well as in the kitchens of cooks from around the world who are now at home in the South. Exploring rice's culinary history and African diasporic identity, Twitty shows how to make the southern classics as well as international dishes.
Eat Cool: Good Food for Hot Days: 100 Easy, Satisfying, and Refreshing Recipes that Won't Heat Up Your Kitchen by Vanessa Seder, recipe developer, chef, and working mom, comes to the rescue with 100+ dishes you won't hate to cook when it's already hot as blazes. Inspired recipes focus on low- and no-heat techniques, make-ahead dishes served cold or at room temperature, smart seasonal ingredients to keep your body cool, and vibrant pairings of flavors, textures, and colors. Seder draws respectfully upon culinary common sense from across the globe, including Asian, Indian, South American, Mexican, Middle Eastern, and Mediterranean influences. Each recipe is designed for the home cook, to reduce labor and cooking time, and to keep kitchens cool and diners sated without sacrificing flavor or texture.
Other titles of interest include:
Canada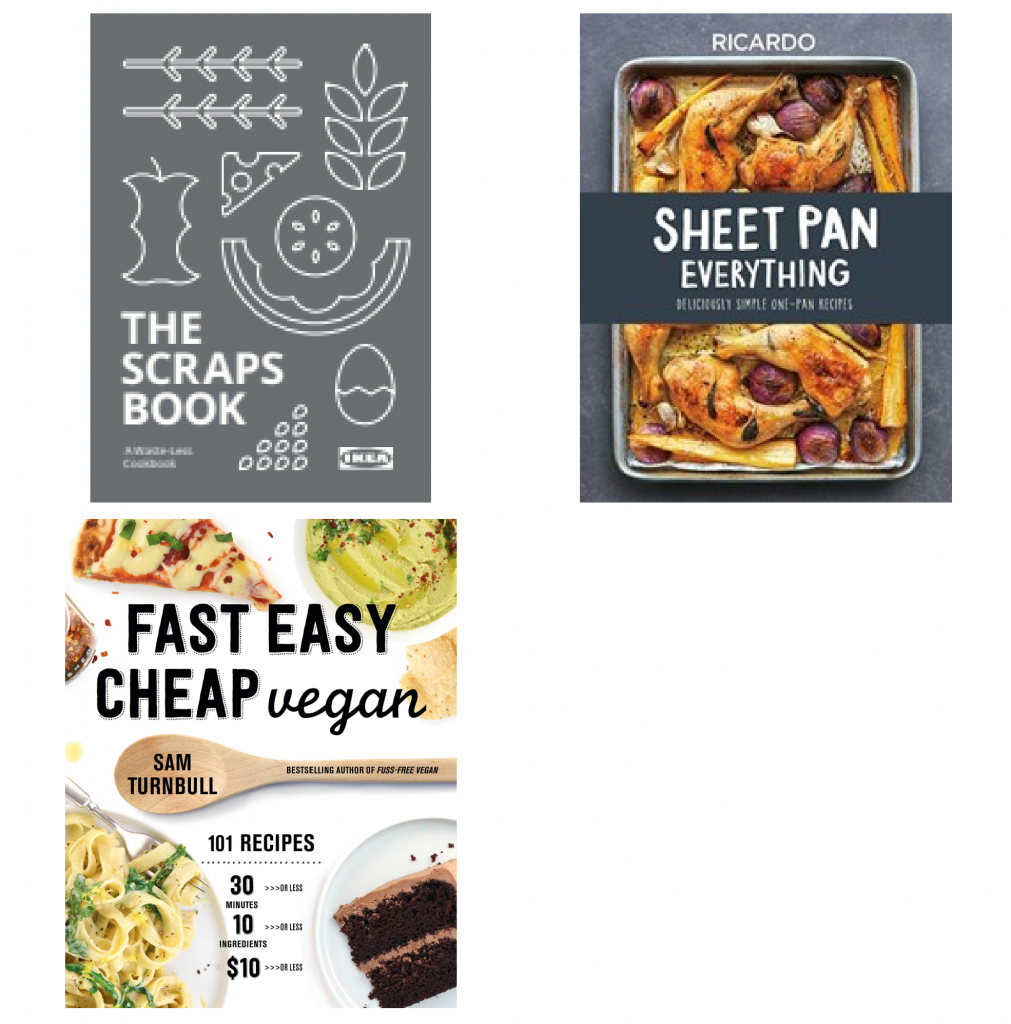 Sheet Pan Everything: Deliciously Simple One-Pan Meals by Ricardo Larrivée is a simple, beautiful, well-balanced cookbook, where you will find more than 75 easy-to-follow recipes that are ready in a snap. This title has recipes that the whole family will enjoy, as well as strategies for how to plan your family's meals for the week.
Fast Easy Cheap Vegan: 101 Recipes You Can Make in 30 Minutes or Less, for $10 or Less, and with 10 Ingredients or Less! by Sam Turnbull, the bestselling author of Fuss-Free Vegan, and creator of the blog It Doesn't Taste Like Chicken, delivers her eagerly awaited second cookbook. She is cooking up even simpler vegan comfort food – on a budget, with fewer ingredients, and in 30 minutes or less!
The Scraps Book: A Waste-Less Cookbook: Limited Edition: To enable Canadians to live more sustainably at home, IKEA Canada releases a collaborative project with 10 North American chefs featuring unique recipes using kitchen scraps. See Darcie's antipasto post for more information.
United Kingdom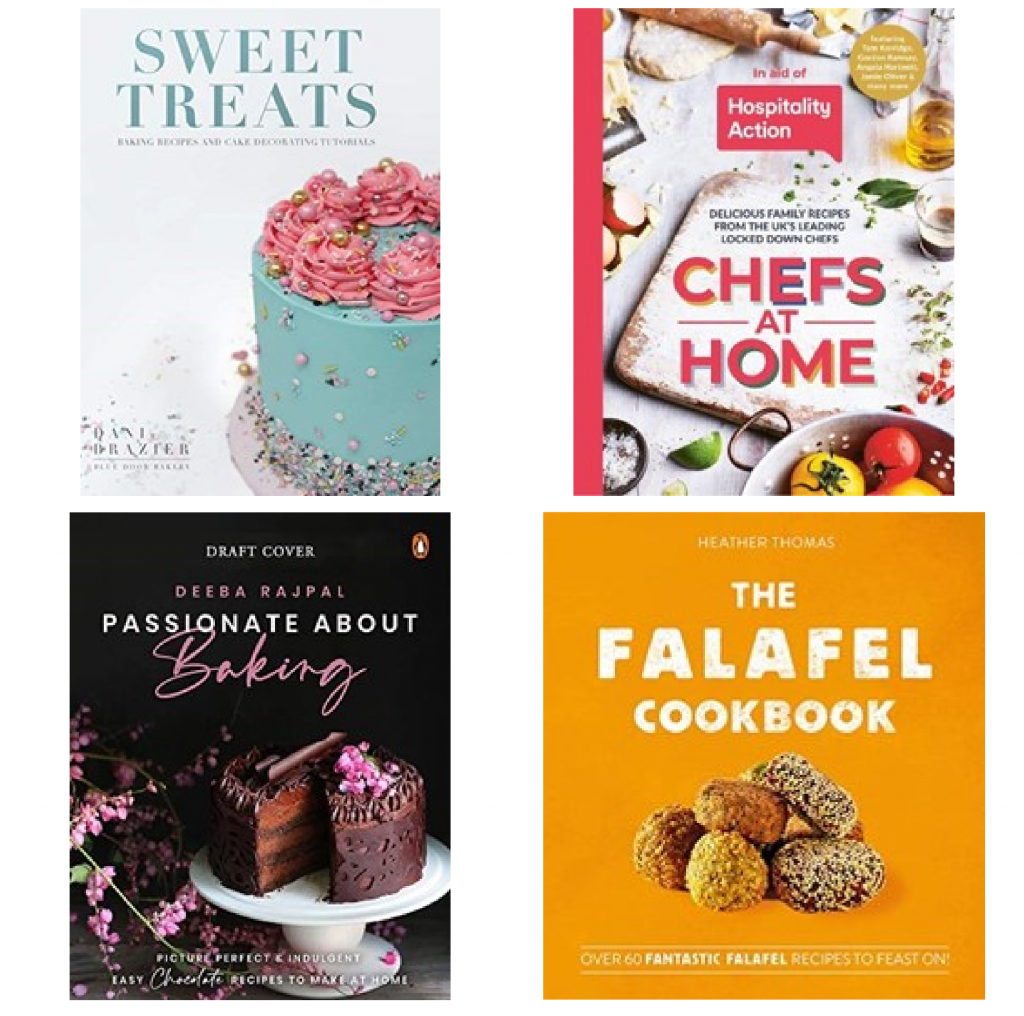 Passionate About Baking: Picture Perfect, Indulgent & Easy Chocolate Recipes To Make At Home by Deeba Rajpal: A home baker for over 20 year this food stylist and photographer put her passion to the test when she decided to blog about her adventures in the kitchen. Soon, her simple yet delectable dessert recipes accompanied by beautiful, evocative imagery struck a chord with people across the globe, turning her blog into one of the most popular blogs in the country. Inspired by her blog, this book is a collection of some of her most loved chocolate dessert recipes for every kind of indulgence. With healthy, tasty yet easy-to-make chocolate delights -from tarts, tea cakes and cupcakes to cookies, traybakes and cakes for special occasions – and simple tips and tricks, Deeba shows you how working with chocolate can be oh so fun! I believe this book is being released in India and the UK this month and coming to the US in October.
The Falafel Cookbook: Over 60 Fantastic Falafel Recipes to Feast On! by Heather Thomas: The falafel may be pretty humble but it is extremely versatile and packed full of delicious potential whether you're sticking to traditional chickpeas or experimenting with more unconventional flavours like beetroot, pumpkin or butterbean. From light accompaniments and simple salads to sandwiches and substantial mains, this book will provide you with plenty of ways to enjoy this healthy and nutritious street food, all year long.
Chefs at Home: Delicious Family Recipes from the UK's Leading Lockdown Chefs by Various Authors includes 54 recipes from the culinary stars of the UK. For more details, see the article Darcie wrote earlier this month.
Sweet Treats: Baking Recipes and Cake Decorating Tutorials by Blue Door Bakery by Dani Brazier: In this baking book you'll find easy to make, delicious recipes from cakes to cupcakes and cookies to baked donuts. This book has step by step photographs of all the techniques, easy to follow tutorials and the author's all time favourite recipes. I was able to review an electronic copy and it is gorgeous! Dani is the owner of Blue Door Bakery where she shares her passion, love of cake decorating and business knowledge with the public.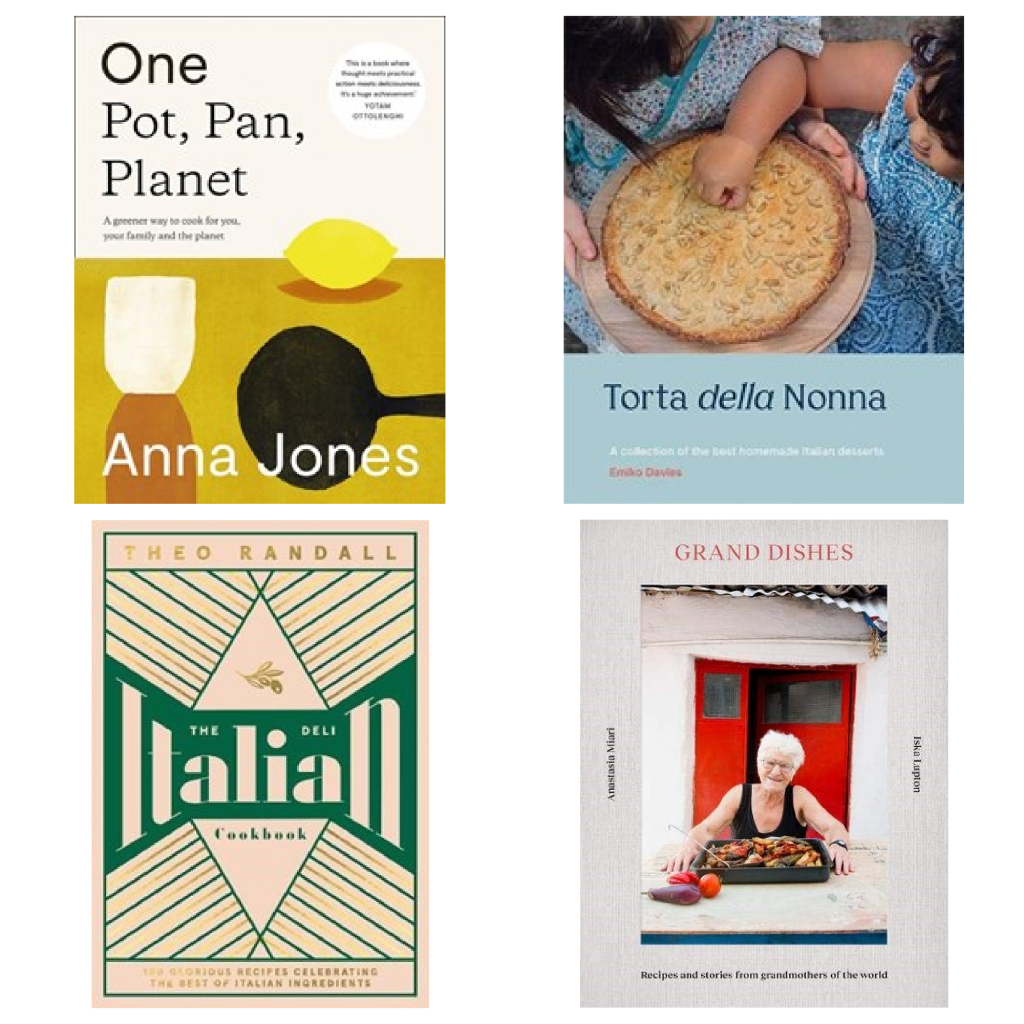 The Italian Deli Cookbook: 120 Glorious Recipes Celebrating the Best of Italian Ingredients by Theo Randall: From biscotti to limoncello, the world's love affair with Italian delis goes back many years. The Italians have taken the very best of Italian produce all over the world. This new book showcases delicious family recipes using favourite ingredients. Easily accessible in supermarkets now too, and worth paying a little extra for the very best, these are transformative ingredients that can make for easy lunches and suppers, or dinner party centrepieces.

One: Pot, Pan, Planet: A Greener Way to Cook for You, Your Family and the Planet by Anna Jones has published in the UK and AU this month and will be released in the US in November as A Greener Way to Cook: Joyful, Delicious Recipes for One-Pot Meals That Are Good for You and the Planet. Award-winning cook Anna Jones blazes the trail again for how we all want to cook now: quick, sustainably and stylishly. In her exciting new book, the 'queen of the greens' gives over 150 recipes alongside dozens of ideas for super-quick one-pan, one-tray suppers.
Torta della Nonna: The Best Italian Sweet Recipes by Emiko Davies is a collection of her sweet recipes from Florentine, Acquacotta and Tortellini at Midnight, plus five brand new recipes. I love Emiko's books and love that all her sweet recipes is now in one beautiful volume.

Grand Dishes: Recipes and Stories from Grandmothers of the World by Iska Lupton and Anastasia Miari: This is not a book about what it's like to be old. It's about what it's like to have lived. There is no food quite like a grandmother's time-perfected dish. Inspired by their own grandmothers – and the love they shared through the food they served – the authors embarked on a mission: from Corfu to Cuba, Moscow to New Orleans, and many more in between, they set out to capture cooking methods, regional recipes and timeless wisdom from grandmothers around the world. The title is set to release in the US in July.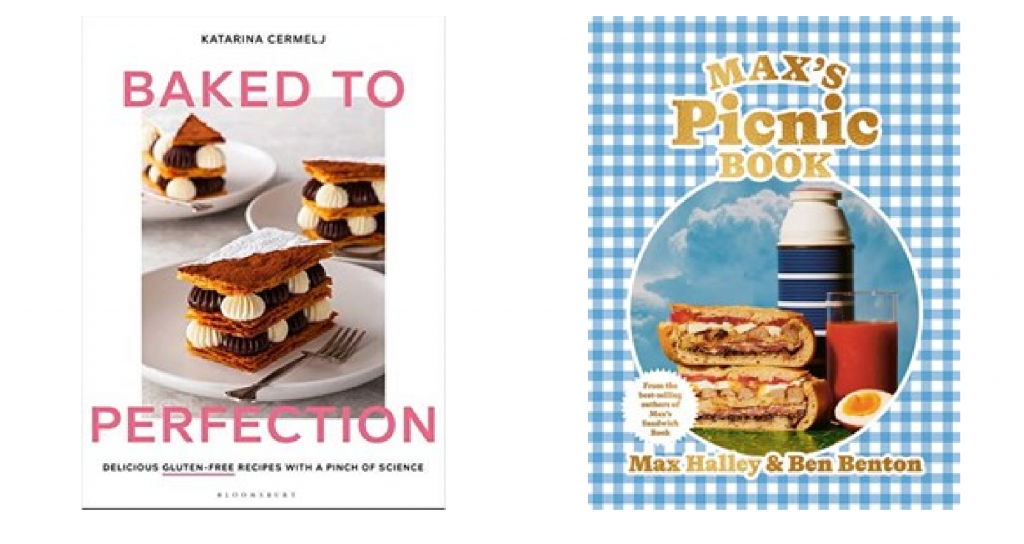 Baked to Perfection: Delicious Gluten-free Recipes, with a Pinch of Science by Katarina Cermelj begins with a thorough look at the gluten-free baking basics: how different gluten-free flours behave, which store-bought blends work best, and how to mix your own to suit your needs. Covering cakes, brownies, cookies, pastry and bread in turn, Katarina shares the best techniques for the recipes in that chapter, and each recipe is accompanied by expert tips, useful scientific explanations and occasional step-by-step photography to help you achieve gluten-free perfection. This is one gorgeous baking book!

Max's Picnic Book: An Ode to the Art of Picnicking by Max Halley and Benjamin Benton is the follow up the Sunday Times Bestseller, Max's Sandwich Book. Both an ode to the long-standing art of eating outdoors, and a typically entertaining and frivolous reinvention of it, Max and Ben will first dissect the highs and lows of picnic history, before creating 24 themed menus of portable dishes, of every shape and size, that you can prepare ahead of time and serve cold or at room temperature when you get to your destination, wherever that destination might be.

The Noodle Cookbook: 101 Healthy and Delicious Noodle Recipes for Happy Eating by Damien Lee: From Shanghai 'Yum Cha' Noodles, Mr Lee's Cracking Katsu and Bamboo Buckwheat Noodles to Tonkotsu Pork Noodles and Cantonese Wanton Soup, this book has a recipe for every craving, including vegetarian, vegan and gluten free friendly options.
Other titles of interest:
Australia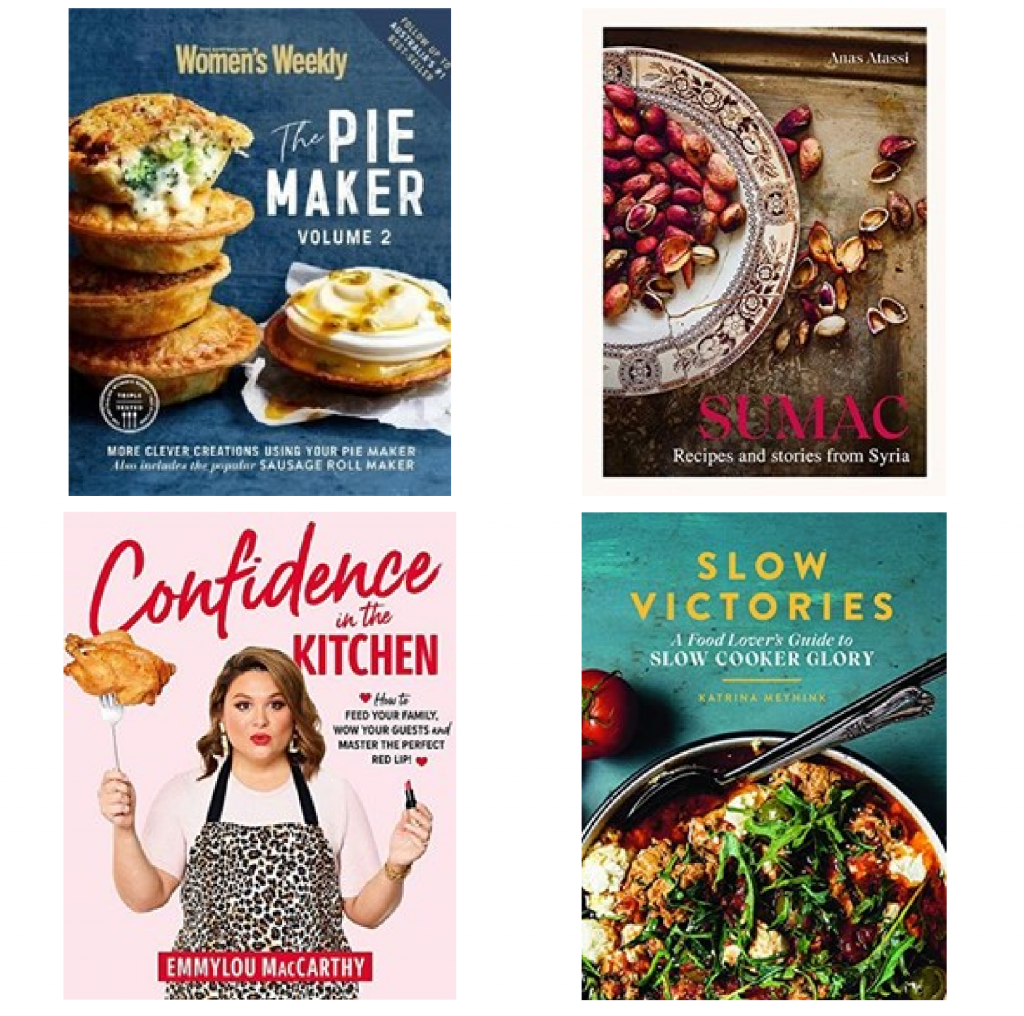 Sumac: Recipes and Stories from Syria by Anas Atassi: This title will be published in the US next month. Sumac includes over 80 recipes inspired by Atassi's family recipes and travels, as well as the stories, celebrations and memories of loved ones in Syria that inspired the recipes. It includes the wonderful Friday breakfasts he'd eat in his grandmother's garden, his mother's sfeeha, along with the falafel he now loves to make for his friends, along with many other mezze, salads, meats, vegetables, and desserts. Sumac is the vibrant gem of the spice world and this book artfully captures the brilliance and beauty of the cuisine of Syria.

Confidence in the Kitchen: How to Feed Your Family, Wow Your Guests and Master the Perfect Red Lip! by EmmyLou MacCarthy: Television presenter, writer and social media sensation MacCarthy is famous for giving women the confidence to do and try new things. And in her hotly-anticipated debut cookbook, you will learn how easy it is to create delicious weeknight dinners and wow guests with confidence. The book combines her trademark attitude to making cooking and fashion easy with her most-requested recipes, and tips and tricks that will truly change your life.
The Pie Maker: Volume 2: More Clever Creations Using Your Pie Maker by Australian Women's Weekly: In Australia, the humble pie maker has become a must-have household appliance. In response, The Pie Maker (Vol 1) became an instant best seller, reprinting multiple times within months of hitting the shelves. It was clear the nation wanted more! Now we have even more amazing ideas for pastry pies and a host of other sweet and savoury creations.
Slow Victories: A Food Lover's Guide to Slow Cooker Glory by Katrina Meynink removes the angst from the dinner rut with creative ways to use slow cookers for surprising results. It throws off the idea that cookbooks directed by convenience are necessarily virtuous or bland, instead delivering ideas for across the week that readers may not have associated with this indispensable kitchen appliance.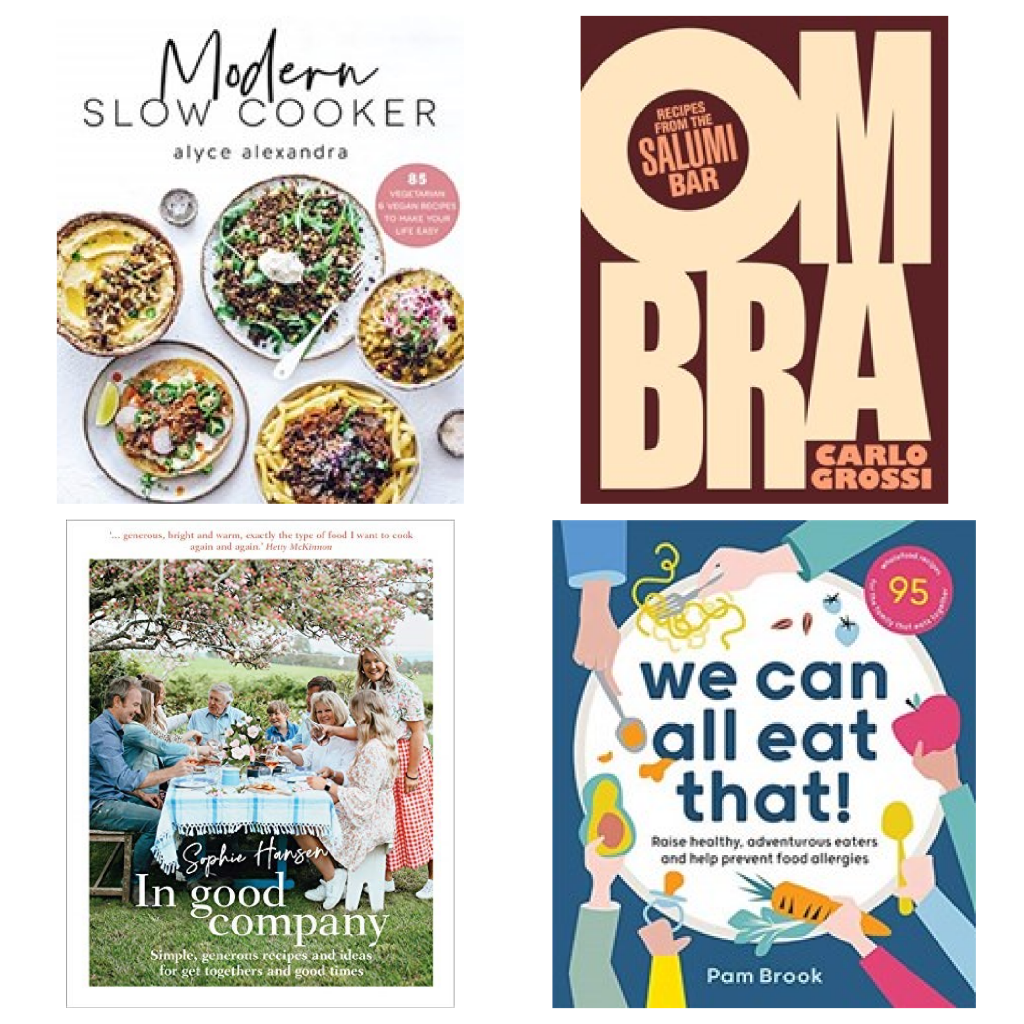 Modern Slow Cooker: 85 Vegetarian and Vegan Recipes to Make your Life Easy by Alyce Alexandra: is filled with satisfying and nutritious meat-free dishes that take very little effort and will have everybody coming back for seconds. Alyce shows how the slow cooker shines for healthy and cost-effective ingredients such as veggies, grains, pulses and legumes, and shares all her tips and tricks for best results with your slow cooker. The 85 foolproof recipes cater to vegetarian, vegan, dairy-free, egg-free, gluten-free, nut-free and soy-free diets – though you won't hear any complaints from the meat eaters at the table, either!
We Can All Eat That!: Raise Healthy, Adventurous Eaters and Help Prevent Food Allergies | 95 Wholefood Recipes for the Family that Eats Together by Pam Brook serves up creative, delicious and informed ideas and recipes for introducing allergens to your children from when it matters most – the beginning. A must for parents of children four to 24 months, this book proves that raising healthy, adventurous eaters doesn't have to be hard work.

Ombra: Recipes from the Salumi Bar by Carlo Grossi (son of chef Guy Grossi) brings together the very best of Carlo's food and hospitality, from lovingly aged meats and homemade sausages to mouth-watering pizzas, all sorts of irresistible bar snacks (cicchetti), hearty evening meals, fermented and pickled vegetables and fruits, and delectable desserts to finish off the evening. With family heirloom recipes and dishes inspired by Carlo's travels all over Italy, the Italian ideals of preservation and quality produce are on proud display in this collection of familiar and tasty food that's made for sharing over a lively conversation.
In Good Company: Simple, Generous Recipes and Ideas for Get Togethers and Good Times by Sophie Hansen is filled with all the recipes and inspiration you need to encourage you to throw open your doors and invite people in, because there's never been a better time to bring people together.
Other titles: