Ottolenghi finally embraces shortcuts
March 15, 2021 by Darcie
In 2019, Yotam Ottolenghi pared down his notoriously long ingredient lists to write Ottolenghi Simple, and it seems like the chef is further embracing this relaxed, 'less-is-more' philosophy. In his latest NY Times article, Ottolenghi admits that he is embracing all sorts of ingredient shortcuts, an admission that seemed impossible just a few years ago. Part of his new found chill stems from the pandemic that has upended the way people work, shop and eat.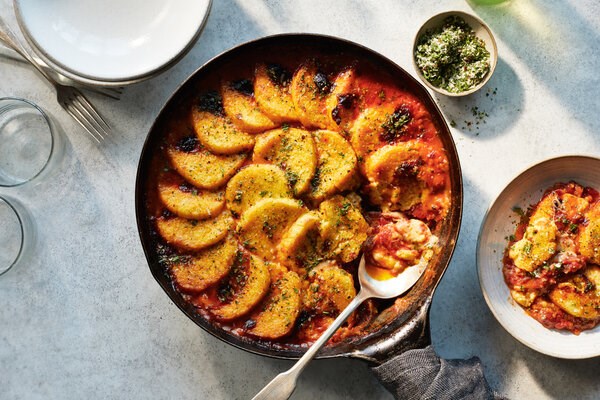 "When it came to cooking and ingredients, most of my ideas about what's right or wrong, along with other notions of food purity, went out the window circa April 2020," the chef notes, saying that he abandoned those concepts "in favor of making whatever it took to get me through each day safe and sane." Ottolenghi turning to quick-cook polenta, tinned tomatoes, and canned beans? You might think this is further proof that the world has indeed gone mad.
The chef notes that he has not abandoned things like long-simmering traditional polenta or making beans from scratch, but he now recognizes how being an ingredient 'snob' can turn people off from cooking. The risk of putting such ingredients on a pedestal "is that we either don't have the confidence or don't see the occasion to ever use them." If you offer shortcuts, however, you might encourage someone to try something that could lead them down a path that eventually ends in a trip to a specialty shop for artisanal polenta and slowly stirring for half an hour or more. It makes me feel better that even someone as dedicated to food as Yotam Ottolenghi has struggled with getting meals on the table during this pandemic.
Ottolenghi has a new title coming this autumn, read more about it here.
Photo of Cheesy baked polenta in tomato sauce from Ottolenghi at The New York Times by Yotam Ottolenghi