Food news antipasto
January 17, 2021 by Darcie
Over a year ago, we received news that a new scripted series about the life of Julia Child would be coming to HBO Max. At the time of the last announcement, Joan Cusack was slated to be in the starring role. We've finally received an update on this project. Filming has begun, but two-time BAFTA (British Academy of Film & Television Awards) winner Sarah Lancashire will assume the role of the beloved Child.
Restaurants around the world have taken a beating during the pandemic. Headline after headline of cherished, longstanding eateries permanently shuttering their doors appear in newspaper food sections. Chefs are scrambling for ways to keep afloat, with many turning to takeout as a lifeline to surviving lockdown and reduced seating capacity. We encourage our readers to patronize local restaurants as much as possible to help them weather this crisis. Some chefs have pivoted to a new method of remaining viable: meal kits. In places where takeaway does not make sense or is not allowed, meal kits provide an alternative way to enjoy a meal that you do not have to start from scratch. The Guardian's Jay Rayner reports on two restaurant groups that have adapted well to this arrangement, Berenjak and Pizarro. Reading the descriptions of these meal kits makes me want to buy a ticket to the UK just to try them, and I will definitely check on my local eateries to see if they have meal kit options. With Valentine's Day just around the corner – a huge money maker for the restaurant industry – there will no doubt be specials of all kinds (delivery, kits, takeaway) – so keep that in mind as well.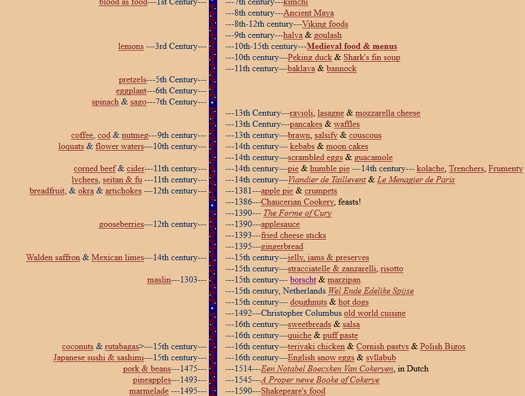 Several years ago (my how time flies), we reported on a fascinating food timeline that traces the origins of foods from salt to sausage and ice to ice cream. The entries were informative and even surprising – the timeline states that popcorn predates olive oil by about 1,000 years. We recently learned that the timeline was in danger of being lost forever as the site's founder, librarian Lynne Olver, had passed away from leukemia in 2015 and no one had stepped up to take on the work of maintaining the site. However, after Eater's Dayna Evans published a profile of Olver and her project last year, several groups expressed interest in managing the timeline and the accompanying collection of reference materials. Olver's family settled on Virginia Tech's Special Collections and University Archives to carry on her work. While the website is currently down for maintenance, VT hopes to have it up and running again in a couple of weeks. Olver's 2,300 volume food reference library has also been transferred to the university, where it will be available to the public as well.
If your New Year's resolution was to read more books about food, you will enjoy this article on Food Tank listing 24 books about food that will make you think. Food Tank is the nonprofit created by Danielle Nierenberg with a goal of education in sustainable and healthy eating. Highlights from the list include the upcoming Animal, Vegetable, Junk: A History of Food, from Sustainable to Suicidal by Mark Bittman (February 2021) and English Pastoral: An Inheritance by James Rebanks, which "tells the story of how one farmer restored life that had disappeared on a small farm in England, and demonstrates that it is still possible to leave a legacy for future generations."