Food in fiction
December 30, 2020 by Darcie
While I enjoy little else more than cracking open a cookbook and devouring it like a novel – especially books that immerse themselves in a particular culture – it's fun to read other types of books where food is a prominent feature. Some books skillfully weave both recipes and prose, such as In Winter's Kitchen by Beth Dooley, which I received as a Christmas present this year. Others contain no recipes at all but the food is as important as any character or scenery. Over at Eater San Francisco, Luke Tsai presents us with his seven favorite books of 2020 that are not cookbooks (or do not only contain recipes), for a list of the best food-focused books of the year.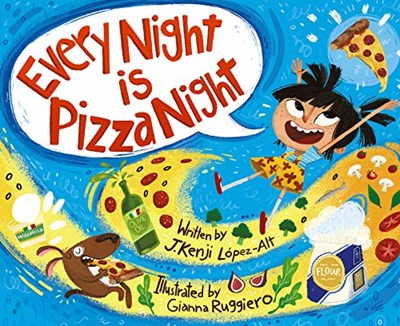 One of these is a cookbook with a twist, Every Night Is Pizza Night by J. Kenji López-Alt. Written as a picture book, it "tells the story of a kid named Pippo who embarks on a data-based, wholly scientific journey through her neighborhood to prove that pizza is the greatest food in the entire world," while discovering other delicious items throughout the adventure.
Other books are more straightforward fiction featuring delicious food. In Memorial by Bryan Washington, for example, the characters express their emotions the way many of us do, through cooking together or presenting loved ones with a gift of a specially cooked food. A few books on Tsai's list are graphical novels in which food is highlighted as well. In addition to Tsai's list, I've read great reviews of The Best American Food Writing 2020, an anthology of several wonderful pieces. Do you have a favorite food-adjacent book for 2020?