Great British Bake Off – Recap – Weeks 9 and 10
November 28, 2020 by Darcie
Because Darcie posted about the hate mail Laura received after making to the final, we decided not to bombard everyone with another GBBO post and combined the final and semi-final recaps into one. Each of us will take turns with our own impression of the last two episodes after the rundown of challenges.
Reminder: New shows for those watching on Netflix. On December 4th, Netflix will air season 3 of the holiday shows. Hooray!
Here are our bakers:
Dave, 30, Armoured Guard
Hermine, 39, Accountant (eliminated Week 9)
Laura, 31, Digital Manager
Linda, 61, Retirement Living Team Manager (eliminated Week 5)
Loriea, 27, Diagnostic Radiographer (eliminated Week 1)
Lottie, 31, Pantomime Producer (eliminated Week 7)
Makbul, 51, Accountant (eliminated Week 2)
Marc (a.k.a. Hamish, his dog's name), 51, Bronze Resin Sculptor (eliminated Week 8)
Mark, 32, Project Manager (eliminated Week 6)
Peter, 20, Accounting and Finance Student
Rowan, 55, Music Teacher (eliminated Week 3)
Sura, 31, Pharmacy Dispenser (eliminated Week 4)
Week 9 – Patisserie
Signature: 12 savarins with any filling or flavor, with an "exquisite finish" – in 2 hours, 45 minutes.
Judges gave fairly high marks all around. After Paul says that Laura's savarins were slightly over-spiced Prue tells Laura that no one would send back her babas in a restaurant. Paul teases Laura by saying that he would send it back – but just to meet the chef. Peter gets a Hollywood handshake for his alcohol-free babas.
Recipes:
Technical: Paul chooses a Danish cornucopia, aka a Horn of Plenty, and bakers have 2 hours, 15 minutes.
All of the bakers struggle with the shaping of this bake, with Laura in tears because she does not understand the directions. High temperatures in the tent make the chocolate scrolls all but impossible to add. Dave's result looks more than a little phallic, causing Paul and Prue to burst out laughing. Hermine is the only one who gets the shape right, but is downgraded for her decorating. Laura is last, Dave third, Hermine second, and Peter wins the challenge.
Recipes:
Showstopper: 25 mini cube-shaped cakes in 4 1/2 hours.
Peter goes all out with three different types of sponges, mousses, and glazes with chocolate, raspberry and pistachio taking different forms in each one. Peter says he listens to his cake so he knows when they are done. Hermine decides to use all new recipes because her practice bakes didn't go well. Dave also chooses three different cakes, with white, milk, and dark chocolate. Laura goes with a Black Forest theme – one of Paul's favorites.
Hermine's mousses don't set, and the heat wreaks havoc with Laura's chocolate glaze. Paul says that Dave's cakes are a triumph, and Peter's cakes are judged to be clever and gorgeous. Peter wins star baker, and Hermine is sent away.
Recipes:
Darcie's thoughts on the semifinal: I really dislike gimmicky technical challenges that depend more on architecture than actual baking, like this horn. Hermine's departure broke my heart. As soon as she said she was winging it in the showstopper, I was worried. The judges said it was very close, and this is where I wish they would include previous weeks when making an on-the-line decision, but there is no doubt that based on this week's bakes, Hermine was the correct choice. I'm impressed with how Dave keeps taking the judge's criticism to heart and keeps improving. Laura is my baking twin when it comes to making a mess when baking. My husband says I can destroy the kitchen while making a bowl of oatmeal.
Jenny's thoughts on the semifinal:
As Darcie stated, can we just have normal high-end bakes and not a Rubrics cube creation or a bust-o-cake? Hermine was my girl. I understand why she had to leave and truly no one else deserved departure. I am the opposite of Laura, I clean as I go but I don't know if I could while under time constraints. Darcie and I always talk about getting together to bake or cook – now that she has confessed to her messiness I may have to leave the country.
Week 10 – Final
Signature: 8 perfect custard slices in 2 1/2 hours.
Laura almost falls apart when her yuzu custard doesn't set, and Noel tries to cheer her up. Prue & Paul both like her flavors, however. Peter's raspberry slices are gorgeous and he gets high marks from both Prue and Paul for looks and taste. Dave also gets good reviews, although his custard is slightly stodgy.
Recipes:
Technical: For the last technical, the bakers must make 8 walnut whirls in 2 hours.
Again, a chocolate challenge in high temperatures causes everyone to sweat, figuratively and literally. The bakers run to the refrigerators throughout the challenge to chill the various components. We learn that Laura hates coffee, both the smell and the taste. Laura's first attempt at marshmallows fails, so she has to start from scratch. Although Laura's whirls end up looking more whirl-y than Peter's, she is in last place. Dave's "neat as a pin" whirls earn him first place.
Recipes:
Showstopper: The final showstopper was a colossal dessert tower reflecting their personal experience. The base must be a large cake, with the remainder showcasing at least three areas of baking such an choux, biscuit, etc. – in 4 1/2 hours. They must also make part of their tower's structure edible.
Laura's base was a carrot cake with orange-cinnamon cream cheese frosting, and the other features were chocolate-orange Chelsea buns, key lime tarts, and lemon macarons. Peter chose a classic Victoria sponge as his base, along with a crisped rice pyramid featuring Christmas-spiced friands, chocolate-orange biscuits, and choux buns with lemon & blackberry fillings. Dave decided to do a "tower of redemption", picking all things that the judges said he didn't make well throughout the series, including a Frasier cake, chocolate babkas, brownies, and choux buns with a raspberry filling.
Paul asks Laura if she can do him a favor and keep her bench clean for once. Peter says he has watched Bake Off for "half of his life," amusing the judges. He gets uncharacteristically flustered when trying to make his "Battenberg" biscuits, but he finally gets the checkerboard shape on the second attempt. Dave finishes his bakes with time to spare, but Peter and Laura got all of their components finished in time, even if Peter's decorations were a little slapdash.
The judges marked Laura down for presentation, but said all of her flavors were amazing and the bakes themselves were wonderful. It was one of her best efforts. Paul says Peter's Victoria sandwich was one of the best examples of the cake he'd ever eaten. Both judges loved the choux buns, but thought the friands were a bit doughy and stodgy. Prue proclaimed Dave's Frasier cake "heaven", but Paul thought the babka was a bit overbaked and Prue said the profiteroles were too flat and under-baked.
Prue and Paul both felts that this was the closest final in the history of Bake Off. Laura thought that Dave would squeak by, but the judges settled on Peter, making him the youngest winner ever of the GBBO.
Recipes:
Darcie's thoughts on the final: Will the GBBO ever learn that chocolate challenges need air conditioning? Or at least set those challenges earlier in the competition before the temperatures soar. Also, I take back what I said about Laura being my baking twin – no twin of mine doesn't like coffee. The walnut whirls are probably the first technical that I am interested in making at home; they might become my weekend baking project.
I thought this was one of the better showstopper finals in the GBBO, especially considering some of the silly technical challenges earlier this season. Just when I thought GBBO was heading off a cliff they swerved at the last minute and stayed on the road. Let's hope that holds for next year. I can't help but love Peter as the winner – when I was his age I barely made cakes from a boxed mix. His enthusiasm is contagious (maybe not the best word for 2020, but you know what I mean), and I find myself saying 'wee' a lot more than I ever did before. Dave and Laura were both gracious runners-up. I wish I could have seen what Hermine would have done for this showstopper.
Jenny's thoughts on the final: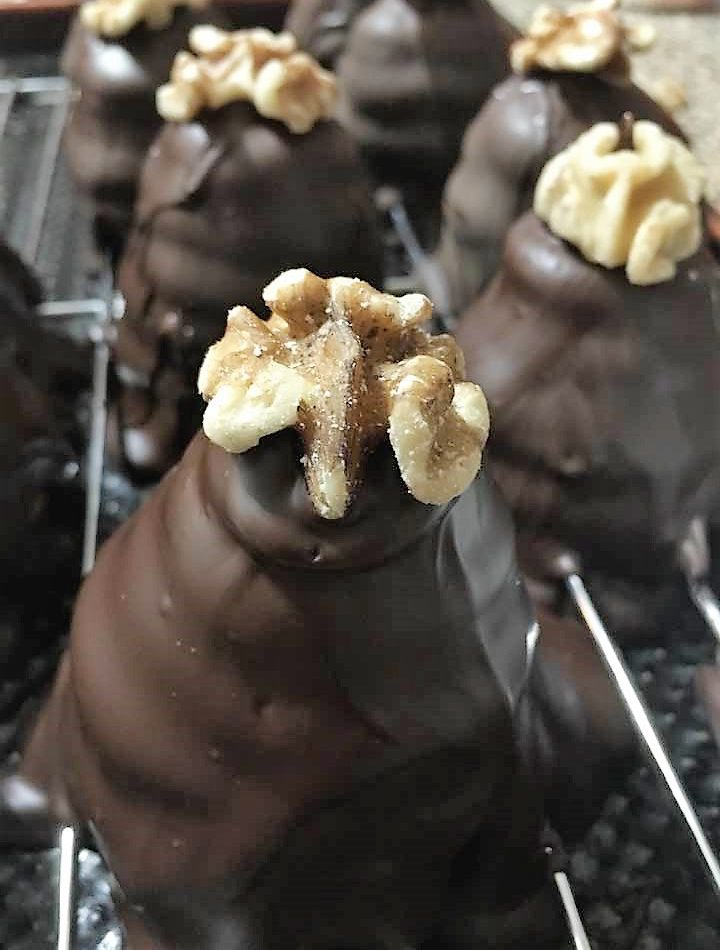 I agree with Darcie and her summation. Noel won my heart back with his kindness toward Laura. I love it when they show their caring side and not always careening off the edge for the cheap laugh.
EYB member and one of my best friends, Robin made the walnut whirls yesterday. Damn, girl. She said that they were a pain in the "arse" but the coffee ganache and cookie were fantastic.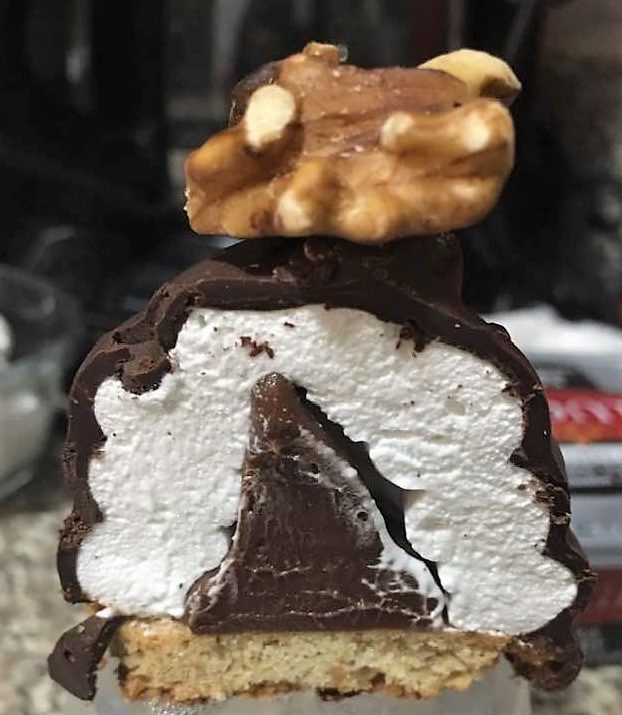 Robin is my star baker!