Flavorbomb Cookbook Giveaway – Bob Blumer Quick Bites
November 16, 2020 by Jenny
Enter our US/CA giveaway to win one of three copies of Bob Blumer's Flavorbomb: A Rogue Guide to Making Everything Taste Better.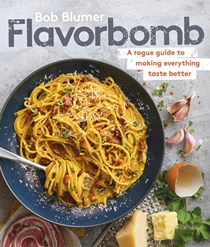 When I received Flavorbomb, I was so excited I posted a photo on Instagram and began a conversation with the author, Bob Blumer. If you are a fan of Food Network – you might remember Bob, his toastermobile, and his shows Surreal Gourmet and Glutton for Punishment. They were so fun and exciting. Bob continues spreading the culinary excitement in his new title, Flavorbomb. You can take a look inside the book on the publisher's website.
What happens when you take Bob and his gastronaut superpowers and apply them to great recipes? You get superhero dishes. Why just make a waffle or a latke for brunch when you can make a Waffle latke with smoked salmon and a poached egg or in lieu of a chicken burger make Bobs Bang Bang Thai chicken burger. This is not frou-frou food; this is fantastic approachable food sprinkled with magic dust.
The first 85 pages are filled with the author's culinary knowledge and sets out techniques and guidance to prepare you for your journey to dropping flavorbombs in your own kitchen. He even sets out a tongue-in-cheek Terms of Service for the reader to agree to. This demonstrates his passion for food, for waste management – viewing ingredients and food as the precious commodities they are – and teaching others just how easy it is to cook delicious food.
Bob was kind enough to answer some questions for our members. He is a joy to correspond with and the man drives a toastermobile for heaven's sake – little known fact about me – I love toast!
---
Gastronaut, cookbook author, artist, and eight-time Guinness World Record holder Bob Blumer is best known as the creator and host of Food Network's award-winning shows Surreal Gourmet and Glutton for Punishment. In his seven cookbooks and appearances around the globe, Bob transforms ordinary ingredients into wow-inspiring dishes through simple cooking methods and artful presentations that have become his culinary trademark.
Publishers Weekly summed up his last book Glutton for Pleasure as: "equal parts memoir, lavish art book, multi-genre soundtrack, and culinary tour de force". Bob is an ambassador for Second Harvest in Toronto, and Love Food, Hate Waste, a national zero-waste initiative. His other car is a toastermobile.
Q: What first triggered your interest in cooking and do you remember your first cooking memory?
A: As a child, I was the world's fussiest eater. Between the ages of 12 and 14, I lived on nothing but iceberg lettuce and tomato sandwiches on Wonderbread toast. But when I got to college, my tastes started to evolve, and when I moved into my own apartment, I discovered that cooking was the simplest way to elevate one's quality of life on a student budget.
Q: If you had to describe your cooking style, what would it be?
A: If you are familiar with my previous cookbooks, you know that in the past I have been known to play with my food. As the self-christened Surreal Gourmet, I made edible creations that fooled the eye into thinking you were eating something you were not (think savory "cupcakes" made with braised lamb shanks, topped with beet-dyed pink mashed potato icing). While I would like to think that I was making Salvador Dalí proud, I was also leaning heavily on a highly styled surreal presentation that in retrospect was a work-around for not having a formal culinary education. I no longer feel the need to apologize for that, and now the gloves are off. The single focus of my cooking these days is to channel everything I have gleaned from my travels into bold, stimulating flavors that maximize the flavor potential of every bite.

Q: Are you a cookbook collector? If so, tell us about your collection? What do you look for in a cookbook?
A: I pick up the occasional cookbook and clip recipes that catch my eye, but I am not a collector. Mostly I am interested in them from a professional perspective about the design and writing approaches. With that said, some of the non-conventional books I have loved are Salvador Dali's Les Diners de Gala, Martin Picard's original Au Pied de Cochon, which includes art, poetry, and musings from his staff, Jeremy Charles' Wildness: An Ode to Newfoundland and Labrador, his love letter to Newfoundland, and Amanda Cohen's graphic cookbook Dirt Candy: A Cookbook.
Q: What is the best part of your job? Do you sometimes feel like working with food all day keeps you from wanting to get creative in the kitchen?
A: I don't work in a professional kitchen, so I never get tired of cooking. And my "job" as a Gastronaut is so different from day to day that it always keeps me stimulated. In non-lockdown times, my days vary from developing recipes to creating food-centric installations, to making life-size sculptures of moose with lobster antlers, to hosting infomercials, to attempting to break food-related Guinness World Records. It's the job your guidance teacher never told you about.
Q: What is your go-to for a quick dinner?
A: I co-wrote a grilled pizza book with my friend Elizabeth Karmel, so not surprisingly, I make a lot of grilled pizzas. Otherwise, I do a lot of pan-seared fish on sautéed greens.
Q: Tell us a bit about Flavorbomb. I love this book because it teaches a home cook about flavor combinations and how to add more punch to their meals.
A: Simply stated, Flavorbomb is the distillation of my life's journey. The first half of the book is the real "money." I have literally eaten my way around the globe, learning tricks, hacks and techniques from street food vendors, to line cooks, to Michelin-starred chefs. I share everything I have learned, in practical, applicable ways that will help you up the ante on everything you make. I'm talking about developing the courage to season with wild abandon, caramelize your food to within an inch of its life, double down on the ingredients that can increase the pleasure factor, and taste and adjust on the fly.
The second half consists of step-by-step recipes that use all the tricks in my rogue arsenal to deliver the addictive, life-affirming dishes we all crave.
Q: What other projects are you working on?
A: Right now I am focused on my virtual book launch which wasn't exactly what I had envisioned when I wrote the book. After that, will be back to my usual mix of creative food-centric projects.
Special thanks to Bob for being uber amazing and to Appetite by Random House for offering three copies of Flavorbomb in our giveaway below open to US/CA members. Follow Bob here: Website and on Instagram – you will not be sorry.
Special thanks to the publisher for offering three copies of this title to our members in the US and Canada. Entry options include answering the following questions in the comments section of this blog post.
Which recipe in the index of this title would you make first?
Please note that you must be logged into the Rafflecopter contest before posting or your entry won't be counted. For more information on this process, please see our step-by-step help post and this forum post. Once you log in and enter your member name you will be directed to the next entry option – the blog comment. After that, there are additional options that you can complete for more entries. Be sure to check your spam filters to receive our email notifications. Prizes can take up to 6 weeks to arrive from the publishers. If you are not already a Member, you can join at no cost. The contest ends at midnight on April 23rd, 2021.
a Rafflecopter giveaway