Downsizing the holiday meal
October 29, 2020 by Darcie
For many of us, the holidays are not going to be the same this year. Diwali and US Thanksgiving are just a few weeks away, with Christmas, Hanukkah, Kwanzaa following soon after. Instead of large feasts and gatherings we will likely be preparing smaller meals for fewer people. For those who have lost their jobs or have reduced income due to the pandemic, scraping together a celebratory meal at all will be a challenge.
When you are accustomed to making a huge meal, downsizing it can be difficult. Do you reduce the number of items, or just make each one smaller? What's the best way to halve or divide recipes? These are just a few of the questions we will be asking ourselves. Thanksgiving dinner in the US typically revolves around a large turkey, but making an 16-pound turkey for just a few people will result in leftovers that will last far longer than one's appetite to eat them. Turkey producers are aware of this and are processing smaller birds. But even a 10-12 pound bird is large if you are only feeding 2-4 people. You might consider getting a turkey breast, and the folks at Food52 recently conducted an experiment to determine the best way to cook one of those.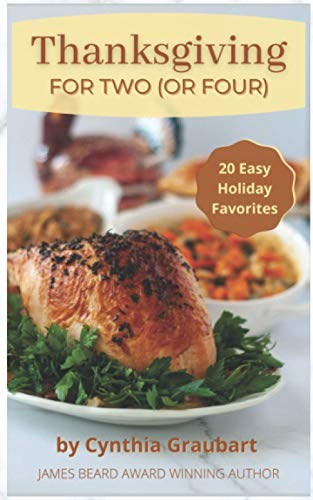 Roasting a smaller bird like a chicken is another good way to go. With over 1,300 roast chicken recipes available online in the EYB Library, your imagination is the only limit. You might think even smaller and serve Cornish game hens. Getting your own tiny roast bird tends to make any occasion seem special. This is also a good time to splurge on something that you wouldn't usually make like duck breast or a small beef tenderloin roast.
An abbreviated gathering might be the perfect opportunity to experiment with something completely outside your usual tradition. Think lamb chops, a vegetarian feast, a themed meal from your favorite cookbook, a Thanksgiving picnic (if the weather cooperates), or a small but elaborate charcuterie board with a wine you wouldn't normally buy.
There is even a book dedicated entirely to this concept, Cynthia Graubart's Thanksgiving for Two (or Four): Downsized Recipes for Today's Smaller Thanksgiving Dinner, released earlier this month. Cynthia accurately predicted this dilemma and wrote this for all of the families who are gathering differently this year. All the traditional favorites are included, from comforting casseroles and side dishes, to elegant turkey breasts, homey skillet turkey thighs, and mini pies for dessert. Some of the turkey entrees are sized to yield those coveted leftovers for a second meal or sandwiches, but not so much that it is an eternity of repeats. Although the book is geared toward Thanksgiving, the recipes and concepts will carry through to other holiday gatherings.
Here are additional resources for planning a downsized holiday meal: