September 2020 New Cookbook Review
September 24, 2020 by Jenny
September shares a bounty of beautiful titles and we still have October and November's releases to be excited about. Yet again many books that were slated for this month were moved to October and beyond. So be sure to check the looking forward to 2020 cookbooks post if you are wondering where titles have been shifted to. I continue to update this preview weekly. And we're looking to 2021 already (see a few covers from 2021 titles below).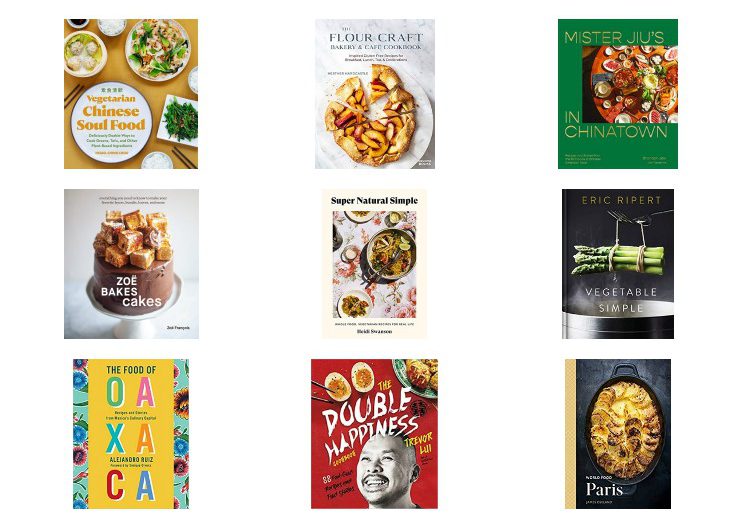 Be sure to check out our EYB Cookbook Club summary for this month and find out what we are cooking through next month. We also have a new monthly roundup: The Great Big Cookbook Club Roundup that outlines cookbook clubs and their cooking selections each month.
Be sure to follow us on social media (buttons located on right lower sidebar on the home page). If you would like to order any of these titles, using our affiliate links (right beneath the social media buttons) or the BUY BOOK button on the book details page, will help to support EYB and our indexing efforts (as well as help us to include worldwide options in some promotions). Most of our titles are released in multiple regions and are available locally and through worldwide sellers such as the Book Depository that make global titles available to more members with free international shipping.
If there is an

available for a cookbook, look for the orange icon in the blurb. Clicking on that icon will take you directly to the Preview.
Please note: If I have reviewed a copy of the title, I have written a short impression below, or in the case of some titles, I have shared publisher's synopses. Certain of these titles will have promotions coming soon. If I haven't reviewed the contents of the title, the books are listed under "Other titles of interest" or noted as such. In the future, those books may be the subject of a Cookbook Tidbits post.
United States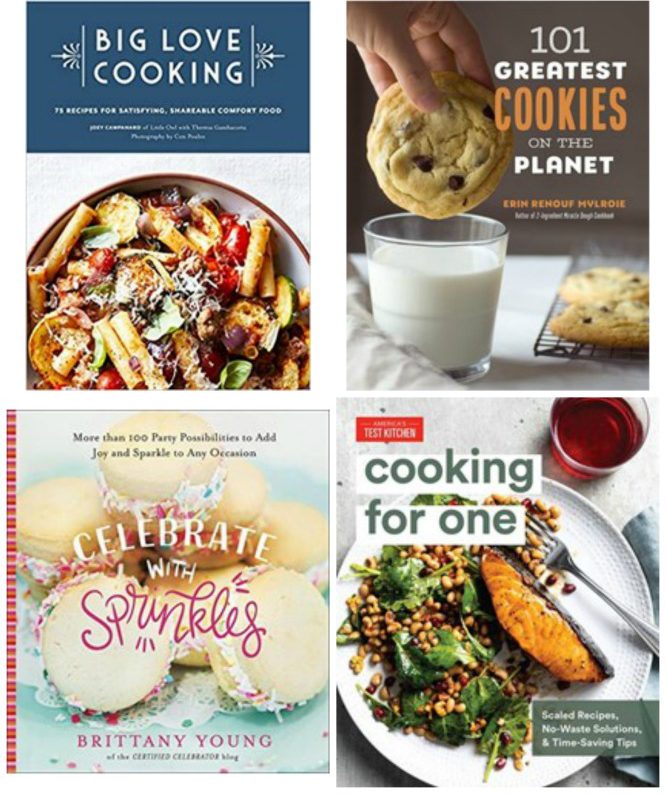 101 Greatest Cookies on the Planet by Erin Mylroie is loaded with recipes from a play on the famous Levain cookie, Utah style pink frosted cookie, Lemon meatballs, and French toast cookies with maple glaze. This is an ideal book to add to your cookie baking arsenal.

Big Love Cooking: 75 Recipes for Satisfying, Shareable Comfort Food by Joey Campanaro, the chef and owner of popular Little Owl restaurant in New York City, shares 75 accessible recipes infused with Mediterranean flavors inspired by Joey's Italian-American family. Beautiful imagery and dishes that cover brunch through dessert (oh my goodness, the desserts!), make this a book any lover of food will enjoy.
Celebrate with Sprinkles: More Than 100 Party Possibilities to Add Joy and Sparkle to Any Occasion by Brittany Young shows us how to make every day a special occasion and bring fun and joy into our homes. Whether you're looking for entire themes or that one amazing, icing-on-the-cake idea to push your next get-together over the top, you'll find it here.
Cooking for One: Scaled Recipes, No-Waste Solutions, and Time-Saving Tips for Cooking for Yourself by America's Test Kitchen helps to make cooking for yourself special without becoming a chore with unfussy yet utterly appealing meals that rely on ingredients you already have on hand. Don't have exactly the right ingredients? No problem with a "Kitchen Improv" box on every page, the book offers ideas for altering the dish so it works for you. And for those weeks you didn't make it to the supermarket, a "Pantry Recipe" icon to clearly mark recipes that rely entirely on the provided checklist for a well-stocked pantry. This title will show you when it's worth making two servings (but never more) with the "Makes Leftovers" icon, and suggest how to transform those leftovers into a whole new meal.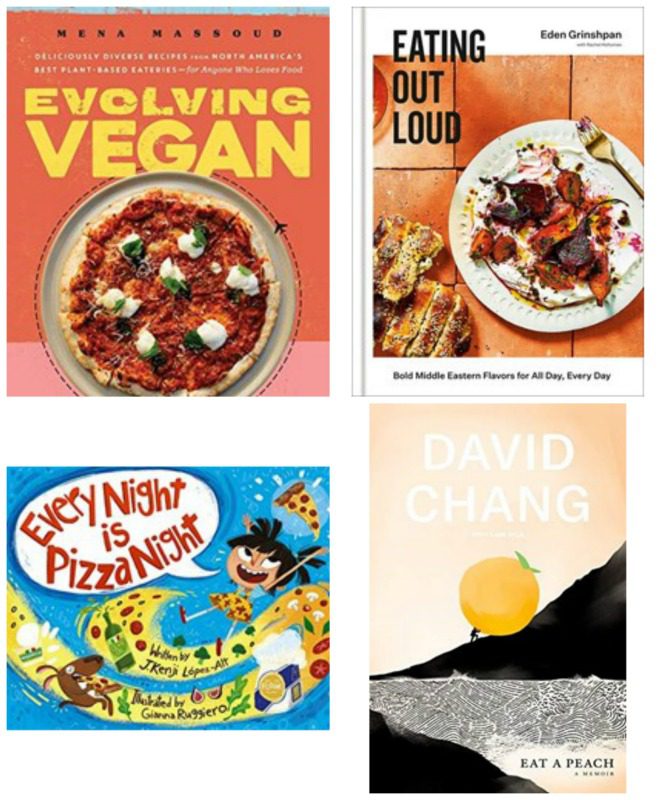 Eat a Peach: A Memoir by David Chang: In this memoir, Chang lays bare his self-doubt and ruminates on mental health. He explains the ideas that guide him and demonstrates how cuisine is a weapon against complacency and racism.
Eating Out Loud: Bold Middle Eastern Flavors for All Day, Every Day by Eden Grinshpan shares dishes that are full of vibrant flavors and contrasting textures, bursting with vegetables and spices reflecting the author's laid-back but thoughtful approach. As with most Middle Eastern-centric cookbooks, the photographs are beautiful with a rainbow of colorful dishes to inspire you. But what I am loving the most are the recipes for baked dishes such as Date banana bread with coconut crumble, Sesame challah monkey bread, Tahini sheet cake and Pistachio-cardamom coffee cake.

Every Night Is Pizza Night by J. Kenji López-Alt is a story about open-mindedness, community, and family with a bonus pizza recipe for young readers to cook with their parents. This is a book for the young foodies in your life.
Evolving Vegan: Deliciously Diverse Recipes from North America's Best Plant-Based Eateries―for Anyone Who Loves Food by Mena Massoud: From actor and avid traveler comes a collection of diverse, delicious, and accessible vegan recipes inspired from dishes all over the world, perfect for everyone at the table!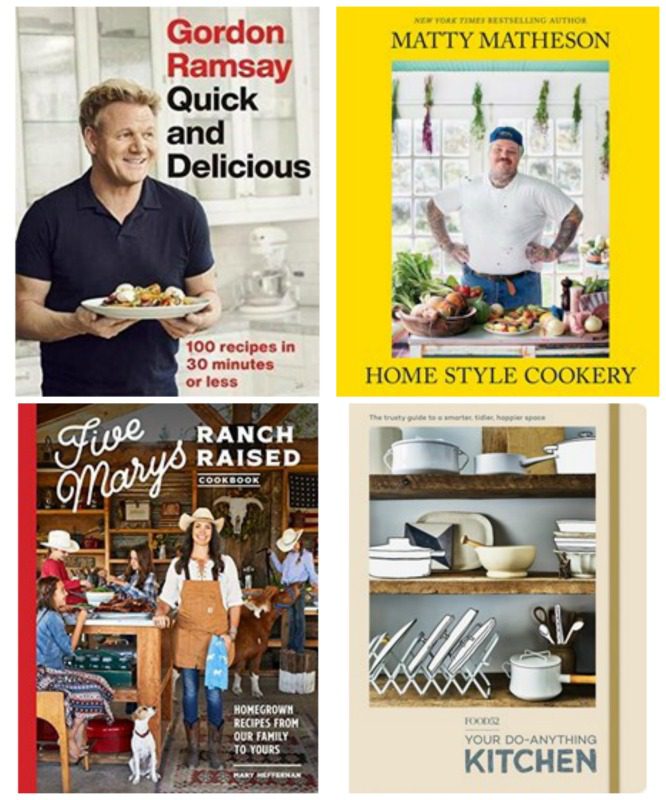 Five Marys Ranch Raised Cookbook: Homegrown Recipes from Our Family to Yours by Mary Hefferan: Popular Instagram storyteller Heffernan invites readers to share in her life at Five Marys Farms, where she and her husband, Brian, ranch along with their four growing daughters all named Mary (I can hear the excuses now "I thought you called for the other Mary"). Along with authentic, inspirational stories and breathtaking photos, Mary shares 75 of her favorite family-style recipes.

FOOD52 The Do-Everything Kitchen: Your Handy Guide to a Smarter, Tidier, Happier Space: From the editors of Food52 comes the ultimate guide to organizing your kitchen, filled with wisdom and useful tricks for creating and maintaining your most efficient cooking space.

Quick and Delicious: 100 Recipes to Cook in 30 Minutes or Less by Gordon Ramsay shares 100 tried and tested recipes that you'll find yourself using time and again. All the recipes take 30 minutes or less and use readily available ingredients that are transformed into something special with Gordon's expertise.
Matty Matheson: Home Style Cookery by Matty Matheson: Here Matty opens up his home and shares his approachable and tasty style of cooking. He dispenses more than 125 new and original recipes that he cooks at home for family and friends, along with his secrets for executing them perfectly. Like everything Matty cooks, the food inside is big, bold, and tasty. Matty's first book Matty Matheson: A Cookbook was his culinary story, this offering is for you to build yours. I was blown away with how much I enjoyed his first cookbook and Home Style Cookery is just as spectacular if not more so. With recipes from breads to desserts, stunning photography, and recipes with global flavors, classic dishes, and more, this book lacks absolutely nothing.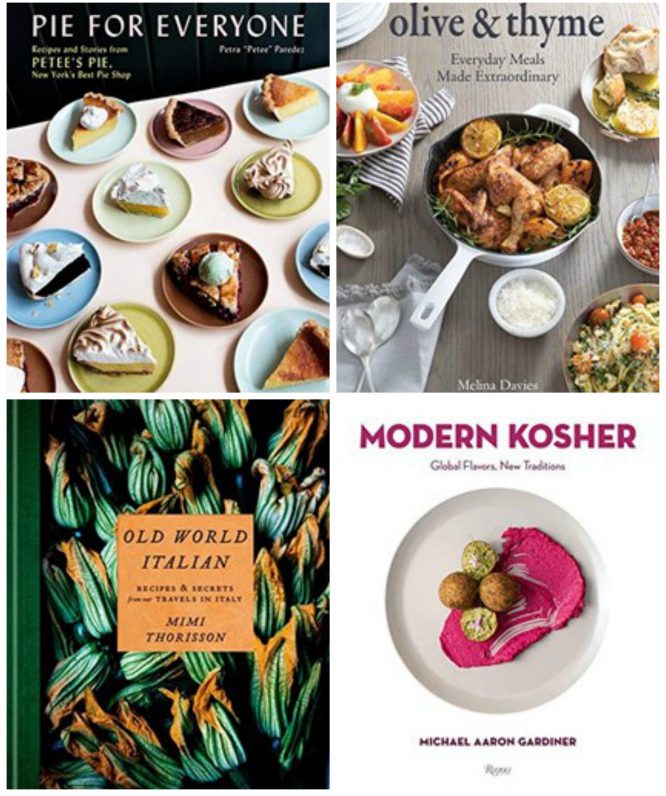 Modern Kosher: Global Flavors, New Traditions by Michael Gardiner is a dynamic, inspiring set of recipes that includes Asian, Indian, Latin, European, and Israeli influences, fresh ingredients, and modern techniques to present a bright, elevated vision of everyday kosher cooking.
Old World Italian: Recipes and Secrets from Our Travels in Italy by Mimi Thorisson is the third offering from the award-winning blogger who leads a seemingly idyllic life in France. In this book, Mimi dives into Italian cooking based on her travels and tackles each region of Italy with the passion she applies to everything. Stunning photographs and recipes from pasta to desserts are shared beautifully.

Olive & Thyme: Everyday Meals Made Extraordinary by Melina Davies shares the restaurant and marketplace owner's most popular recipes (drawn from French, Californian, Italian, and Middle Eastern influences), along with her breezy, practical entertaining advice. Another gorgeous cookbook to tempt us this month, filled with photographs and recipes ideal for weeknight dinners or weekend get-togethers. I am making the Bacon macaroni and cheese this weekend!

Pie for Everyone: Recipes and Stories from Petee's Pie, New York's Best Pie Shop by Petra Paredez shares recipes from the author's famed Petee's Pie Company. Petra begins with the foundations of pie from procuring ingredients, to tools and equipment and measurements. She continues with easy-to-follow, step-by-step guidance, to an end goal of a tender flaky crust and perfectly balanced filling and countless pies. Beautiful photographs, detailed instructions, and spectacular recipes such as Pistachio cloud pie, Chestnut rum chess pie, and Chile verde pork pie, make this a pie baker's dream. For more pie inspiration, see my article Were you a pie baker when pie baking wasn't cool?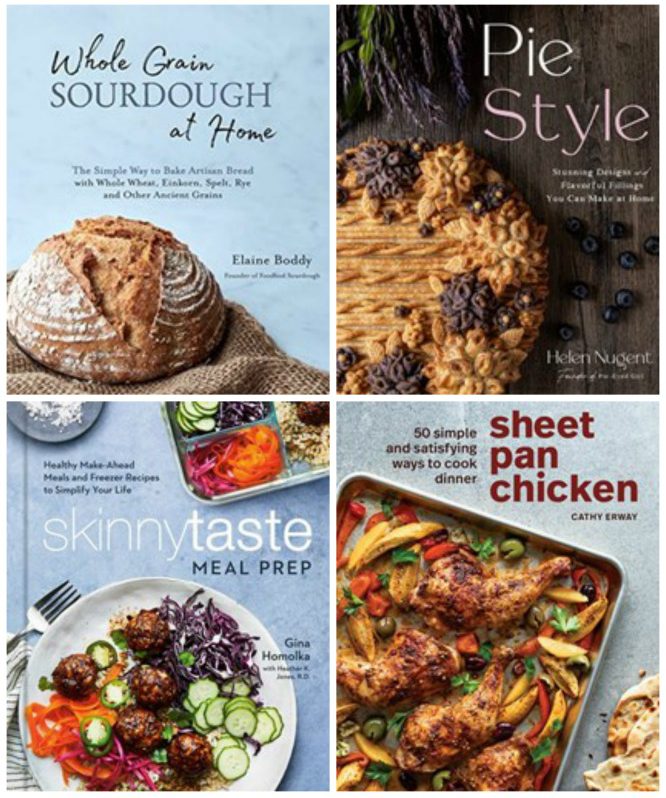 Pie Style: Stunning Designs and Flavorful Filings You Can Make at Home by Helen Nugent: Speaking of pie inspiration, Helen, the Pie Eyed Girl brings inspiration by the buckets in her first cookbook. Colorful doughs, stunning designs (see our EYBD Preview), and flavor-packed recipes result in another pie-baking book that you will want to add to your collection, post haste.

Whole Grain Sourdough at Home: The Simple Way to Bake Artisan Bread with Whole Wheat, Einkorn, Spelt, Rye and Other Ancient Grains by Elaine Boddy shares all of the author's secrets with you for sourdough success. Elaine's master recipe and philosophy for bread making are all about simplicity, flexibility, and having fun. With one bowl, a handful of simple ingredients, minimal kneading, and less than 24 hours, you can have a loaf of delicious whole grain sourdough bread on the table. Packed with a step-by-step sourdough starter guide, plenty of tips, and 60 recipes for everything from sandwich loaves to focaccia, this book gives you everything you need to bake amazing whole-grain bread.

Sheet Pan Chicken: 50 Simple and Satisfying Ways to Cook Dinner by Cathy Erway and The Editors of Taste is a cookbook of 50 recipes that combines everyone's favorite protein with the ease of cooking it all in one pan. Featuring recipes from established chefs including Melissa Clark, Sara Jenkins, Louisa Shafia, and Priya Krishna, this book has something for everyone. Globally inspired dishes include any-day favorites as well as remixed classics, all with the ease of cooking an entire meal on one pan.

Skinnytaste Meal Prep: Healthy Make-Ahead Meals and Freezer Recipes to Simplify Your Life by Gina Homolka teaches us how to save time, money, and calories with #1 New York Times bestselling author's simple, smart solutions for healthy freezer meals, ready-to-serve dishes, grab-and-go breakfasts and lunches, ingenious "next-overs," and more. Did you know we have indexed all 1,646 recipes from the Skinnytaste blog? (EYBDP Done?)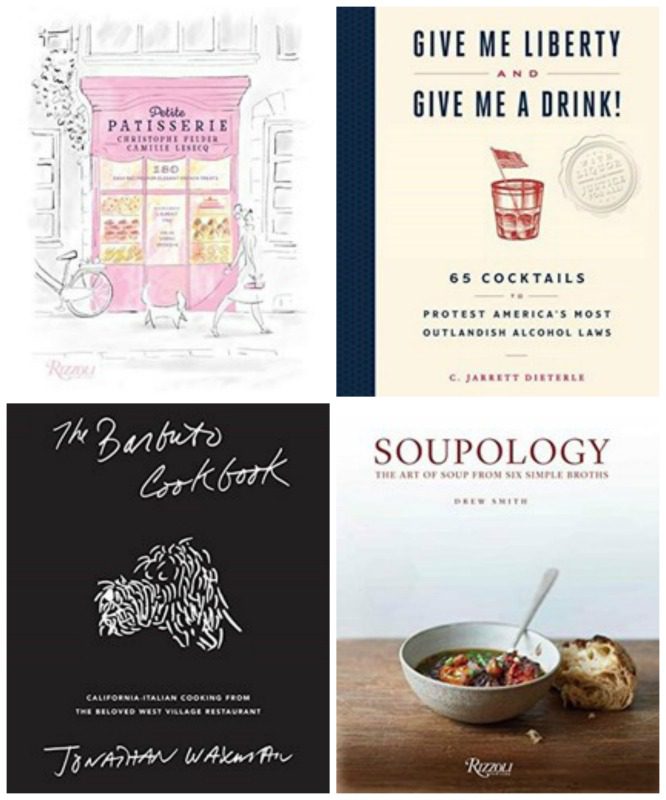 Soupology: The Art of Soup From Six Simple Broths by Drew Smith is an easy-to-follow master class on how to use six "mother broths" to create more than sixty delicious, zero-waste soups that can be nutritious full meals or accompaniments to larger celebrations. A beautiful book filled with photographs that will up your soup game.

The Barbuto Cookbook: California-Italian Cooking from the Beloved West Village Restaurant by Jonathan Waxman invites home cooks into the history, culture, and cuisine of the Greenwich Village dining spot that became both a neighborhood favorite and a New York culinary destination. Jonathan and his team provide the necessary tools for re-creating Barbuto classics, including the famous JW roast chicken, the otherworldly kale salad, specialty pizzas, gnocchi, spectacular desserts, and much more. Every recipe is a flavorful restaurant showstopper adapted for straightforward preparation at home. I cannot wait for this book to get into my hands.
Petite Patisserie by Christophe Felder and Camille Lesecq focuses upon the delightful small pastries that are one of the highlights of the art of French baking. I need to find another word for stunning but no other word does this book justice. I want to tackle everything here and the authors make me feel like I can do so.

Give Me Liberty and Give Me a Drink!: 65 Cocktails to Protest America's Most Outlandish Alcohol Laws by C. Jarrett Dieterle: Cocktails have never lost their appeal and if 2020 calls for anything it certainly is a good cocktail! This book provides a "drunken timeline" for the US from 1620 to the present day along with historical facts and recipes for drinks from the Lemon drop to Drunk snakes on a plane. Pick up a copy for the drink master in your family. Cheers!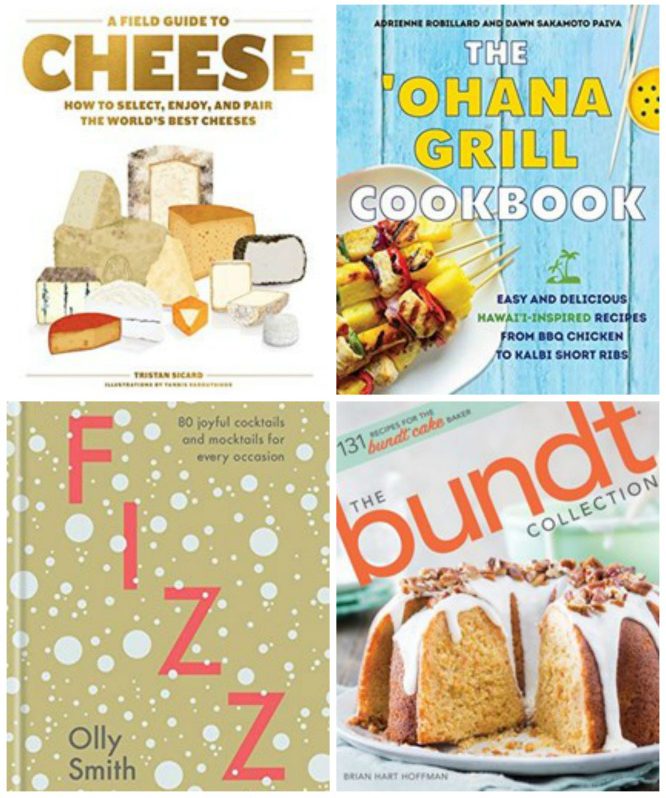 The Bundt Collection: 131 Recipes for the Bundt Cake Baker by Brian Hart Hoffman: Bundts are back! The folks from Bake from Scratch have put together a compilation of incredible cakes along with a lovely chapter on the creation of the famed pan filled with historic photographs. Rocky road Bundt cake, Roasted banana rum Bundt cake, and Basque Bundt cake are just a few examples of the offerings here.
The 'Ohana Grill Cookbook: Easy and Delicious Hawai'i-Inspired Recipes from BBQ Chicken to Kalbi Short Ribs by Adrienne Robillard and Dawn Sakamoto Paiva: Experience a taste of the island life in your own backyard with 50 flavor-packed and family-friendly barbecue recipes, including Huli Huli Chicken, Grilled Garlic Shrimp, Soy Maple Salmon, and much more! This title is on its way to me and I should be able to tell you more soon.
A Field Guide to Cheese: How to Select, Enjoy, and Pair the World's Best Cheeses by Tristan Sicard begins with the origins of cheese's history and production followed with chapters highlighting the cheeses of the world, guides to countries and territories, and ends with taste and pairings. This book has it all including guides to creating the perfect cheese platter, wrapping cheese to extend its life, and background on each particular cheese and region.
Fizz: 80 Joyful Cocktails and Mocktails for Every Occasion by Olly Smith: Organized by occasion and purpose the drinks in Fizz are as gorgeous as they are simple, with plenty of booze-free bubbles alongside the classics to suit all tastes. Spritzes, negronis, and sangria abound, while those looking to expand their drinks horizons will delight in choices like Spiced rhubarb tonic and booze-free Ginger kombucha. There's a breezy mocktail or a potent punch for everyone, making it easy to turn any day into a celebration.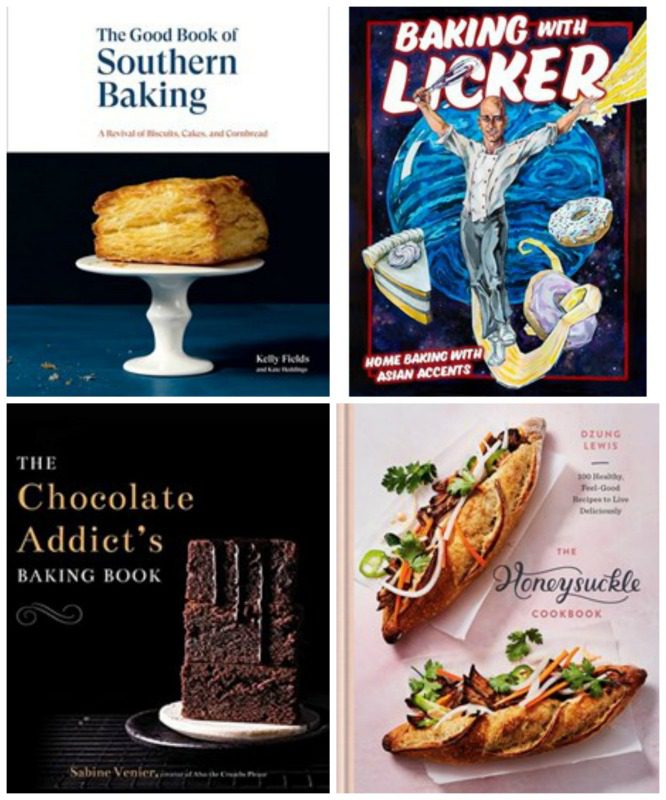 The Chocolate Addict's Baking Book by Sabine Venier: Page Street Publishing has a slew of incredible baking titles being released now and through to the end of the year. This is a drool-worthy book that chocolate lovers will love. With recipes that include Baked chocolate churro cookie sandwiches, White chocolate carrot blondies, and Chocolate chip streusel muffins (these are so good). We will have a promotion on this title as soon as it is indexed.

The Good Book of Southern Baking: A Revival of Biscuits, Cakes, and Cornbread by Kelly Fields and Kate Heddings: Kelly Fields has invested twenty years perfecting recipes such as cornbread and biscuits so that we don't have to. From quick breads to cookies to cobblers, Kelly shares her tried and true recipes that guarantee success. King Cake, Warm chocolate pudding, and a Caramel cake that will make you drool are here in the 150 plus recipes adorned with beautiful imagery. This will be your baking bible whether you are from the South or any point on the map. I cannot wait to hold this book in my hands.

Baking with Licker: Home Baking with Asian Accents by Jason Licker is the pastry chef's second cookbook. His first book Lickerland was reviewed by me in 2018 and was geared more toward professional/high-end creations. In his latest, Jason brings his style and baking prowess to more homespun desserts with just a few elaborate offerings such as a Thai tea opera cake or Banana and soy éclair. Calamansi poppy seed cake, Furikake focaccia, and Thai tea rolls are a few examples of the Asian accented desserts that you can easily create at home. The photographs in the interior of this book are magnificent and the precision and detail in the recipe presentation are as well (see page 32 of the preview for an example). Jason's books do not disappoint and are ideal for the baker who wants to create some unique combinations and not settle for the mundane.

The Honeysuckle Cookbook: 100 Modern California Comfort Recipes by Dzung Lewis contains more than 90 crave-worthy Asian recipes and time-saving tips for busy home cooks from the founder and host of the Honeysuckle channel on YouTube.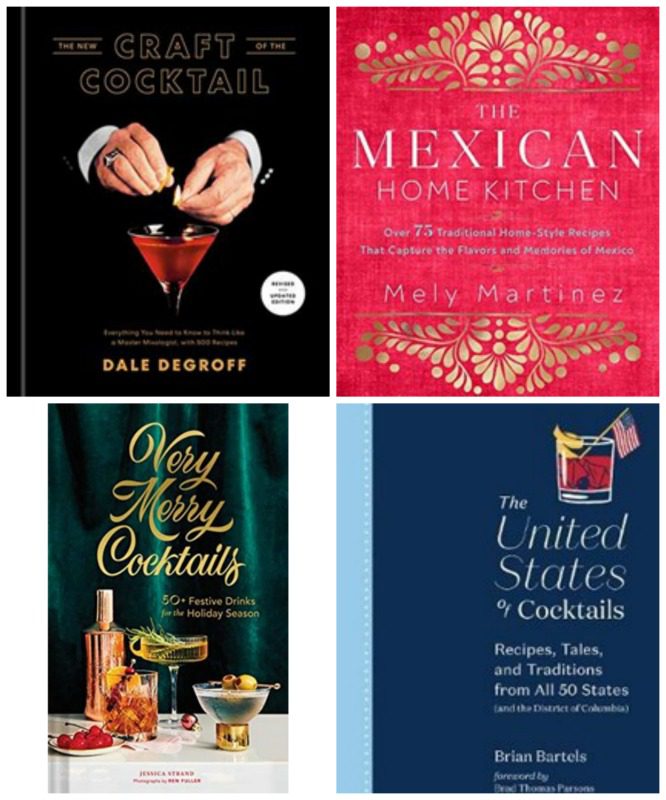 The Mexican Home Kitchen: Over 75 Traditional Home-Style Recipes That Capture the Flavors and Memories of Mexico by Mely Martinez compiles the traditional home-style dishes enjoyed every day in Mexican households – with a great influence from the states of Tamaulipas, Nuevo León, Veracruz, Puebla, Estado de México, Tabasco, and Yucatán. Breakfasts, stews, soups, pastas, rice dishes, and moles, along with dishes like enchiladas, picadillo, and milanesa, are rounded out with delicious salsas, drinks, and desserts.

The United States of Cocktails: Recipes, Tales, and Traditions from All 50 States (and the District of Columbia) by Brian Bartels is a celebration of the cocktail history of every state in America. After traveling around this great nation and sampling many of the drinks on offer, the cocktail authority serves up a book that is equal parts recipe collection, travelogue, historical miscellany, bartender's manual, and guide to bar culture today – with bar and drink recommendations.
Very Merry Cocktails: 50+ Festive Drinks for the Holiday Season by Jessica Strand: This book has something for every holiday occasion, whether a kid-friendly cookie party, an elegant New Year's Eve soirée, or a cozy night in for two. (Yes, there is a slew of cocktail books this year!)
The New Craft of the Cocktail: Everything You Need to Know to Think Like a Master Mixologist, with 500 Recipes by Dale Degroff is an updated edition of the 2002 classic. With this new edition, the original gets a delicious update, bringing expertise from Dale DeGroff, the father of craft cocktails, to the modern bar for a new generation of cocktail enthusiasts. The beloved histories, culture, tips, and tricks are back but all are newly revised, and DeGroff's favorite liquor recommendations are included so you know which gin or bourbon will mix just right.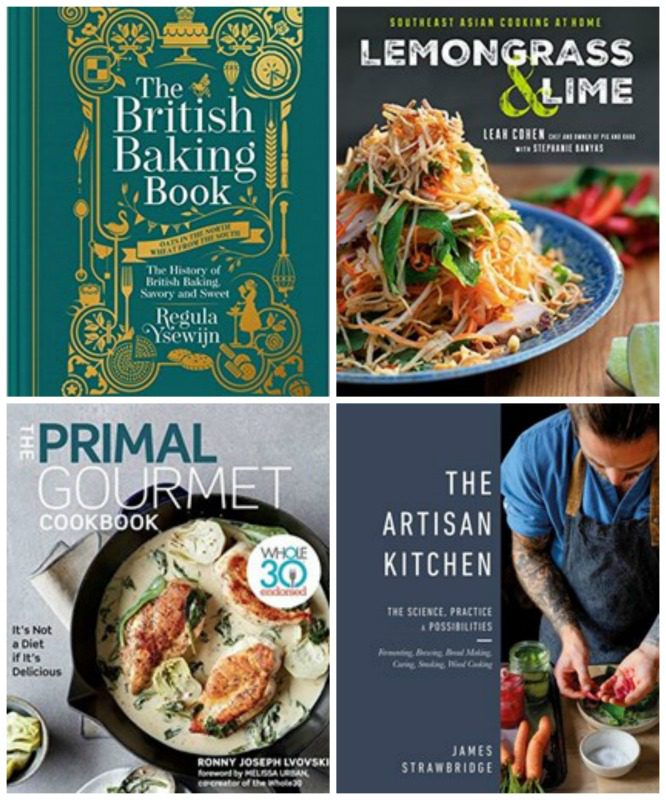 The British Baking Book: The History of British Baking, Savory and Sweet by Regula Ysewijn is the US edition of Oats in the North. Learn more about this lovely book and enter our giveaway here.

Lemongrass and Lime: Southeast Asian Cooking at Home by Leah Cohen and Stephanie Banyas: The flavors of Southeast Asia are the star in this collection of recipes from Leah Cohen, the Top Chef alum and restaurateur.
The Artisan Kitchen: The Science, Practice, & Possibilities of Fermenting, Brewing, Bread Making, Curing by James Strawbridge: This cookbook is for people who like to cook beyond the every day, for whom cooking is an expression of artistry, a way to reconnect with ingredients and processes, and an enjoyment of food before the era of mass production and passive consumption. This cookbook is for people who like to escape to their kitchen and plan a new culinary project.
The Primal Gourmet Cookbook: Whole30 Endorsed: It's Not a Diet If It's Delicious by Ronny Joseph Lvovski: 100+ gluten-free, grain-free, and dairy-free recipes based on the popular Cook Primal Gourmet blog, fully endorsed by Whole30.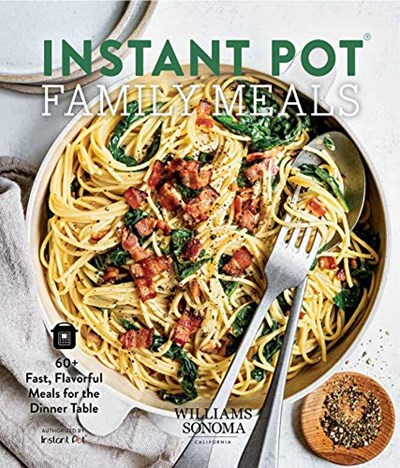 Instant Pot Family Meals by Ivy Manning features a collection of more than 50 classic family recipes – from pot pies and gumbo to chicken wings and fried rice – designed specifically for Instant Pot. Published with the official endorsement of the Instant Pot brand, this title features more than 50 professionally-tested recipes accompanied by beautiful color photography, clear instructions, and helpful tips and tricks for cooking with the Instant Pot. The author is a veteran cooking authority and Instant Pot expert who has previously published two Instant Pot cookbooks and focuses on healthy family cooking.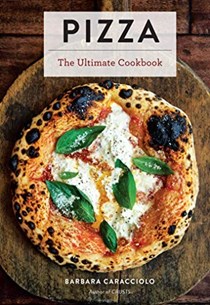 Pizza: The Ultimate Cookbook by Barbara Elisi Caracciolo: With over 300 delicious recipes made for every palate, this is the definitive guide to pizzas and flatbreads world-wide. At over 800 pages, this is the perfect gift for the pizza lover in your life. Profiles and interviews with world-famous pizza makers will have you craving a slice, while delectable recipes will help satiate your cravings and awaken your taste buds to flavor combinations you've never tried before. Gorgeous, full-color photography brings each slice to life in front of you long before you roll out the dough. I haven't seen this title yet but if it is half as good as Barbara's Crust title – it will be a keeper.
Other titles of interest:
Canada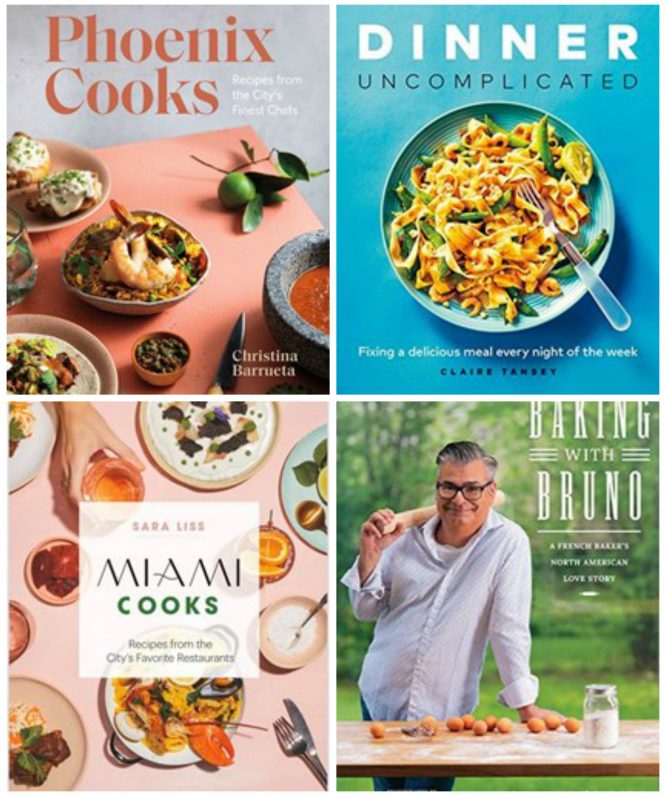 Dinner, Uncomplicated: Fixing a Delicious Meal Every Night of the Week by Claire Tansey frees you from the pressure of the evening meal with simple and satisfying recipes for every night of the week: the ones with the luxury of 45 minutes and the ones when the whole family needs to eat right now. These 90 inspired and easy-to-follow recipes are simple to shop for, efficient to prep and quick to clean up, and the dinners they make are flavourful, nourishing, and always crowd-pleasing. Claire's first book Uncomplicated showed the world that food can be spectacular without being difficult, and special without being expensive while her latest focuses on dinner only with no fillers or desserts.

Miami Cooks: Recipes from the City's Favourite Restaurants by Sara Liss celebrates the wonderfully unique food culture of Miami with eighty recipes by forty of the city's leading chefs and mixologists. Besides Cuban food, Miami is also home to so many other cuisines including Peruvian, Venezuelan, Puerto Rican, Haitian, and Jamaican. Figure 1's #cooksandeats (this link will take you to reviews of other books in this series) titles are one of my favorites as it is a trip to another city without leaving home.

Phoenix Cooks: Recipes from the City's Finest Chefs by Christina Barrueta brings Phoenix's dynamic food scene which has deep culinary roots courtesy of a vibrant community of talented chefs, artisanal producers, and dedicated farmers to life. Phoenix Cooks presents 98 signature chef-tested recipes designed for home cooks of all skill levels. See the #cooksandeats link above for more information on the books in this series.

Baking with Bruno: A French Baker's North American Love Story by Bruno Feldeisen was released in Canada in April of this year and now is being released in the US. Bruno begins teaching the fundamentals of making pastries, doughs, and more along with the basic items found in a pastry chef's pantry as well as a list of all the tools of the trade. Baking with Bruno then proceeds to reveal extraordinary recipes for jams, sauces, cookies, mousse, custards, and cakes.
United Kingdom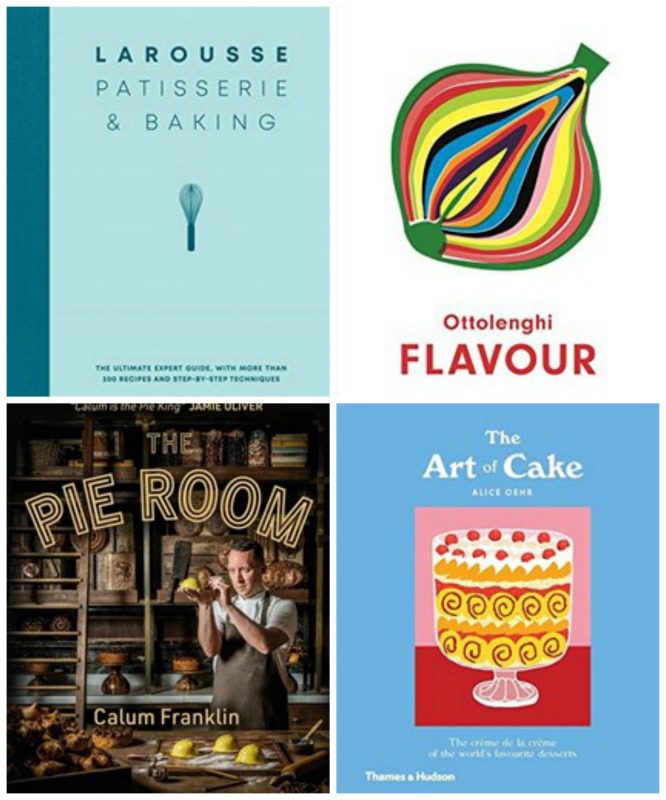 Ottolenghi Flavour by Yotam Ottolenghi has arrived in the UK and makes its way to the US next month. The superstar chef delivers flavour-forward vegetable-packed dishes in his latest offering. Ottolenghi has Events set up in 2021 so be sure to check those out. We will cover this title in our EYB Cookbook Club in November so that our North American members have a chance to obtain the book!
The Pie Room: 80 Achievable and Show-stopping Pies and Sides for Pie Lovers Everywhere by Calum Franklin takes you inside London's Pie Room. Calum guides you through the techniques and tools for perfecting your pastry. Within these pages, you'll find details including how to properly line pie tins, or how to crimp your pastry and decorate your pies so they look like true show-stoppers, as well as a step-by-step guide for making puff pastry. This title is impressive with loads of process photos and a wide variety of sweet and savory pies. This book will be released in the US next month.

The Art of Cake: The Crème de la Crème of the World's Favourite Desserts by Alice Oehr shares lovely illustrations of cakes and pastries from Lamingtons to King cake along with a background of the particular dessert. The book ends with a selection of recipes. A gorgeous little book for the baker.
Larousse Patisserie and Baking covers all aspects of baking – from simple everyday cakes and desserts to special occasion show-stoppers. There are more than 200 recipes included, plus useful techniques to ensure your bakes are perfect every time. The book also includes workshops on making different types of pastry, handling chocolate, cooking jam, and everything else that you need to know about pastry, patisserie, and baking. Each recipe is photographed and there are more than 30 step-by-step techniques sections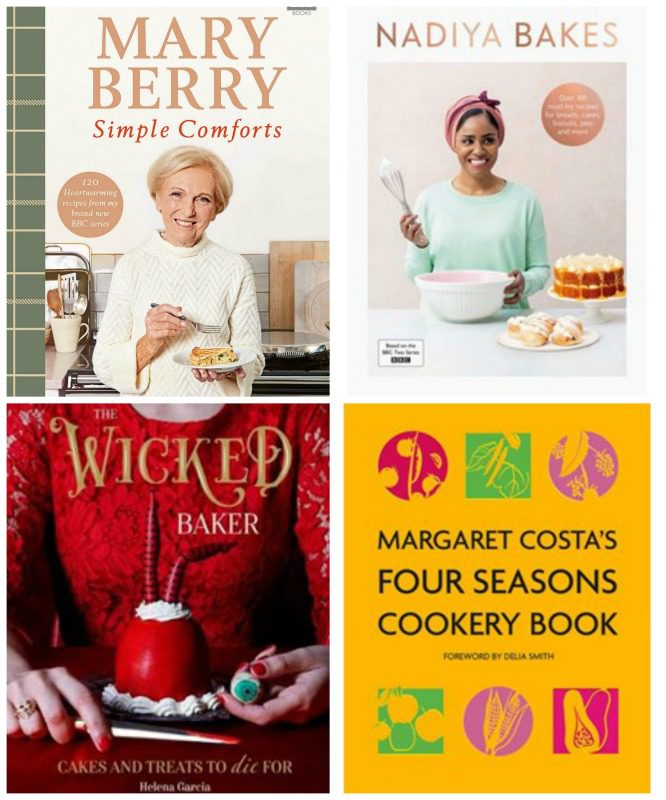 .
The Wicked Baker: Cakes and Treats to Die For by Helena Garcia: Remember our favorite goth baker from last year's GBBO series? Who could forget her kooky/spooky bakes? Helena's first book is aptly titled "The Wicked Baker" and shares 49 recipes for treats (or tricks) including Vanilla coffin cakes, Haunted Yule log, and Poison candy apple cake. Since Halloween is one of my favorite holidays, I love this book so much!

Margaret Costa's: Four Seasons Cookery Book by Margaret Costa is a paperback reprint of the 1996 classic.

Mary Berry's Simple Comforts: 120 Heartwarming Recipes from my Brand New BBC Series by Mary Berry: In this brand new tie-in to a new BBC Two series, Mary Berry shares over 120 of her ultimate food recipes, all made simply and guaranteed to get smiles around your kitchen table.
Nadiya Bakes: Over 100 Must Try Recipes for Breads, Cakes, Biscuits, Pies and More by Nadiya Hussain: Our beloved Bake-Off winner has created an ultimate baking cookbook to conquer cakes, biscuits, traybakes, tarts and pies, showstopping desserts, breads and savouries, and even 'no-bake' bakes.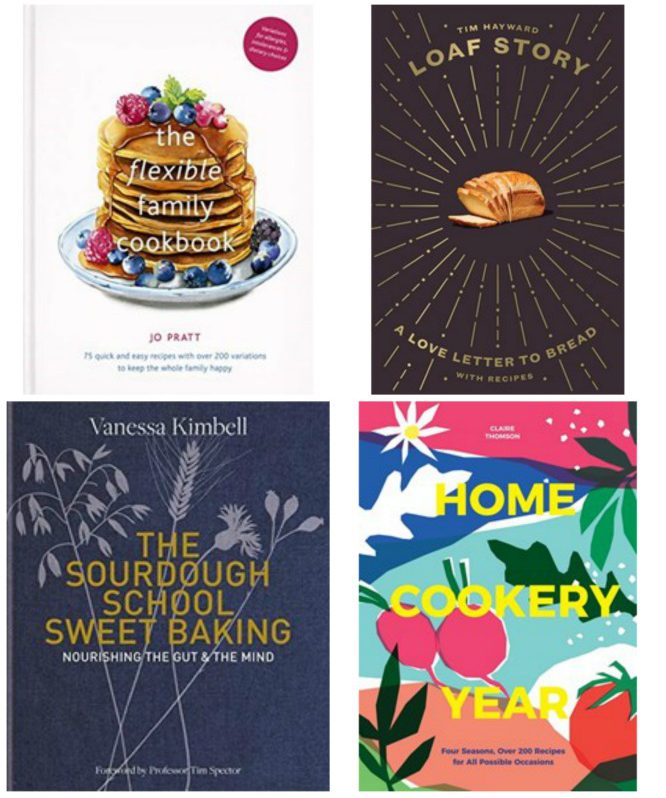 The Flexible Family Cookbook: 75 Quick and Easy Recipes with Over 200 Variations to Keep the Whole Family Happy by Jo Pratt is a cookbook to suit the whole family's differing wants and needs and is full of simple and delicious recipes to keep the whole family happy. This title provides flexible adaptations for each recipe to account for allergies, intolerances, and lifestyle choices.
The Sourdough School: Sweet Baking by Vanessa Kimbell is an indispensable guide to exploring the techniques and ingredients involved in successful sweet sourdough baking. A companion to the bestselling The Sourdough School, it focuses on sweet – but not sickly sweet – recipes that are gut-friendly and rely on natural sweetness where possible.
Home Cookery Year: Four Seasons, Over 200 Recipes for All Possible Occasions by Clare Thomson: From the author of New Kitchen Basics and The Art of the Larder among others, comes a year of dishes that will be your new essential kitchen bible, year-round, and every day. Thomson writes foolproof, imaginative recipes to please the whole family – as a professional chef and mum of three, she understands what it's like to whip up tasty, crowd-pleasing dishes in minimal time at the end of a busy working day.

Loaf Story: A Love-letter to Bread, with Recipes by Tim Hayward is a food book about bread – not just the role it plays in people's lives all over the world, but how it has been adapted and used in so many dishes. With recipes for dishes that can be made on bread, in bread, and with bread, including a look at the myriad uses for breadcrumbs, croutons, and hollowed-out loaves, as well as the hallowed doorstep sandwich and a classic BLT, Loaf Story is a heart-warming celebration of the staff of life.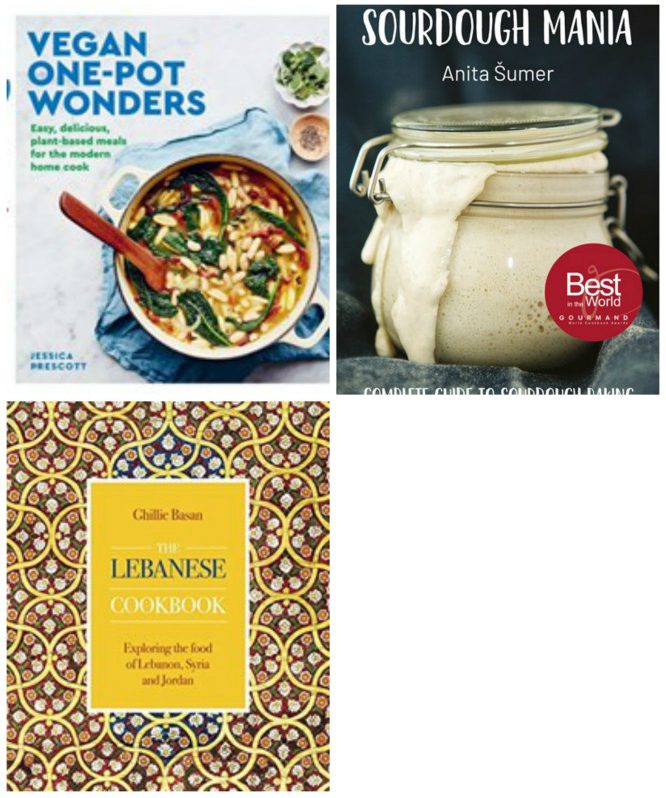 Sourdough Mania: Complete Guide to Sourdough Baking by Anita Šumer features both simple-to-make recipes and more ambitious recipes for more festive occasions. Every stage of bread baking is fully illustrated with step-by-step photography on weighing, mixing, kneading, shaping, scoring, and baking, to take you on a journey to the healthy world of sourdough baking made easy.

Vegan One-Pot Wonders: Easy, Delicious, Plant-Based Meals for the Modern Home Cook by Jessica Prescott shares the author's favourite way to cook, that is to throw ingredients into a pot or roasting tin and let the cooking process do the work. Her easy-going vegan recipes are vibrant and varied, with a focus on ease, affordability, and of course, flavour.

The Lebanese Cookbook: Exploring the Food of Lebanon, Syria and Jordan by Ghillie Basan reflects the culmination of years of research that looks in detail at the history and geography, the customs and festivities, as well as all the local ingredients, and presents a mouthwatering selection of classic recipes, all beautifully photographed.

Other titles of interest:
Australia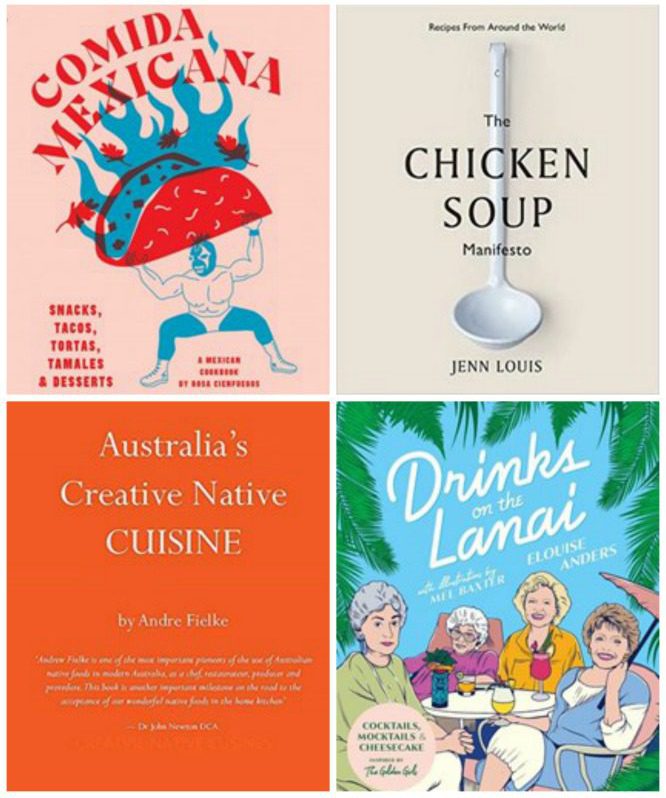 Australia's Creative Native Cuisine by Andrew Fielke is the ultimate resource for home cooks looking to use lots of Australian native ingredients in their food preparation, but also includes everyday alternative ingredients for those occasions when the native ingredients are not in season or not readily available. It includes more than 150 original recipes incorporating Australian native foods; an Australian plant food glossary that includes descriptions, illustrations, nutritional aspects, forms (dried, fresh, frozen), availability, seasonality, and uses; expanded descriptions of certain key ingredients; chef's tips and cooking notes; and substitute ingredients where needed
Chicken Soup Manifesto: Recipes from Around the World by Jenn Louis demonstrates how chicken soup is not only a source of heart-warming sustenance but a cure-all and the ultimate expression of love. With chapters broken down by region and country, this guide includes everything from Algerian Chorba Bayda, Colombian and Panamanian Sancocho and Thai Kao Tom Gai to Spanish Sopa de Picadillo. Along with the recipes, Louis also covers essential chicken know-how, from selecting and storing, to stock 101 and brining.

Comida Mexicana: Snacks, Tacos, Tortas, Tamales & Desserts by Rosa Cienfuegos: Here the author travels the length and breadth of her homeland to bring you Mexico's most beloved snacks, tacos, tortas, and tamales. From the vibrant streets of Mexico City to tucked-away villages and tranquil coastal towns, each region and every family has their favorite dish and a story to tell.

Drinks on the Lanai: Cocktails, Mocktails (and Cheesecake) Inspired By The Golden Girls by Elouise Anders: In this book, there are recipes for frozen belinis, piña coladas, coconut kisses, and other gloriously silly cocktails. There's also mocktails like the nonalcoholic Bahama mama and Blanche's punch (that pack's quite the punch). And, because it's The Golden Girls we're talking about here, there are some cheesecake recipes for good measure.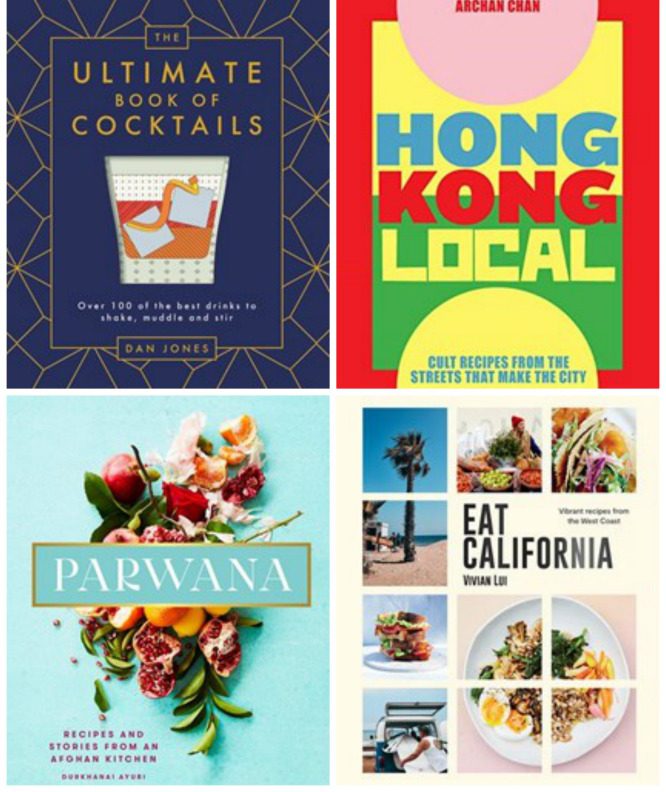 Eat California: Vibrant Recipes from the West Coast by Vivian Lui celebrates the cuisine of California from tacos to Korean BBQ. Filled with the fresh food of this coastal paradise and photographs of the dishes and land/seascape, you will be California dreaming in no time at all.

Hong Kong Local: Cult Recipes From the Streets that Make the City by Chan Archan: This book, a culinary tour of Hong Kong, begins with elements of a traditional Hong Kong breakfast: congee (rice porridge) and yau cha kwai (oil fried bread sticks). As the day progresses, street eat recipes (I love books that feature street food) include Sichuan-style Chao Shou (wontons), fresh and steaming har gow dim sum (steamed shrimp dumplings), ngau lam mein (beef brisket noodles). There's plenty of sweets, too – including "pineapple" bread, alongside a cup of HK-style milk tea.

The Ultimate Book of Cocktails: Over 100 of Best Drinks to Shake, Muddle and Stir by Dan Jones: Here the bestselling cocktail author shares over 100 of his best-loved drinks. Starting with the basics, Dan covers the essentials of a home bar, from equipment and glassware to spirits needed, also including his own recipes for syrups, sours, brines. The cocktail list will have you powering through that leftover vodka you've had gathering dust in the kitchen in no time! See I told you 2020 is the year to get your drink on.

Parwana: Recipes and Stories from an Afghan Kitchen by Durkhanai Ayubi is being released in Australia this month, and comes to the US and UK in October. The author's parents, Zelmai and Farida Ayubi, fled Afghanistan with their young family in 1987, at the height of the Cold War. When their family-run restaurant Parwana opened its doors in Adelaide, Australia in 2009, their vision was to share an authentic piece of Afghanistan. In this spectacularly beautiful book, the author shares those traditions and cuisine they love. We will have a promotion next month along with a Quick Bites with the author.
New Zealand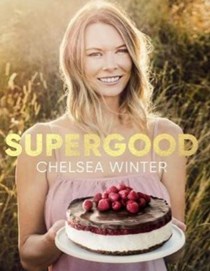 Supergood: Epic Plant-Based Comfort Food For Everyone by Chelsea Winter: There's everything to love about this much-anticipated new book from New Zealand's favourite bestselling home cook. Sink your teeth into a massive selection of dishes that go way beyond what you'd expect from plant-based fare to deliver hearty, tasty, fussy-eater-approved satisfaction. It's all 100% meat-free, egg-free, and dairy-free with loads of gluten-free options and top tips to inspire every cook – whether you're catering for those people in your life who can't (or won't) eat certain foods or you're keen to try a few plantified meals and want to know where to start. This book is everything you'd expect from Chelsea – easily available ingredients and totally delicious, foolproof recipes that work.