Living Lively by Haile Thomas
September 17, 2020 by Jenny
Haile Thomas is 19 years old and has accomplished more in her years than most twice her age. At the age of 12, she founded the non-profit HAPPY (Healthy, Active, Positive, Purposeful, Youth) to redefine youth empowerment through holistic education and address the need for free/affordable plant-based nutrition and wellness education in underserved/at-risk communities. At age 16, she was the youngest to graduate from the Institute for Integrative Nutrition as a Certified Integrative Nutrition Health Coach. She is an international speaker, wellness and compassion activist, and vegan food and lifestyle content creator.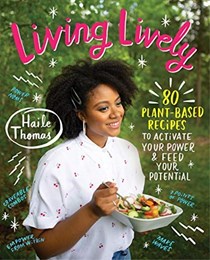 Her latest achievement is an inspirational cookbook/guide entitled Living Lively: 80 Plant-Based Recipes to Activate Your Power and Feed Your Potential. Technically, it is a cookbook with eighty recipes but it is far more. Part I of the book is dedicated to points of power: wellness, mindset, relationships, social media, education, world perspective, and more.
Part II shares the recipes from Carrot-chickpea-quinoa bowl with maple harissa dressing to AB&J swirl brownies (almond butter and raspberry ginger jam) to Gluten-free Sunday morning herb biscuits.
Haile is a breath of fresh air and her book is what 2020 needs to whip our minds, souls, and bodies into fighting shape. It has been a particularly rough week. As some know, I have a special needs son and things go up and down, with more declining than the former. Today, I was particularly feeling sorry for myself – exhausted, sad, hopeless. This afternoon, I picked up Haile's book again and it provided a much-needed boost of feel goodness (yes, that is how I am going to phrase that, #feelgoodness). Find your boost and pick up a copy of this fantastic guide to wellness.
Follow her on Instagram for more inspiration.