One Tin Bakes by Edd Kimber and Nordic Ware Pan Giveaway
September 16, 2020 by Jenny
Enter our US giveaway to win one of 3 copies of One Tin Bakes: Sweet and Simple Traybakes, Pies, Bars and Buns by Edd Kimber, and one of three 9 x 13 Nordic Ware baking tins.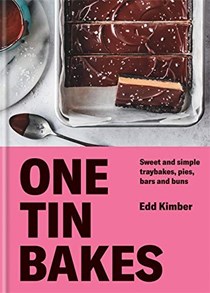 Being a Great British Bake Off fanatic, I keep track of (stalk) the cookbooks the contestants publish as well as the companion books that are published. For example, The Great British Bake Off: Love to Bake is coming in October and features the bakes from this new series starting next week.
Edd Kimber has produced another stellar cookbook: One Tin Bakes: Sweet and Simple Traybakes, Pies, Bars and Buns. This title is an approachable baking cookbook with all the recipes requiring one 9 x 13 tin. This is a perfect book for novice bakers as well as experienced bakers – easy to follow and filled with impressive bakes.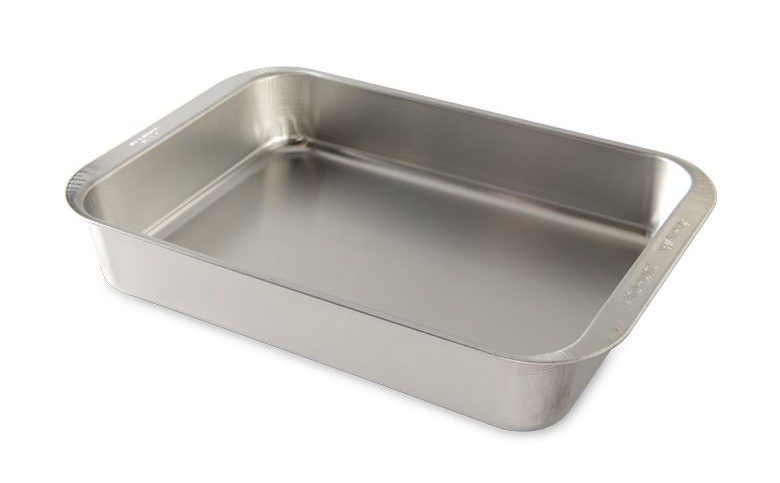 For the recipes here, Edd recommends the Nordic Ware Naturals Classic metal pan shown above. This pan is made of pure aluminum for superior heat conductivity and produces consistent, evenly browned baked goods every time. These premium pans have lifetime durability and will never rust. Encapsulated galvanized steel rims prevent warping. Creativity meets natural aluminum sustainability. Edd has arranged for three of our members in this giveaway to receive one pan along with a copy of his new book!
Now more about this fantastic baking book! As a devoted baker, I enjoy elaborate dessert recipes and pastry but admit that sometimes I want something impressive but easy with little mess. Life continues to derail my pastry chef ambitions.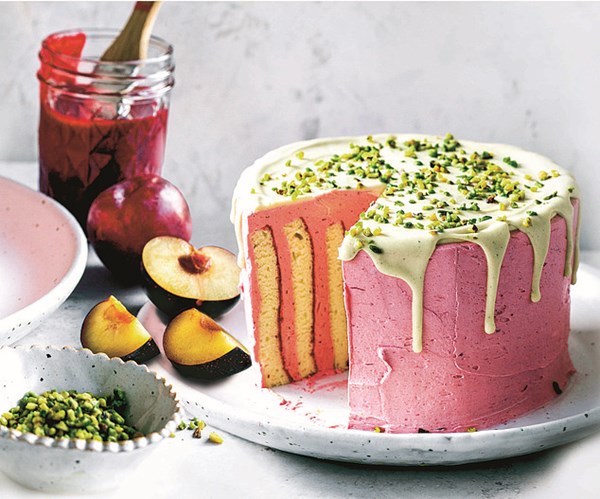 There are many fun recipes here – including this fancy but easy Roasted plum roll cake that begins with a 9 x 13 tin. This recipe was shared on Daily Mail online along with the following recipes: Apricot and mascarpone pop tarts, Slab scone, Crème fraîche brioche fruit tart, Sour cherry & lemon ice-box cake, and Sticky date pudding with rum butterscotch sauce. Other online recipes include Raspberry and rose cheesecake buns, Olive oil cherry snack cake and Classic birthday cake. With 70 of Edd's beautiful recipes, you need this book and buy an extra with a Nordic Ware tin for the baker in your life especially with the holidays coming up. This would make a perfect hostess gift as well (and if you want to get on Santa's nice list – bake one of Edd's recipes to accompany the book/pan!).
Special thanks to Kyle publishers for sharing Edd's recipe for the Peanut butter chocolate tart with our members from One Tin Bakes. The stunning photography was taken by Edd Kimber as well.
---
Peanut butter chocolate tart
Add this recipe to your Bookshelf (click the blue +Bookshelf button).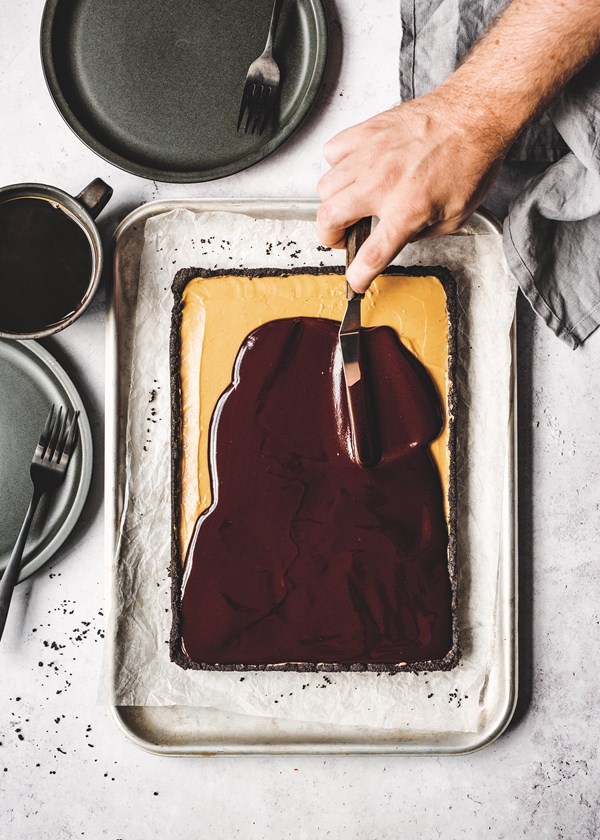 While I love pastry, sometimes I don't have the patience or time to make it, so in those times, I turn to cookie crusts – tart cases made with a mixture of cookie crumbs and butter. They're incredibly quick and simple to throw together, but they do have one down side: they're not the easiest to remove from the tin, so they're best served in the tin. My way around this is to mix in an egg white, which acts like glue, holding all of the ingredients together. For this tart, I have stuck with the flavours of two of my favourite candy aisle treats, peanut butter cups and Oreos, a candy and cookie which I think are pretty much perfect.
For the Oreo Crust
36 Oreo cookies
60g (2¼oz/4 tablespoons) unsalted butter, melted and cooled
1 large egg white
¼ teaspoon flaked sea salt

For the peanut butter filling
315g (11oz/1½ cups) smooth peanut butter
45g (1¾oz/3 tablespoons) unsalted butter, at room temperature
60g (2½oz/½ cup) icing(powdered) sugar
1 teaspoon vanilla bean paste
360ml (12½fl oz/1½ cups) double (heavy) cream

For the chocolate topping
200g (7oz) dark chocolate (60–70% cocoa solids), finely chopped
60ml (2¼fl oz/¼ cup) double(heavy) cream
15g (½oz/1 tablespoon) unsalted butter
flaked sea salt, for sprinkling
For the crust, place the Oreos into a food processor and process to fine crumbs. Pour in the melted butter, egg white, and salt, and process until evenly mixed. Tip the crumb mixture into the prepared tin and press evenly across the base and a little up the sides of the tin. Refrigerate for 20 minutes.
Preheat the oven to 180°C (350°F), Gas Mark 4 and line the baking tin with a large piece of parchment paper that covers all the sides of the tin. Bake the crust for 12–15 minutes, or until set. If the crust loses definition as it bakes, use a glass to gently press back into shape. You can serve the tart in the baking tin, if you prefer, but the benefit of lining the tin and making the crust with egg white means that you can lift the baked tart from the tin (once thoroughly chilled) and assemble and serve it on a platter.
For the filling, beat the peanut butter, butter, icing sugar and vanilla together in a bowl until smooth. Pour in a quarter of the cream and mix until combined, then repeat with a further quarter of the cream. In a separate bowl, whip the remaining cream until it holds soft peaks, then carefully fold this into the peanut butter mixture, in two separate additions. Spread the filling into the tart crust in an even layer and refrigerate while you make the topping.
Place the chocolate and cream into a heatproof bowl set over a pan of simmering water (ensuring the bottom of the bowl doesn't touch the water underneath) and heat, stirring occasionally, until fully melted. Remove the bowl from the heat and add the butter, stirring until combined. Allow to cool for 5 minutes, then pour over the filling and spread into an even layer.
Return the tart to the refrigerator for 20–30 minutes, or until the chocolate topping has set. Sprinkle with a little flaked sea salt and cut into thin slices to serve.
This tart is best served on the day it's made.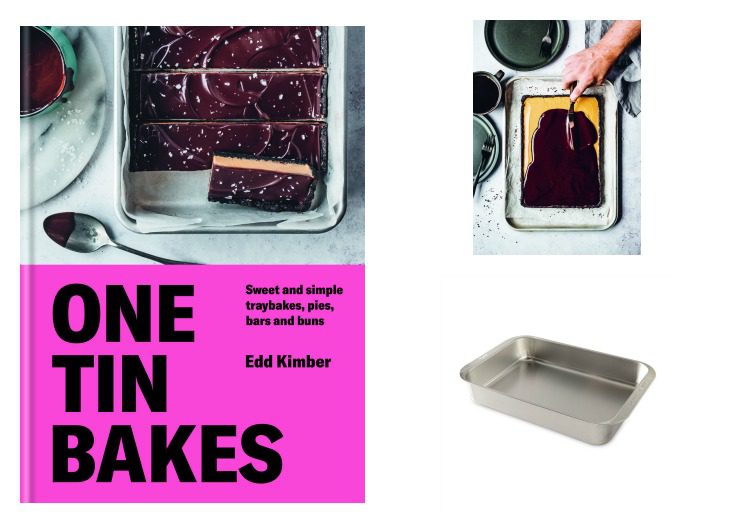 Special thanks to the publisher for offering three copies of this title and Nordic Ware for providing three tins in our US giveaway. Entry options include answering the following questions in the comments section of this blog post.
Which recipe in the index (besides the ones mentioned above) would you try first?
What product at Nordic Ware would you like to try?
Please note that you must be logged into the Rafflecopter contest before posting or your entry won't be counted. For more information on this process, please see our step-by-step help post and this forum post. Once you log in and enter your member name you will be directed to the next entry option – the blog comment. After that, there are additional options that you can complete for more entries. Be sure to check your spam filters to receive our email notifications. Prizes can take up to 6 weeks to arrive from the publishers. If you are not already a Member, you can join at no cost. The contest ends at midnight on January 26, 2021.
a Rafflecopter giveaway