Melting Pot Cookbook Giveaway and Quick Bites Samantha Mui
September 12, 2020 by Jenny
Enter our worldwide giveaway to win a signed copy of Samantha Mui's Melting Pot: Stories and Recipes from a Chinese American Daydreamer.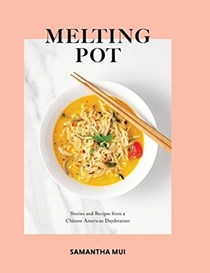 Samantha Mui is a native of California (Bay Area). A former culinary student and current food blogger, she has worked in and out of the food industry for more than a decade. Her cooking style is inspired by her travels abroad where she has experienced culture through cuisine. She has been a guest on the Bay Area TV show Check, Please! You can see what she's cooking daily by following her Instagram account.
Melting Pot, Samantha's debut cookbook, was released independently in August. I ordered my copy from Celia at Omnivore Books and fell in love with it as soon as I opened it. Filled with beautiful photographs, delicious dishes, and Sam's voice – it is a book not to be missed.
You will find recipes from Chorizo cornbread stuffing to Hoisin sticky ribs. Sam's supplement section includes DIY charcuterie board info, everyday drinks, party drinks, game plan menus, and more. I have a number of recipes that I cannot wait to try including Garlic roast pork, Jajangmyeon noodles, Spicy cold Korean noodles, Lomo saltado (a Peruvian steak dish), and Hapa fried rice. Sam's dishes are full of flavor and very approachable.
Samantha was gracious enough to provide a Quick Bites Q & A for our members that shares more details about this title.
Q: What first triggered your interest in cooking and do you remember your first cooking memory?
I was an odd kid growing up – while some kids were watching cartoons, I would watch cooking shows. I especially remember Lidia Matticchio Bastianich and Nigella Lawson. I was inspired by Lydia's Italian kitchen and the way that she turned simple fresh ingredients together into these wholesome family-style Italian dishes. My imagination spurred me to pretend to be the star of my own cooking show, with limited utensils and ingredients in my apartment kitchen, and repeating her signature word "carmelize." My other celebrity idol was Nigella Lawson. She's posh, maybe it was the allure of her British accent. I mostly appreciated the way she cooked – her kitchen counter clutter was relatable, like every other home chef's kitchen.
Truth be told, I made many inedible dishes before I made an edible dish. In my book Melting Pot, you'll read about some of these cooking disasters. In the chapter Cookie Clog, you'll learn how I would fake sickness to avoid going to school because of bullying. I would cook when everyone was gone. I was eight when I tried to make Peanut Butter Cookies. It was a disaster and it resulted in a dough so chunky it clogged up my sink. Funny thing is, I've quit many activities when I was younger, but no matter how much I sucked at cooking, I never gave up and eventually went to culinary school.
Q: If you had to describe your cooking style, what would it be?
I call myself a freestyle chef in the kitchen. That is also why I am a terrible baker. I believe that cooking is an art while baking is a science. I've always operated more on the right side of my brain and tend to enjoy using my intuition in the kitchen instead of relying on rigidity and recipes. In short, I like taking a classic dish and putting my own spin on it. I also cook with the motto "make more out of less." This has been passed down to me watching the resourceful women that I was surrounded by. I wrote a chapter "Scrappy," which is about my maternal grandmother and how she was always sustainable before it ever became a popular trend in the states. She grew potato roots in jars, dehydrated meats and fruits, kept all the ketchup, condiment packets from our trips to McDonald's – she even ripped out pages from magazine catalogs to use to discard seafood bones to avoid wasting napkins.
Q: Are you a cookbook collector? What you look for in a cookbook?
I'm not so much of a collector but I flip and skim read tons of cookbooks at a time. Prior to the pandemic, I would go to the library or bookstores and spend half a day sitting in a corner and flipping through cookbooks and getting inspired. I'm very thrifty so sometimes I will wait to buy used cookbooks at my local library. On my own bookshelf, I probably have less than 10 cookbooks (maybe more if you include my textbooks from culinary school). Currently, I am reading more BIPOC cookbook authors. I recently picked up a signed copy of Jubilee by Toni Tipton-Martin at Omnivore Bookstore. My favorite authors include my childhood favorite, Nigella Lawson, and my adult favorites, Ayesha Curry and Chrissy Teigen. These women are down-to-earth, authentic in who they are and it reflects in their recipes.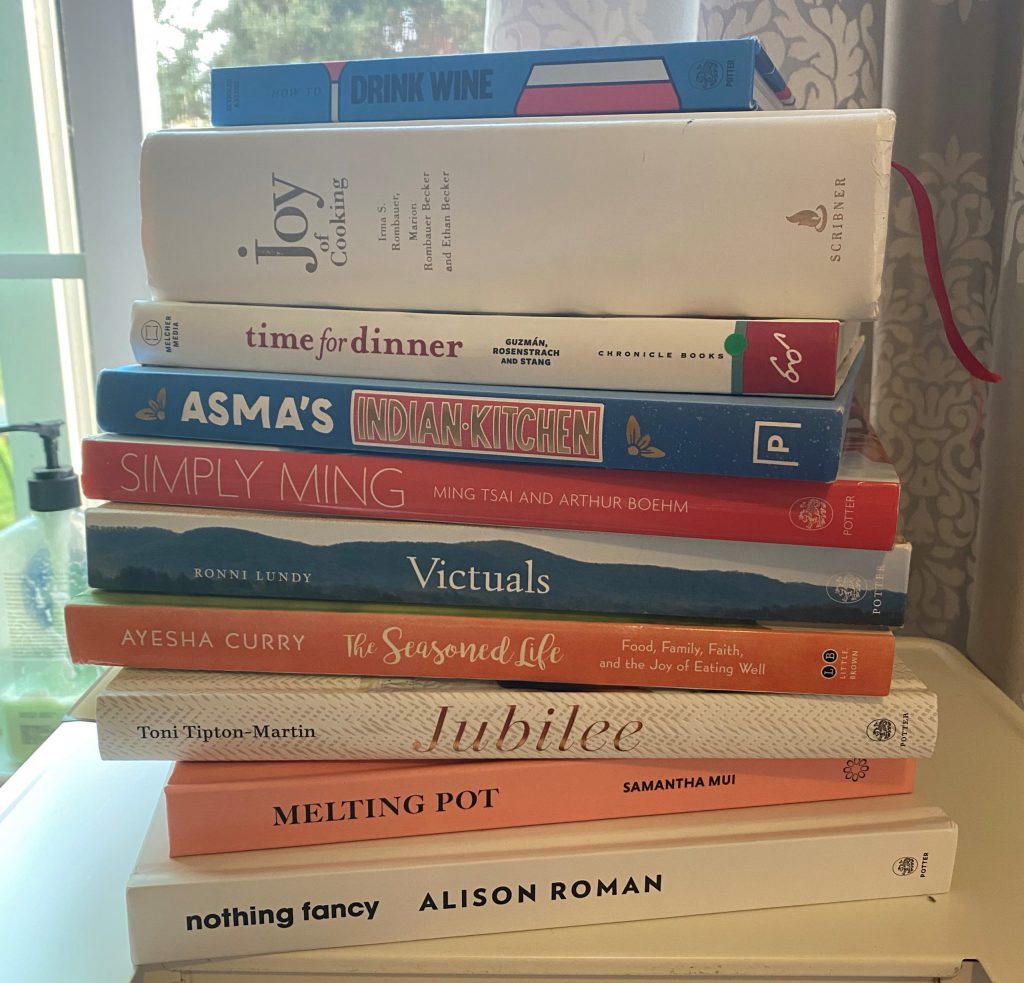 Q: What is the best part of your job? Do you sometimes feel like working with food all day keeps you from wanting to get creative in the kitchen?
Fun fact: I don't work in kitchens or in the food industry at the moment. Even though I went to culinary school, I later went to school and received a Bachelor in Communications and a Masters in International Studies and Business. When I was in grad school, living overseas in Shanghai, China, I saw such interesting food culture, almost opposite to the western world and it became a springboard in having the desire to tell the backstories of people all around the world, be it a chef, a restaurant owner, or a mom and pop stall. Everyone in the food world that I've worked with has had an amazing "why." I don't think people realize how hard it is to work in the food and beverage industry. I plan to share more of those stories in the future, whether it's through my blog or producing short videos or using a streaming platform. Who knows?!?
Q: What is your go-to for a quick dinner?
Something with eggs. Growing up, eggs were a staple. My mom who hated cooking loved to quickly whip up eggs for any meal of the day. I don't know if it's a Cantonese thing, we just make eggs when we can't think of anything else to make. I love poached eggs, ombre-scrambled eggs, poached egg on crusty bread, soft boiled egg over rice, microwave steamed eggs (oh, and always with drizzles of sesame oil on top of eggs.) I am one of those people that don't like to wait to eat when I'm hungry and eggs are fast and so tasty! P.S I grew up eating eggs but later learned that in my culinary journey that eggs are essential and key in so many dishes. I now love eggs, so much so, I even have a whole chapter in Melting Pot dedicated to it, titled, Eggcellent.
Q: What projects are you working on?
At the moment, I'm working on getting Melting Pot as much reach as I can. I'm using this time to bring entertainment and community together – whether it's hosting virtual cooking events or just mentoring individuals to share their stories fearlessly.
Since I've published my cookbook, I have received many messages from other people who are interested in sharing their story in print. The general question: is how did I make Melting Pot without a single publishing deal? I hope to divulge more of that information in the future so that others can have access to share their stories and be able to dispel the truth, that you don't always need a publisher to make a beautiful product worth reading!

---
Special thanks to the author for offering one autographed copy of her book in our worldwide giveaway. Entry options include answering the following questions in the comments section of this blog post.
From the recipes I've mentioned above which one sounds like something you would like to try?
Please note that you must be logged into the Rafflecopter contest before posting or your entry won't be counted. For more information on this process, please see our step-by-step help post and this forum post. Once you log in and enter your member name you will be directed to the next entry option – the blog comment. After that, there are additional options that you can complete for more entries. Be sure to check your spam filters to receive our email notifications. Prizes can take up to 6 weeks to arrive from the publishers. If you are not already a Member, you can join at no cost. The contest ends at midnight on January 12th, 2021.
a Rafflecopter giveaway