To all the bowls I've loved before
August 30, 2020 by Darcie
I recently received a sales catalog from a famous cookware store. There is nothing at the moment that I need in my kitchen, but that didn't stop me from leafing through the pages. One item in particular captured my attention. In a page titled "Fall Color Refresh" were sets of melamine mixing bowls in three different colors. At first I scoffed, as I have never changed bowls because of their color. However, I must admit to being a serial monogamist when it comes to mixing bowls, so I should definitely not judge anyone for selecting a bowl to suit a color scheme.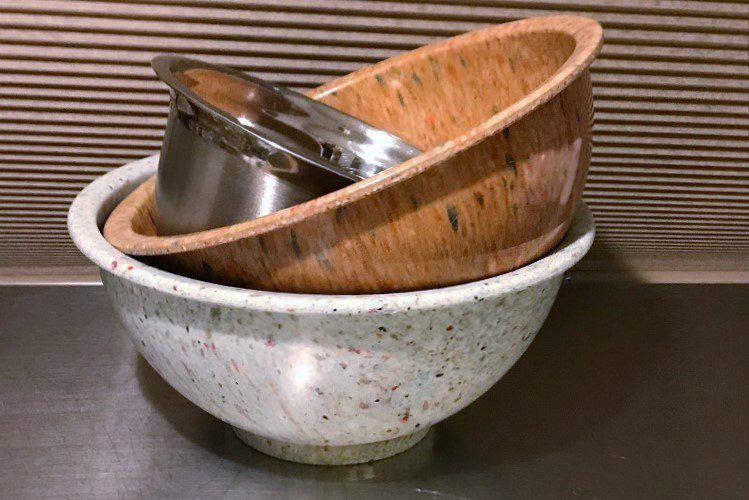 When I first moved out of the dorm to an apartment I shared with two roommates, I had mixing bowls that were hand-me-downs or thrift store finds, but they did not spark enough joy or dismay to register in my memory. These bowls also did not survive my cross-country move after graduation because I only took what fit into my compact car, which was not much. (I strapped the family heirloom dresser to the roof of my car, my only concession to keeping something despite not having room for it.)
Once settled into my new job and town, I began to stock the kitchen in my tiny apartment located above my landlord's garage. I found a set of clear Pyrex mixing bowls and used them for several years. They were inexpensive and durable: exactly what I needed as a beginning cook. I used them for a few years until I realized that they were too shallow – my kitchen walls were frequently splattered with cake batter, whipped cream, and sauces – so I moved on to a deep stainless set with a rubberized bottom. These performed much better in the splash department, but had one major drawback: a sharp lip that dug into my skin when I held the bowl while using a whisk or pouring.
After a couple of years and several cuts on my fingers, I said goodbye to the stainless set and went back to the drawing board. I had flings with inexpensive plastic bowls that were flimsy and unattractive, tried and discarded a stoneware set that was handsome but heavy, but struggled to find a shape and material that would satisfy my cooking style.
As I set out on a new quest for the perfect bowl, in the interim I used a bowl that I had only thought of before as decoration: a Texas Ware bowl I inherited after my grandmother passed away. I had not used it because I thought it might be fragile but soon realized that melamine was durable. To my surprise, the bowl performed really well, but I was still not ready to commit. For starters, I only had one bowl which would not be sufficient for a baking marathon. Fate stepped in when my other grandmother gave me another Texas Ware bowl when she downsized, and when I spied an even larger one at a thrift store for a song. I now use these colorful bowls daily. Cooking with them reminds me of my grandmothers, which always brings a smile to my face. I like their retro style, too.
A short time after I started using these bowls, I also discovered a set of small, deep stainless bowls that stacked together well. Between this, the bowl from my KitchenAid, and the trio of Texas Ware, I finally had the perfect set. It's been several years since I started using this combination, and in the intervening time I have hardly even glanced at another bowl. Perhaps it's a seven-year-itch, but seeing those gorgeous bowls in the catalog has me fantasizing about a new set. I will never part with the Texas Ware, but I might have another fling with some new bowls, just for old time's sake.