August 2020 New Cookbook Review
August 26, 2020 by Jenny
August came in a hurry and the month is on its way out just as quickly. There are a decent number of tempting books for us this month although still less in quantity than normal for August. A few of my favorites include: Simply by Sabrina Ghayour, Amboy by Alvin Cailan, Maenam by Angus An, and 100 Cookies by Sarah Kiefer (it was hard to whittle them down to four). Look for more details on these titles and more below.
The looking forward to 2020 cookbooks post provides an outline by month of when cookbooks are slated to be published. I continue to update this preview weekly.
Be sure to check out our EYB Cookbook Club summary for August and find out what we are cooking through in September!
Be sure to follow us on social media (buttons located on right lower sidebar on the home page). If you would like to order any of these titles, using our affiliate links (right beneath the social media buttons) or the BUY BOOK button on the book details page, will help to support EYB and our indexing efforts (as well as help us to include worldwide options in some promotions). Most of our titles are released in multiple regions and are available locally and through worldwide sellers such as the Book Depository that make global titles available to more members with free international shipping.
If there is an

available for a cookbook, look for the orange icon in the blurb. Clicking on that icon will take you directly to the Preview.
United States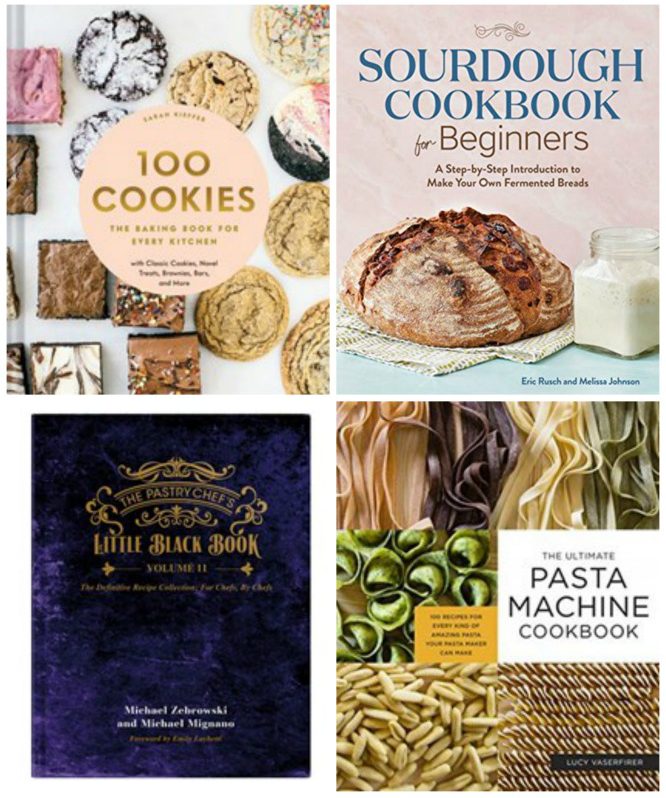 100 Cookies: The Baking Book for Every Kitchen, with Classic Cookies, Novel Treats, Brownies, Bars, and More by Sarah Kiefer: From the writer of The Vanilla Bean Blog and author of The Vanilla Bean Baking Book, 100 Cookies brings the cookie baker recipes from the classics to brownies and bars to next level creations. From the traditional chocolate chip cookie to Lavender cookies with white chocolate crème fraîche glaze to her #hashtag famous pan-banging cookies, there is something for every level baker. 100 Cookies is the book you need for this season's cookie marathons and everyday cookie enjoyment.
The Pastry Chef's Little Black Book Volume 2: The Definitive Recipe Collection for Chefs, by Chefs by Michael Mignano is a 400-page volume written for chefs, by chefs. Do not let that sway you because the instructions and recipe layout are so approachable even a novice can easily crank out patisserie-worthy goods. Filled with photography by Alan Battmann each recipe is outlined in a table format with US and Metric measurements, yield weights, procedural steps, and chef notes. Volume 1 The Pastry Chefs Little Black Book and Volume 2 can be ordered directly from Chef's Connection with a free e-book download with purchase. If you do purchase both, you will receive a $10.00 discount, and the book(s) ship free. I've ordered these titles myself.
The Ultimate Pasta Machine Cookbook: 100 Recipes for Every Kind of Amazing Pasta Your Pasta Maker Can Make by Lucy Vaserfirer teaches us that making pasta by hand at home enables you to create and enjoy dozens and dozens of different flavors of noodles. The author shares purees that you can make, using a blender or a mixing bowl, that you then can turn into all sorts of flavored pasta, from the familiar tomato or spinach pasta to noodles flavored with herbs like basil or tarragon, spices like pepper or saffron, and other flavors, such as a Sage brown butter pasta that incorporates a flavored butter. She teaches you how to make every kind of pasta shape with your pasta machine, including ones you can't find in stores. She includes durum and semolina pasta, the most common kinds, as well as buckwheat, ancient-grain, and gluten-free pasta. Asian noodles are covered such as udon, soba, and ramen, with your pasta machine.
Sourdough Cookbook for Beginners: A Step-by-Step Introduction to Make Your Own Fermented Breads by Eric Rusch and Melissa Johnson pairs simple instructions with tutorial photos, covering the first 6 days of bringing your starter to life and helping it thrive. Explore the science of how sourdough starters make bread rise along with how to prep your kitchen for fermented dough work. Then, try your hand at dozens of crusty artisan-style bread, flavored pan loaves, pastries, pizza, specialty bread, and even unique baked goods you can make with the leftover starter!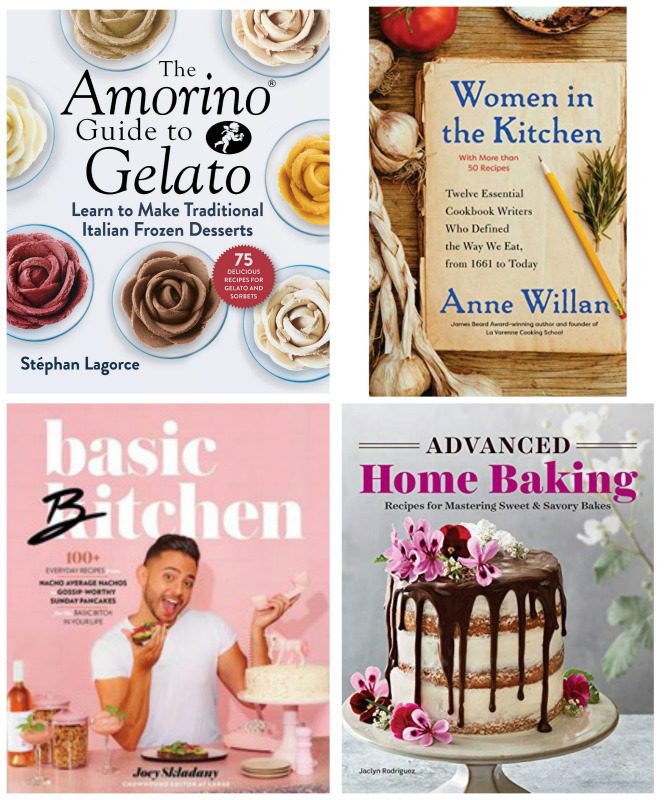 Advanced Home Baking: Recipes for Mastering Sweet and Savory Bakes by Jaclyn Rodriguez: From a towering Croquembouche to a decadent Black Forest Cake, this guide is brimming with dozens of sweet and savory bakes, as well as all the tips, tricks, and techniques you'll need to take your baking to the next level.
The Amorino Guide to Gelato: Learn to Make Traditional Italian Frozen Desserts by Stephan Lagorce: Learn the ins and outs of gelato, sorbet, and ice cream from the masters: how it's made, how to create different flavors and aesthetics, and more. Combining sweet flavors and scents with the smoothness of ice cream, fruits with the freshness of sorbets, choosing the best ingredients, and the most natural, this is the passion of Amorino.
Women in the Kitchen: Twelve Essential Cookbook Writers Who Defined the Way We Eat, from 1661 to Today by Anne Willan: Culinary historian Anne Willan traces the origins of American cooking through profiles of twelve essential women cookbook writers-from Hannah Woolley in the mid-1600s to Fannie Farmer, Julia Child, and Alice Waters – highlighting their key historical contributions and most representative recipes. See our recent Quick Bites article on Anne
Basic Bitchen: 100+ Everyday Recipes from Nacho Average Nachos to Gossip-Worthy Sunday Pancakes for the Basic Bitch in Your Life by Joey Skladany: Pour a glass of rosé and embrace these 100+ everyday recipes, complete with tips and tricks for cooking "basic" meals you know you shamelessly love from Chowhound editor, Skladany.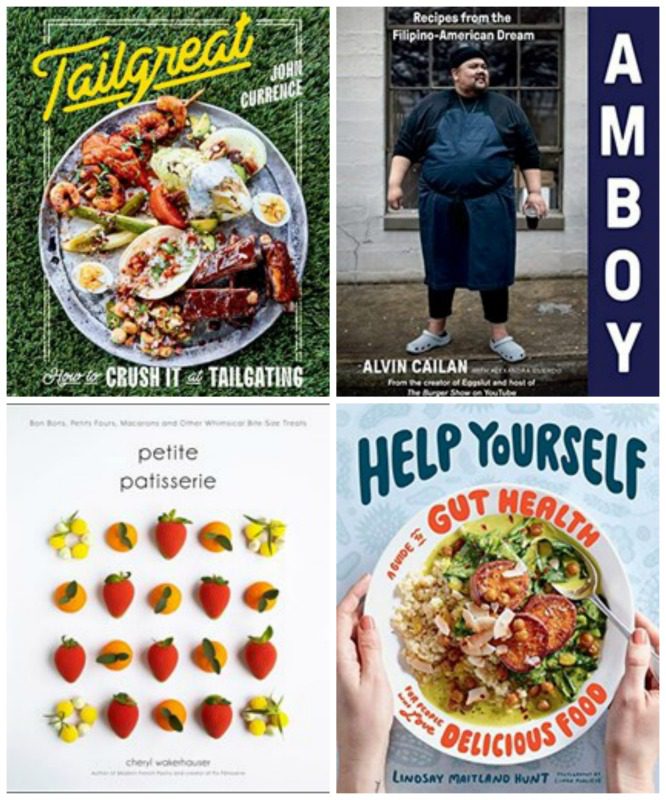 Petite Pâtisserie: Bon Bons, Petits Fours, Macarons and Other Whimsical Bite-Size Treats by Cheryl Wakerhauser, author of Modern French Pastry: French pâtisserie is a study in components, and Cheryl breaks each recipe down, providing information on classic techniques while adding a new twist on the traditional. Her petits fours combine mango and passion fruit mousse, coconut meringue and almond cake to create the perfect harmony of flavor and texture. Cheryl's macarons, a staple for any French dessert enthusiast, have just the right amount of rose flavor and are miniaturized to be the size of candies.

Amboy: Recipes from the Filipino-American Dream by Alvin Cailan and Alexandra Cuerdo tells the story of Los Angeles' Eggslut chef's rise to fame through recipes. Recipes range from Filipino classics such as adobo and lumpia to Thursday-night retreat house chicken (roast chicken marinated in Italian dressing) which was fed to the nuns at his first job (15 years old as a dishwasher) at the Sacred Heart Retreat House. Cailan's "slut" recipe is shared as well. This dish ignited his rise to fame after Ruth Reichl ate the dish: cage-free coddled egg on top of a smooth potato purée, poached in a glass jar, topped with gray salt and chives, served with slices of baguette. There is something to love here for everyone from lovers of great food to those who enjoy a great read with their recipes.
Tailgreat: 100 Winning Recipes by John Currence shares a collection of 120 smart, modern, yet tailgate-friendly recipes from the Southern chef extraordinaire taken from his time in the tailgating mecca of Oxford, Mississippi. I love the global flavors sprinkled throughout that include recipes such as Thai-spiced chicken skewers with peanut dipping sauce and Asian duck meatball lettuce wraps with tangy hoisin.
Help Yourself: A Guide to Gut Health for People Who Love Delicious Food by Lindsay Maitland Hunt: Dishes here emphasize plant-based ingredients like vegetables, nuts and seeds, beans and legumes, and whole grains, along with eggs, fish, and some meat and dairy – depending on your preference. The author also walks you through integrating fermented foods into your daily life and reducing added sugar and processed foods. Beyond the recipes, she explains what you need to know about your gut microbiota and offers smart strategies and solutions to help you navigate real life, like a new food pyramid for gut health and tips for tracking (and rewarding) healthy-living habits.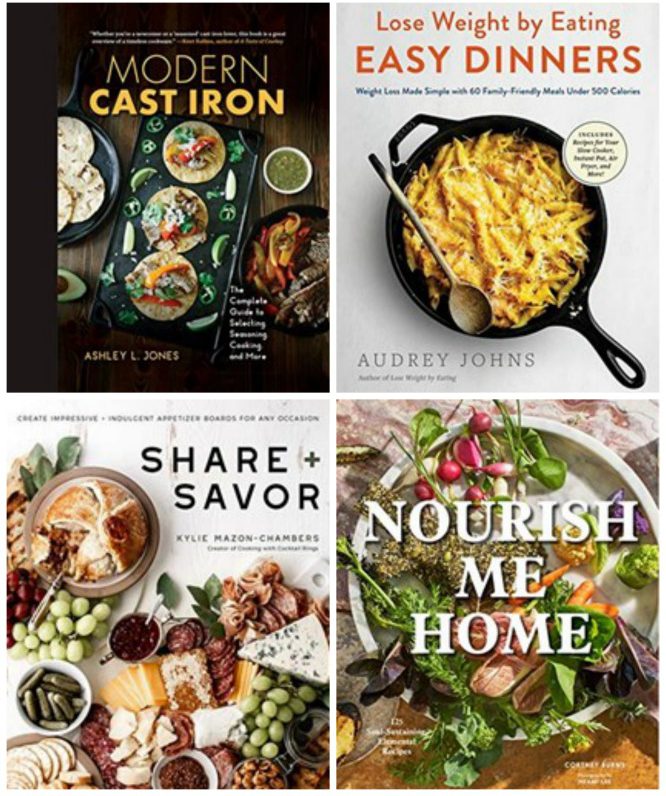 Nourish Me Home: 125 Soul-Sustaining, Elemental Recipes by Cortney Burns features 110 recipes in 6 chapters that pay homage to the seasons and the elements of water, fire, air, and ether. The creative author formerly of Bar Tartine is back with a personal cookbook project about nostalgia, immigration, and her own uniquely delicious recipes in this beautifully photographed book.
Lose Weight by Eating: Easy Dinners: Weight Loss Made Simple with 60 Family-Friendly Meals Under 500 Calories by Audrey Johns: The author of the Lose Weight by Eating cookbook series is back with quick and easy dinner recipes to help you eat deliciously, lose weight, and keep the pounds off. Johns' latest includes recipes for one-pan meals, slow cookers, Instant Pots, and even cooking with kids, as well as shortcuts to help you get your evening meal on the table fast.

Share + Savor: Create Impressive + Indulgent Appetizer Boards for Any Occasion by Kylie Mazon-Chambers: In this collection of 60 recipes, the author of the blog Cooking with Cocktail Rings, showcases all of her worldly food knowledge with fun, easy and delicious appetizer and charcuterie boards. Readers will sample authentic flavors from different cultures through the best means possible: grazing on beautifully laid out platters!

Modern Cast Iron: The Complete Guide to Selecting, Seasoning, Cooking, and More by Ashley L. Jones: This title recaptures the ease and joy of cooking with cast-iron cookware. Jones introduces readers to the best brands and types of cast-iron cookware to fulfill any cook's needs. She offers detailed tips and tricks for rescuing old, rusted pans and keeping them properly seasoned, and she shares recommendations for the best cooking oil for every recipe.
The Well Plated Cookbook: Fast, Healthy Recipes You'll Want to Eat by Erin Clarke: In this essential cookbook for everyday cooking, Clarke shares more than 130 brand-new rapid-fire recipes, along with secrets to lightening up classic comfort favorites inspired by her midwestern roots, and clever recipe hacks that will enable you to put a healthy meal on the table any night of the week.
Other titles:
Canada
Maenam: A Fresh Approach to Thai Cooking by Angus An blends traditional Thai flavors and cooking techniques with local, seasonal inspirations from the west coast. With Angus's foolproof instructions, Maenam offers the foundation to modern Thai cuisine for adventurous cooks of all skill levels. Filled with over 100 of his signature recipes you will be able to transform your kitchen with snacks inspired by Thai street vendors, quick to prepare noodles and one-bowl meals, light- and full-bodied soups to have all-year-round, flavorful and protein-filled salads, seasoned stir-fries, killer curries, and refreshing desserts.
Diala's Kitchen: Plant-Forward and Pescatarian Recipes Inspired by Home and Travel by Diala Canelo is a collection of bold and flavourful recipes inspired by home and travel, with stunning food and photography from afar, that food-lovers will want to cook and enjoy with family and friends. With over 100 recipes including Salmon tacos with chipotle crema, Blackened fish with creamy yucca fries, Wild mushrooms over creamy polenta with mascarpone, Coconut flan, Salted caramel and vanilla pots de crème, and Caramelized banana and cinnamon loaf, Diala will take you to all the corners of the world and animate your kitchen with lively flavours.
United Kingdom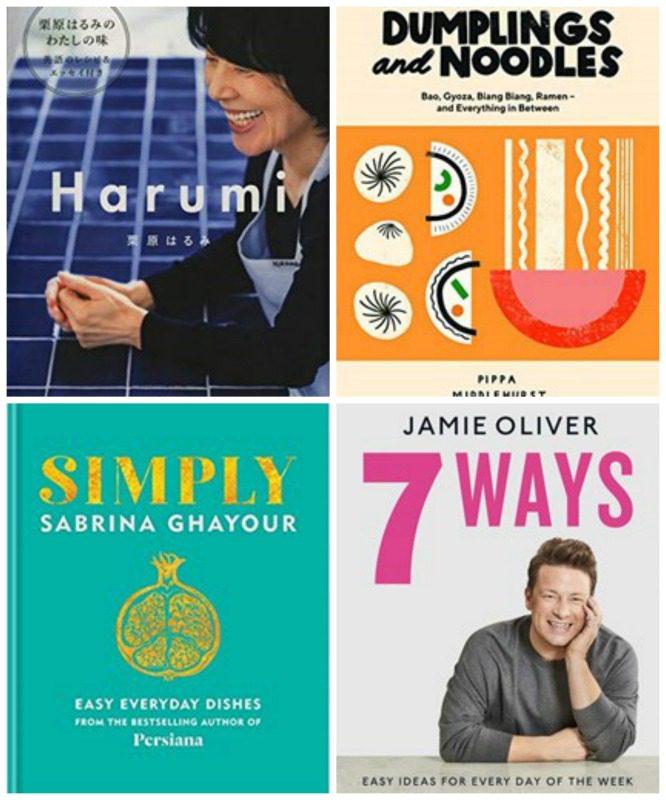 Simply: Easy Everyday Dishes from the Bestselling Author of Persiana by Sabrina Ghayour is another stunning offering from the author of some of my most favorite cookbooks. I've gone through this book and have tagged a dozen recipes to make including Sticky harissa, sesame & pistachio chicken and Pomegranate molasses & honey-glazed meatballs. This title will be released in the US in October.
Harumi's Japanese Kitchen by Harumi Kurihara: Here the author takes it back to basics and shows you how to master Japanese recipes to impress friends and family. With an enticing design and foolproof step-by-step photography, Harumi presents 53 recipes in her trademark approachable style, organized into chapters of Meat & Fish, Vegetables, Rice, Noodles & More, and Desserts. There's also information on ingredients and utensils, making dashi, and how to correctly prepare and cook rice.
7 Ways: Easy Ideas for Every Day of the Week by Jamie Oliver: Here Jamie took a look at the top ingredients we buy every week. We're talking about those meal staples we pick up without thinking – chicken breasts, salmon fillets, mince, eggs, potatoes, broccoli, mushrooms, to name but a few. So, rather than trying to change what we buy, Jamie wants to give everyone new inspiration for their favourite supermarket ingredients. This title will be released this November in the US.
Dumplings and Noodles: Over 70 Modern Recipes For The Home Cook by Pippa Middlehurst (winner of Britain's Best Home Cook) takes the traditional techniques for homemade dough and hand rolling and makes them relevant to modern home cooks, with step-by-step instructions, the science behind it all and options for quick and easy substitutes.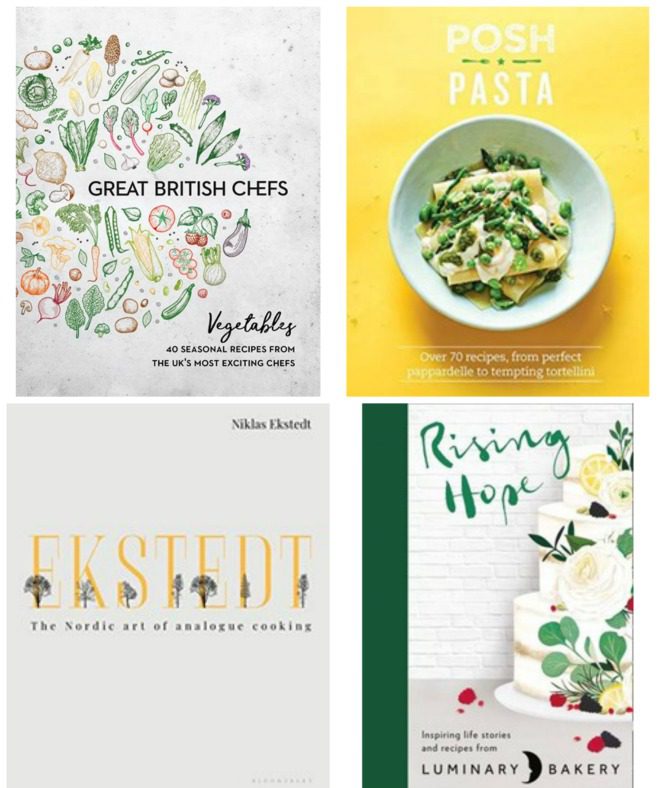 Ekstedt: The Nordic Art of Analogue Cooking by Niklas Ekstedt ignites our primal fire-side instincts. His abandonment of modern technology may be a little difficult to replicate in your own kitchen, but his spirit will convince you to get back to basics where you can. The restaurant, Ekstedt, is at the very heart and center of the book, providing the foundation for Niklas' stories of seasonal, and regional, traditional Swedish cooking. Dishes from the restaurant, and in the pages of this sumptuous book, include braised lamb shoulder with seaweed butter and wild garlic capers, juniper-smoked pike, and perch, ember-baked leeks with charcoal cream, pine-smoked mussels, and wood-oven baked almond cake.
Rising Hope: Recipes and Stories from Luminary Bakery is the cookbook from Luminary Bakery, a social enterprise founded to support disadvantaged women, including those who have been homeless, in prison, or experience violence, by teaching them how to bake. Combining delicious recipes with stories from the bakery, and the women Luminary has empowered, Rising Hope will take the reader on a journey that shows how anyone, anywhere, can learn how to bake, grow as an individual, and share these experiences with those around them complete with lovely illustrations throughout. This title is being released in the US as well.
Great British Chefs: Vegetables: 40 Seasonal Recipes From the UK's Most Exciting Chefs by Great British Chefs: Find out more about this gorgeous book and enter our worldwide giveaway here.

(Be sure to also enter our worldwide ebook giveaway for the GBC 2018 cookbook.)
Posh Pasta: Over 70 Recipes, from Perfect Pappardelle to Tempting Tortellini by Phillippa Spence: The latest book in the Posh series, celebrates the humble bowl of pasta in its many forms. New amazing ways to elevate classics, as well as new sure-to-be favourites are featured. Beginning with clear instructions for basic pasta doughs, followed by recipes on meaty, fishy, and veggie pasta, as well as bakes, salads, and soups, there are plenty of options for pasta lovers.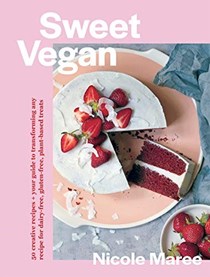 Sweet Vegan: 50 Creative Recipes + Your Guide to Transforming any Recipe for Dairy-Free, Gluten-Free, Plant-Based Treats by Nicole Maree: This is a completely updated edition of The Healthy Convert. Nearly fifty recipes (six brand new) make this your go-to guide to replace dairy, gluten, refined sugar, and nuts to suit any taste or dietary requirement. Encouraging you to become a creative and versatile cook, this book is all you need for easy, guilt-free indulgence.

Other titles of interest:
Australia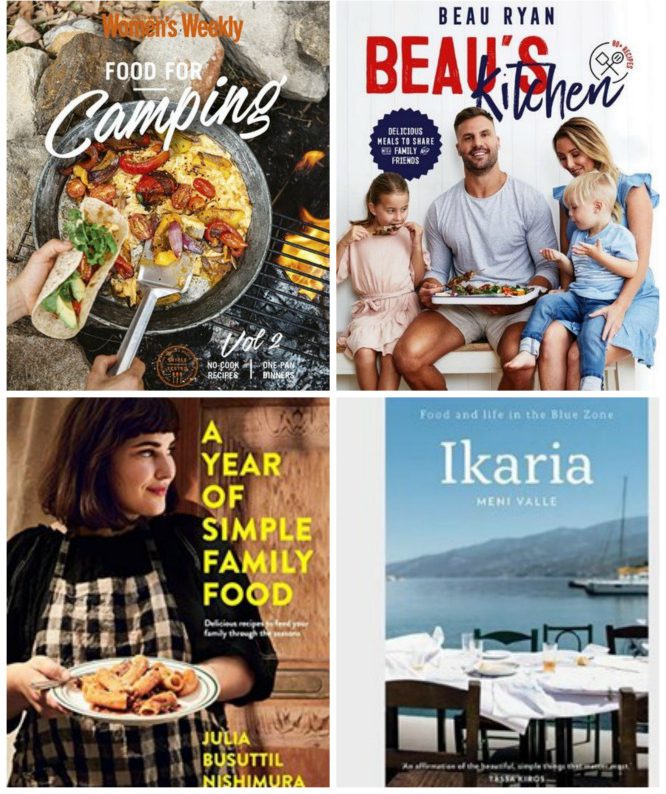 Ikaria: Recipes from the Aegean Island of Longevity by Mary Valle collects traditional recipes from across Ikaria that encapsulate the best of Mediterranean food: vegetables, beans, whole grains, small amounts of meat and fish, a couple of glasses of wine, and plenty of olive oil. The author also tells the stories that make up Ikaria, where life is all about taking time: time to cook, to eat, to nap, to spend with family and friends, to enjoy and to appreciate.

A Year of Simple Family Food: Delicious Recipes to Feed Your Family Through the Seasons by Julia Busuttil Nishimura: Great ingredients are the center of Julia's recipes. With the birth of her second child, the author needed plenty of quick recipes (that may require more time to bubble away on the stove) but kept her hands free. Here she shares those dishes that are linked by taste and pleasure and making the most of seasonal produce. Ostro, the author's first cookbook, is a dream (review) that continues to live in this second offering.

Beau's Kitchen: Delicious Meals to Share with Family and Friends by Beau Ryan: Australians love nothing more than entertaining with family and friends. So does former rugby league player and proud husband and father Beau Ryan, as he shares his love of cooking and spending time with family. Not just steak and sausages, this book includes easy recipes for grilled meats and seafood, as well as veggies, salads, and delicious desserts. So whether you're celebrating a birthday, watching the game or having fun in the pool, you'll love entertaining with Beau.
Women's Weekly: Food for Camping: Volume 2 No Cook Recipes, One Pan Dinners: The sequel to their best-selling Food for Camping, this book contains a whole new collection of outdoor meal ideas, perfect for both the well-seasoned camper and those hitting the trails for the first time. Using portable and accessible ingredients and practical cooking techniques, you don't have to worry about being strapped for ideas when it comes to your next camping trip.
The Ethical Omnivore by Laura Dalrymple and Grant Hilliard: This book traces how animals can be raised ethically while demonstrating ways regenerative farmers are outstanding in how they care for their animals. It offers tried-and-tested recipes from the Feather and Bone community, from simple and easy weeknight meals to slow roasts for special occasions. And it shows all of us how to live with less impact on the animals and environment that support us.