A dog-gone good idea
August 26, 2020 by Darcie
Today is International Dog Day, a celebration of all things canine. The day started in the US in 2004 by Animal Welfare Advocate and Pet Lifestyle Expert, Colleen Paige, and according to the official website, it "celebrates all breeds, mixed and pure and serves to help galvanize the public to recognize the number of dogs that need to be rescued each year, either from public shelters, rescues and pure breed rescues." The idea has spread to other countries as well, because who wouldn't want a day to fête man's best friend?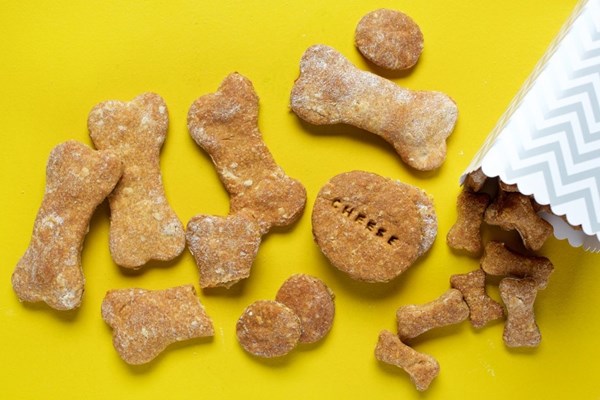 One way to celebrate the day is to make homemade dog biscuits for your favorite dog(s). Although the EYB Library is not exactly geared for pet cookery, it does contain nine online recipes for homemade dog biscuits, including the Cheesy dog biscuits from The Washington Post by Cathy Barrow pictured above. There is even a wheat-free recipe for owners who don't want too much gluten for their pampered pooch.
Even though I am more of a cat person, I can't resist petting the good doggies I see when they walk past my house (I live on a prime dog-walking route). After seeing how easy it is, I am inspired to make homemade dog biscuits and put them in a jar on my porch for the good dogs (i.e., all of them) who come by on walks.