Spice support: bay leaves
August 24, 2020 by Darcie
Although my grandmother had very few herbs and spices in her cooking arsenal, she always had a jar full of large dried bay leaves. These leaves were used in long-simmering soups and stews, carefully fished out prior to serving. The herb intrigued me since it was the only one using entire leaves that I experienced until I started cooking on my own. Recently Food and Wine's Margaret Eby rhapsodized bay leaves, explaining how to identify the best quality leaves and providing suggestions for how to use them.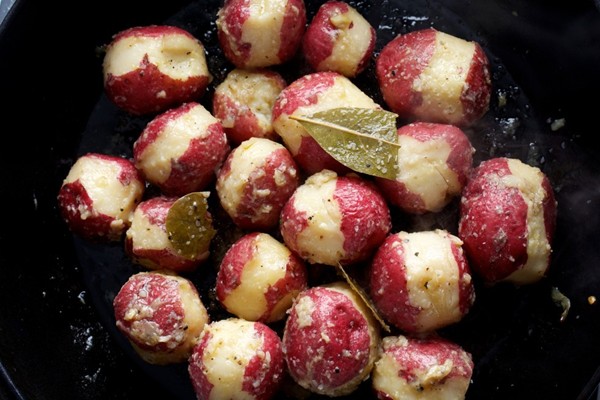 Bay leaves are widely used in French, German and Eastern European dishes, but are also important in Indian and Mediterranean cooking as well. The EYB Library's 14,000+ online recipes that call for bay leaves indicate how important the herb is in many cuisines. Different varieties of the leaf are used regionally, with the most common being bay laurel (Laurus nobilis), common in European and Mediterranean cooking. The California bay leaf has a similar flavor profile but a more pronounced flavor. There are also Indian, Indonesian, West Indian, and Mexican varieties. All of the leaves contain similar chemical compounds including eucalyptol, which can be described as pungent and piney. Although you can use them interchangeably in cooking, the flavors vary, with the Indian variety (Cinnamomum tamala) containing a mild cinnamon flavor, as its botanical name suggests.
You can find bay leaves fresh or dried, with the dried version most easily obtainable. Since the olive-green leaves are large, have sharp edges, and remain stiff after cooking, if used whole they should be removed prior to serving to avoid any unpleasant texture. Bay leaves are commonly used in long-cooking soups and stews as well as in pickling recipes, and the herb is at home with meat, fish, and vegetables. You can even use it in dessert.
Photo of Braised potatoes with bay leaves and garlic from The Washington Post by Molly Stevens