Quick Bites: Anne Willan
August 20, 2020 by Jenny
Earlier this month, Anne Willan's latest Women in the Kitchen: Twelve Essential Cookbook Writers Who Defined the Way We Eat, from 1661 to Today was published.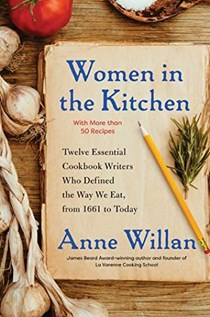 Anne Willan has more than 50 years of experience as a cooking teacher, author, and culinary historian. The founder of famed French cooking school La Varenne, Anne was inducted into the James Beard Foundation's Hall of Fame for her "body of work" in May 2013. She has also received the International Association of Culinary Professionals Lifetime Achievement Award, multiple James Beard Foundation Awards for her cookbooks, and was named Bon Appétit Magazine's Cooking Teacher of the Year in 2000. In July 2014, Anne was awarded the rank of Chevalier of the French Légion d'Honneur for her accomplishments in promoting the gastronomy of France. Her more than 30 books include La Varenne Pratique, (1989); The Country Cooking of France, (2007); and The Cookbook Library, (2012). In June 2018, Anne was awarded the Lifetime Achievement Award, from the Guild of Food Writers.
Q: What first triggered your interest in cooking? Your first cooking memory?
My first cooking memory was of Emily, our cook, making ginger biscuits in the kitchen at home, in Yorkshire, where it was always warm and fragrant and there were nibbles to eat. Apparently I was born greedy, from 6 months old I was eating double the weight of gruel that was the allowance for my age. When my new nanny arrived she was quite shocked!
Q: If you had to describe your cooking style, what would it be?
French with domestic touches.
Q: Are you a cookbook collector? If so, tell us about your collection – number of books, favorite genre, favorite author? What do you look for in a cookbook?
Yes, I have over 2000 cookbooks. Many of them have been donated to the Getty Museum in Los Angeles, which I collected with my husband Mark. I also have a few favorites gathered here in London.
My favorite genre, other than cookbooks is murder mysteries with John le Carré my author of choice.
I look for a strong personal voice in a cookbook.
Q: What is the best part of your job? Do you sometimes feel like working with food all day keeps you from wanting to get creative in the kitchen?
The best part of my job is recipe testing and tasting the results. The more I am in the kitchen, the more I want to experiment with different ingredients and methods of cooking, until a recipe is just right.
Q: What is your go-to for a quick dinner?
An omelet.
Q: What projects are you working on?
I have five grandchildren and we cook together as often as we can. So Cooking with Grandma has been an obvious avenue of inspiration. I now have the makings of a book with an international gathering of nearly 50 recipes from England, France, and America. Including Christmas cake, Catalonian meatballs, and Russian kissel.