Sourdough, yes, sourdough again
August 6, 2020 by Jenny
While Darcie has recently broken up with sourdough, I've decided to rekindle my relationship. I admit that I am a serial killer. Many a jar of sourdough has met an unseemly death under my watch. Selfishly (and repeatedly) in the past, I have neglected my jar of starter to die a lonely, cold death.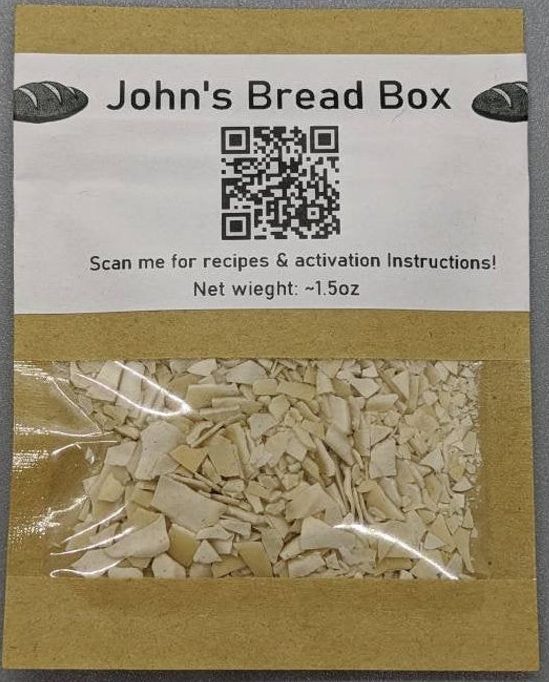 I have no issues creating a starter, feeding it, and using discard for baking projects. For a while, I am attentive but then my good intentions slip away and the special vessel that proudly reads "Sourdough Jar" gets pushed back further and further into the chilly abyss of the fridge.
For some, sourdough can be daunting. Recently, I came across John's Bread Box sourdough kits on Etsy and ordered one for myself and a friend. Activating this sourdough will be one of my projects this weekend.
I am impressed with the contents of this box as well as John's detailed instructions that can be downloaded and printed. The kit comes with an organic white sourdough starter (photo above right), a linen proofing cloth, dough whisk, bread lame with extra blades, bench scraper, and cute tubes of Himalayan Pink Salt and a dipping spice blend sample (basil, oregano, garlic, Italian herbs, and pepper flakes).
The box is a great gift idea for a baker new to sourdough and I wanted to share it with you. I paid for the kit myself so I have no ulterior motive in recommending it to you. Well, perhaps I have a small ulterior motive in that now that I have shared my past neglectfulness, I will be more attentive. I told myself that I will not abandon my project this time, I will feed it, use the discard for everything from waffles to bagels and it will thrive. Note: John is taking preorders as he builds more kits.
Sourdough is this year's kale. It's everywhere. Bryan Ford's New World Sourdough: With Recipes for Creative Homemade Fermented Breads

has created quite a buzz. Tejal Rao of The New York Times states that the Choco pan de coco rolls will change the way you see sourdough and now I am excited to make them. Ford has shared a few recipes at Taste and there is a wealth of information and recipes on his blog. Be sure you enter our giveaway to win a copy of this fantastic book.
Next month Vanessa Kimbell's The Sourdough School: Sweet Baking: Nourishing the Gut & the Mind will be released and it looks spectacular. The author's The Sourdough School: Learn How to Make Delicious and Healthy Bread at Home is another great title devoted to the craft.
There are a few other books devoted to the subject that bakers should check out:
And here are a few other articles that may be helpful:
As I finish up this article a thought has occurred to me. Maybe I should name my starter? I have friends who have bestowed names to their starters. Giving the starter a name may keep it at the forefront of my mind. I'm open to suggestions. Maybe Chance or Lucky?