Making the most of tomato season
July 31, 2020 by Darcie
Peak tomato season is here for most of us in the Northern Hemisphere. Home gardens and farmers markets are flush with heirloom varieties in a rainbow of colors. You can find delicate yellow orbs, huge meaty beefsteaks, dark crimson deeply-lobed beauties, and the list goes on. The only drawback about about tomato season (besides the potential for stains on your white clothing) is deciding what dish to make next. Food52 has fifteen ideas, Vice ups their game with 22 recipes featuring tomatoes, and Love & Lemons outdoes them both, offering 50 things to make using the 'love apple'.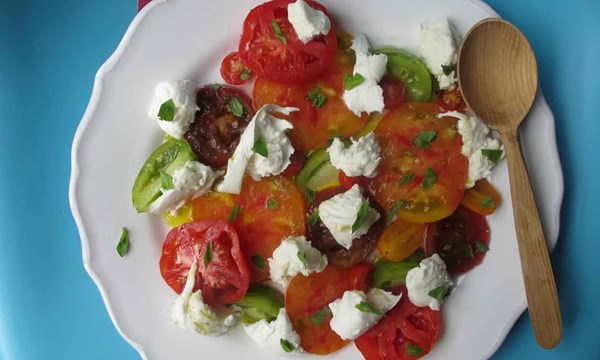 Some of the best recipes are the simplest, such as caprese salad, pico de gallo, and tomato bruschetta. When an ingredient is perfectly ripe and flavorful, it needs little adornment. For dinner this evening we munched on cucumber and tomato sandwiches on freshly made bread and it was one of the most satisfying meals I've had in a while. If you are feeling more adventurous, you can make a long-simmering sauce that begs to coat pasta, try a tomato jam, or construct a decadent tomato tart.
Here are a few recipes from the EYB Library to spark your imagination, just in case the 87 recipes from the links above aren't enough.
and for the truly dedicated tomato lover: