Quick Bites – Kate McDermott
July 27, 2020 by Jenny
Kate McDermott is the queen of pie. Her debut cookbook Art of the Pie: A Practical Guide to Homemade Crusts, Fillings, and Life is beloved by bakers worldwide. This title made most of the best book lists of 2016 as well as being an IACP and James Beard cookbook awards finalist. In 2018 Home Cooking with Kate McDermott brought the recipes that Kate makes at home to her readers.
Kate tells us: "I've been teaching pie-making for over 11 years now and have shared the craft with over 4000 people in the United States and Europe but as I mention in the last question on projects, I have recently moved my teaching to the virtual world."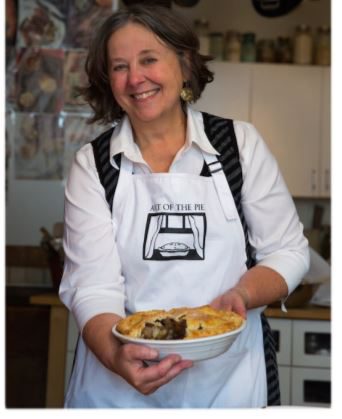 Q: What first triggered your interest in cooking? Your first cooking memory?
My first pies were mud pies when I was a little girl. From there I had the good fortune of having baking mentors at a very early age; Sadie lived next door and taught me to bake cookies without using measuring equipment, and I used to stand at my grandmother's elbow as she made the pies that she was known for in our family. I remember making doughnuts and fudge with my mom. My first cookbook was the Betty Crocker Cookbook for Boys and Girls and I still have a copy.
Q: If you had to describe your cooking style, what would it be?
I'm a use-what-is-on-hand-home-cook. I do a lot of substitution, especially now when going to the store is a major outing.
Q: Are you a cookbook collector? If so, tell us about your collection – number of books, favorite genre, favorite author? What you look for in a cookbook.
Currently, I have about 500 cookbooks of which about 25% are on pie-making and general baking, which probably comes as no surprise. Other areas of interest for me are books on historical cooking and food essays. I used to organize my books by color and was even interviewed by NPR Weekend Edition about it back in 2013.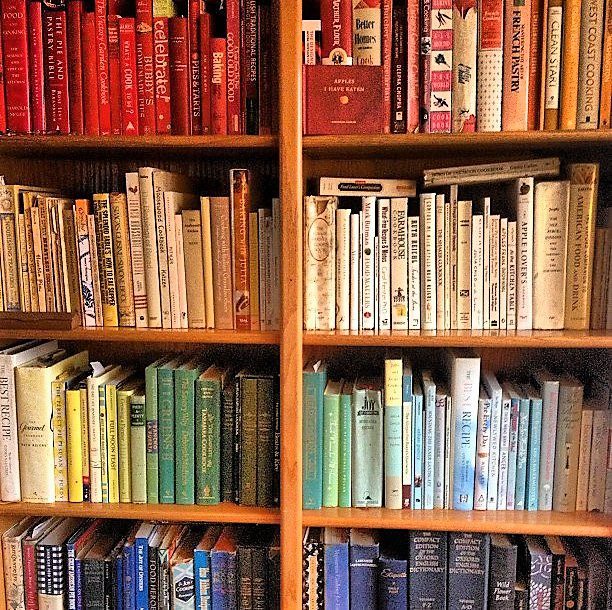 As my collection grew, that system became more difficult to manage so I bit the bullet and recently re-organized by category and author.
Q: What is the best part of your job? Do you sometimes feel like working with food all day keeps you from wanting to get creative in the kitchen?
Teaching pie making is the best job in the world! As I share my love of a time-honored craft with others, many times I get to hear family stories of a special pie and beloved pie maker…every family seems to have one. Helping a new pie maker learn the craft is a great honor, and I stay in touch with many of my students who send me photos of their pies and share with me how they have continued to make pies and have even taught the next generation in their family to make pie, too. This is how we keep this craft alive.
Q: What is your go-to for a quick dinner?
Rice and beans has been a staple in my home for decades so I make a big pot of beans every week. Those beans I can then use for soups, casseroles, tostadas, or serve with eggs for a quick dinner.
Q: What projects are you working on?
With the challenges of Covid-19 quarantining, I transferred my teaching to an online platform in May of 2020 to offer Art of the Pie Virtual Pie Camps and Workshops and am loving this new way of teaching.  I'm very excited that a third book, Pie Camp: The Skills You Need to Make Any Pie You Want will be released on October 6 and my publisher and I are working on adding dates to a virtual book tour.
Tell us what you love about Eat Your Books:
I love the ease of searching EYB's indexed books to locate specific recipes in my own collection of cookbooks.