July 2020 New Cookbook Review
July 21, 2020 by Jenny
What July is lacking in the number of its releases, it makes up in the quality of books. As I was preparing this month's review, I noted additional fall/autumn titles are again being moved to 2021. The looking forward to 2020 cookbooks post provides an outline by month of when cookbooks are slated to be published. I continue to update this preview weekly.
Be sure to follow us on social media (buttons located on right lower sidebar on the home page). If you would like to order any of these titles, using our affiliate links (right beneath the social media buttons) or the BUY BOOK button on the book details page, will help to support EYB and our indexing efforts (as well as help us to include worldwide options in some promotions). Most of our titles are released in multiple regions and are available locally and through worldwide sellers such as the Book Depository that make global titles available to more members with free international shipping.
If there is an

available for a cookbook, look for the orange icon in the blurb. Clicking on that icon will take you directly to the Preview.
United States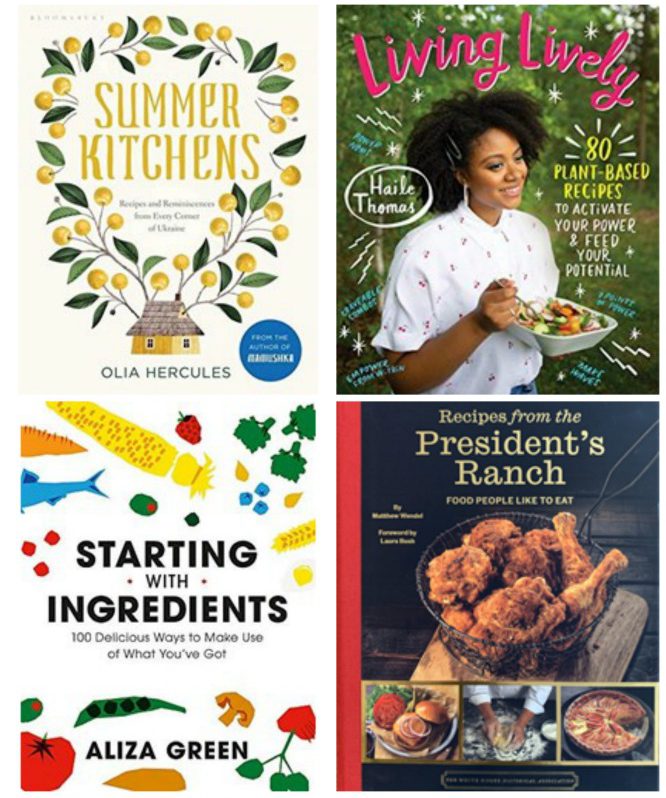 Starting with Ingredients: 100 Delicious Ways to Make Use of What You've Got by Aliza Green: This reinvigorated, revamped collection of delightful dishes distills a master class for the home cook to its most enjoyable essentials. The brand-new Starting with Ingredients has a colorful, more easily digestible format, offering the very best and most versatile ingredient-driven recipes for every day. Navigate easily through more than 100 recipes with brightly colored tabs, sidebars, and culinary lore sprinkled throughout. Starting With Ingredients: The Quintessential Recipes for the Way We Really Cook was published in 2006. Note: I have Starting with Ingredients Baking by the author and think it is a wonderful resource.
Living Lively: 80 Plant-Based Recipes to Activate Your Power and Feed Your Potential by Haile Thomas: By a superstar nineteen-year-old activist and motivational speaker, a unique cookbook and inspiring guide that combines 80 delicious, wholesome, super-powered plant-based recipes with a "7 points of power" manifesto to inspire the next generation of leaders toward self-reflection, critical thinking, and unlearning toxic ideas.
Recipes from the President's Ranch by Matthew Wendel: Chef Wendel provides a first-hand account of his years working for President George W. Bush and his family at Camp David and at their Texas home on Prairie Chapel Ranch. He offers a collection of recipes, photographs, stories, and memories of daily life as a senior advance representative in the Office of Presidential Advance and as the personal chef and personal assistant to the president. This is a lovely book filled with approachable recipes.
Summer Kitchens: Recipes and Reminiscences from Every Corner of Ukraine by Olia Hercules: Published last month in the UK this gorgeous book from award-winning author Olia Hercules, explores the diversity of Ukraine's cuisine and heritage through the alluring window of summer kitchens – small structures alongside the main house where people cook and preserve summer fruits and vegetables for the winter months. Our promotion for this title will be coming very soon.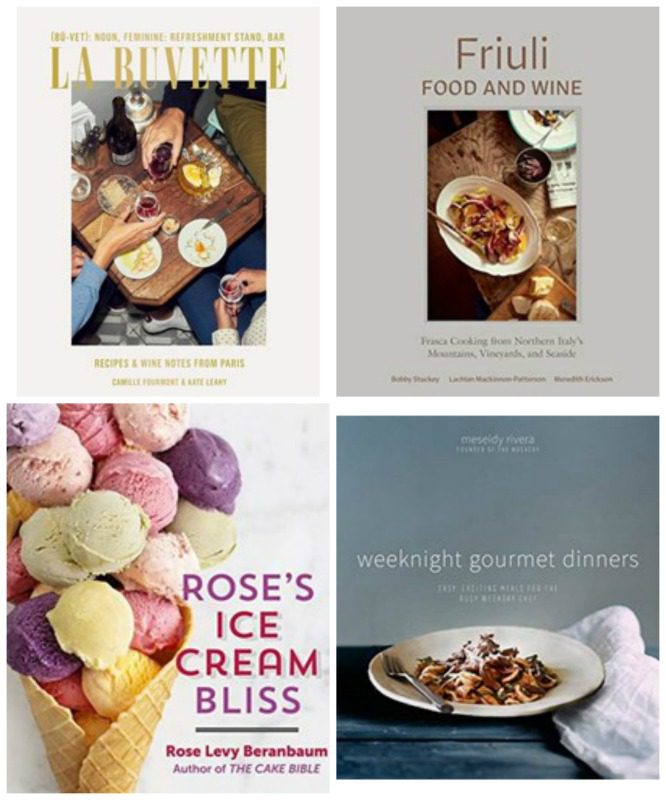 Friuli Food and Wine: Frasca Cooking from Northern Italy's Mountains, Vineyards, and Seaside by Bobby Stuckey, Lachlan Mackinnon-Patterson and Meredith Erickson: Bordered by Austria, Slovenia, and the Adriatic Sea, the northeastern Italian region of Friuli Venezia Giulia is an area of immense cultural blending, geographical diversity, and idyllic beauty. This tiny sliver of land is home to one of the most refined food and wine cultures in the world and yet remains off the grid. The unique cuisine of Friuli is what inspires the menu at Frasca, a James Beard Award-winning restaurant in Boulder, Colorado, helmed by master sommelier Bobby Stuckey and chef Lachlan Mackinnon-Patterson.
Weeknight Gourmet Dinners: Easy, Exciting Meals for the Busy Weekday Chef by Meseidy Rivera debunks the myth that cooking thought-out, exquisite meals is only reserved for the weekends, when you have hours of prep time. Meseidy Rivera, the founder of The Noshery, shows readers how making gourmet-level meals with unique ingredients and delicious flavors are attainable any night of the week.

La Buvette: Recipes and Wine Notes from Paris by Camille Fourmont and Kate Leahy: The owner of a beloved Paris wine shop, bar, and cafe shares the secrets of effortless French entertaining in this lushly photographed guide featuring 50 recipes for simple, grazing-style food. This title brings us a sweet taste of Paris while we are in our own kitchens.
Rose's Ice Cream Bliss by Rose Levy Beranbaum is a must-have from the queen of baking and desserts. Find out more about Rose's latest and enter our giveaway open to US/CA in our promotion post.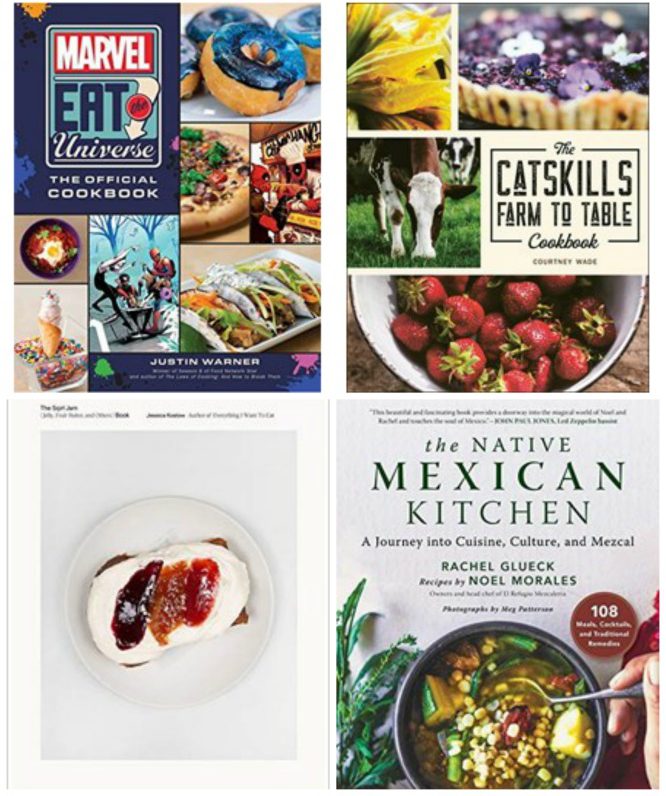 The Sqirl Jam Book: Jelly, Fruit Butter, and Others by Jessica Koslow: Despite the negative news that has been generating from the LA eatery, the cookbook is amazing, in my humble opinion. While some of the photographs are unusual and there is no full index, the recipes make the book worth owning. I've made one recipe and have other colleagues who have made several recipes – and we are all pleased.
The Catskills Farm to Table Cookbook: Over 75 Recipes by Courtney Wade: Fresh vegetables and fruit, meat, dairy, wild game and foraged produce all take center stage in this title – because that is what eating in the Catskills is all about! Farms and restaurants emphasizing the use of local foods and produce are also highlighted, creating a guide to the farm to table movement in the region. Knowing what goes into the food on your plate is not just a trend – it's an understanding of the processes, the time, the individuals, the community, and the lifestyle behind it all.
The Native Mexican Kitchen: A Journey into Cuisine, Culture, and Mezcal by Rachel Glueck and Noel Morales: Mexican cuisine is ubiquitous in the American dining scene, yet it remains far removed from its roots. The Native Mexican Kitchen is an homage to the indigenous peoples and their culinary and cultural traditions that create Mexican cuisine, elevating it beyond Americanized tacos and tequila.
Marvel Eat the Universe: The Official Cookbook by Justin Warner: Feast your way through the world of Marvel Comics with celebrity chef Justin Warner. Based on Marvel's hit digital series hosted by Warner, this ultimate compendium of recipes will feature dishes that span a variety of skill levels.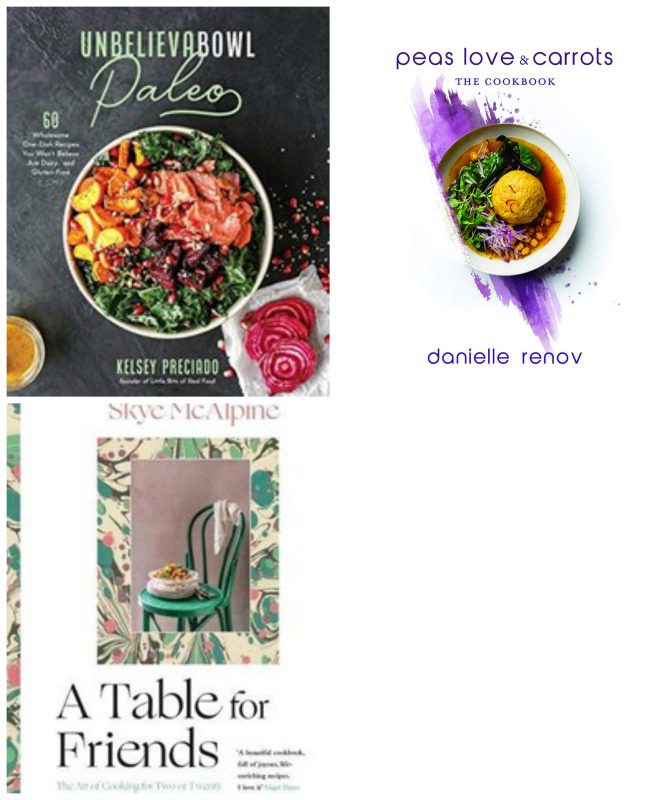 Peas, Love and Carrots: The Cookbook by Danielle Renov: I received this book this week and was blown away. Delicious recipes and beautiful art and photos worthy of space in your kitchen. This is an extension of the @peaslovencarrots community Danielle has built, where tens of thousands of people tune in daily for recipes and cooking tutorials, lifestyle tips, and all things family related! Over 250 approachable recipes and over 185 gorgeous photos that draw inspiration from Danielle's Sephardic and Ashkenazi roots are shared in this book. There is plenty in here for every person and every occasion! It is filled with tips + tricks, stories, anecdotes, and insights that leave us laughing, teach us how to be better cooks, and make us proud of our lives in the kitchen and of the food that we serve to beloved friends and family.
Unbelievabowl Paleo: 60 Wholesome One-Dish Recipes You Won't Believe Are Dairy- and Gluten-Free by Kelsey Preciado: Little Bits of Real Food founder Kelsey Preciado makes cooking lasting low-carb and high protein dishes the easiest it's ever been with this collection of satisfying bowl-style meals. Kelsey combines real foods like lean protein, fresh veggies and vibrant produce and ties them together with creative sauces to create clean, complete meals that will keep you full, energized and feeling fantastic.

A Table For Friends: The Art of Cooking for Two or Twenty by Skye McAlpine (see UK section).
Canada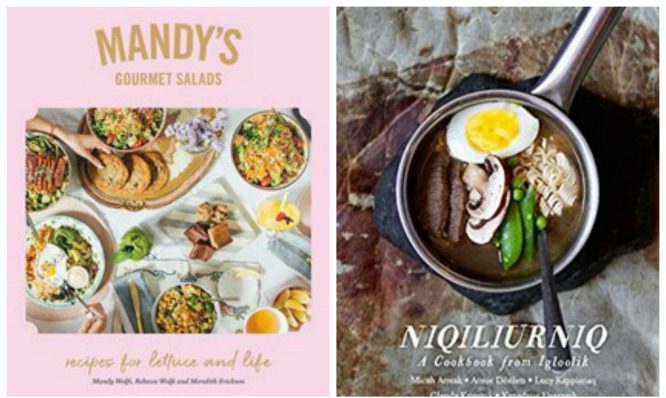 Mandy's Gourmet Salads: Recipes for Lettuce and Life by Amanda and Rebecca Wolfe and Meredith Erickson: From the sisters behind Montreal's sensational gourmet salads comes an overwhelmingly gorgeous cookbook, packed with simple and delicious recipes for salads – and much more!
Niqiliurniq: A Cookbook from Igloolik by Micah Arreak, Annie Désilets, Lucy Kappianaq, Glenda Kripanik and Kanadaise Uyarasuk: Compiled by five women living in Igloolik, Nunavut, this collection of recipes brings together healthy traditional country foods-like seal, Arctic char, and caribou-with store-bought produce to create delicious meals that can be an alternative to pre-packaged foods. With details on food safety and storage, as well as information on how to build a healthy, nutritious diet, this book will help even novice cooks feel empowered to begin cooking from scratch at home.
United Kingdom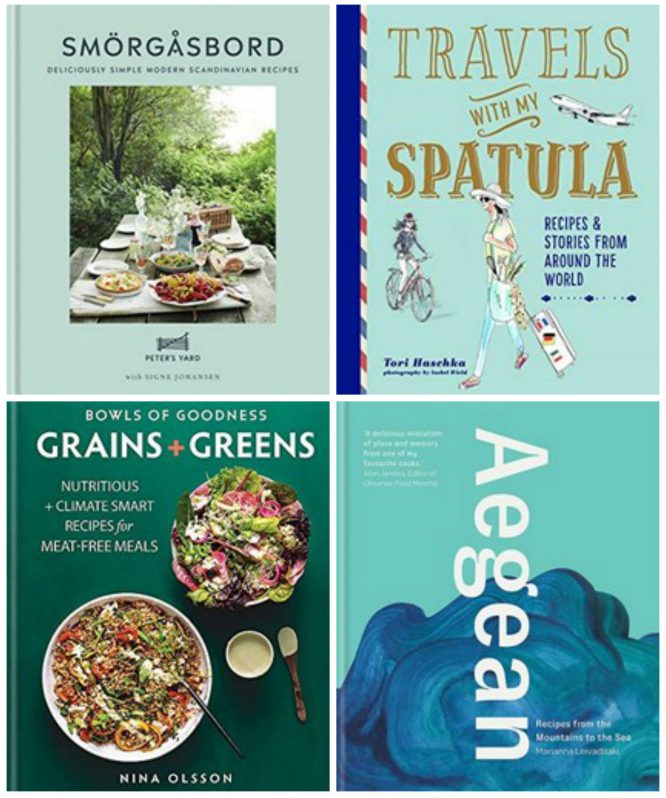 Bowls of Goodness: Grains + Greens: Nutritious + Climate Smart Recipes for Meat-Free Meals by Nina Olsson: This stunning new book features over 100 recipes that showcase whole grains and fresh greens. These two food types are the foundation of some of the most healthy and delicious vegetarian food, both historically and today, and form a key part of a nourishing diet.
Aegean: Recipes from the Mountains to the Sea by Marianna Leivaditaki (US release 8/2020): Marianna Leivaditaki is a natural storyteller. She grew up in Chania, on the Greek island of Crete, and spent her childhood helping out in the family-run taverna. After school, she carried around her blue notebook, writing down all the recipes she would like to cook, helped by the Greek grannies' kitchen wisdom. Marianna's love for the food of her heritage flows off every page, but she also has a contemporary take on it. As head chef of Morito in Hackney, she has championed high-quality ingredients, presenting them in simple, stunning sharing plates, and has been critically acclaimed for doing so. We will have a promotion and more information on this book in August.
Smörgåsbord: Deliciously Simple Modern Scandinavian Recipes by Signe Johansen: This collection of simple, informal recipes bring smorgasbords up to date and include dishes such as skagen (prawn salad), citrus and spice cured gravid lax, fried chanterelles with garlic and parsley on toasted sourdough, as well as fresh cheese with caraway and pickled cucumbers. For spring, there are ideas for an Easter celebration and a bonfire party, for summer a midsummer gathering and crayfish party, for fall a feast supper and foraged dinner, and for winter a Christmas drinks and New Year celebration.
Travels with My Spatula: Recipes and Stories from Around the World by Tori Haschka: While on her travels, the author found herself collecting Post-It notes of memorable dishes she'd eaten and then – when she got home – she'd capture her experiences through recreating recipes. Split into chapters covering brunch, sweet treats, and summer and winter recipes, you can try her slow-cooked ribs from Brooklyn, the perfect pasta from Rome or luscious lentil koshary from Cairo; each recipe is a delicious memory waiting to be brought back to life in her home and yours. Who knows, it may even inspire you to book a flight and take a foodie journey of your own!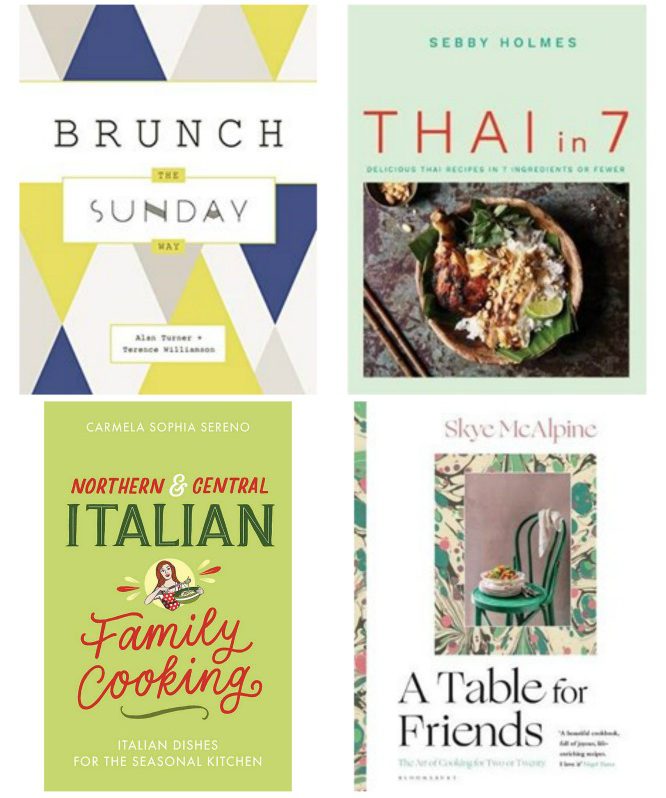 Thai in 7: Delicious Thai Recipes in 7 Ingredients or Fewer by Sebby Holmes: Thai recipes can often feature a long and offputting list of ingredients, so it becomes a cuisine we treat ourselves to in a restaurant or as a takeaway rather than cook at home. Here the author shows us how to make deliciously fragrant and fiery Thai dishes any night of the week with only 7 ingredients or fewer.
A Table For Friends: The Art of Cooking for Two or Twenty by Skye McAlpine: This gorgeous book from the author of A Table in Venice is being released both in the US and UK this month. Skye's books are pure comfort with gorgeous photography (by the author herself) and recipes that will please any gathering of friends and family. For more information on this title see our promotion and giveaway (US/UK).

Brunch: The Sunday Way by Alan Turner and Terrence Williamson: London's acclaimed champions of brunch share the recipes that made the Sunday Cafe a runaway success.
Northern & Central Italian Family Cooking: Italian Dishes for the Seasonal Kitchen by Carmela Sophia Sereno: Join the author on a culinary journey from the breath-taking Dolomites as far south as Lazio and Abruzzo, taking in the delicious and decadent flavour of northern and central Italy. I have just received an electronic version of this title and the recipes sound amazing. There are no photographs but Carmela's detailed instructions and "tips" throughout the book up for the lack of same.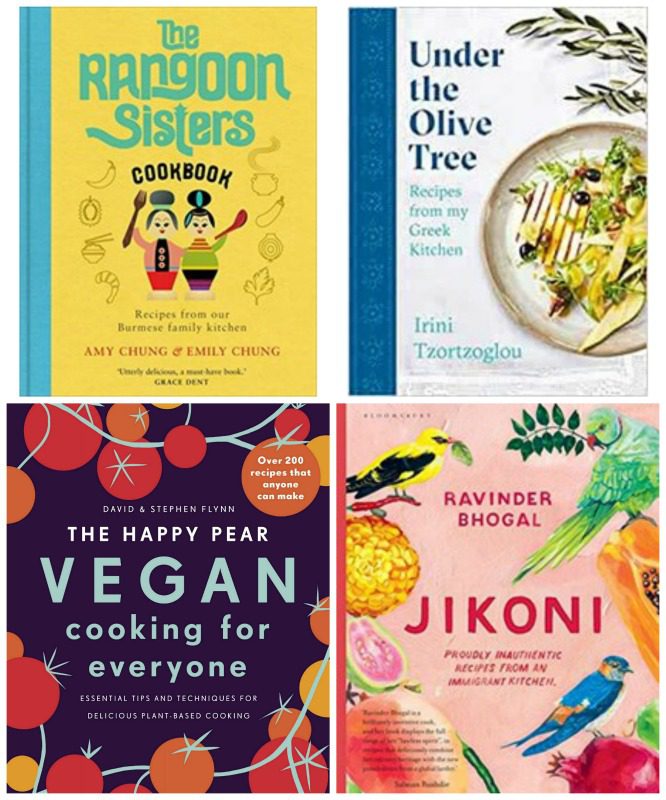 The Rangoon Sisters: Recipes from our Burmese Family Kitchen by Amy and Emily Chung is a celebration of the incredible food and flavours that are found throughout Myanmar, including over 80 evocative recipes that have been made easy and accessible for the modern home cook by supper club extraordinaires Emily and Amy Chung.
Jikoni: Proudly Inauthentic Recipes from an Immigrant Kitchen by Ravinder Bhogal: Jikoni means 'kitchen' in Kiswahili, a word that perfectly captures Ravinder Bhogal's approach to food. These recipes here are proudly inauthentic and are what you might loosely call 'immigrant cuisine', with evocative stories from a past that illustrates the powerful relationship between food, people, place, and identity. The tastes and smells of this brazen new world are sophisticated, welcoming, fresh, exciting, and bold.

Under the Olive Tree: Recipes from my Greek Kitchen by Irini Tzortzoglou is a stunning and user-friendly collection of delicious Greek family recipes from Irini Tzortzoglou, the 2019 champion of MasterChef UK. Including accessible, everyday dishes for the home cook, as well as an entertaining section full of Irini's tips and tricks for when you have a little more time or want to impress your guests. Update: I just received an electronic copy of this gorgeous book. I'm loving the range of recipes and photography.
The Happy Pear: Vegan Cooking for Everyone by David and Stephen Flynn: After twenty years of plant-based cooking, bestselling chefs Dave and Steve Flynn have developed an encyclopedic knowledge of how it works and how to make vegan food simple, creative and totally irresistible. Dave and Steve's new book distills all their knowledge into ten chapters that are full of master recipes, step-by-step guides, fun variations and top tips, and an approach to plant-based eating that will inspire you to become the best cook of vegan food you can possibly be.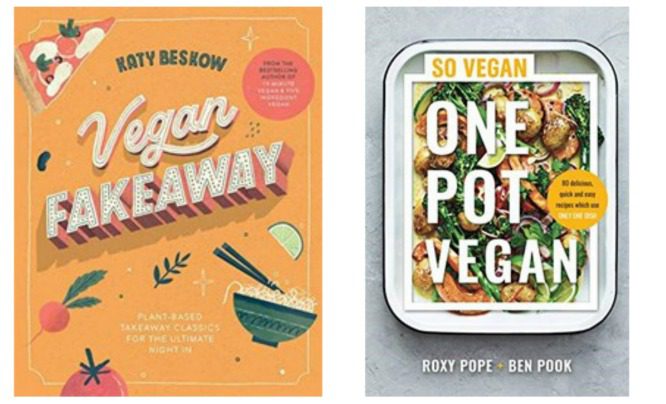 One Pot Vegan: 80 Brand New Recipes from the Creators of SO VEGAN by Roxy Pope and Ben Pook is the perfect staple cookbook for vegans, vegetarians, flexitarians, or anyone who simply wants more plants on their plate.
Vegan Fakeaway: Plant-based Takeaway Classics for the Ultimate Night In by Katy Beskow offers 70 recipes that deliver fast, easy, vegan takeaway classics that will make sure that you re able to indulge, whenever the craving strikes.
Deliciously Ella: Quick and Easy: 10-Minute, 20-Minute, Big Batch Plant-Based Meals: Over 100 Vegan Recipes by Ella Mills (Woodward): Ella's new collection shows us that vegan cooking doesn't have to be difficult or time-consuming. It's easy to embrace a plant-based lifestyle with her fuss-free, simple recipes that cater to our busy lives. Divided into 7 sections, the new book offers recipes with approximate cooking times, showing you how to make simple meals that will satisfy your taste buds and inspire you every day.
Australia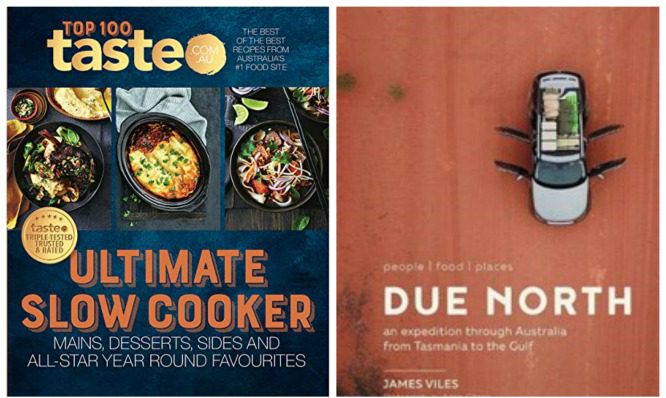 Due North: An Expedition Through Australia from Tasmania to the Gulf by James Viles is about Australia, its landscape and its people, through the lens of food. It describes the journey and experiences of James Viles and his co-travellers (who are also influential Australia-based chefs) as they travel from Tasmania to the Gulf of Carpentaria in a 1964 Land Rover, seeking out native ingredients as well as introduced foods and food wisdom and meeting with like-minded people along the way who are knowledgeable and passionate about Australia and Australian ingredients. It describes the people they meet – foragers, tribal elders, local farmers – and what they do. Its focus is real food, where it comes from, how it sometimes flourishes in the most hostile and breathtakingly beautiful parts of Australia; a book that shows the world and how diverse and extraordinary Australia is, what there is to be discovered and what we can learn from it. It includes some recipes and food suggestions, but this is not a cookbook in the conventional sense. Update: I just received an electronic copy of this book and it is stunning – no recipes – but beautiful imagery and an interesting read.
Taste Top 100: Ultimate Slow Cooker: The Best of the Best Recipes from Australia's #1 Food Site by taste.com.au delivers the best of the best recipes from the team at taste.com.au. From falling-apart-at-the-bone stews, to warming curries and heavenly desserts, here are 100 inspiring and clever dishes to choose from – all year round. With handy cooks notes, secret hacks, nutritional information, and reviews from the taste.com.au community, this title is destined to hold pride of place in your kitchen.