Quick Bites – Denise Vivaldo
July 5, 2020 by Jenny
A seasoned food professional with over 30 years of experience, Denise Vivaldo has catered more than 10,000 parties and has cooked for such guests as George H.W. Bush, Ronald Reagan, Prince Charles, Bette Midler, Suzanne Somers, Merv Griffin, Cher, Aaron Spelling, Sly Stallone, Arnold Schwarzenegger, and Maria Shriver. She began her culinary training at the Ritz Escoffier and La Varenne in Paris then graduated Chef de Cuisine from the California Culinary Academy in San Francisco. Denise spent numerous years as a professor at UCLA's Culinary Program and at her Alma Mater, the California Culinary Academy. Denise's television clients carried her career into media food styling.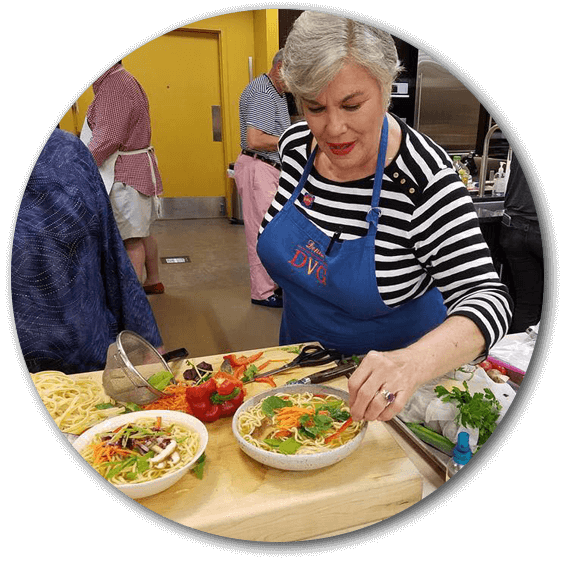 Denise is the author of eight award-winning books: The Food Styling Handbook (review); How to Start a Home-Based Catering Business; How to Start a Home-Based Personal Chef Business; The Entertaining Encyclopedia; Perfect Table Settings; Do It For Less! Parties; and Do It For Less! Weddings.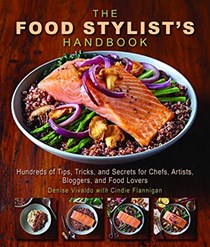 Q: What first triggered your interest in cooking? Your first cooking memory?
I fell in love with cooking at age 20. Before that, I had zero interest. And then, a dear friend gave me Julia Child's Mastering the Art of French Cooking which changed my life. I learned to make a Cheese soufflé and never looked back.
Q: If you had to describe your cooking style, what would it be?
I cook like an Italian who has lived in California all her life. I want to produce perfectly cooked food with fresh ingredients and a pronounced depth of flavor.
Q: Are you a cookbook collector? If so, tell us about your collection – number of books, favorite genre, favorite author? What you look for in a cookbook?
I recently rightsized. I donated 2,000 cookbooks to the Los Angeles Library and they were thrilled. I kept my personal favorites which are: Julia Child, Vincent Price, Ada Boni, Martha Hall Foose, Anne Willan, and Pierre Franey. I have an eclectic collection. I look for good writing in a cookbook. I want to know the author and I want the directions to techniques to be clear and teach me something. One of the more current titles, I am loving is Evan Funke's American Sfoglino: A Master Class in Handmade Pasta.

Q: What is the best part of your job? Do you sometimes feel like working with food all day keeps you from wanting to get creative in the kitchen?
The best part of my job is being an artist and supporting myself for 30 years. I have never gotten tired of cooking and styling food. Never. Even after 16 hour days, I cook dinner; it might be only scrambled eggs but they are perfect scrambled eggs.
Q: What is your go-to for a quick dinner?
My go-to quick dinner is roasted cauliflower with olive oil, grated Parmesan over spaghetti. Or toasted sourdough with chopped tomatoes and a smear of burrata cheese. You can garnish with basil leaves or you can add prosciutto.
Q: What projects are you working on?
I have been writing two separate memoirs over the last twenty years. One is about working in Hollywood and the other is about growing up in San Francisco in North Beach in the 1950's and I have decided to meld them. I also have a podcast Women Beyond that celebrates women beyond a certain age.
(Jenny's note: I have no doubt Denise's memoir will be a best-seller as I have read a few of her stories!)
If you use EYB tell us what you like most about it:
I love Jenny's reviews of cookbooks: smart, entertaining, and helpful.