May 2020 New Cookbook Review
May 25, 2020 by Jenny
Once again, I settled in to prepare this month's cookbook review and found many titles scooted forward to June, July, and August. The looking forward to 2020 cookbooks post provides an outline by month where you can learn when a book's publication date was moved to and/or what is to come for this year. I continue to update this preview weekly.
Be sure to follow us on social media (buttons located on right lower sidebar on the home page). If you would like to order any of these titles, using our affiliate links (right beneath the social media buttons) or the BUY BOOK button on the book details page, will help to support EYB and our indexing efforts (as well as help us to include worldwide options in some promotions). Most of our titles are released in multiple regions and are available locally and through worldwide sellers such as the Book Depository that make global titles available to more members with free international shipping.
If there is an

available for a cookbook, look for the orange icon in the blurb. Clicking on that icon will take you directly to the Preview. Also, please note that author events have been postponed or canceled. Our calendar will be kept current with any changes as we find them. Online/virtual cooking classes will continue to be updated on this post. We recently published the EYB Cookbook Club Summary for May, please take a look and join us!
Please remember to support our local bookshops. While many are closed at this time, they are still taking online orders.
---
United States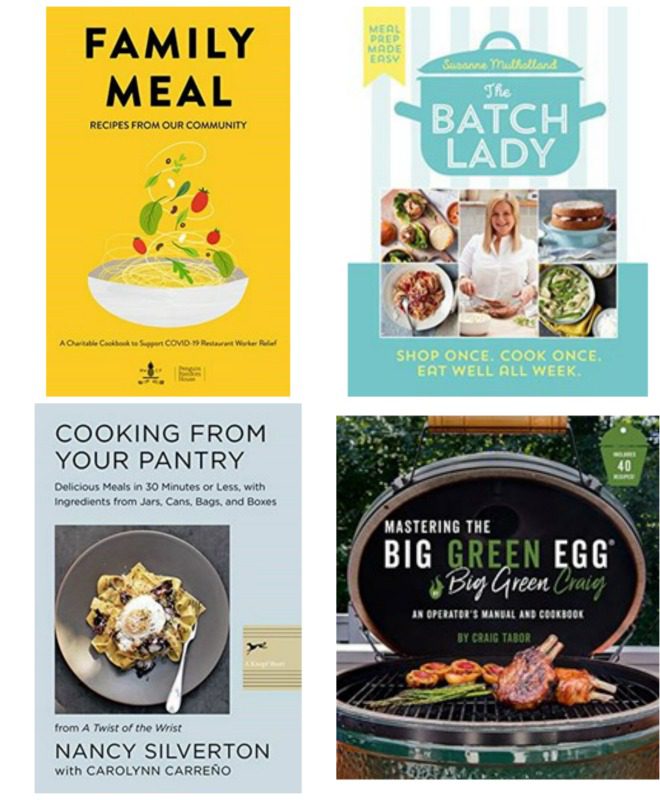 Family Meal: Recipes from Our Community: To help support America's restaurant industry, Penguin Random House published this digital-only collection featuring more than 40 recipes from their family of food and drink authors that you can't find anywhere else. Readers will get an exclusive look at what these culinary masters are cooking at home right now – recipes that feed, sustain, and provide a connection to the world outside.
The Batch Lady: Shop Once. Cook Once. Eat Well All Week. by Suzanne Mulholland: Save time and money and eliminate food waste with this charming and practical handbook from online sensation the Batch Lady, who teaches home cooks how to master meal prep and planning to create tasty meals the whole family will love.
Mastering the Big Green Egg® by Big Green Craig: An Operator's Manual and Cookbook by Craig Tabor: The author is the winner of multiple grilling competitions around the country and runs one of the most popular Big Green Egg® blogs, craigtabor.com. Here he helps us set up our Big Green Egg® for success, from assembly to maintenance, to lighting the coals just right for each recipe, ensuring the perfect temperature for the perfect cook. Once your fire is blazing, the real hard part begins picking which recipe to try first! Go for comforting classics like Meat candy (a.k.a. pork ribs) or Nashvegas hot grilled chicken sandwich.

Cooking from Your Pantry: Delicious Meals in 30 Minutes or Less, with Ingredients from Jars, Cans, Bags, and Boxes (ebook) by Nancy Silverton: One of the most revered restaurant chefs in the country, Nancy turns her attention here to quick and easy recipes that home cooks can whip up using on hand or always easy to get pantry ingredients from jars, cans, bags, and boxes. Taken from her beloved classic cookbook, A Twist of the Wrist, these are thirty-minute meals that you'll want to stay home and cook – whether you're on lockdown or not!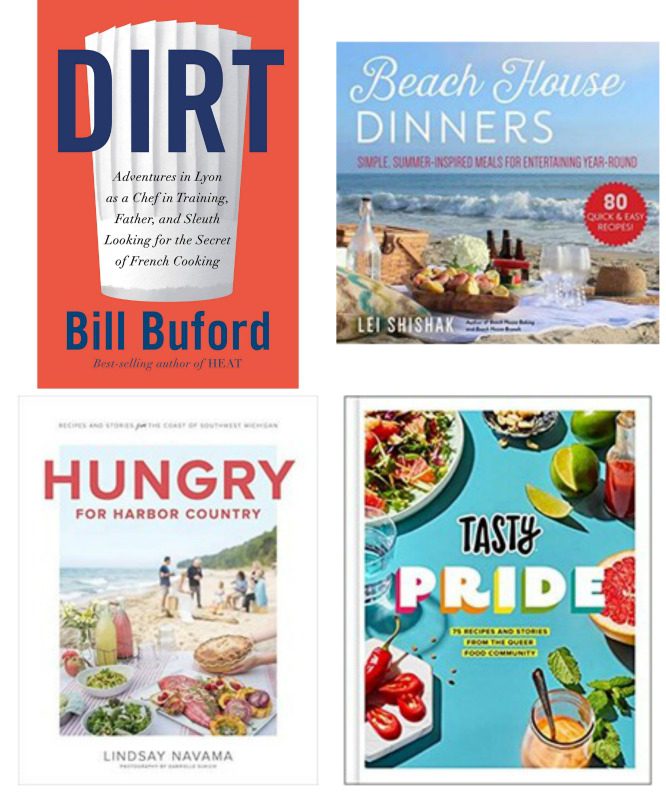 Beach House Dinners: Simple, Summer-Inspired Meals for Entertaining Year-Round by Lei Shishak: In her fourth book, chef Lei has included 80 delectable recipes that she makes at her beach house in Southern California. Each recipe in this book will inspire and transport you to beautiful places around the world, some of which you may already know and others may be new. Either way, her hope is that while making each recipe you'll become blissfully unaware of the distractions of everyday life, and in the end, you and your guests will melt into the joy of eating a great meal.
Dirt: Adventures in Lyon as a Chef in Training, Father, and Sleuth Looking for the Secret of French Cooking by Bill Buford: A hilariously self-deprecating, highly obsessive account of the author's adventures, in the world of French haute cuisine, for anyone whose ever found joy in cooking and eating food with their family from the author of the best-selling, widely acclaimed Heat.
Hungry for Harbor Country: Recipes and Stories from the Coast of Southwest Michigan by Lindsay Navama: This title is part cookbook, part travel guide, and part personal story about a life-changing year spent in a small lakeside town in Michigan. Featuring 56 delicious, seasonal, allergy-friendly recipes and illustrated with lavish full-color photography, this cookbook evokes the scenic beauty and charm of southwest Michigan's Harbor Country.
Tasty Pride: 75 Recipes and Stories from the Queer Food Community by Tasty: Here, stories of love, pride, and acceptance and the important role that food can play in that journey accompany the innovative yet totally doable recipes you know to expect from Tasty. Compiled by food writer Jesse Szewczyk and contributed by 75 cooks and celebrities from across the queer community such as Ted Allen, Anita Lo, and Rick Martinez, these recipes are not only delicious but also meaningful.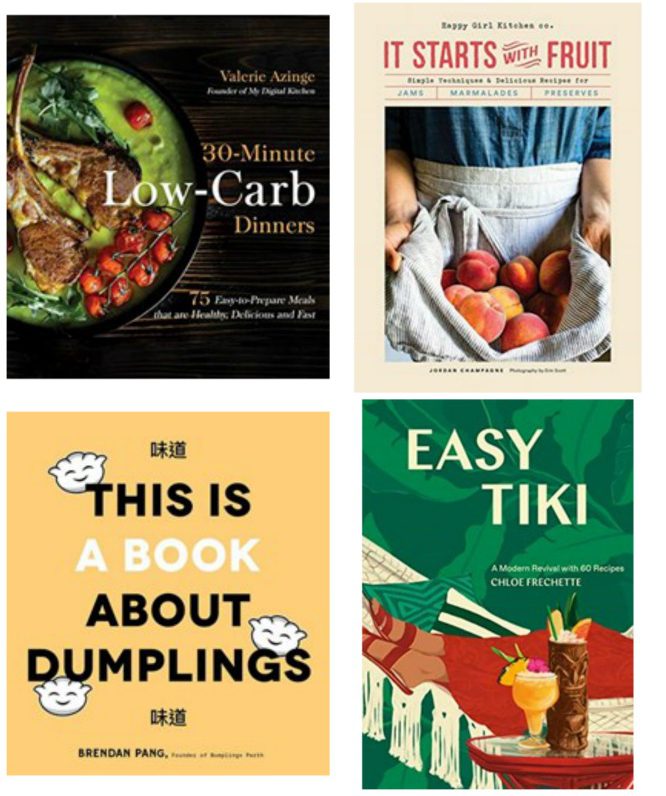 It Starts with Fruit: Simple Techniques and Delicious Recipes for Jams * Marmalades * Preserves by Jordan Champagne: This title unlocks the secrets of mouthwatering fruit sauces and butters, delicious whole-fruit preserves, and fresh-tasting jams and marmalades from the comfort of your home kitchen. Featuring 73 recipes total that include master recipes for each type of preserve, followed by recipes for jams, marmalade, juices, syrups, shrubs, whole fruit preserves, butters, pie fillings, and dried fruits, plus a final chapter on baking with preserves, this will be a book to turn to again and again for all things jam.
Easy Tiki: A Modern Revival with 60 Recipes by Chloe Frechette: 60 recipes inspired by the history of tiki as well as the modern revival that's putting a fresh spin on tropical tiki drinks – all simplified for the home bartender from cocktail authority PUNCH.
This is a Book About Dumplings by Brendan Pang: The author, as seen on MasterChef Australia, invites readers into the world of dumplings. His approachable recipes make it easy to craft amazingly flavorful professional-quality dumplings. Readers will be equipped with all the tools required for making classic and popular dim sum dishes and mouth-watering soup dumplings. Step-by-step photos show readers how to make wrappers and craft fun shapes and folds. Through a variety of cooking techniques, like steaming, boiling and frying, readers can explore exciting dumpling styles, as well as sides and accompanying dishes.
30-Minute Low-Carb Dinners: 75 Easy-to-Prepare Meals that are Healthy, Delicious and Fast by Valerie Azinge: Completely redefine what it means to cook low-carb meals with these 75 tasty dinner recipes that are ready to eat in under 30 minutes. Azinge, the founder of My Digital Kitchen, takes all the stress out of cooking healthy weeknight meals by drastically cutting prep times using sheet pans, one-pot methods, and batch cooking so you can spend less time in the kitchen.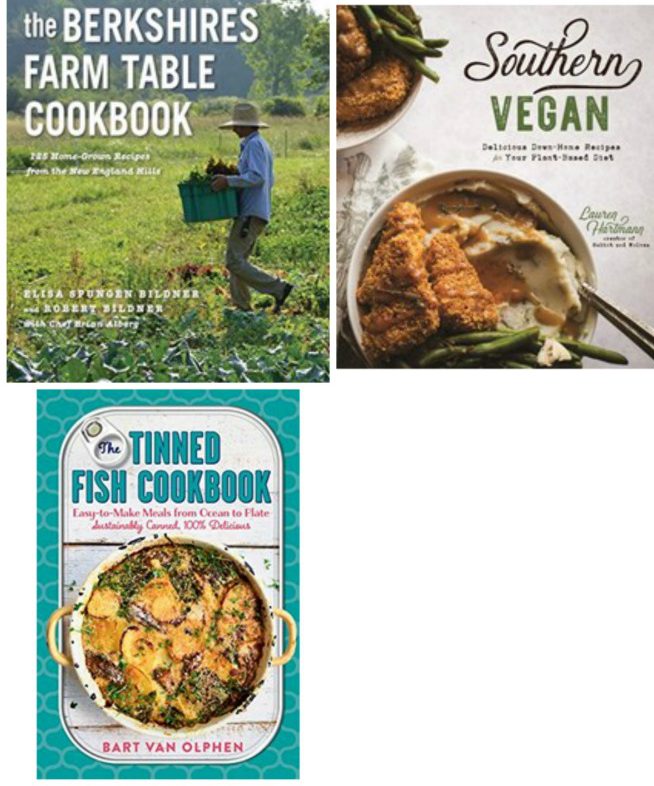 Southern Vegan: Delicious Down-Home Recipes for Your Plant-Based Diet by Lauren Hartmann: In these 60 recipes, the blogger behind Rabbit and Wolves, shows you how to make rich, buttery, decadent plant- based versions of all your favorite southern foods, so you never again have to miss out on the tastes you love. With foolproof cooking methods and easy substitutions, every bite of these spot-on vegan dishes will transport you to a warm summer night, full of family, tradition, and (of course) a little sweet tea.

The Tinned Fish Cookbook: Easy-to-Make Meals from Ocean to Plate―Sustainably Canned, 100% Delicious by Bart Van Olphen: Sustainable fishing advocate van Olphen shines a light on the superstar potential of canned tuna, salmon, anchovies, and more, with recipes that are ready in a jiff. This title is a fully revised Cooking with Tinned Fish with exciting new recipes.

The Berkshires Farm Table Cookbook: 125 Home-Grown Recipes from the New England Hills by Elisa Spungen, Robert Bildner and Brian Alberg: Telling the story of family-run agriculture through the language of food, this title offers 125 recipes to recall the magic of the Berkshire region for readers far and wide. Complete with farm profiles and vibrant photographs, the authors paint a vivid portrait of the relationship between the earth and what we eat.
Other titles of interest:
---
Canada
A Spicy Touch: Family Favourites from Noorbanu Nimji's Kitchen by Noorbanu Nimji and Karen Anderson: This book is a celebration of Nimji's North Indian Ismaili Muslim ancestry and the East African cuisine from her homeland in Kenya. Noorbanu collaborates with food writer and tour operator Karen Anderson to present more than 200 time-tested family favourites and new recipes.
---
United Kingdom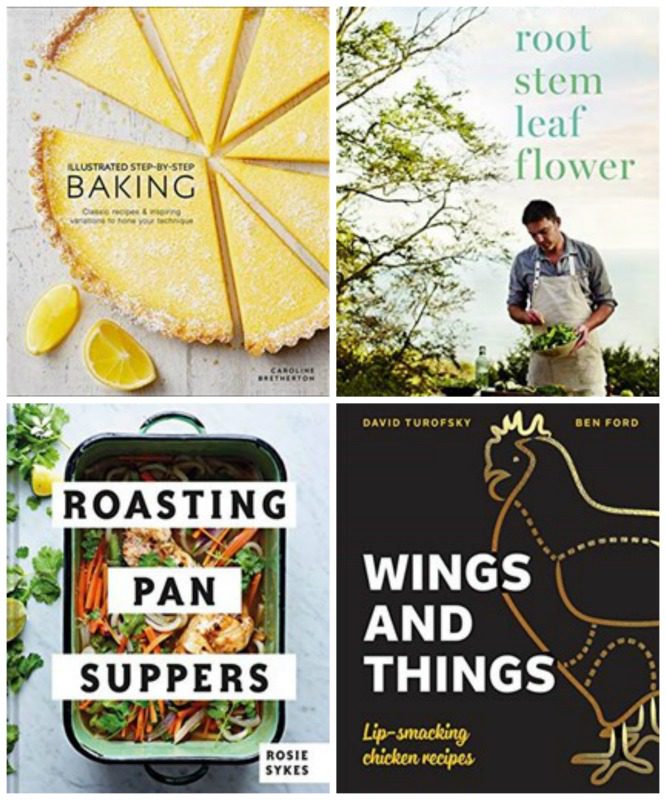 Roasting Pan Suppers: Deliciously Simple All-In-One Meals by Rosie Sykes: Take a handful of fresh ingredients, spend five minutes or so preparing them, slam them in the oven, and get on with something else meanwhile. In hardly more time than it takes to cook a ready meal, you can have a home-cooked, nutritious feast. The 80 recipes cover main courses, sides, desserts, and cakes. Please note the publisher's website and Amazon US still have the publication date as May 14th while Amazon UK has it moved to September 3, 2020.
Illustrated Step-by-Step Baking: Classic and Inspiring Variations to Hone Your Techniques by Caroline Bretherton: What's the difference between beating and folding? What should "soft peaks" look like? How do you line a pastry crust? When it comes to baking, knowing what an instruction means can be the difference between a showstopper and a soggy mess. Each of the 80 classic recipes in this essential collection is fully illustrated, with photographs of every stage of the baking process (including 250 variations).
Root, Stem, Leaf, Flower: How to Cook with Vegetables and Other Plants by Gill Meller: The latest from Meller is a cookbook about plants and making the most of the land's bounty in your everyday cooking. Making small changes to the way we cook and eat can both lessen the impact we have on the environment and dramatically improve our health and wellbeing: good for us and for future generations to come. Making plants and vegetables the focus of your meals can improve your cooking exponentially – they provide a feast of flavours, colours, and textures. Meller's books are always beautiful. This title will be released in the US next year.
Wings and Things: Sticky, Crispy, Saucy, Lip-Smacking Chicken Recipes by Ben Ford: I love every recipe in this ode to all things poultry. Find out more about this book in our giveaway (US/UK/AU/NZ).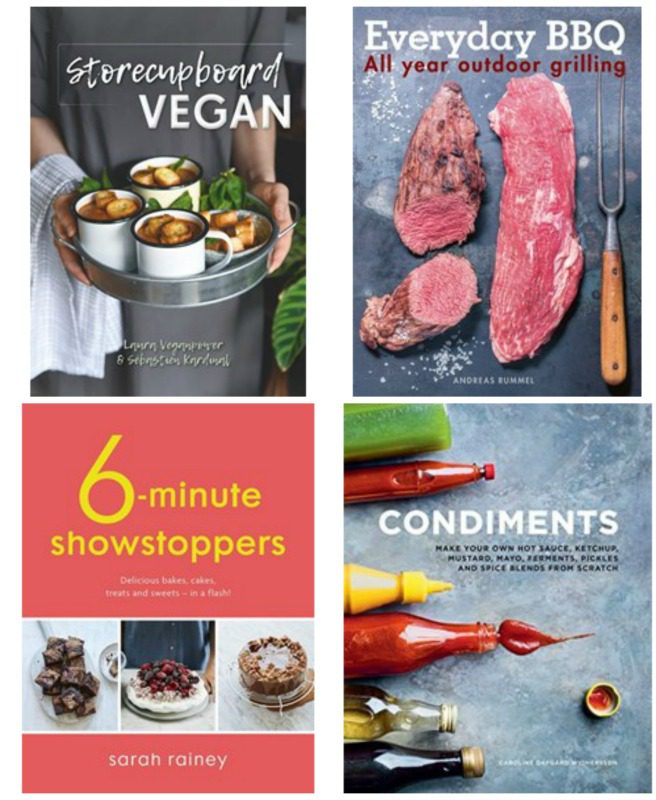 6-Minute Showstoppers: Delicious Bakes, Cakes, Treats and Sweets – in a Flash! by Sarah Rainey: This revolutionary new cookbook proves that baking doesn't have to be time-consuming, stressful, or expensive. Perfect for home cooks and impatient foodies, these 100 recipes are easy, affordable, and simple and ready to eat in 360 seconds – that's less time than it takes to drink a cup of coffee!
Storecupboard Vegan by Laura Veganpower and Sébastien Kardinal: Here are 300 easy, fast and inexpensive recipes that use ready-made vegan preparations, such as tofu sausages, smoked tofu, seitan, tempeh, soy steaks, vegan cheeses, and dairy-free yogurt as well as regular storecupboard staples like tins of chick peas or beans, lentils, pasta, rice, quinoa, couscous, gnocchi, miso and frozen vegetables.

Everyday BBQ: All Year Outdoor Grilling by Andreas Rummel: With this new reference work on barbecuing, the BBQ season can last all-year! Learn how to prepare perfect meats, fish, and vegetables and discover creative marinades and dips that will stun your guests. Vegetarians, too, will have plenty to love in this sumptuous volume. From straightforward to imposing, the recipes in this book will keep your grill BBQ every day, no matter whether gas or charcoal.

Condiments: Make Your Own Hot Sauce, Ketchup, Mustard, Mayo, Ferments, Pickles and Spice Blends from Scratch by Caroline Dafgard Widnersson: From ketchup, sweet chili sauce and taco seasoning, to peppery American hot sauce, sizzling Tunisian harissa, tangy Dijon mustard, as well as infused vinegars, aromatic spice blends, pickles and preserves, Condiments is a collection of recipes with step-by-step instructions so you can bottle exciting flavours in a jar by boiling, blending, mixing, fermenting and aging as well as offering complimentary dishes to match.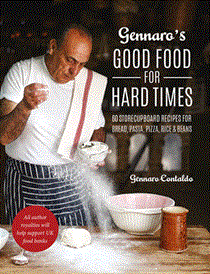 Gennaro's Good Food for Hard Times: 60 Storecupboard Recipes for Bread, Pasta, Pizza, Rice and Beans by Gennaro Contaldo: This ebook shares 60 recipes to use what we have in our larders now. All author royalties will go towards the Trussell Trust to support their vital work with UK food banks.
---
Other titles of interest:
---
Australia
Peanut Butter: Breakfast, Lunch & Dinner, Midnight by Tim Lannan and James Annabel: The peanut butter food trend has spread from supermarket shelves to high-class restaurants. Gone are the days when peanut butter was just for kids – relegated to plain, smooth paste smeared on white bread (not that there's anything wrong with that)! Peanut butter can be sweet, savoury or straight from the jar. With over sixty recipes for each and every meal, this book is the perfect match for any peanut butter lover.

Slow Cooker Central: Ready, Set, Slow!: 160 All-new Recipes from Australia's Slow-cooking Queen by Paulene Christie: Here is a collection of 160 all-new recipes that you and your family will love. Organised into easy-to-navigate headings that reflect the main ingredients, making it super simple to plan your family meals, this collection boasts delicious food for every occasion and flavours from all around the world. Best of all, every recipe is easy to follow and includes readily available ingredients so you will save time, money and stress in the kitchen.