Food news antipasto
May 24, 2020 by Darcie
Have you seen the latest trend in bread? Apparently some people have plenty of yeast, flour, and time, staying busy creating froggy bread. Froggy bread isn't a metaphor, it is literally bread shaped to look like frogs. When I first read about it I immediately thought it came from Kim-Joy, but even though she's made several frog-themed bakes (like the Frog ploughman savoury scones shown below), this wasn't hers. It appears the original recipe is an old one on the bread website The Fresh Loaf that someone made and posted, and the social media machine did the rest.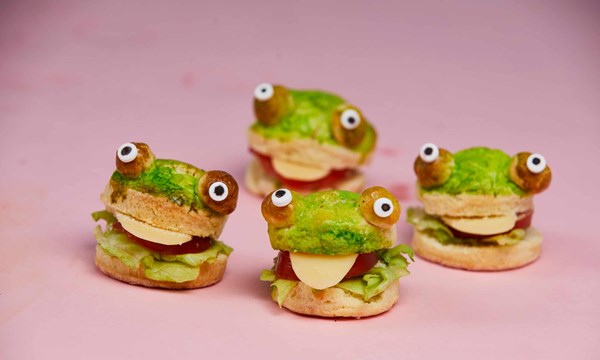 Like many events, food & wine festivals are moving online. One such gathering is the Melbourne Food & Wine Festival, which recently announced discussions by culinary superstars René Redzepi and Massimo Bottura. The Melbourne Food & Wine Festival: The Online Edition runs from 25-30 May and will feature talented chefs from Australia and around the globe in conversation and demonstration via Zoom and Instagram Live. Obviously some aspects of these virtual gatherings will be less than ideal – you can't smell or taste anything – but there are upsides. One is that you can 'attend' a festival in a far-flung place where you normally wouldn't be able to travel.
Partly to balance my stress-baking, I have started eating more salads, but I have a confession to make: I'm terrible at making salad dressing. I don't like to buy sugar- and preservative-laden dressings, but the ones without those things don't keep well (and are surprisingly expensive). While I can find plenty of salad dressing recipes in the EYB Library, I feel like I should just be able to throw something together without doing a lot of digging. I found an article from Rhoda Boone on Epicurious on salad dressing by the numbers that might be the solution to my dilemma. Rhoda shows us how to make everything from a simple two-ingredient vinaigrette to a seven-ingredient masterpiece. Maybe I can finally master salad dressing.
Every so often a condiment comes along that sparks a trend. According to Eater, the "it" condiment of the moment is chile oil/chile crisp, a spicy oil that sometimes contains crispy bits of flavoring ingredients that are sizzled in the oil to infuse it. Unlike other pepper sauces like Tabasco or Cholula, there's no vinegar in this product, which makes it a better cooking ingredient and a more appropriate companion to some foods where a vinegar tang doesn't fit.