Isolation Baking by Jamie Schler
April 29, 2020 by Jenny
Jamie Schler, the author of Orange Appeal: Savory & Sweet (review), owns the Hôtel Diderot in France where she churns out delicious dishes for her family and guests. As with many in the travel and other non-essential businesses, things have been rough during this time but that hasn't stopped her from cooking and baking and sharing those dishes on her social media feeds.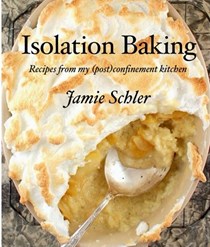 ---
Update 5/16/2020: Jamie's full book is now available on EYB, fully indexed. Add this wonderful title to your bookshelf. Please consider supporting Jamie by making a donation as explained in the next paragraph.
---
This week she released her latest cookbook Isolation Baking: Recipes from My (Post) Confinement Kitchen via Apple Books and on Google Drive* (for those of us without Apple products). It is a beautiful collection of comforting recipes that we can turn to time and again. Jamie is offering the e-cookbook for free; if you would like to make a small donation to her hotel you can Paypal isolation.baking@gmail.com.
This ebook shares 206 pages of photographs and recipes such as Swiss chard, zucchini and potato gratin, Lemon chicken pasta with peas, and Chocolate chip pecan blondies (which I am making this week!). You can add the cookbook to your bookshelf after downloading it. Thank you, Jamie.
Be sure to check out Orange Appeal: Savory & Sweet as well!

---
For those who have never downloaded from Google Drive:

Click on the Google drive link. Over to the far right is a downward-facing arrow

. Click on that arrow to download. For your information, the first icon – the triangle with a + sign – is a Google drive share button, the second is a print button, and, again, the last icon is the download button.